Artistic Italian duo Luisa Me have each other's back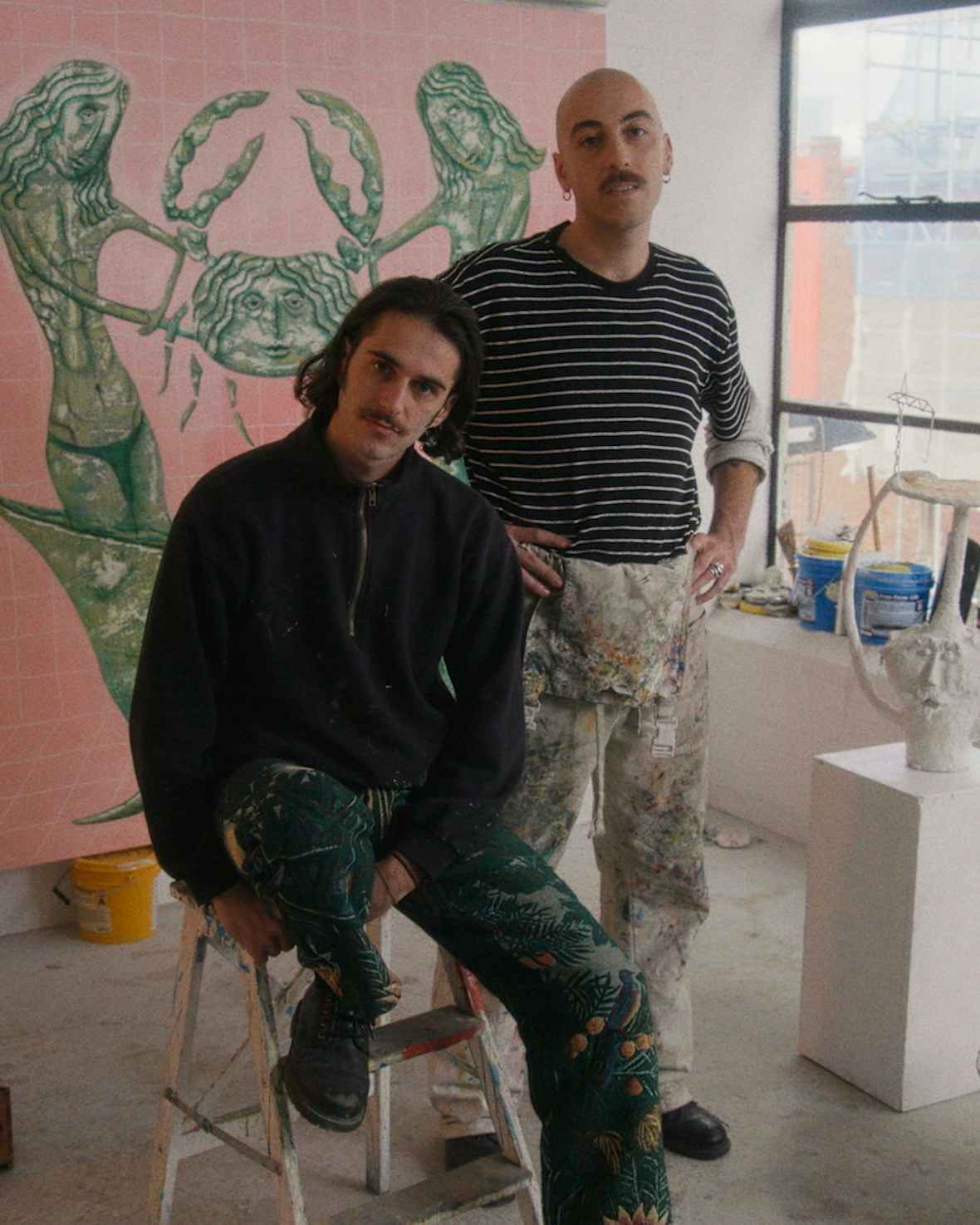 Luca Colagiacomo and Francesco Pasquini have been producing conceptual paintings and sculptures from their South London studio since 2015. Here they discuss how working together helps them see the bigger picture.
THE FACE has teamed up with vape brand Vuse for Making Your Mark, a two-part series exploring and celebrating the work of talented creatives who make their own rules. Celebrating diversity and creativity, we're speaking to artists from across the globe to find out all about their process, inspiration, and what they get up to in their downtime. Vuse is championing emerging talent, supporting artists and encouraging them to push the boundaries within the creative community.
London-based Italian duo Luca Colagiacomo and Francesco Pasquini have been combining their imaginations and conceptual practice for the last six years.

Collectively known as Luisa Me – which translates to ​"him with me" – their name not only highlights their collaborative process but also reflects their interest in ambiguity thanks to a gender-neutral pseudonym. Together, they construct abstract art that centres on the human psychological and emotional condition rather than gendered figures.

After meeting in their final year at the Academy Of Fine Art in Urbino, the pair decided to move from their rural hometown of Le Marche to London to pursue their craft. Now, the 30-year-olds work together to produce paintings and sculptures in their bright studio in South Bermondsey. ​"We look at what we do at the studio like a normal job, we just come every day," says Colagiacomo, ​"even if we don't have something planned to do we just come because things will come out [of it] eventually."
Luisa Me are known for their faces and figures. Each dreamlike piece carries the theme of water and nature and in triptychs such as Today they keep me warm in summer, we see the artist's reimagining of baptism and recurring nods to religion.
Their shared passion for martial arts – something they both practised growing up – hails as another unlikely inspiration, which they note has taught them unwavering discipline.

Friendship and creating a safe space to share their vulnerabilities has kept them motivated over the years. Now they admit they can control their egos and completely trust in each other's opinions and direction. While one person paints, the other can step back and observe the bigger picture. ​"Making work means also discovering things about yourself," says Pasquini. ​"You go to the studio to discover who you are."

Testing and learning is all a part of their creative process. ​"You don't need to know it all," says Colagiacomo. ​"I think we really believe in failure as an opportunity to discover something new. Whenever we see things don't work in the studio it's because we are experimenting."
Watch Making Your Mark with Luisa Me, and check out Vuse on Instagram.

Vuse contains nicotine and is addictive. 18+ only
Director: Millie Gray
Producer: Rose Darkins
Associate Creative Director: Clara Goodger

Project Manager: Dave Turner

Branded Content Editor: India van Spall
DOP: Henry Lockyer
1ST AC: Mitch Collins
Sound: Olly Jennings
Stylist: Borys Korban

Grade: John Alexander Lowe
Sound design and mix: Guy Chase
Music composition: Cal Swingler

GFX: Georgia Mae Skelding