Maddy Perez and Effy Stonem: who takes the hot girl crown?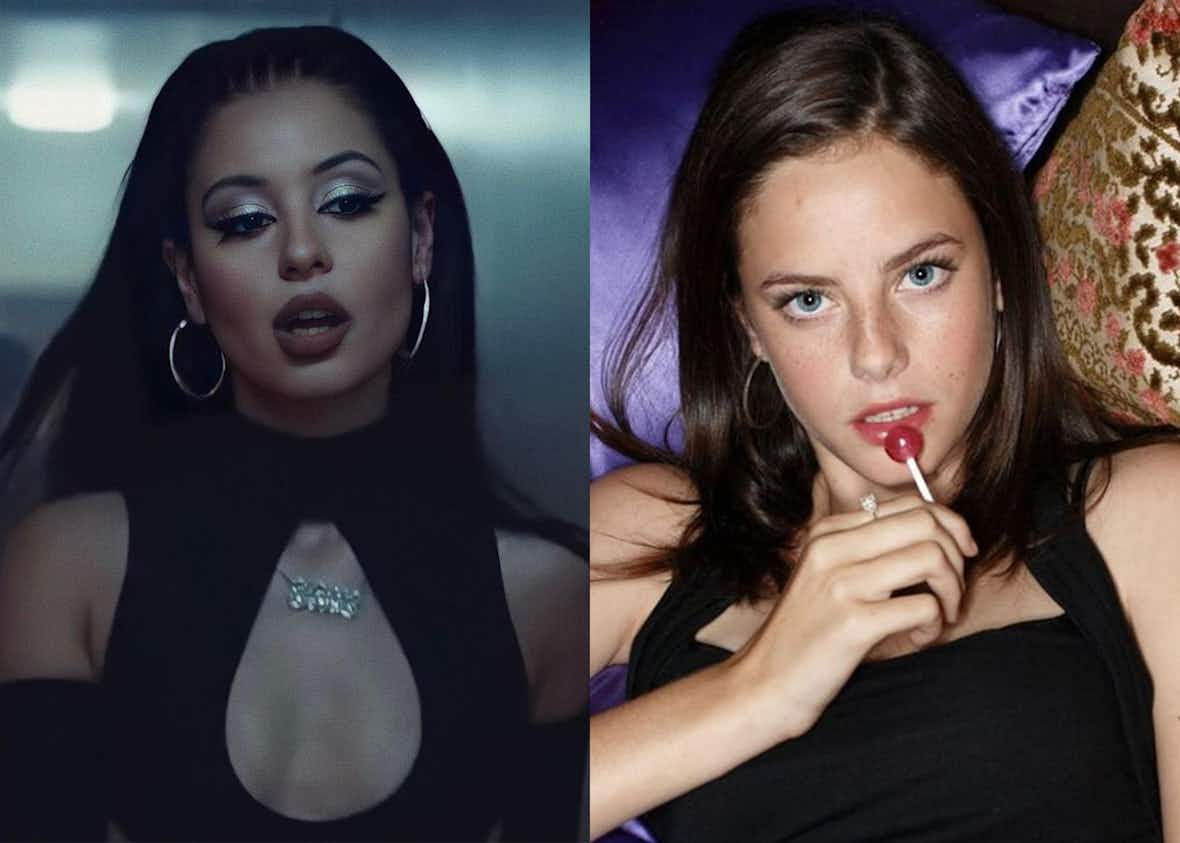 To celebrate Skins' 15 year anniversary, and, well, the second season of Euphoria, we pit TV's ultimate hot girls against one another.
Ah, Skins. The legendary (if flawed) 2007 TV show whose adrenaline-fuelled depiction of teenhood left an indelible mark on our collective British psyche. Arguably, it helped pave the way for Euphoria, Sam Levinson's equally salacious coming of age series. Premiering in 2019, it caused a ruckus among finger-wagging parents for its no-holds-barred sex scenes, gratuitous penis-flashing and unflinching portrayal of drug addiction.
We could ponder over what Euphoria owes to Skins all day. Instead, we've decided to hone in on each show's respective Lovable Alpha Bitch: Maddy Perez (Alexa Demie) and Effy Stonem (Kaya Scodelario), two of the best game-playing, main character energy-embodying heroines to ever grace the small screen. By now, you're probably familiar with the high school It Girl trope, aka the fellow student who could eviscerate you with a single sideways glance or make you wish you were dead if you ever crossed them.
Maddy and Effy both incorporate these qualities, albeit in different flavours, if you will. Both have a dark edge, anger and pain often bubbling beneath the surface. They're pretty well-surrounded by mates, although the quality of those friendships sometimes leaves much to be desired. Both have fraught relationships with their parents and enjoy every minute of making various men fight for them. And, of course, both Maddy and Effy are hot and mysterious – two key ingredients when it comes to the quintessential It Girl recipe.
Having said that, Maddy falls into the trope's traditional, Americanised mould, more concerned about ruling her high school and reigning supreme over cheerleaders and jocks. She's calculated, polished and doesn't mind playing the long game if it'll mean getting what she wants. Although equally intimidating, Effy is chaotic and messy, a destructive and rebellious force of nature whose dabbling with drugs and (unlike Maddy) intentional love triangles form the foundation of her enigmatic appeal.
In many ways, Effy was the It Girl blueprint, Bristol's hedonistic answer to Maddy's effortless Los Angeles glam. She had that ineffable quality which made every Skins-obsessed teenager want to be her or be with her, and whose antics spawned more YouTube compilations than any sane person could wrap their head around (see: ​"Effy Stonem being iconic for 5 minutes and 43 seconds straight").
All of which begs the question: who takes the queen bee crown? Only one way to find out. Behold, a step-by-step analysis of what makes Maddy and Effy TV royalty.

We're sorry, folks, but Maddy wins this one. Euphoria costume designer Heidi Bivens has treated us to many super hot Maddy moments over the show's two seasons, from seductive, cut-out bodycon dresses to archive Mugler and Vanna Youngstein baby tees to boot. Admittedly, Maddy has an unfair advantage here. Skins was filmed and set over a decade ago, and no one looked good then, which sets Effy back through no fault of her own. If this indie sleaze revival is worth its salt, however, we might be taking style cues from Effy sooner than we think. Studded wristbands, knee-high socks, fishnet tights and band merch layered with loads of crucifix-themed jewellery, anyone?
Winner: Maddy Perez

A very tough call. Although Maddy's signature flicks and bejewelled brows (courtesy of Donni Davy) fuelled a make-up revolution on TikTok when Euphoria first aired, Effy's signature smokey eye had Tumblr in a chokehold in the mid-Noughties. With only vintage YouTube tutorials to rely on, though, trying to replicate this look would leave any teenage girl who wasn't Kaya Scodelario looking like a glorified raccoon. Nevertheless, the impact of Effy's kohl-lined eyes is still being felt today – ​"Effy Stonem makeup" has over 1 billion views on TikTok – so she just about edges this one.
Winner: Effy Stonem

In an early episode of Skins, Effy feels reminiscent of the White Girl Dancing TikTok trend – hell, maybe she was one of its earliest TV iterations. Either that, or she's glancing enticingly at Cook across the dancefloor while some weirdo chews her ear off, literally. The dingy, sweatiness of Bristol's pubs and clubs is a world apart from any shindig Maddy would attend, and unfortunately for Effy, her moves don't hold a candle up to Maddy's, the ex-cheerleader who learned how to swivel her hips by carefully studying porn videos.
Winner: Maddy Perez

Takedowns and catchphrases
"Sometimes I think I was born backwards, you know, came out my mum the wrong way. I hear words go past me backwards. The people I should love, I hate. And the people I hate…" – Effy Stonem
"I don't know if your brain is all scrambled from like, all the molly you take, but I never said that." – Maddy Perez
This one is contentious and depends on what kind of vibe you're into. Maddy takes no shit, her approach is direct and she isn't afraid to knock a massive pot of food all over her boyfriend's mum while calling her a cunt. Effy, on the other hand, basically speaks in code, constantly delivering obscure quotes which doubled up as fodder for many, many depressing Facebook statuses back in the day. Basically, Effy's takedown technique is uniquely of its time, while Maddy gets to the fucking point. Perez wins this round.
Winner: Maddy Perez

What would Effy have done in Maddy's precarious, Cassie-fucking-Nate-behind-her-back situation? Hit her around the head with a rock, just like she did to Katie Fitch while high on shrooms? Maybe. Recently, though, Kaya Scodelario posted on her Instagram story that she felt Effy was ​"a smoker, not a fighter", which throws everything into question. Too bad, because we have no doubt Maddy wouldn't hesitate to kill Cassie with her bare hands over a betrayal this big, given we've seen her bash various kids' heads against windows, hand-dryers, lockers – anything with a hard edge.
Maddy and Effy are both possessive with their guys, the former needing to exercise total control over Nate and the latter playing Freddie and Cook off one another in a toxic love triangle. Not to mention *SPOILER* that Freddie died, indirectly, as a result of Effy's actions. Honestly, it's exhausting, and it's a draw.
Winner: Draw
And so Maddy Perez takes the queen bee crown, mostly because she so seamlessly fits into our fantasy of what a popular hot girl should look like on telly right now. Effy Stonem, however, will always have a special place in the canon – after all, she helped create it.

More like this