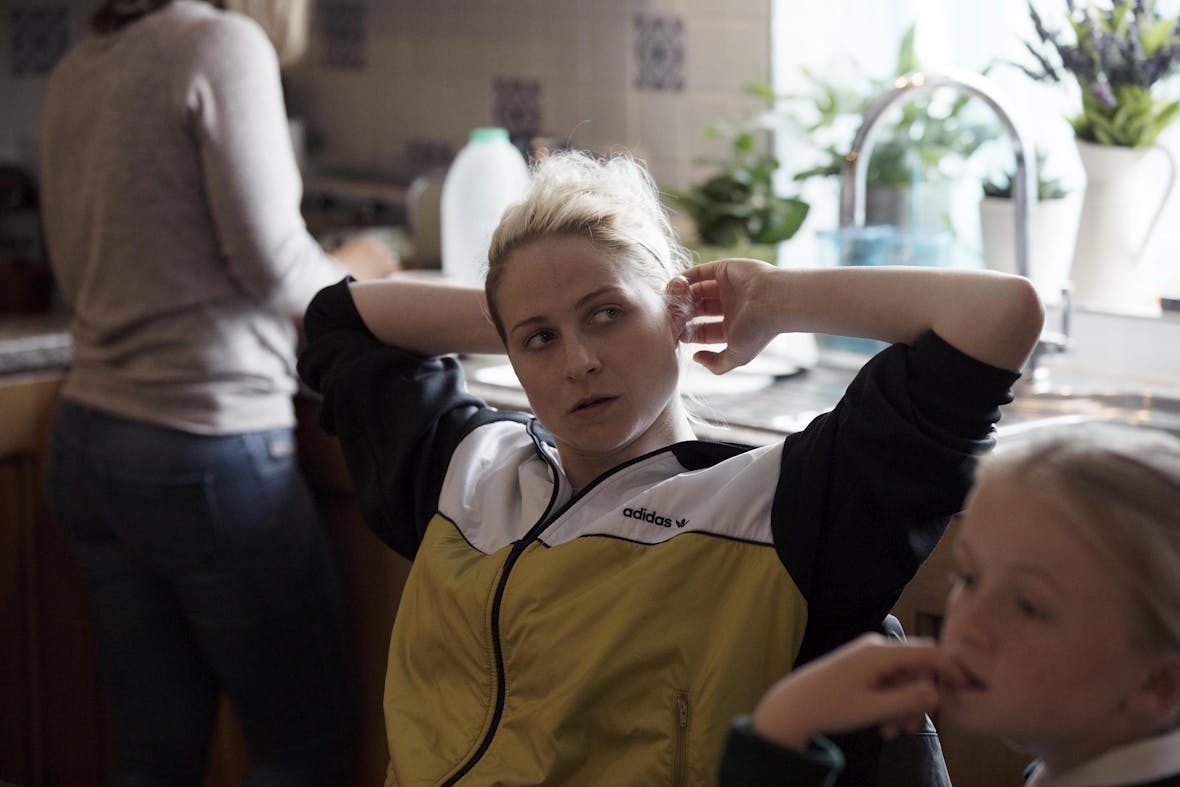 The virtues of Niamh Algar
Niamh Algar has been up since 4.45am but by 11.30am, on the blow­er from Cape Town, she shows no sign of a mid morn­ing slump. Maybe it's the box­ing ses­sion first thing, the fact that she's on set of her next big TV show (Rid­ley Scott's new sci fi, Raised by Wolves) or that she's on the line to talk about her lat­est (Shane Mead­ows' brand new dra­ma, The Virtues). Whichev­er it is, in her words, she is rar­ing to go.
It's this spe­cial kind of ener­gy that's seen Algar slay in her lane, the one marked ris­ing star. She's been in two of Chan­nel 4's more recent zeit­geist nail­ing drame­dies (The Bisex­u­al and Pure) and each time, she's stood out with bold hair (bleach blonde with a severe under­cut), con­vic­tion and a phys­i­cal con­fi­dence I sug­gest might be down to ten years work­ing out in the box­ing ring, but which she ascribes to try­ing to make her­self heard as the youngest of five sib­lings grow­ing up in Ireland's midlands.
It's also this that made Algar stand out at cast­ing for the new Shane Mead­ows dra­ma. Actu­al­ly, what hap­pened is she accost­ed him. I'll let her pick up the sto­ry. ​"I think he was actu­al­ly going to the toi­let. I was stand­ing out in the wait­ing area. I knew Shane from watch­ing his work so when he walked out I thought ​'ah, cool that's Shane'. It wasn't that I thought about it, I just thought, it's real­ly good to meet you." So she intro­duced her­self, which he loved and hoped she was as good in the audition.
She was ('unbe­liev­able' is how he describes her) and with­in three weeks of land­ing in Lon­don from Dublin to fur­ther her career, Algar found her­self mov­ing to Sheffield, signed on to a year long appren­tice­ship in the Shane Mead­ows method. The Stafford­shire born writer and director's work, from films like A Room for Romeo Brass to the movie-turned-TV series This is Eng­land, is steeped in authen­tic­i­ty. To get there, actors go through an inten­sive pre-pro­duc­tion peri­od of rehearsals, hang­ing out, and in Algar's case get­ting a haircut.
"I had nat­ur­al long blonde hair and Shane asked if I'd mind chang­ing, cut wise, colour wise and I was like, you can do what­ev­er the hell you want with it. We got the clip­pers one day, shaved an under­cut on one side, bleached it white blonde and phys­i­cal­ly and men­tal­ly start­ed build­ing the char­ac­ter," says the 28-year-old. ​"To be sub­merged for that amount of time is amaz­ing. I didn't do any for­mal dra­ma train­ing but I picked up more in that year than I would in a lifetime."

Shane Mead­ows has a knack for devel­op­ing tal­ent (Vicky McClure and Pad­dy Con­si­dine were ear­ly dis­cov­er­ies) and in The Virtues, he casts long stand­ing col­lab­o­ra­tor Stephen Gra­ham (This is Eng­land) along­side fresh faces like Algar, who stud­ied fur­ni­ture design at col­lege while tak­ing jobs on local pro­duc­tions, and Helen Behan, who is a full time nurse (the direc­tor met Behan in a pub in Ire­land and wrote the char­ac­ter Anna in The Virtues with her in mind – she is still work­ing as a nurse).
If This is Eng­land was Mead­ows at his most vibrant – row­dy, wit­ty and resilient – The Virtues sees the writer direc­tor shift gears into a more plain­tive mode. There's a heart­felt script, co-writ­ten with Jack Thorne, and a beau­ti­ful score by P.J. Har­vey but the cast­ing is most inspired. The Virtues is so nat­u­ral­is­tic and ten­der that it feels intense­ly close to documentary.
The sto­ry begins with Joseph, played by Gra­ham, who leaves Liv­er­pool for Ire­land in search of a painful past. It's here, that Algar's char­ac­ter Dinah, appears. Both char­ac­ters are trou­ble, but Mead­ows asks us to empathise. ​"Joe and Dinah are bro­ken char­ac­ters and you have to see what broke them to begin with," says Algar. ​"We judge peo­ple on a sur­face lev­el, we do it nat­u­ral­ly as human beings. What we don't do is find out why they are that way."

The Virtues delves into the why. The nar­ra­tive unspools slow­ly and some­times hazi­ly, like a painful­ly repressed mem­o­ry. It would do the dra­ma an injus­tice to reveal any more, because it should ide­al­ly be watched as the char­ac­ters them­selves exca­vate their spe­cif­ic trau­mas. The idea for the series came a sim­i­lar place: Mead­ows' own child­hood ordeal, when he was abused by an old­er boy, aged nine. He dis­cussed this with cast dur­ing pro­duc­tion. What was that like? ​"Shane is incred­i­bly open and I shared things with Shane that would nev­er go any­where," Algar says. ​"That's the trust in some­one. He cre­ates an envi­ron­ment where you can do that. That's vital­ly impor­tant on a film like that. To have that trust and emo­tion and feel­ing secure to go anywhere."
All of this intense prep – and what sounds like group ther­a­py – led Algar to a place where she was alto­geth­er ready to show what she could do. ​"Shane tries to cre­ate these core mem­o­ries so that when you are get­ting mad with some­one in a scene or try­ing to make some­one laugh, you can pic­ture that because you spend so much time togeth­er," she says. ​"It gives you time to get there, to be in the char­ac­ter long enough. When it came to film­ing, I was rar­ing to go."
The Virtues starts Wednes­day 15th May, 9pm on C4
---