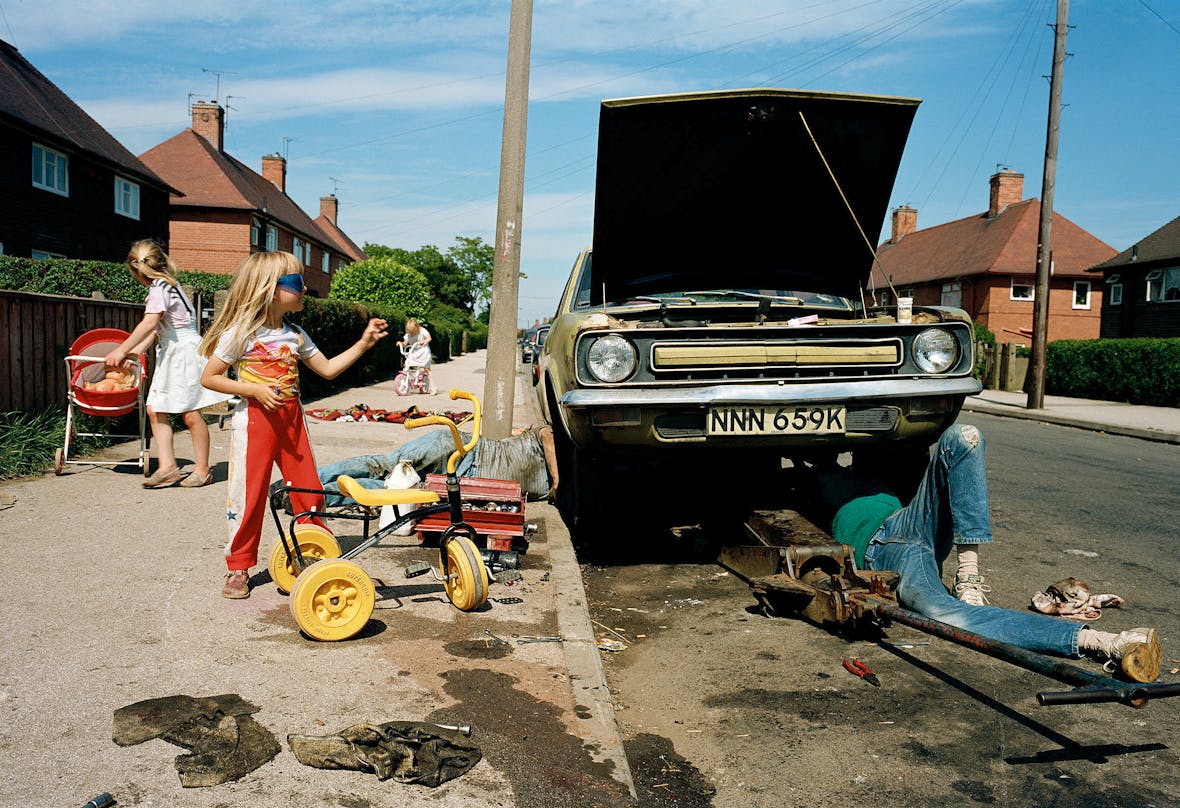 Nick Waplington's for­got­ten photographs
The liv­ing room is the epi­cen­tre of the home – the pub­lic domain, the pri­va­cy-free space that frames fights, laugh­ter, argu­ments, tel­ly time, lap din­ners, the after-par­ty, naps and every­thing in between. Like its uses, unsur­pris­ing­ly, each liv­ing room is dif­fer­ent from the next. Today, Gog­gle­box has been our micro­scope into the lives of var­i­ous liv­ing rooms nation­wide, with the unfil­tered lens point­ing direct­ly at friends, cou­ples and fam­i­lies – each with its own idio­syn­crasies, offer­ing us affir­ma­tion that our own fam­i­ly isn't so mad after all.
In 1991, Nick Waplington's first book, Liv­ing Room, was pub­lished, with his series offer­ing a total­ly authen­tic glimpse into what goes on behind closed doors – how fam­i­lies func­tion, what peo­ple look like when they watch the box and how the aver­age fam­i­ly coex­ists under one roof. The series received crit­i­cal acclaim and hopped from coun­try to coun­try dis­play­ing in numer­ous exhi­bi­tions but, in a strange turn of events, Wapling­ton made the deci­sion to have his gal­lerist, Hol­ly Solo­man, destroy the entire­ty of the series. Lost forever.
Or so he thought. In 2018, Soloman's son made the dis­cov­ery that the series had not actu­al­ly been destroyed. The images were in his pos­ses­sion. As Wapling­ton explains, ​"Much to my delight and sur­prise, the prints were amongst the work he had kept after I made the deci­sion to destroy it. It seems he couldn't bring him­self to do the dirty deed and burn the prints after all."
Waplington's series pro­vides us with a bru­tal­ly hon­est snap­shot of fam­i­ly life – then at the fore­front of the real­ism move­ment in the ear­ly ​'90s when pho­tog­ra­phers began ditch­ing the glossy, high­ly orches­trat­ed image style of the ​'80s. While many things change, fam­i­ly life remains the same through time and Waplington's images are just as rel­e­vant now as they were 28 years ago.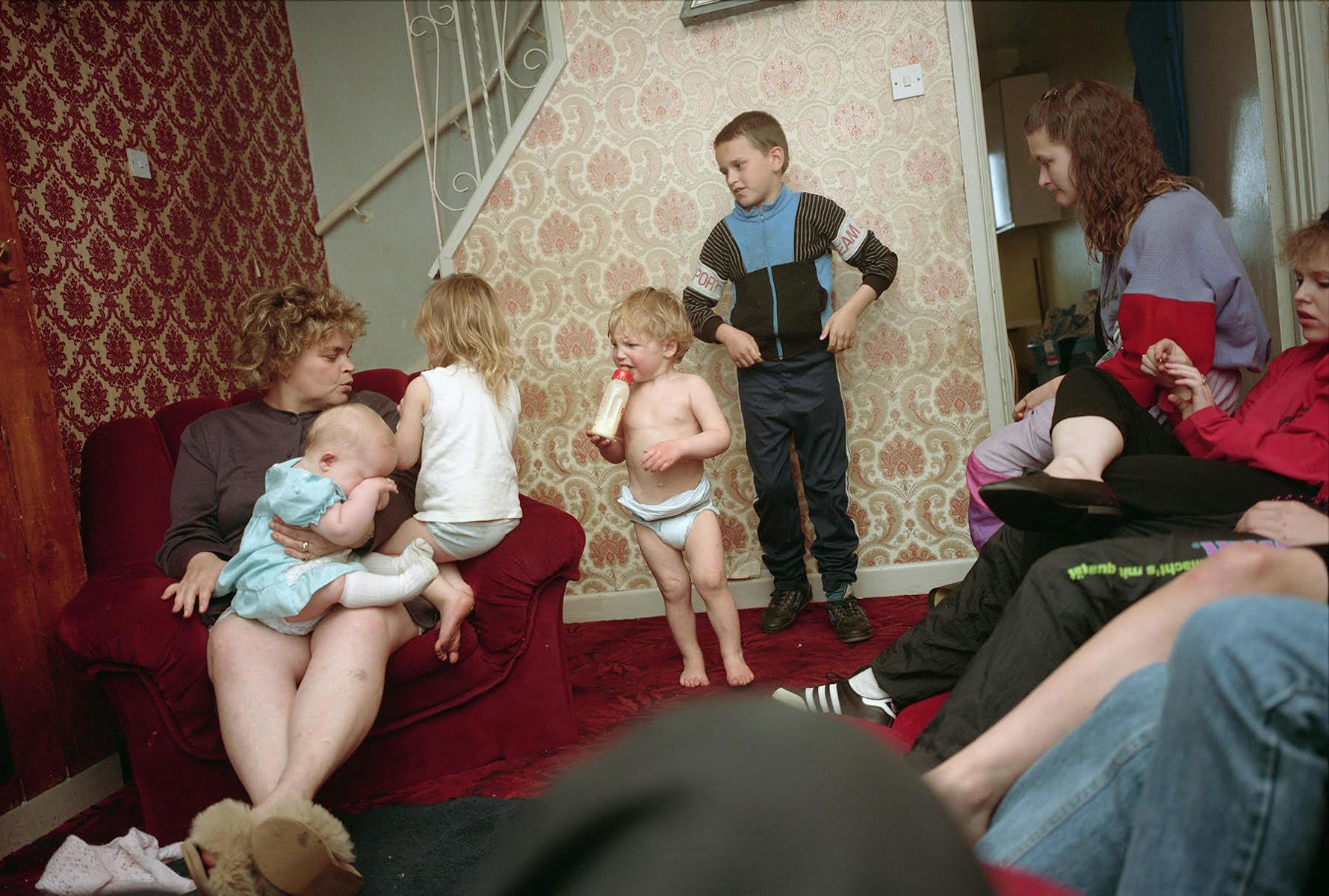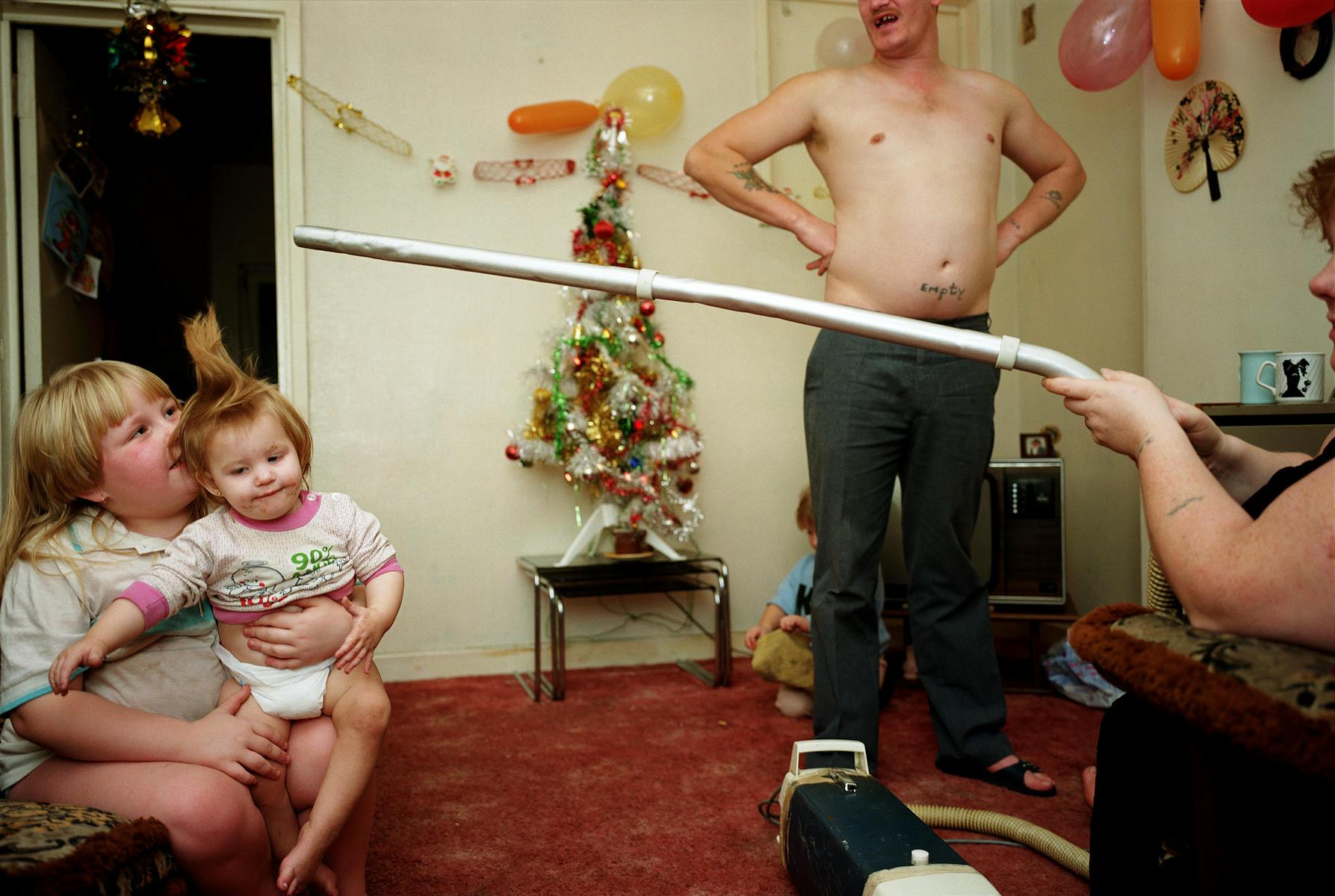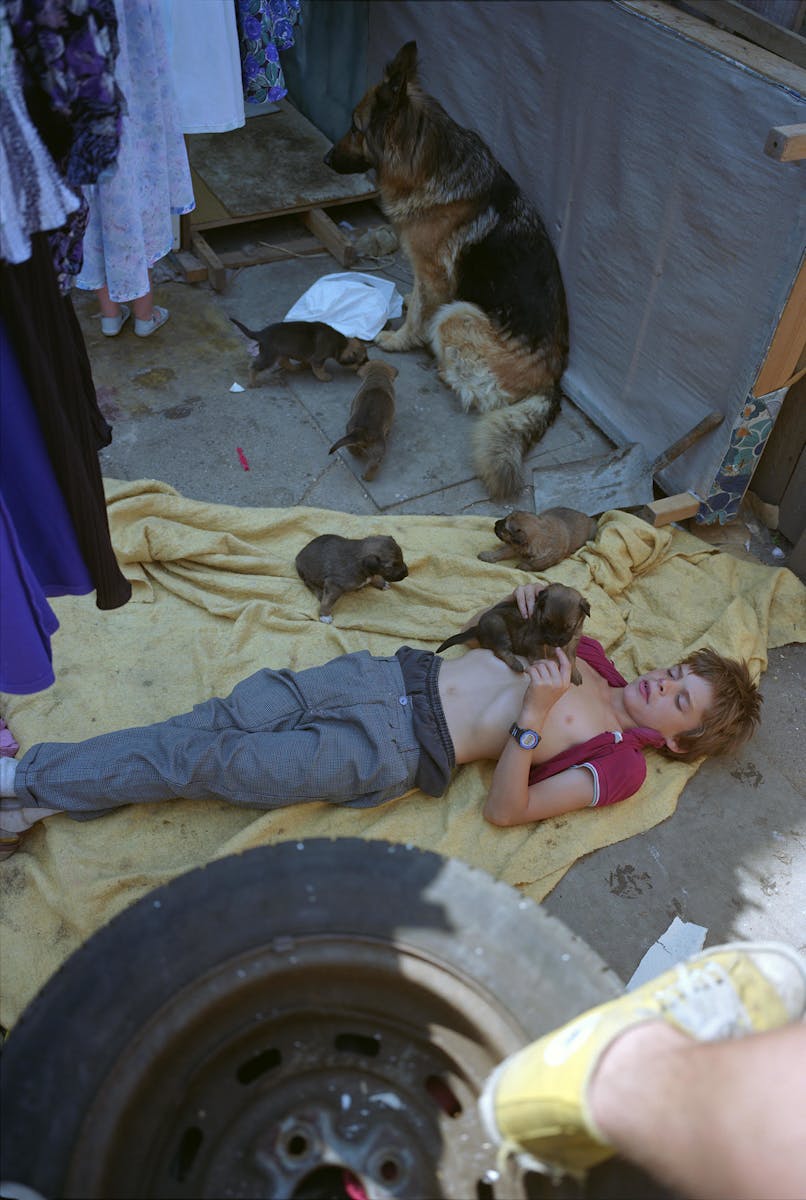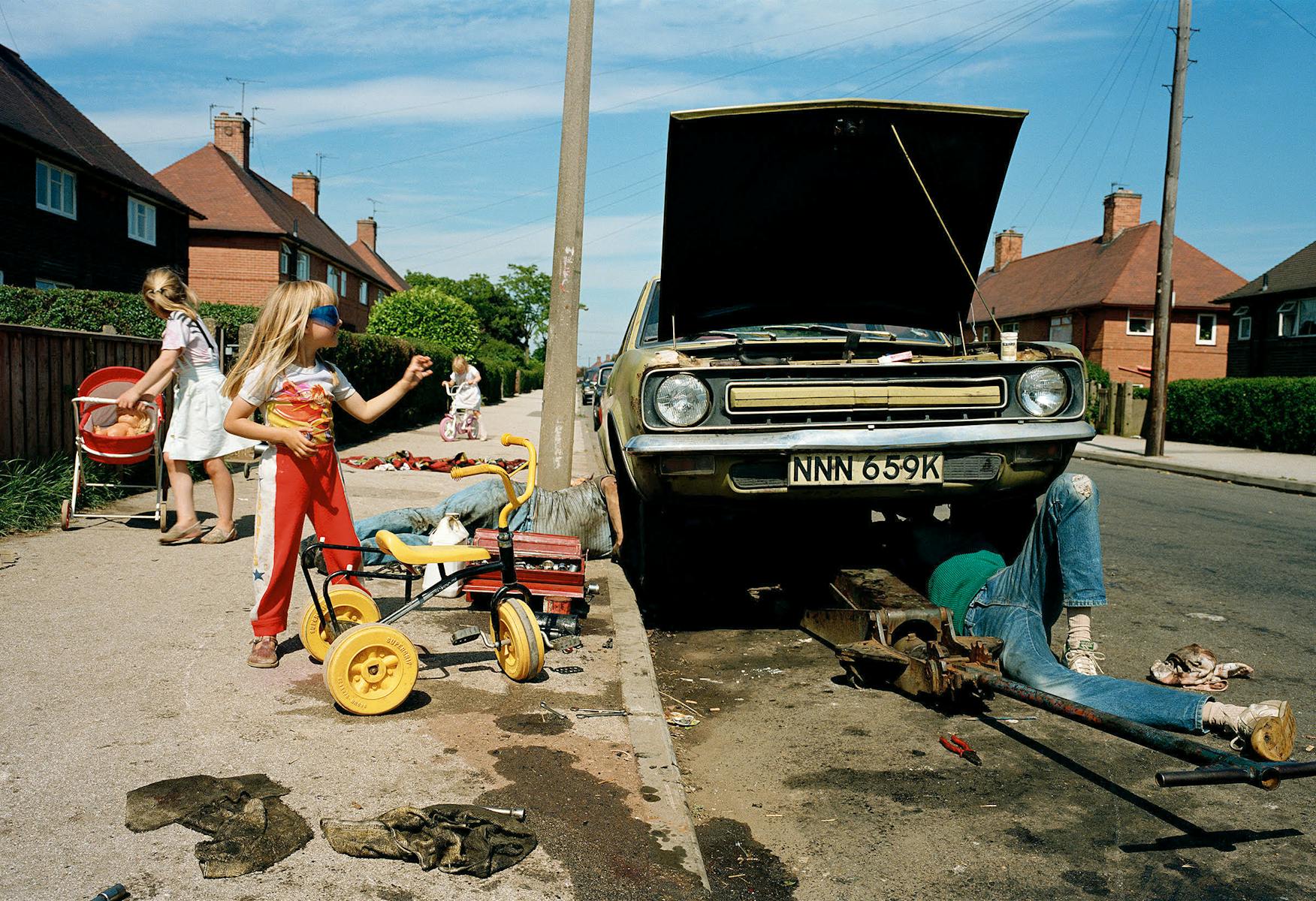 Why were the prints destroyed originally?
The orig­i­nal Liv­ing Room exhi­bi­tion start­ed at Aper­ture in their orig­i­nal gallery on 23rd Street in New York and from there it toured the world for a num­ber of years after the book was pub­lished. Even­tu­al­ly, the prints were returned to me and stored with my gal­lerist Hol­ly Solomon. When she died her sons sent me an inven­to­ry of my work in stor­age there and I decid­ed to destroy the prints rather than ship them to the U.K., as I didn't think it was worth keep­ing them after a long tour. I felt like they had served their pur­pose and also I didn't have the mon­ey to pay for the ship­ping if I'm hon­est. Fast-for­ward twen­ty years and I was liv­ing in Los Ange­les and Holly's son, Tom, invit­ed me to col­lect oth­er work from his down­town LA stor­age. Much to my delight and sur­prise, the prints were amongst the work he had kept after I made the deci­sion to destroy it. It seems he couldn't bring him­self to do the dirty deed and burn the prints after all. Much to my good for­tune as these works now have a huge his­tor­i­cal sig­nif­i­cance and impor­tance – peo­ple real­ly love this work so I am very lucky that the prints survived.
Did you remem­ber all of the images in the collection?
Yes, of course. The prints were made by me and were edit­ed down from thou­sands of images – there are only 59 pic­tures in the book so it was a very tight edit. So, if an image made it into the final body of work, it had to be one I was real­ly hap­py with. Even to this day I print my own pho­tos, I'm not just mark­ing them up and send­ing them out to a lab. I enjoy the dark­room process and this organ­ic engage­ment with the image informs my pic­ture tak­ing and vice ver­sa. I need to go back now and revis­it the pic­tures and get back in the dark­room, the trou­ble is I pre­fer mak­ing new work and time is lim­it­ed, of course.
How do you feel look­ing at them now?
Today, I no longer engage with the work as I did when I made the pic­tures. The first images were made in 1983 which is over thir­ty –five years ago now and a lot has changed both with the world and with me – there was no inter­net then for starters. I nev­er imag­ined the work fly­ing around as it does now on the web. For a long time, I couldn't look at it or deal with it as it had been such a big part of my life for so long. Things change, for instance, I real­ly do not like the cov­er image of the book any more – it's stu­pid and super­fi­cial, in my opin­ion. There are much bet­ter pic­tures from the work which have nev­er been seen and could do with being pub­lished, but as a body of work it stands up. In fact, it is time­less if I can say that about my own work with­out sound­ing boast­ful. I think it has reached a point where it is so far removed from where I am now it doesn't real­ly mat­ter any­more. If peo­ple what to see the work, I am hap­py to show it. The book has been out of print for three decades so per­haps its time to get it out there again.
What was it that ini­tial­ly com­pelled you to pick up a cam­era at the age of 14?
I first start­ed tak­ing pic­tures in 1979, of what­ev­er was around me: march­es and demos, par­ties, skate­board­ing… I liked to use the school dark­room, I could hide away from the oth­er chil­dren there and it was my place – I was the only one who used it. There was some­thing quite mag­i­cal about the whole process for me. It real­ly gave me some­thing that seemed to fit per­fect­ly with music, art and skate­board­ing – the oth­er things I loved. Also, Wok­ing wasn't a bad place to be at that age – 20 min­utes to Water­loo and into the thick of it all, that helped.
How does your approach to pho­tog­ra­phy now com­pare to these images?
From the late ​'90s onwards, I start­ed to com­bine paint­ing, text and pho­tog­ra­phy, not with much suc­cess at first – see my work The Inde­ci­sive Memen­to for proof of this. But fail­ure and exper­i­men­ta­tion are what art is about. For me, this is how I progress, you shouldn't be afraid to fail. Over the last 20 years, my process has evolved to the point where I am at now with my work Tot­ge­sagte Leben Langer or The Con­demned Live Longer; a body of work com­bin­ing paint­ing with my pho­tog­ra­phy in the stu­dio. I am using pho­tog­ra­phy as a medi­um to add light to a paint­ing play­ing with the idea of the inter­pre­ta­tion of the image, in the way the pris­on­ers in Plato's Alle­go­ry of the Cave inter­pret the shad­ows on the walls of the cave to give mean­ing to their exis­tence. My stu­dio is now my world – my cave if you like. This is where I now think and make work. I guess I'm now deal­ing with my inner world, rather than the world out­side. As I said, art is an evolv­ing process – a life­time in which to play with ideas, if you are lucky.

These days you doc­u­ment your own fam­i­ly, it's as though you've come full cir­cle. What's the most impor­tant thing you've learned along the way?
I have always car­ried a small pock­et cam­era with me at all times, so it was log­i­cal that I start­ed to take pic­tures of my own chil­dren – that was very nat­ur­al. Lessons wise, I don't think I've been one for lessons – I'm more about expe­ri­ences and I want as many as I can get hold off. Nev­er stop look­ing for more experiences.
Liv­ing Room is cur­rent­ly exhibit­ing at Lit­tle Big Man Gallery in Los Ange­les and will be dis­played until 15th May
---