The OnlyFans revolution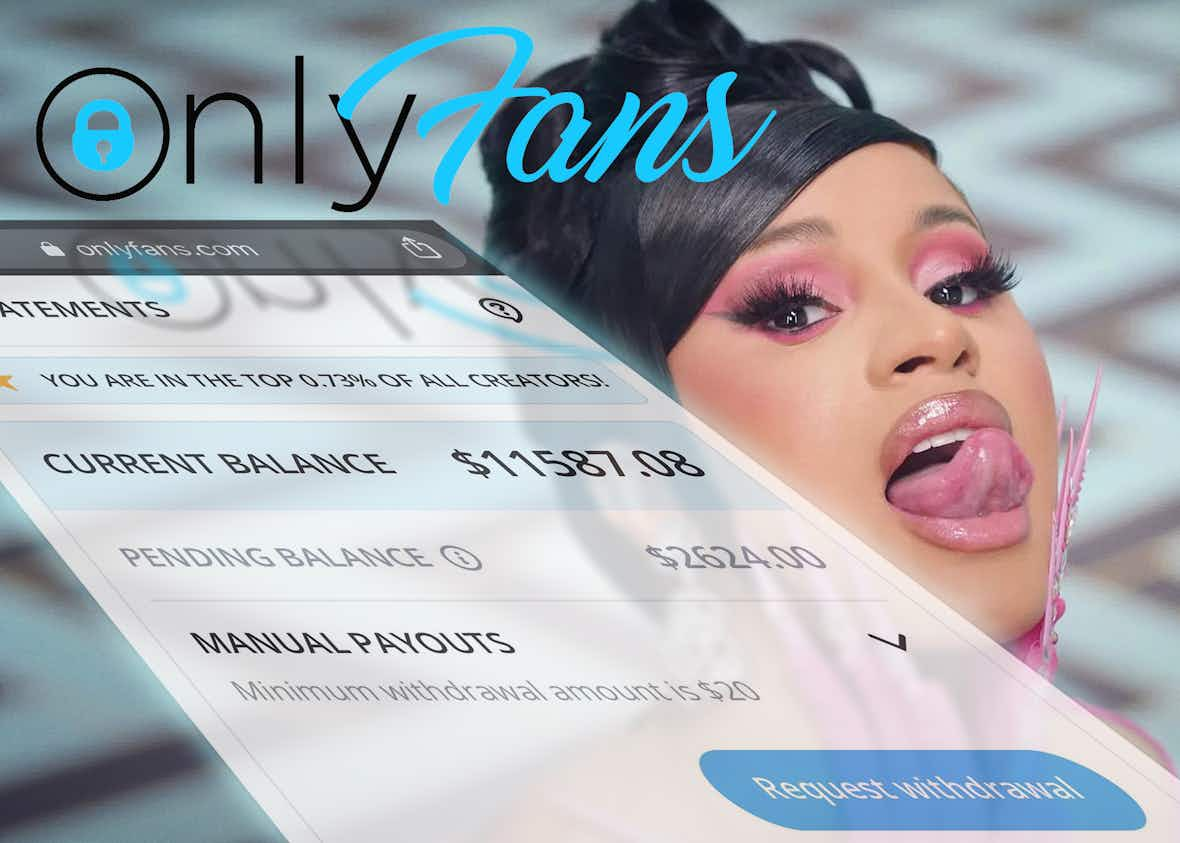 2020 in review: Due to a precarious economy, Covid safety measures and irrepressible lockdown horniness, the site enjoyed a huge surge. It was only a matter of time before celebrities wanted a slice of the action.
And we thought 2019 was peak horny. Last year, the term was thrown around liberally online – by women, mostly – heralding a new era of horny culture. Public displays of thirst were directed at things like Adam Sandler, hot priests, even, reluctantly, Cats (described as a ​"void of horny confusion"). How cute that all seems now.
Little did we know, our feeds were about to get a lot more explicit. OnlyFans, the social media platform famous for its X‑rated content, was blowing up. Since The New York Times published a piece entitled How OnlyFans Changed Sex Work Forever in February 2019, OnlyFans has sustained media attention throughout its remarkable cultural takeover. By the end of 2019, OnlyFans had transformed the adult entertainment industry. And this year, it became an even bigger deal.

The site has sparked a new dawn of paywalled, subscription porn. The reasons for its success are many, but here's one: OnlyFans has increasingly blurred the lines between sex work and influencer culture. The site's sell is that it connects content creators with their fans, offering, to a degree, a similar sense of intimacy that a follower feels when they interact with, or support, their favourite celebrity via social media.
As OnlyFans creators build a fanbase by using platforms like Reddit, Instagram, TikTok and Twitter to promote their paid-for feeds – featuring nudes and plenty of inventive graphic content – and collaborate to promote each others' profiles, it's arguably given the porn industry a new, and even more visible, presence in our online lives.
When 2020 really kicked off, the site was perfectly positioned to capitalise on the year's economic and emotional precarity. With the arrival of the pandemic, the IRL sex industry was largely shut down due to regulations – with ​"going back to work" not an option for many sex workers. As the wider job market practically evaporated too, newcomers also turned to the site as a source of income. (OnlyFans reported 3.5 million new signups in March, 60,000 of them new creators.)
And, of course, lockdown happened. Millions of us were stuck inside, somehow both over- and under-stimulated by a daily barrage of depressing news, with human contact and dating as we knew it essentially cancelled. In April, CEO Tim Stokely said OnlyFans saw an uptick of around 8000 new creators daily, claiming to have paid out $725 million in earnings. By May, the site had 24 million subscribers. It's now estimated to have upwards of 63 million.
The site's popularity practically became a meme. The line ​"might start an OnlyFans" was doing the rounds – part joke, part ​"fuck-it" sincerity – before Beyoncé dropped it in the Savage remix in April. As the attention kept coming, so did the controversies. OnlyFans' owners were keen to lift OF from its porn niche and place it in the wider world of influencer marketing. The platform emphasised its ability to cater to all sorts of influencers who want to connect with their fans behind a paywall. Celebrities, like Cardi B, Jordyn Woods, Tana Mongeau and some Real Housewives of New York, joined the site with SFW content.
Meanwhile, the sex work community worried about their future on the platform as it moved to clean up its image, speaking out about how it could harm potential income. By August, former Disney star Bella Thorne confirmed their fears. Thorne reportedly made $2million in one week with a nude-not-nude photo stunt that prompted calls for thousands of refunds. The site soon changed their payment process from weekly to monthly, and put a cap on tips (from $200 down to $50). Suddenly, the headlines asked: ​"Did the rich and famous ruin OnlyFans for sex workers?"

Because the money thing is important. In a shifting sex work industry, OnlyFans has felt like a relatively steady way to monetise erotic content. In the early ​'10s, making porn changed – the monopoly of ​"tube" sites significantly dropped performers' rates for scene work. As traditional porn shoots ceased to be a viable way for adult entertainers to make a living, many moved to escorting and cam sites, some which take a roughly 40 per cent cut of revenue.
In 2016 OnlyFans began to embrace the intersection of camming and influencer culture. The site was unique in bringing together sex work and subscription-based social media. Fans can communicate directly with performers, and pay extra for personalised, custom content. OnlyFans take a commission of around 20 per cent. It's become commonplace to see creators cross-promote their OF pages on free social platforms like Twitter and Instagram, creating a sense of familiarity for their followers and drawing them in to explore their paid-for, erotic content.
And in 2020, the success of its model is part of a larger shift in attitudes towards work. It's what tech investors dub the ​"passion economy" – the wave of internet-powered entrepreneurship, monetising content across sites like OF, TikTok, YouTube, Patreon. But as NYTStyles journalist Taylor Lorenz pointed out in October, what's passion for some is also a response to financial insecurity, as traditional job opportunities shrink. Writer Caitlyn Dewey calls this the ​"hustle economy": ​"The Covid-19 pandemic crushed vast swaths of the economy… But it's been good to the nascent sliver of the digital economy that helps people channel their existing skills into sellable services and products." The hustle economy is an outlet for those adapting to the failings of the traditional economy and social safety nets, like the gig economy before it – just more individualised, more self-directed, often more precarious.
For some OF creators, it's working at least. In August, performers took to TikTok to show off their ​"receipts" from the site – boasting six digit earnings. The trend also responded to stigma associated with the platform; yes, using the site can be a legitimate job, with many noting the effort put in to earning decent money. In this regard, the platform has transformed the way we view sex work. As OnlyFans creator Merrick Deville tells THE FACE, ​"I've been on the site since before it exploded in public conversations, which has worked to normalise it for many people and mitigate some of the hatred directed as sex workers online in some spaces."
Deville, who's been creating on the site since mid-2019, sees its spiking sign ups this year as ​"an insane number of people who are open to and okay with the concept of providing and paying for porn – and that is going to reflect the public discourse in a positive manner."
As Selena the Stripper (who spoke out against artists appropriating sex work this year) says, to move the conversation forward, it's important not to sanitise conversations around sex work. Selena suggests we ​"talk about OF in a way that doesn't glamourise the economics of the operation". Instead, we need a more ​"nuanced conversation about the nuts and bolts of what the actual labour looks like. We aren't seeing the injustices. It's either focused on our trauma or on the glamorous hyperbolic examples, while most of us are somewhere in the middle."
There are many sides to running an OnlyFans that are less visible, including work that goes into maintaining a profile and the emotional labour involved in keeping up with fans. Historically, sex workers basically act as ad hoc therapists to their clients – it's said to come with the territory, from escorting to camming to BDSM. And the ​"girlfriend experience" applies here too. A key part of the site's success is one-to-one connection – often creators' bios will explicitly state they talk with all their followers.

But as OnlyFans took off, one question dominated: when the internet is full of free porn, why pay to use OnlyFans? And in 2020, maybe that answer became clearer: as one of the many ways we sought intimacy, or an emotional outlet in a crazy year. The OnlyFans Out Of Context Twitter captures this perfectly, surfacing DMs from fans like, ​"How much just to talk to you about my depression", ​"This is better than therapy" and ​"I'm sorry I didn't make it to your live show… I was too upset about the prez debate to watch you shake that ass."
Everything changed this year. Even 2020's horny was different. More visible, more intense, and more nuanced. A statement from sex workers' rights collective SWARM says, ​"sex workers have received unprecedented attention from the press since the outbreak of Covid-19". Within this, OnlyFans has offered unparalleled visibility to sex workers. As attitudes shift, can the popularity of OnlyFans improve the reality for sex workers into 2021?
"The more people are aware of and talking about sex work because of OnlyFans, the more sex workers voices are amplified," says Merrick Deville. "[And] the more our voices are amplified, the more we are going to be able to talk about the problems that we face and the policy that affects us."


More like this