Pauline Chalamet on bad auditions, life-changing books and showbiz stories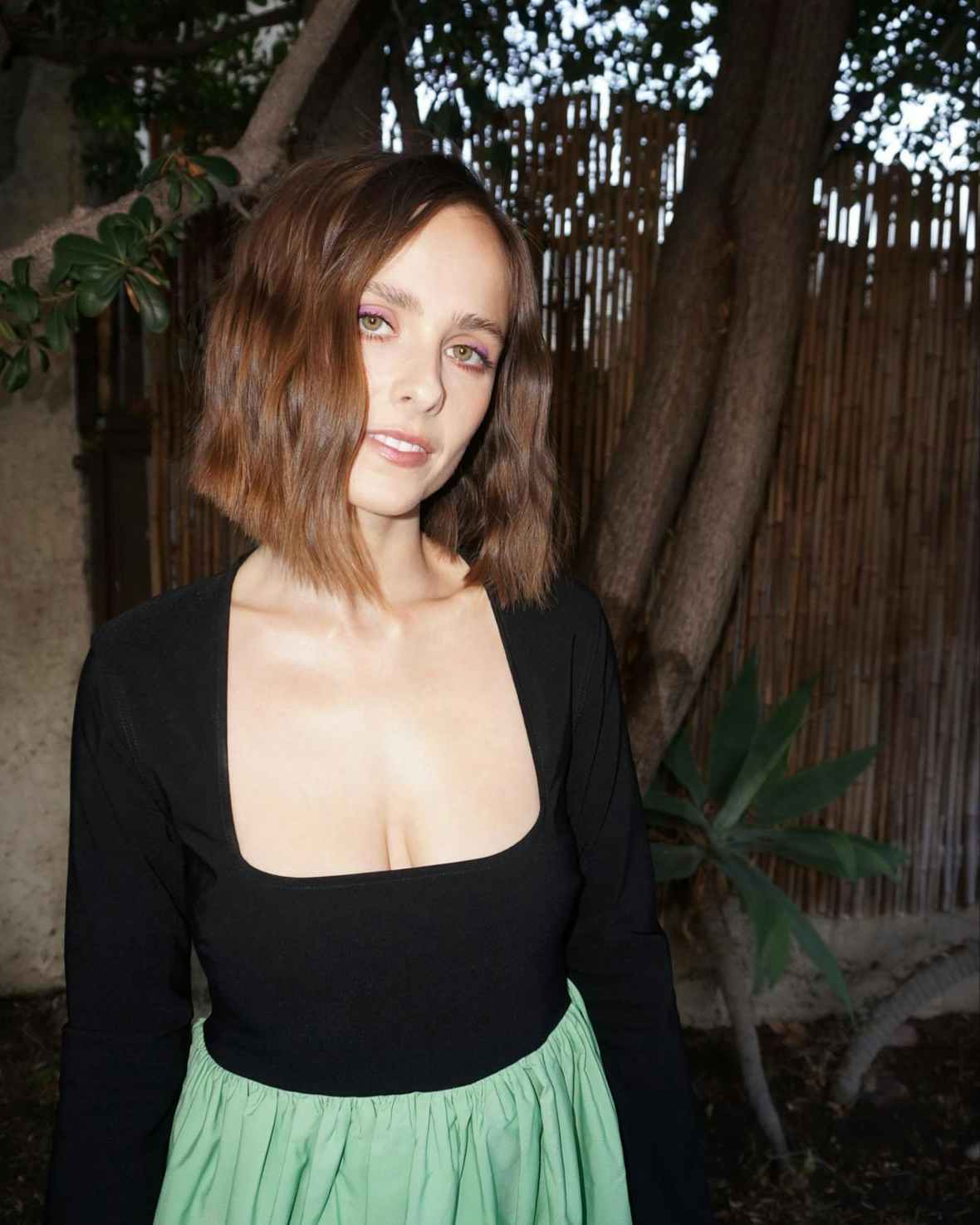 Call Sheet: As the second season of The Sex Lives of College Girls hits screens, we asked Chalamet to dish the dirt on her juiciest acting secrets.

Pauline Chalamet thinks of herself as quite a serious person. If you recognise her name, that's because, yes, she is Timothée's sister. But Chalamet is also an accomplished actor in her own right. So far, she's starred in two critically-acclaimed comedies: Judd Apatow's semi-biographical feature The King of Staten Island (2020) starring Pete Davidson, and The Sex Lives of College Girls – Mindy Kaling's witty HBO series that follows the sex lives of, you guessed it, college girls.
In The Sex Lives… Chalamet plays the ever-so-awkward Kimberly, who wrestles with coming of age crushes and class disparity between herself and her friends (played by Reneé Rapp, Amrit Kaur and Alyah Chanelle Scott) at the prestigious, fictional Essex College in Vermont. The foursome are back on our screens for season two of Sex Lives, which starts airing today.
"In a way, I always felt that comedy was so unattainable. It's always really intimidated me," Chalamet says of her first two major projects, Zooming in from her Los Angeles apartment. ​"I always felt that other people perceived me as quite a serious person, too. But now I've had quite a few opportunities to play with comedy, I love it. It's technical in a way that I had never imagined."
Now 30, New York City-born Chalamet grew up dancing at the School of American Ballet, later performing with the New York City Ballet and American Ballet Theatre. Then she went to LaGuardia High School, where she studied drama. ​"We lived in Times Square, basically, so all those Broadway theatres felt very accessible. As a kid, she watched a performance of Annie Get Your Gun starring the legendary actor and singer Bernadette Peters. It made acting feel like a realistic option for Chalamet, if not an inevitability.

"It was normal in the household I grew up in, which I realise maybe wasn't so ​'normal,'" she says. ​"I thought I wanted to do so many other things, and sometimes I still do." After high school, Chalamet studied theatre and political studies at Bard College in upstate New York, where she toyed with the idea of becoming a lawyer – a career path she would no doubt have excelled in, if her articulate delivery and smart, grounded ideas about the world are anything to go by.
Chalamet's an avid reader, too. Right now, she's deep into Anand Giridharadas' new book, The Persuaders. ​"It focuses on people, mostly women in our society, who are willing to do the work of not leaving room for fascists and bigots, while trying to meet people where they're at," she says, passionately. ​"I think when you live in elite liberal bubbles, you can be quick to dismiss those who don't think the same way. [Giridharadas] does an excellent job of explaining the importance of nuance in order for democracy to function."
After graduating from university in 2014, Chalamet (whose dad is French) moved to Paris for seven years, before finally settling into acting. ​"I love the power of imagination, and I like being able to be a vessel for that," she says, having channelled plenty of sharp intelligence into Kimberly. We grill Chalamet on her best showbiz stories below…

The thing that made me want to get into acting was…
A pivotal moment for me was seeing Liev Schreiber in Talk Radio [on Broadway]. It was in 2006, I think. I grew up seeing a lot of musicals, and I loved them. Not only do I remember to this day the performances and how they made me feel, but I remember the sensation of leaving the theatre, and a certain longing that came with it. I think at that particular moment, I was like: ​"Wow, what is that? That is amazing! Those characters are amazing! The writing is amazing!" I just remember being so marked by it.
The best performance advice I've ever been given is…
When I was 16 or 17 and applying to college, it was a terrible time in my life. My ballet period was over. I got into this bike accident and broke half my body. I was a drama major at LaGuardia, and I had such a resistance to applying to college, because in my head, I had been sold this narrative since the age of 10, that there wasn't going to be a typical ​"college after high school" time – but that there was going to be a ballet career.
I remember once I was crying at the computer, trying to upload the personal essay that you have to send into colleges. A neighbour came over to borrow some eggs and he saw me. He was like: ​"What's going on?" My mom was saying: ​"Oh, it's the college process." And I was like: ​"I don't want to go to college! I'm going to be a dancer! I don't need this!" And the neighbour said to me: ​"The only way you should enter this field is if you feel that you cannot do anything else. In order to know that, you should explore other interests first."
Unless you feel that desperate need, don't do it, basically. Because it's such a hard life. It's really stuck with me.
A show I'm binge-watching at the moment is…
The Bear! I am obsessed with this show. I've watched it twice already.
A film or TV show I wish I'd been in is…
It's more that there are certain people I wished I'd been able to meet or work with, like Agnès Varda. Truffaut, obviously. Same with Barbara Lowden, I would have loved to work with her. I can't say I watch films and I go: ​"Damn, I wish I was in that." Because a lot of the time, it's more that I just love the universe they've created. I'd love to work with Janicza Bravo – to be in one of her universes.

The one thing I have to have in my trailer is…
What I'm currently reading. I need it! I need to know that if there's a moment of downtime, I have an option to pick it up. That's really something I'll never go to work without.
When I'm not acting, I'm…
I cook a lot more, I read a lot more, I spend more time in bed. Sometimes I'll try new things, I'll go to a new place. I guess it's hard. These 15-hour days on The Sex Lives of College Girls, most of the time right after that is spent recuperating and treating my body in a way that's more normal. I'd say I'm almost always ​"working". Between reading scripts, auditioning, researching, finding people to work with, watching movies, even the reading I love doing. It's all part of the work. But the periods where I'm really not working, I'm with my best friends on vacation.
My most embarrassing audition moment was…
Once, I auditioned for something pre-Covid. There was so much text – three scenes, so many lines. I knew them inside and out, and I was so excited. I did the audition, I knew the lines, you know, I was just so in it. I was so confident in how it went. So I was like: ​"I'm gonna get this, I'm gonna get a call back." I called my agent a few days later, like, have you heard anything? She was like: ​"Yeah, they didn't really think that you had prepared in the way that they had envisioned you preparing, and they felt that you were just a little green." What? It was shattering for me. I really misread the room on that one.
The worst lie I've ever told to get a part is…
I haven't! I'm a very nervous liar, but I think it's so badass when people do it because especially as an actor, it's like, well, you're an actor, right? Even my mother, who was kind of in this business, when she would talk about making resumés exaggerating skills, I've always been like: ​"No! I can't! they're going to ask me to play proficient ukulele and I just know a few chords!"
Something that people get wrong about Hollywood is…
I think that if you're not in the industry of Hollywood there's often this idea of fakeness or not really considering ​"the work" to be work – more [that it's] just about who you know, and being at the right place at the right time. There is an element of that. But I also think that there are some very smart people who work in Hollywood. A lot of the time, we might not even know their names. But when you meet them, you are aware of the driving force of artistry that lives inside of them, and how it is that they ended up where they are today, making the films or the shows that they're making. That's maybe less sexy and less spoken about because maybe it's seen as cerebral or intellectual. It's not ​"the face" of Hollywood.
I think that if you don't know Hollywood at all, you probably see it as a world that works completely differently than any other. But it works the exact same way. It's a business like any business: you start out at the bottom, and you work your way up. It's like a crazy circus that kind of has the same rules as every other business.
On whether she and Timothée share acting tips…
Nope.

The Sex Lives of College Girls is streaming from 17th November at 3am ET on HBO Max

More like this