"

Big mistake. Huge!" A short history of Pretty Woman's shopping scene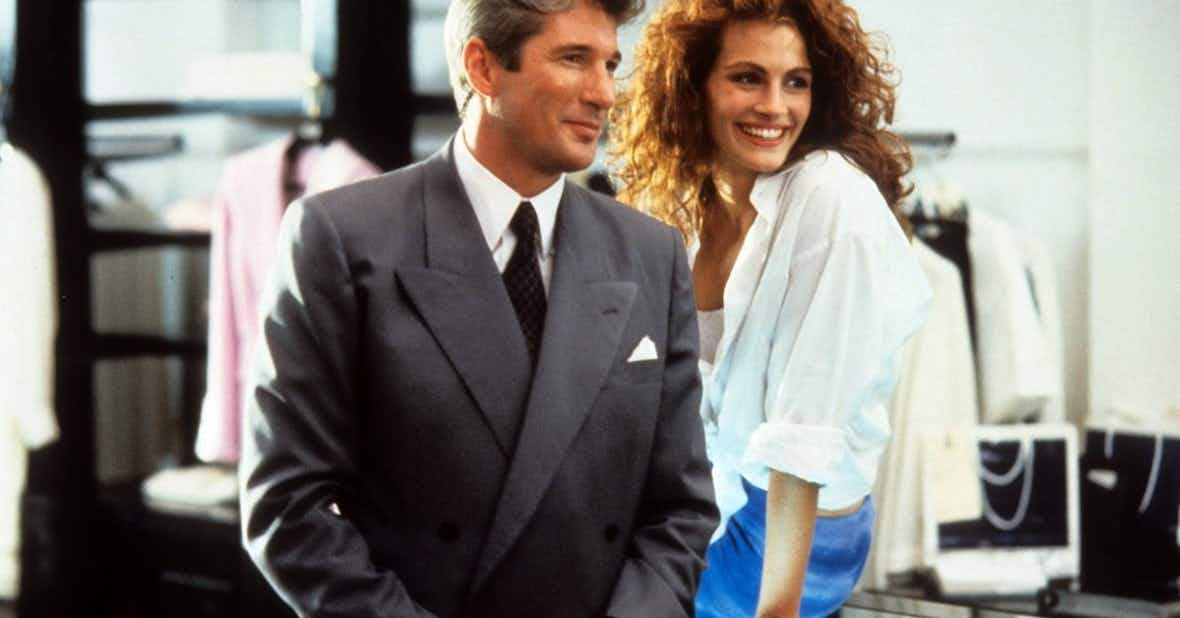 As the film turns 30, screenwriter J.F. Lawton recalls basing the Rodeo Drive revenge moment on a real life experience.
In Pretty Woman, there's a revenge scene that's one of the best in modern cinema. Vivian, played by five-time World's Most Beautiful Woman Julia Roberts, returns to a Rodeo Drive boutique whose employees originally refused to help her because she was dressed like a prostitute.
Second time round, outfitted in a floppy hat and button-down white dress – her arm a bar on which a hundred bags have been hung – she strides up to the sales clerk and asks, ​"Do you work on commission?" The woman confirms she does. ​"Big mistake. Huge!" Vivian says, gloating in the face of the stunned clerk, alluding to the commission she could have made if only she'd agreed to help first time round. The line was ad-libbed by Roberts, says the film's screenwriter J.F. Lawton, and 30 years after Pretty's Woman​'s release, it's still one of cinema's most-repeated put-down phrases.
It almost didn't make it in — in Lawton's first version of the script (initially titled Three Thousand), Vivian says nothing, but leaves the boutique throwing a rude hand gesture at the saleswomen. Much of the scene's conflict was inspired by a similar situation Lawton himself experienced and put down on paper in his much darker version of the script for the Garry Marshall film (the original version ended with Vivian and Edward parting ways, and Vivian heading to Disneyland on a bus with her roommate Kit.)
When he wrote the script in the late ​'80s, Lawton was a struggling screenwriter simply trying to break into the industry. He was living off of Hollywood Boulevard, and struck up unlikely friendships with working girls, which became the basis for this rags-to-riches romance starring Julia Roberts and Richard Gere. Here, he remembers how the scene was originally put to paper.
Screenwriter J.F. Lawton: Part of why [that scene] still resonates is it came as much from research that I did into that world as personal things that I was doing. At that time, I was very much struggling in my own life. I was living off of Hollywood Boulevard. I was struggling to make it as a writer, and I felt the whole world was against me.
I got to know some of these working girls at Winchell's Coffee Shop on Hollywood Boulevard. We would have coffee and I would talk to them about their lives. When I started to get the idea [for Pretty Woman], I knew the street side of the world, but not the rich side. So I asked somebody I knew that was of better means, ​"What's the best hotel?" I went to the Beverly Wilshire and I put on a really nice suit. At that time, I didn't know you could even walk into a hotel if you weren't gonna stay there. When I first walked into the lobby, it was so beautiful, and I thought security was going to be instantly called on me.
That became the moment when Vivian first walks into the Beverly Wilshire, and Julia [Roberts] is looking around. She goes, ​"Oh shit!" She's intimidated by it, and that came from me. Then I discovered that Rodeo Drive was right next to [the Beverly Wilshire], and so I started to go to Rodeo Drive, very nervous and afraid to go into the shops because they were so nice and I had no money, of course. I was in a secondhand suit, but it was a decent suit. And I actually went into a men's shop, and there was a male clerk there. I was looking around, and I don't know if it was because I was so nervous, but he said to me, ​"What are you looking for?" I said, ​"Oh, I just want to look around," and he said, ​"We have nothing here for you. You're in the wrong place."
That really happened to me! It wasn't two women, but that really happened to me. I didn't get payback like [Vivian does] in the movie, but both of those scenes were in the original script. The payback that I got later in life, is after Pretty Woman did well [at the box office] and I became more confident in that world. Now I can walk into any shop in Beverly Hills in a torn T‑shirt and jeans and people sense that I have confidence and immediately want to help me, right?
In the original script, that scene did happen, and then she does go back, but she makes a rude gesture. She doesn't say ​"Big mistake." ​"Big mistake" was, I believe, ad-libbed by Julia with [director] Garry [Marshall]. Garry loved to ad-lib. So many of the best lines in the film, the most famous lines, were ad-libbed, so I can't steal credit for that. That was a Julia ad-lib, is my belief.
If you want to drill down on that scene, when I wrote it, it was just writing from my own personal experience. I was writing out of sympathy for the people that I saw on Hollywood Boulevard, from my own feelings of insecurity, a little bit of my own anger at the world being unfair in terms of money. And then also the darker side of myself, in Edward, being driven.
It's funny when people criticise the film as being materialistic. It's the opposite of that. It's about a girl who sees that other world as something far away, that she can never obtain, and of course it's attractive, right? But then when she gets to experience it, she's willing to walk away from it all. The thing that I would always notice is that people who grow up in that poverty world, they don't feel like they deserve nice things. They don't feel like they deserve nice clothing, and I knew so many women who would be afraid to dress up.
The thing that Vivian does, ​"Big mistake," which is maybe better than just her making a rude gesture, is, she's saying to those saleswomen, ​"You didn't see the real me. You judged me based on the way I looked and acted, but there's more to me, and it hurt you." She doesn't go in there and get them fired. She teaches them a little bit of a life lesson. That's what resonates with people. People say, ​"Oh, I had my Pretty Woman moment."
I forget what [Henry] Kissinger said about it, but it was something like, he met some diplomat, and then later the diplomat didn't recognise him, and then later they recognised him and they were all apologetic. It doesn't relate in any way to shopping, but it relates to people feeling like, ​"You don't see the real me, you don't appreciate me, you're making a big mistake by judging me."


More like this