The best UFO movies to watch after Nope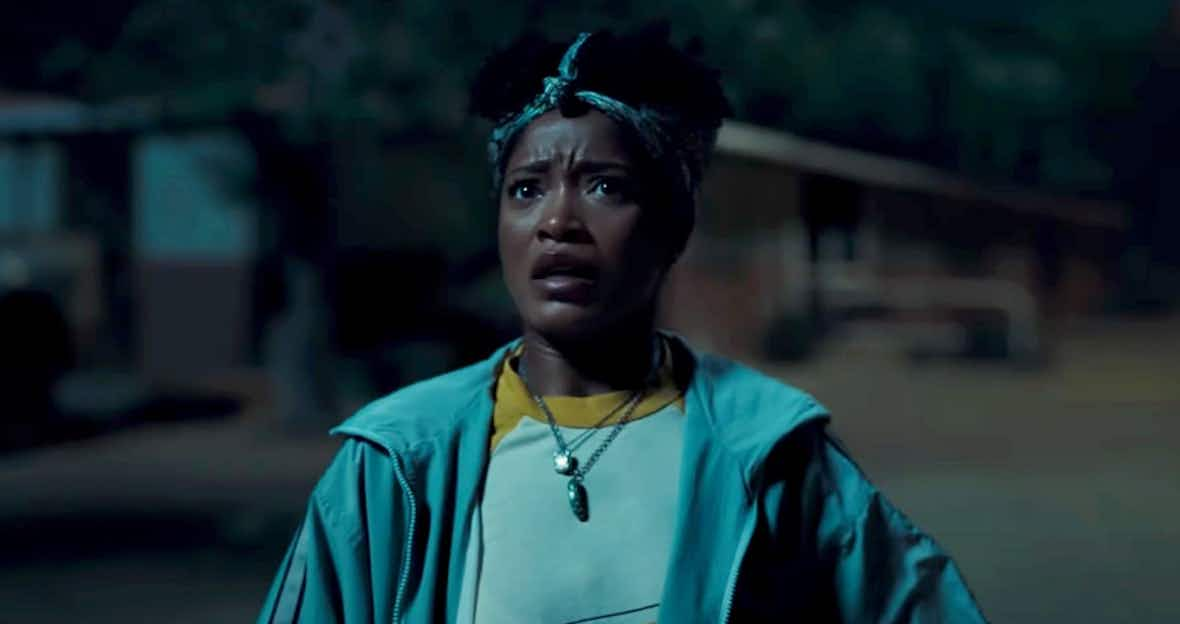 Jordan Peele's latest is bringing back good old fashioned sci-fi scares. Hungry for more? Watch these films at your own peril.

To paraphrase the tagline of 1979 sci-fi horror classic Alien, ​"in space, no one can hear you scream – but in the multiplex, everyone can". Something to bear in mind before you watch Jordan Peele's Nope this weekend, which tells the tale of a UFO terrorising two-ranch owning siblings, played by Daniel Kaluuya and Keke Palmer.
And if you find yourself craving even more alien invasion frights after leaving the cinema, we've got you covered. Here are 10 sci-fi greats to put on your watchlist.

The War of the Worlds (1953)
It's weird to think that, other than prog rock genius Jeff Wayne's musical version (and whether you agree does depend on how much you enjoy 10-minute guitar solos), there's never really been a good adaptation of H. G. Wells' seminal 1898 tome The War of the Worlds, which is pretty much the blueprint for almost every alien invasion story to follow. The issue appears to be cinema's staunch refusal to adapt the source material faithfully. Tom Cruise's 2005 film uprooted Wells' tale of Marian invaders from Victorian England to New Jersey. This fifties adaptation loses the iconic tripods and tells the tale in California. Somehow, it's better.

In recent times, John Carpenter's punchy satire – in which WWF wrestler ​"Rowdy" Roddy Piper finds sunglasses that expose the planet's ruling class as aliens manipulating society – has become a favoured meme of internet dwelling conspiracists, convinced that real life plans for a new world order are afoot. Carpenter intended the film to be a critique of then US president Ronald Regan's economic policy and capitalism at large. A box office bomb at the time, it's become iconic in the decades that have passed – and not just in the dark recesses of Reddit. Shepard Fairey's street art owes much to Carpenter's cinematic stylings.

Much like the preceding years' District 9, Monsters posed the question: what if aliens exist, but they're stupid and useless, and not even cute like E.T. is. Beings whose arrival doesn't unveil the universe's mysteries, or even pose a threat to humanity, but is just an obstacle that makes human existence more difficult. Gareth Edwards, in his directorial debut, did this by casting two unknowns in the lead roles, with improvised dialogue, extras found on speck and digital effects added later, as the two leads navigate a Mexican jungle with their end goal being their native America. The result is unique and captivating.
It's that man John Carpenter again, with an adaptation of John W. Campbell's 1938 novella Who Goes There? Here, the story concerns a parasitic extraterrestrial life-form that infiltrates a group of American researchers in Antarctica, that assimilates, then imitates, all other living beings. Warning: this is not a film for dog lovers. Claustrophobic and cold terror ensues. Wouldn't alien life prefer warmer climes to begin their invasion? Perhaps, but this is no holiday. This is a nihilistic masterpiece.

And while we're on the subject of parasitic aliens, the missing in action Toby Wilkins hasn't made a film since 2009's straight-to-DVD The Grudge 3. That's a shame, because this updating of The Thing​'s basic premise – essentially a siege movie, here our besieged ensemble are holed up in an Oklahoma gas station – suggested he was a filmmaker with great promise. Some of the special effects are astounding and most of them practical, too. You can almost feel the limbs breaking and tearing as the parasite infests their core.

Marking the directorial debut of Joe Cornish and the first big screen appearance of future Star Wars staple John Boyega, this often underlooked turn of the decade gem sees brilliantly designed aliens – essentially gorillas styled by nu-rave – attack a council estate in south London. Produced by Big Talk, the makers of Shaun of the Dead, Hot Fuzz and alien invasion comedy The World's End, the film is similar in tone to all the aforementioned. Cornish made the film to counterbalance the ​"hoodie" hysteria of the time and succeeded in delivering a movie that is big on laughs, social conscience and of heart.
It falls away in its final acts, and 2018's turgid The Cloverfield Paradox has perhaps sullied the franchise to a point beyond repair, but J. J. Abram's found footage original was a treat. Released less than a decade after 9/​11, the film – in which a giant alien monster with a scabby crotch ravages New York – wears the pain of that real life horror throughout. But there are laughs, too. And love. And exploding heads. Plus, the relative innocence of the digital world into which it arrived meant that the breadcrumb trail of viral marketing leading into the film enhanced the big screen experience in a way not seen since 1999's Blair Witch Project.

Long before James Gunn made the Guardians of the Galaxy films, he wrote and directed this small-town alien invasion flick. It's essentially a love letter to 80s horror comedy (there was some drama on release as to shared plot points between Gunn's debut and 1986's excellent Night of the Creeps) and the b‑movies which had shaped his taste in movies as a teen. The very fact that Troma Films co-founder Lloyd Kaufman makes a cameo here tells you a lot about the tone.

The scariest thing about Denis Villeneuve's acclaimed alien invasion movie is that lead Amy Adams didn't win the Oscar for her touching portrayal of a linguist attempting to communicate with the sentient space squids. They're here, they're hovering over major landmasses across the globe, and the army wants to blow them up. This is not a horror movie. At its big heart, it's a movie about communication and overcoming difference. And it is the best movie in this list. Maybe even the best movie about extraterrestrial life ever.

Invasion of the Body Snatchers (1954)
Jack Finney's 1954 novel has been adapted for cinema many times. In 1956, in 1978, in 1993 (as Body Snatchers) and in 2007 (as The Invasion, but we don't talk about that one). Of them all, the former is the best by a smidgen, largely because its bleak black and white tones are only just removed from the era of McCarthyism, which film studies types have seen the film as providing allegory for. The plot? Humans are mimicked by surreptitiously invading aliens, and it's impossible to tell who is alien and who is human. Deserved praise too for 1998's The Faculty, which takes the body snatching premise and updates it with sass for the Buffy generation.


More like this