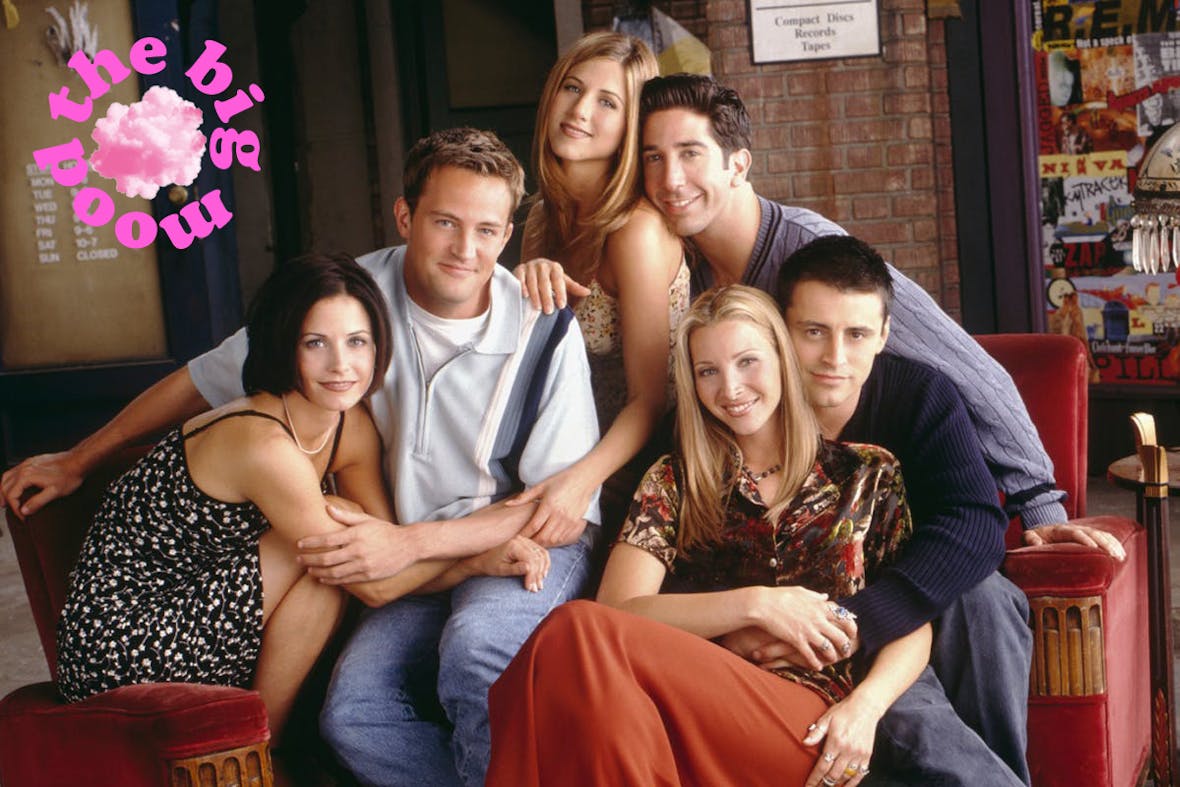 The Big Mood: being sued for watch­ing so much Friends at work
Start­ing this col­umn was dif­fi­cult this week, as it is every week because I don't want to do any work! Ever! Unfor­tu­nate­ly, I've backed myself into a cor­ner as my self-employed sta­tus means that I only get paid for what I actu­al­ly do.
I'm not secur­ing the bag by scrolling Twit­ter for three hours or receiv­ing a set month­ly salary no mat­ter how much time I lose to inter­net worm­holes. If I was being paid irre­spec­tive of what I do between 9am and 5pm, I would absolute­ly make like Chase Robin­son, a for­mer vice-pres­i­dent of Robert De Niro's pro­duc­tion stu­dio who is appar­ent­ly being sued for watch­ing an insane amount of Friends on Net­flix (and also some light expens­es fraud to the tune of ​"hun­dreds of thousands").
But let's be real, it's main­ly the Net­flix that rankles.
Accord­ing to the law­suit, Robin­son basi­cal­ly cos­played as any 20-some­thing on a come­down. While sup­pos­ed­ly work­ing, she man­aged to slog through an aston­ish­ing amount of Friends. Dur­ing one four day peri­od she watched 55 episodes. One sin­gle Sat­ur­day saw her sit through a fur­ther 32 episodes. Do you know how much Friends that is? I can't do maths, so I don't. But it's a lot of Friends. At least two sea­sons of Friends in one day! Some would say that is too much Friends.
While she did also sprin­kle in oth­er shows — Arrest­ed Devel­op­ment and Schitt's Creek were also namechecked (Chase, let us be pals) — Friends was the pri­ma­ry time sponge.
This, com­rades, is what the fight against cap­i­tal­ism looks like. Not only did Robin­son say ​"No, I shall not be forced to exchange my labour for mon­ey against my will" via the medi­um of rins­ing the com­pa­ny Net­flix account, but her choice of show was the cher­ry on top.
She's seen Friends. Everyone's seen Friends. All 10 sea­sons, at least three times. You don't watch Friends to pay atten­tion or even enjoy it; at this stage Friends is mind-numb­ing white noise. You may as well be lying on your bed in a tow­el, star­ing at the wall for all the stim­u­la­tion you're get­ting. To pick Friends as the show with which to (alleged­ly) exploit the com­pa­ny you're work­ing at is ​"fuck you, pay me (for watch­ing Friends)" ener­gy of the high­est order.
As far as I'm con­cerned, it's time for every­one to fol­low suit. With the announce­ment that the gov­ern­ment want to keep our fin­gers toil­ing until we're sev­en­ty-fuck­ing-five, Brex­it pre­dict­ed to throw all our indus­tries into chaos and a rise in ter­ri­ble, ten­u­ous con­tracts that pay poor­ly and treat work­ers even worse, we need to down tools, fire up Net­flix and say: ​"No more". Until we get liv­ing wages, four day work weeks and sub­sidised com­mut­ing, find us in Cen­tral Perk with the rest of the gang.

Big fuck­ing Mood.

---