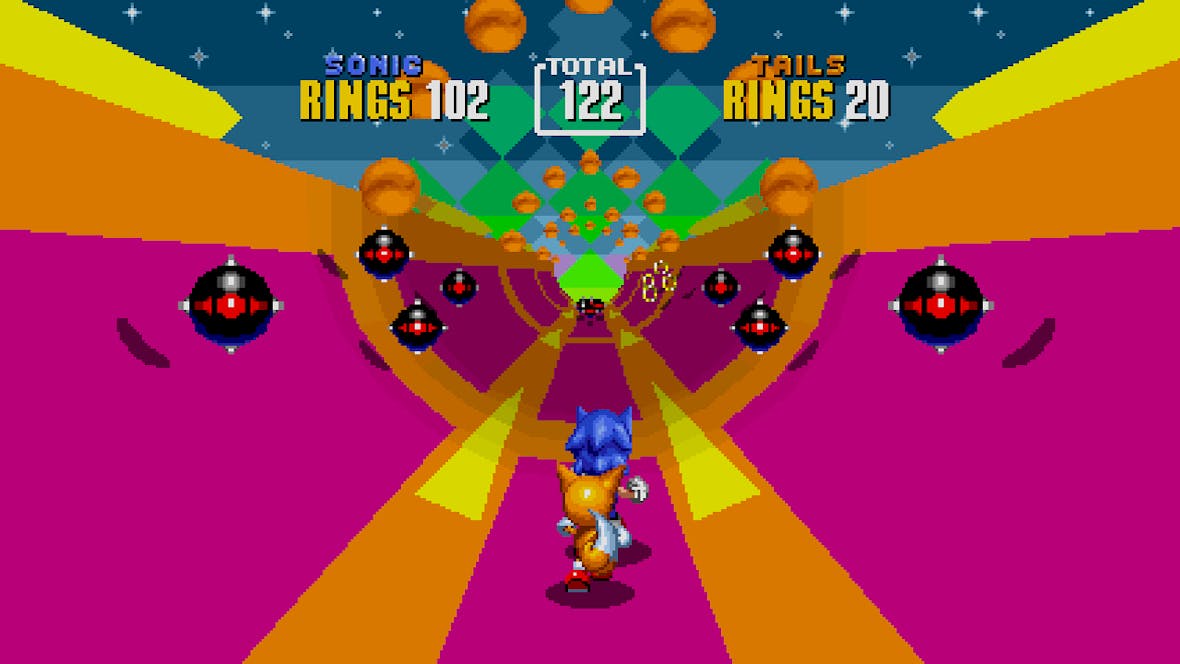 The joys of cheat­ing and being cheat­ed by video games
The Son­ic the Hedge­hog games are cel­e­brat­ed for their music, from the gid­dy chipset bal­lads of the orig­i­nal 2D instal­ments to the squalling glam rock tracks of lat­er 3D out­ings. In the case of 1992's Son­ic 2, the music is also some­thing of a mag­ic por­tal. By select­ing cer­tain tracks on the game's Sound Test menu, you can unlock a set of cheat modes, includ­ing a bizarre slow-mo fea­ture and, most use­ful­ly, a lev­el select screen.
To my nine-year-old self, all this proved trans­for­ma­tive: it gave me a fresh per­spec­tive on the game's design, and so, trans­port­ed me fur­ther into it. No longer was I con­strained by the giv­en cadence of stages and in par­tic­u­lar, the dif­fi­cul­ty spike imposed by the infa­mous Chem­i­cal Plant lev­el. Now, I could explore and study them in iso­la­tion, tack­ling them in dif­fer­ent orders as though com­pos­ing a playlist. I was par­tic­u­lar­ly fas­ci­nat­ed by the game's Debug Mode, which let me con­jure up props such as gold­en rings at whim, and fly through lev­els in the curi­ous guise of a pow­er-up TV. This fea­ture does not, in fact, exist for the ben­e­fit of Son­ic play­ers: as the name implies, it was added to help Sega's QA staff stress-test lev­els before release.
All of which is to say that cheat­ing in video games isn't just about, well, cheat­ing. It's to stray across the gap between play­er and design­er – to put one foot out­side the sim­u­la­tion, often in a spir­it of cheer­ful antag­o­nism. DOOM's No Clip Mode lets you glide through walls, for exam­ple, turn­ing the tables on claus­tro­pho­bic Mar­t­ian mazes that are packed with mon­ster lairs screened by slid­ing par­ti­tions. Mor­tal Kom­bat​'s self-explana­to­ry Blood Code allowed play­ers to reverse the cen­sor­ing of its home for­mat release, back when moral pan­ic over ​"video game nas­ties" was at its peak. The play­ful­ness of cheat­ing goes beyond tap­ping in codes to broad­er ques­tions of game design. As an ethos, it's strange­ly inte­gral to immer­sive sim games, a genre where play­ers are encour­aged to use tools in ways the design­ers haven't pre­pared for.
Sad­ly, cheat­ing gets short shrift in dis­cus­sions of games today, run­ning con­trary as it does to the mer­i­to­crat­ic world­view expressed by many devel­op­ers and gamers, where rewards and self-improve­ment are held to come about exclu­sive­ly through exer­cise of abil­i­ty on a sup­pos­ed­ly lev­el play­ing field. To cheat a game, in the words of one recent tweet con­cern­ing FromSoftware's Sekiro: Shad­ows Die Twice, is to ​"cheat your­self", to pass up an oppor­tu­ni­ty to ​"grow". The tweet in ques­tion has been wide­ly memed by crit­ics, devel­op­ers and mar­ket­ing teams look­ing to boost their num­bers – it has attract­ed a flood of videos of clas­sic cheats with the text past­ed over char­ac­ter dia­logue – but the loud­ness of the reac­tion against the sen­ti­ment betrays its popularity.

The idea of games as mer­i­toc­ra­cies is reflect­ed in the ubiq­ui­ty of numer­i­cal pro­gres­sion sys­tems, where play­ers start out puny and steadi­ly lev­el up, acquir­ing beefi­er traits and bet­ter equip­ment, in a fan­ta­sy of pre­dictable gain through no-non­sense appli­ca­tion of time and effort. Such day­dream­ing often goes hand-in-hand with a strain of ableism. The pro­posed addi­tion of acces­si­bil­i­ty options for dis­abled play­ers to Sekiro, for exam­ple, has been cas­ti­gat­ed by some as dilut­ing the game and com­pro­mis­ing the creator's artis­tic vision.
FromSoftware's works are often held up as peak ​"mer­i­to­crat­ic" games, defined as they are by gru­elling tus­sles with adver­saries whose attack pat­terns must be painstak­ing­ly mem­o­rised and coun­tered, with­out much instruc­tion. They are pre­sent­ed by fans as more hon­est, sub­stan­tial expe­ri­ences that expect seri­ous com­mit­ment and under­stand­ing, where oth­er games indulge ​"lazy" or ​"casu­al" behav­iour. A beau­ti­ful yet bru­tal fan­ta­sy set in Sen­goku-era Japan and star­ring a pros­thet­ic-armed shi­no­bi, Sekiro is espe­cial­ly with­er­ing thanks to its Pos­ture Sys­tem, which forces you to lock blades repeat­ed­ly in order to throw your foe off-balance.
To assess FromSoftware's games in these terms, how­ev­er, is to ignore the fact they aren't dif­fi­cult for the sake of it. Their frus­tra­tions form part of sto­ries about pow­er, cor­rup­tion, entropy and mor­tal­i­ty, which reach for emo­tions oth­er than the mere sat­is­fac­tion of beat­ing a foe. More impor­tant­ly, this reduc­tive read­ing also ignores the fact that the design of such games isn't real­ly about chal­lenge at all. It's about the illu­sion of chal­lenge, and the illu­sion of over­com­ing it.

As doc­u­ment­ed by the design­er Jen­nifer Scheurle, games are rife with devi­ous aids and fudges that exist to cre­ate a sense of hard-won progress almost regard­less of the cun­ning brought to bear. Much as talk of real-life ​"mer­i­toc­ra­cies" serves as cam­ou­flage for social inequal­i­ty, so talk of con­quer­ing a game through skill alone over­looks the ways in which games are, in fact, built to be beat­en, assist­ing you in ways you can't quite see. This is as true of top-draw­er ​"gamer's games" like Sekiro as it is games that are open­ly cre­at­ed for more laid­back enjoy­ment. Among the more com­mon designer's tricks in action games, for exam­ple, are ene­mies eas­ing off when not on screen, like movie extras drop­ping out of char­ac­ter, or cour­te­ous­ly tak­ing turns to attack when present in over­whelm­ing numbers.
In Epic's over-mus­cled shoot­er Gears of War, the last bul­let in a mag­a­zine does extra dam­age to raise the odds of fin­ish­ing off an attack­er with your very last shot, so that you feel like you're scrap­ing through every encounter. In Sony's Unchart­ed, cer­tain col­laps­ing sur­faces ani­mate faster or slow­er depend­ing on where you're stand­ing, so that play­ers who aren't as atten­tive or dex­trous can bound to safe­ty with the same, skin-of-your-teeth panache. From­Soft­ware is as par­ty to all this as any stu­dio. Sekiro​'s ways of spar­ing your blush­es include invin­ci­bil­i­ty frames, points in an eva­sive ani­ma­tion when ene­my attacks pass harm­less­ly through you, so fleet­ing as to be almost unnoticeable.
If games are sim­ply about reap­ing the rewards of skill, one could argue that all these games cheat their play­ers by help­ing play­ers along in ways you aren't quite con­scious of. And yet, these games are no less enjoy­able, or valu­able, for their sneak­i­ness. As out­lined by Jen­nifer Scheurle, we treat most games the same way we do a stage magician's con­jur­ing tricks: how­ev­er hard we might look for the sleight-of-hand, we all secret­ly want to be fooled. That is, we all secret­ly want to be cheated.
---