Shira Haas is not afraid to be unorthodox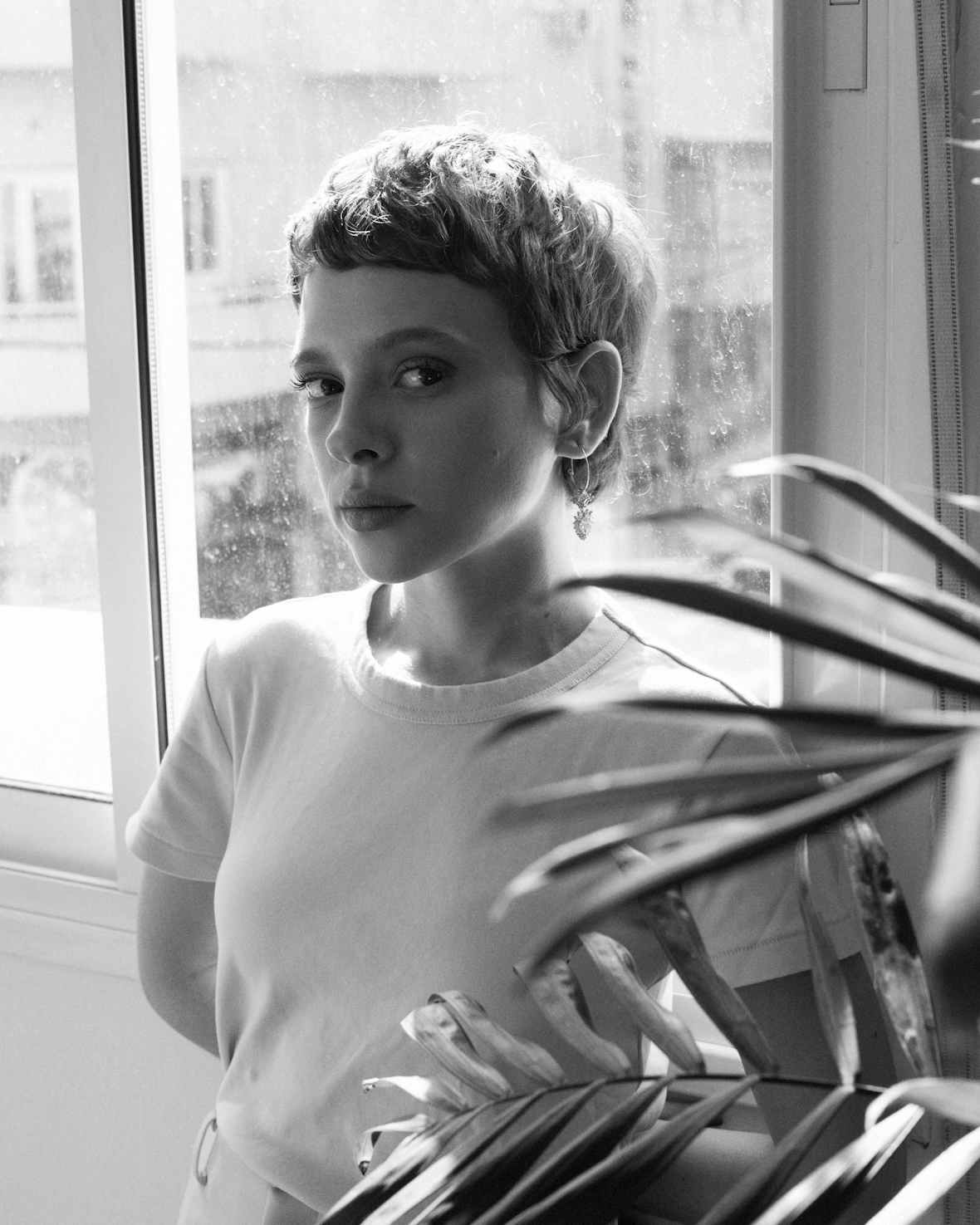 The Israeli actress on her latest role in Netflix's forthcoming series, and how she embodies her characters and their multitude contradictions.
When I ask Shira Haas if she was nervous to shave her head, she blows a raspberry. ​"If something is worth telling and I want to say it, there's not a lot of things I'm not going to do," she asserts on a recent afternoon at the Gramercy Park Hotel in New York.
Haas is referring to her role in Netflix's miniseries Unorthodox. The 24-year-old Israeli actress stars as Esty Shapiro, a young Hasidic woman from Williamsburg, Brooklyn, who flees her restrictive community, sacrificing all that has ever been familiar to her – her family, home, and identity – for a chance at independence. She makes the decision to leave only after learning that she is pregnant, and is followed by her wide-eyed, albeit ultimately well-meaning husband Yanky, and his gambling, gonif (Yiddish for ​"scoundrel") of a cousin Moische, both of whom are sent to retrieve her.
It was on the very first day of shooting that Haas went under the clippers as part of her character's arranged marriage. In the scene, she faces the camera and, as the clippers pass over her head, begins to cry. It's not a one-note sob, however. Her breath shakes, but she lets out the slightest, well-calibrated smile, proffering a curt, encouraging nod to the woman cutting her hair. Her expression is hard to articulate: a cocktail of anxiety and perseverance, the slightest bit of joy and a whole lot of fear.
"I had all these emotions," Haas says about getting her hair cut. ​"I realised that it's really like Esty [in that moment]. She's very proud, because she's getting married and she's excited, but she also has all these questions. Who is this guy that I'm getting married to? And my hair? She's scared. It's kind of like saying goodbye to her childhood."
Haas communicates it all, and without a single word uttered. As Esty, she speaks both Yiddish and English, but some of her most powerful moments are, like her haircut, completely without dialogue. ​"Whenever I have lines that I can remove [from the script], I'm so into it," Haas says, ​"because sometimes you can say things without saying them… When you just see it all with a look, you see the character's mind and understand what she's going through."
In Unorthodox, her character goes through quite a lot. Esty runs away to Berlin, where her estranged mother lives and where she can claim citizenship, and quickly falls in with a group of conservatory students. While squatting in an empty classroom at the conservatory, she eventually decides to act on her love of music and audition for a scholarship there – if she can manage to outrun her husband and his cousin at the same time. That's the short of it; the show is only four episodes long, but manages to cram in quite a lot, spanning over a year in time and exploring Esty's marriage, her sexuality, her relationship with her family and religion, and, of course, how she manages to find her way in the world.
It's a tall order, and Haas is aware that it fell on her shoulders to not only carry the story, but imbue her character with the complexity and emotional range that it required. Esty's ​"very, very brave," she says, but ​"also scared and vulnerable… She has all these conflicts inside of her that you need to bring to every scene."
To prepare for the role, Haas spoke with some of the ex-Hasidic people working on the show. There was a particular interaction that stood out: when she asked one woman why she wanted to leave her community. ​"She just looked at me," Haas recalls, ​"and said, ​'Shira, no one wants to leave.'" It was a breakthrough moment for Haas, who realised that people only leave their homes because they have to. ​"Even though it's hard for us, maybe, to see it, it's the only place she knows. The only place she can call home. The only people she loves," Haas says.
At times, Unorthodox indeed makes that inner conflict hard to see. The script occasionally sacrifices nuance for brevity and exposition, and relies a bit too heavily on the blunt contrast between anything-goes life in Berlin and the shackling dictates of Hasidism in Brooklyn. Haas's performance, however, and her knack for wordlessly embodying Esty's emotional turmoil, more than compensates, in a way that will hopefully (and should deservedly) hit home with American audiences regardless of religious affiliation.
For Haas, home is Tel Aviv, although, she says with a laugh, ​"I feel sometimes like a gypsy because I travel so often." Interested in theatre and writing, the 24-year-old attended a high school for the arts outside of Tel Aviv, commuting sometimes an hour from home to study drama. While still a student, she received a Facebook message from a well-known Israeli casting director in need of young actors. Haas laughs recounting the story: "[the casting director] told me, ​'I did this [movie] and that. I'm not a pervert.'"
That fortuitous Facebook message led to Haas' first-ever audition and a starring role in the Israeli feature, Princess, a disturbing drama about a young girl's relationship with her mother's sexually abusive boyfriend. The movie garnered Haas the Haggiag Prize for Best Actress at the 2014 Jerusalem Film Festival, and went on to premiere the next year at Sundance. She soon signed with her US agent and, riding that momentum, landed a spot in the Jessica Chastain-starring film, The Zookeeper's Wife, along with roles in various Israeli TV shows, most notably Shtisel.
Although it premiered in Israel in 2013, Shtisel has become something of a sleeper hit with international audiences after it began streaming on Netflix in 2019. The show follows the lives of its eponymous, ultra-orthodox family, which Haas describes as akin to the ​"religious Sopranos family, without murder or guns or things like that." Notably, then, Unorthodox, marks her second role as a young religious girl – even though Haas describes herself as quite secular. While she has had some exposure to strict religious practice by virtue of living in Israel, she resists the urge to compare her two orthodox characters, simply because they practice the same religion (albeit in different ways). ​"People are people," she says.
To that end, Haas looks to the psychology of her characters: their silent expressions, inner lives, and the soup of contradictions that makes each person unique. She's not afraid to be typecast: ​"The only thing important for me," she explains, doubling down on what she said at the beginning of our chat, ​"is to tell important stories."
Make-up Sapir Vrubel Balaish, Hair Eden Yerushalmy.

More like this