Raising a glass to Veuve Clicquot after 250 years in the champagne biz

SOLAIRE CULTURE, the brand's immersive exhibition, has finally landed in London, weaving together the work of forward-thinking artists and Veuve's rich history.

Pour one out for Veuve Clicquot: the legendary champagne company has brought its travelling exhibition SOLAIRE CULTURE to London, in celebration of 250 years of delicious bubbly.
Having debuted in Tokyo last June before heading to Los Angeles, the French Champagne house is now taking a unit on Piccadilly Circus until 6th June. Over a year in the making, the exhibition takes visitors through an immersive experience that lifts the lid on all things Veuve, from spotlighting Madame Clicquot as one of the world's first female entrepreneurs (she took over the business in 1805, would you believe) to how the brand dreamt up the iconic yellow label we all know and love.
Fittingly, an all-female team has put together the experience, which includes an installation that recreates the limestone quarries in Reims where every Veuve bottle is aged. Bringing the story bang up to date, meanwhile, a selection of artists have been commissioned to interpret what Veuve Clicquot means to them. We caught up with three of those artists – Cece Philips, Inès Longevial and Rosie McGuinness – about feeling inspired by Madame Clicquot, how they like their fizz and, er, aliens.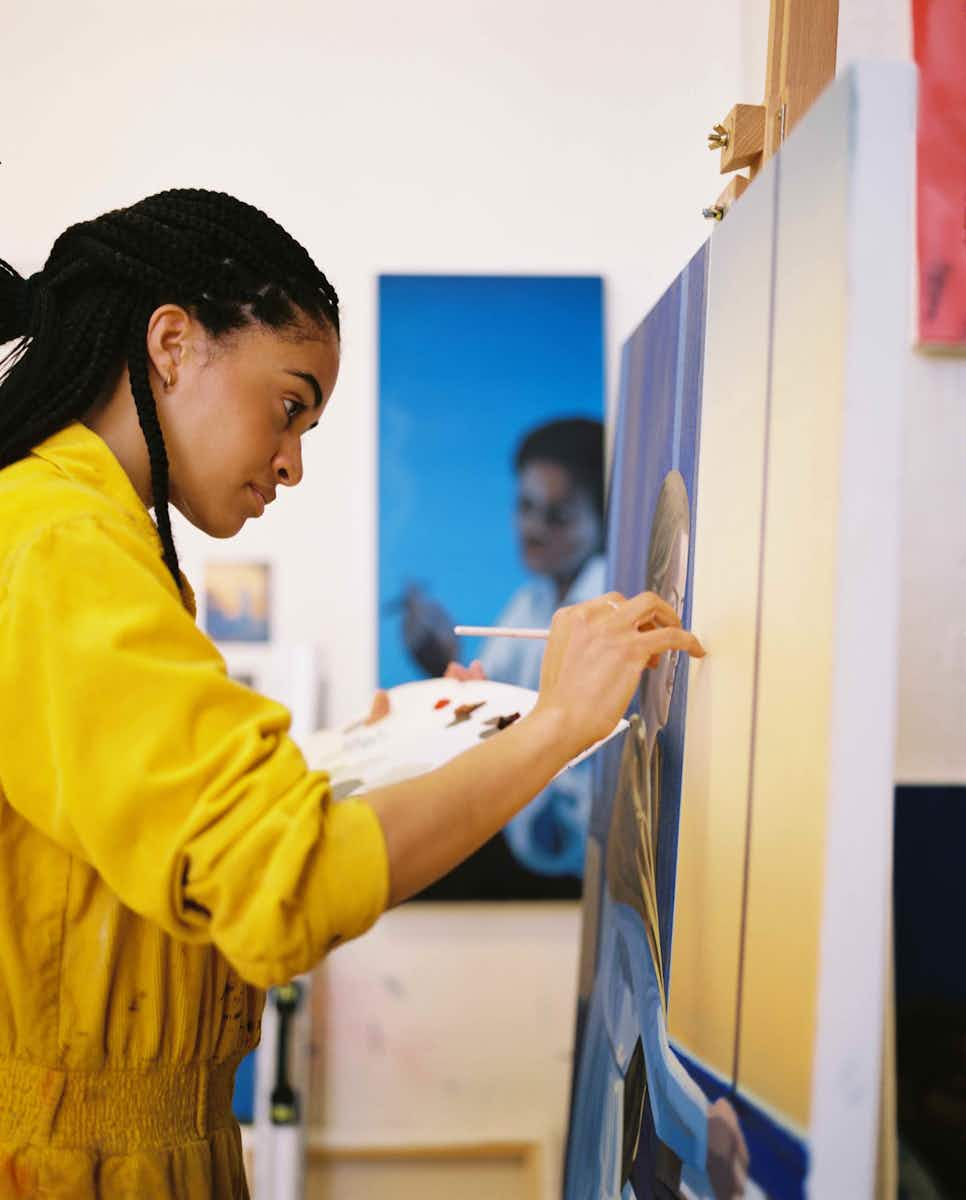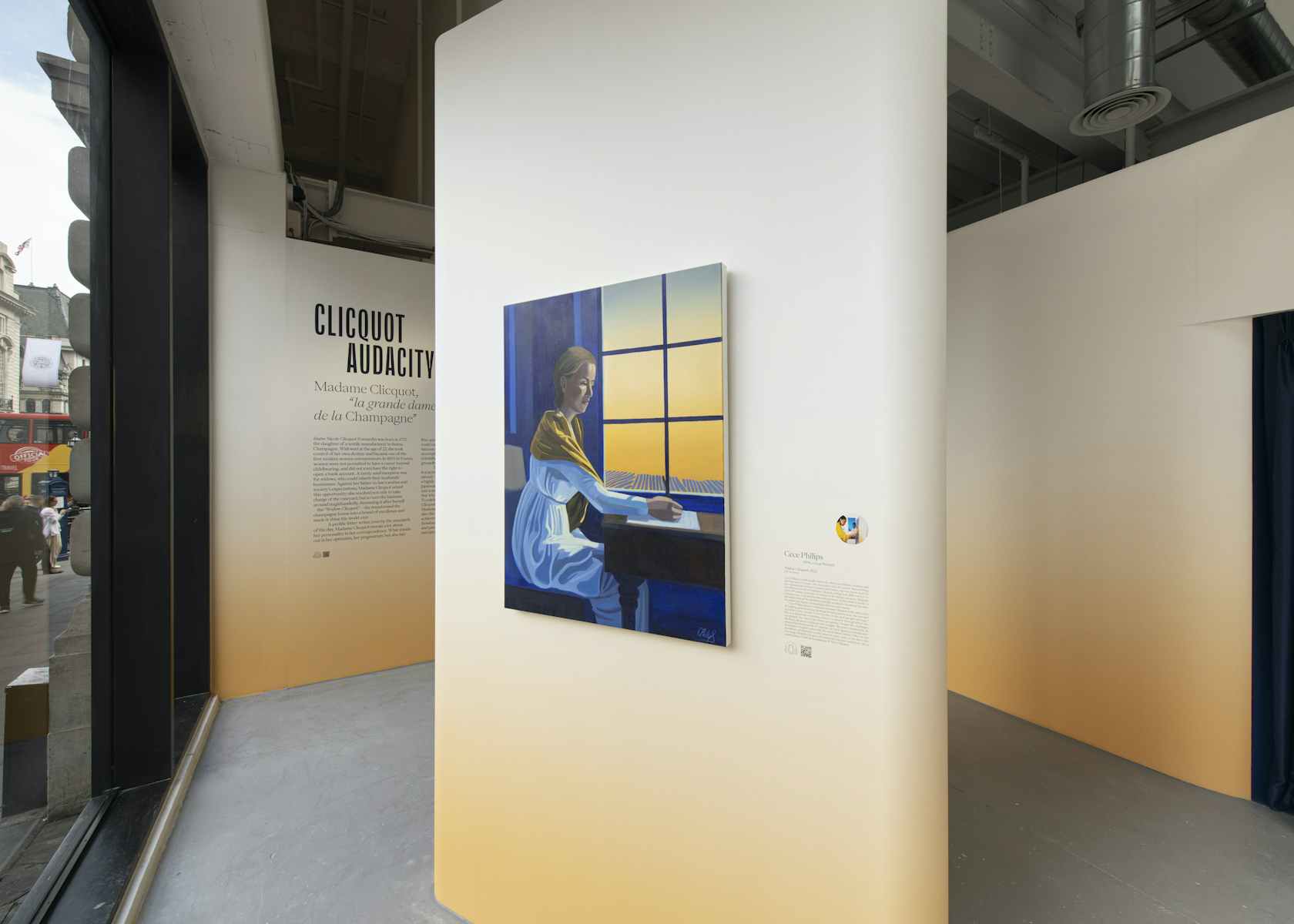 Tell us about the piece you're showing at SOLAIRE CULTURE.
Looking back at the past, it's easy to wonder ​"what if?", particularly when it comes to women. Madame Clicquot's story is impressive as a woman who defied what was imposed upon or considered ​"normal" for women in [early 19th century] society. Traditional portraits in this period rarely show women working, so I wanted my portrait to pay testament to that. I painted her at the window of Maison Clicquot, with the light from the window echoing the iconic Veuve yellow label, which was created specifically for the British Champagne drinker. In the distance there are purple vineyards, and on Madame Clicquot's chair and table, vines wrap around the legs. On the table, one of her letters – which all provide an insight into the mind of a remarkable woman – reads: ​"Only one quality, the finest."

If you had to describe your work to an alien, what would you say?
A haze of blues and yellows with women occupying liminal spaces.

What's something you can't live without?
Pasta.

What do you hope those who come to the exhibition will get out of it?
An understanding of Veuve Clicquot's 250-year heritage, of Madame Clicquot's story that sits behind the Champagne house, and of the widow and female entrepreneur defying expectations to build her legacy.

Favourite place to drink champagne?
Surrounded by friends and family, celebrating something or someone.

What can you tell us about the piece of work you're showing as part of the SOLAIRE CULTURE exhibition?
It's an homage to Madame Clicquot, a 27-year-old widow who was one of the first true female entrepreneurs in France. She had to deal with the death of her husband and take over the reins of the Champagne house. She used her power and strength to do that, and I admire her very much. I wanted to depict her with soft, peachy skin, so I used very thin linen, painted with the iconic Clicquot yellow, to show her inner light.

Describe your work to an alien.
I paint myself, I paint women close to me, women I admire.

What's something you can't live without?
I can't live without colours! Oil paint, oil sticks, pastels… I draw and paint on a daily basis, like a diary.

What do you hope those who come to the exhibition will get out of it?
I hope they will get the same feeling of admiration I had for Madame Clicquot, and understand how important she is as a bold role model for female entrepreneurs.

Where's your favourite place to drink champagne?
With good company, friends and family. The place doesn't matter, it's the people I'm with that makes a moment special.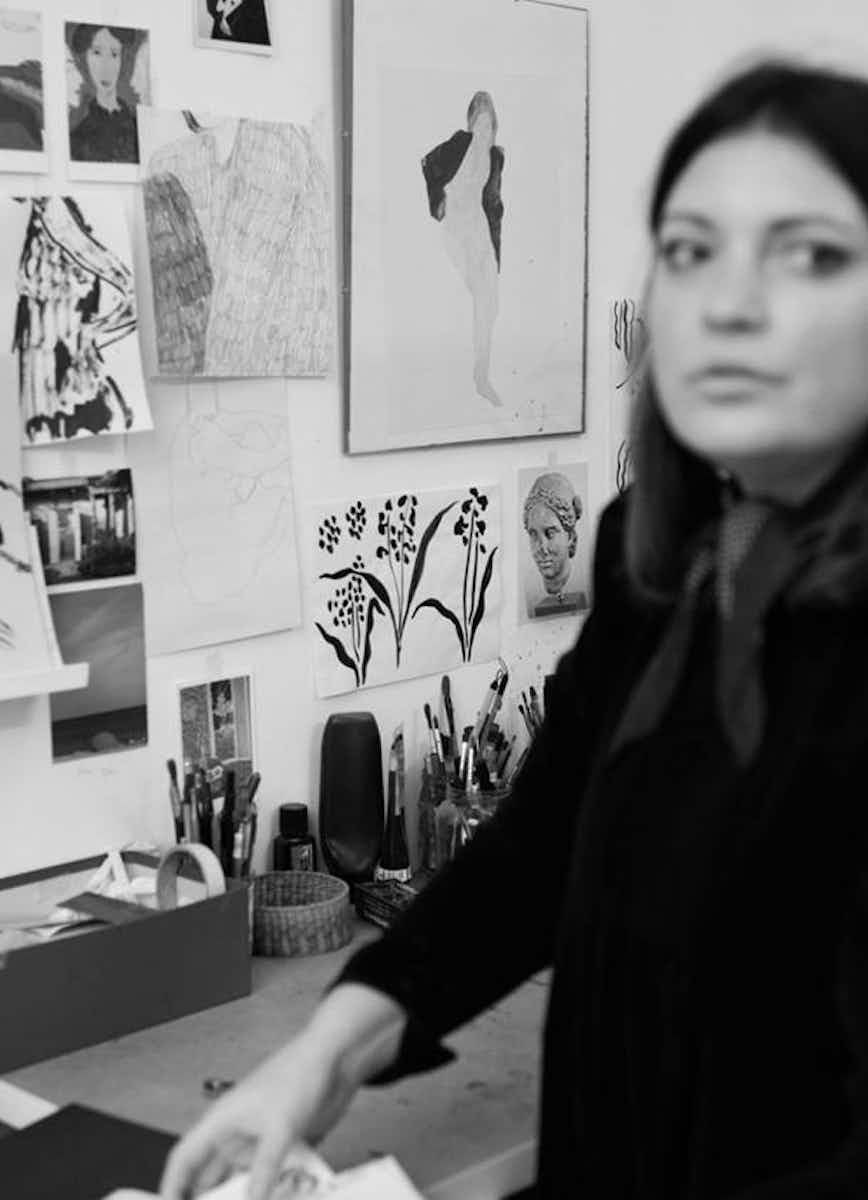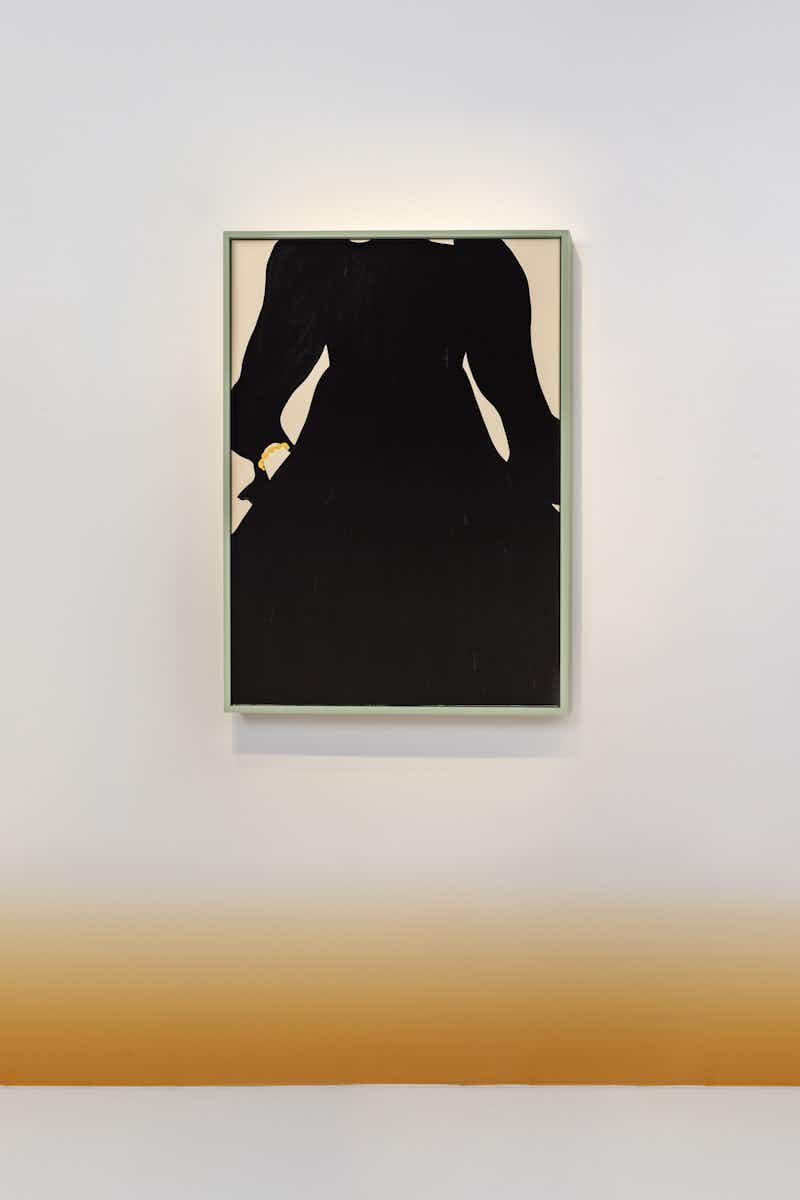 What can you tell us about the piece of work you're showing as part of SOLAIRE CULTURE?
I painted Madame Clicquot as a statuesque, strong young woman, standing, with a sense of forward movement. She's wearing a black dress in the neo-classical style of the time. Black is the traditional colour of mourning, which Madame Clicquot adhered to following the death of her husband, but it's also bold and purposeful. The dress has pockets, which is practical and empowering. I chose to show Madam Clicquot's figure only, without her face. Rather than depict any particular likeness, I wanted to show her attitude and what she represents in her pose and the details.
Describe your work to an alien.
I think we would have other matters to talk about…

What can you not live without?
Music.

What do you hope those who come to the exhibition will get out of it?
An insight into the world and 250-year history of Veuve Clicquot – and a glass of champagne.

Favourite place to drink champagne?
A party, of course.
Grab your free tickets to SOLAIRE CULTURE here


More like this