The legend of Michael Gandolfini
With prequel movie The Many Saints of Newark about to hit cinemas, Michael Gandolfini talks stepping into the role that his late father, James, made so famous: that of Tony Soprano, the complex mob boss whose legacy has endured as one of TV's greatest ever characters.

Taken from the new print issue of THE FACE. Get your copy here.

Michael Gandolfini is sitting, composed, at a desk in his New York apartment, where the ceilings are high and the walls are bright. It's a balmy afternoon and the air conditioning is blasting cold air into the minimal, uncluttered space.
You'd never guess that, two years ago, Gandolfini was busy covering these same crisp walls in a blizzard of photos, notes and family trees in preparation for his portrayal of a young Tony Soprano in The Many Saints of Newark: an epic prequel movie to the epochal TV mob drama The Sopranos.
"I looked like a serial killer," Gandolfini, 22, says over Zoom, grinning at the thought of pinning up pictures of his castmates' faces in a manic attempt to make sense of the relationships between each character.
When it began its six-season run in 1999, The Sopranos ignited an international obsession and has since been lauded as a 21st-century touchstone of modern television, growing only in stature through its many rewatches (a large number of which took place during lockdown). That's no small feat to wrap your head around for any young actor.
More poignantly, though, Gandolfini needed to figure out how to deconstruct the role that his late father, James Gandolfini, made so famous: that of Tony Soprano, the incredibly complex and volatile mob boss whose legacy has endured as one of TV's greatest ever characters.
But shedding light on just how Tony became a generation's favourite anti-hero is what The Many Saints of Newark is all about. Set against the backdrop of Newark's 1967 race riots, which took place following the beating of John William Smith, a Black taxi driver, by police officers, it's Tony's coming-of-age story as told through the eyes of his smooth-talking uncle Dickie Moltisanti (Alessandro Nivola), whose ascent in the DiMeo crime family is marred by his attempts to become someone his nephew can look up to.

The film subtly amps up the nostalgia factor, feeding its audience exhilarating nuggets from Sopranos episodes past while standing firmly on its own two feet. Vera Farmiga plays Tony's emotionally stunted mother, Livia, who snorts disdainfully at her irresponsible husband Johnny (Jon Bernthal); Corey Stoll gives us a glimpse into Uncle Junior's twisted mind; while Ray Liotta delivers an unforgettable performance as Dickie's unhinged father, Aldo. In the background, Gandolfini's young Tony teeters on a knife edge, oscillating between his predestined future as a mob boss and going to college like any other kid.
As Saints progresses, the goodness in Tony is slowly whittled away and the violent temper that would later become his trademark in The Sopranos threatens to rise above the surface. There's no doubt that Sopranos creator David Chase, who co-wrote the movie with long-time collaborator Lawrence Konner, and veteran director Alan Taylor have put together a full-throttle, bona fide mob movie with hot sex, pithy one-liners, high-stakes family feuds and plenty of whacking.
"I don't think there's been an original mob movie since, like, Gangster Squad [in 2013]," Gandolfini says, swivelling slowly on his chair. ​"The Irishman was based on a book. The Many Saints of Newark feels like a movie – I keep saying it's like a 1950s noir, right? You have a man [Dickie] who's going through this world with a moral code and he's losing it. Then you have Tony trying to find a code and he's looking to his uncle, the worst possible person for it."
Gandolfini's demeanour is laidback, even pensive, in stark contrast to his portrayal of Tony, whose vulnerability, though palpable, diminishes at speed. The difficult task of stepping into his father's shoes was only compounded by James Gandolfini's sudden death from a heart attack in 2013, aged only 51. Before his son first auditioned for Saints, he hadn't even watched The Sopranos.
"I'd kind of distanced myself from it," he says, doodling on a piece of paper out of view. "[Auditioning for the movie] never really crossed my mind, especially because I'd never been associated with the show, as crazy as that sounds. I didn't know anything about this character, this world. I want to be my own actor and my own young man. Was the whole nepotism thing going to come into play? I was nervous. I didn't want to audition and not get it – that would have been so painful."
Undeterred by Gandolfini's reservations, his manager pushed him to go for it. With just one recurring role, in David Simon's ​'70s sex-trade drama The Deuce under his belt, he couldn't afford not to. Still, as the auditions were closing in, the young actor began to think: there are 86 hours of Tony, of The Sopranos. What more could there be to tell?
"But there was so much," he continues. ​"I started to realise that David and Alan were doing something really interesting. It was like taking this sensitivity and creativity, the beautiful emotional stuff that my dad kept inside, and bringing that to the forefront before watching it get sucked down. I thought that would be so unexpected."
The further Gandolfini went, the more he felt drawn to the role. He trusted Chase to guide him, but admits that watching The Sopranos for the first time was a baptism of fire. ​"I was so protected from the show, and I'm very grateful for that," he says. ​"I was just living my own life, trying to be punk and rebellious. I was so proud of my dad, though. He's so good – I was probably deep down pissed about that – and I was so moved. And [the show] is hilarious! In some scenes, it's like GoodFellas and in others it's like The Three Stooges.
"But it was really hard, because I was doing it without a support system. I didn't have David or Alan to talk to, or any of the actors to really lean on yet, and auditioning is an anxiety-provoking thing to begin with. It was tough."
The experience of watching a lost loved one immortalised on hours of tape – let alone in the role of Tony Soprano – is difficult to imagine. At one point, Gandolfini got so immersed in the show that he started having dreams that his hands were his father's. ​"Once I'd gotten the part, I had some friends come over and watch every episode with me. Sometimes we'd do a season a day, 12 hours, moving through it. It was like emotional vomit."
In a pretty full-circle moment, two of the first people to find out about Gandolfini's new role were Jamie-Lynn Sigler, who played Tony's high-flying daughter, Meadow, in The Sopranos, and Robert Iler, who played AJ, his renegade son. ​"When Michael told me, I was almost speechless," Sigler recalls. ​"It was the most perfect thing. Who else could carry that? Looking into Michael's eyes is like seeing Jim. I adore him."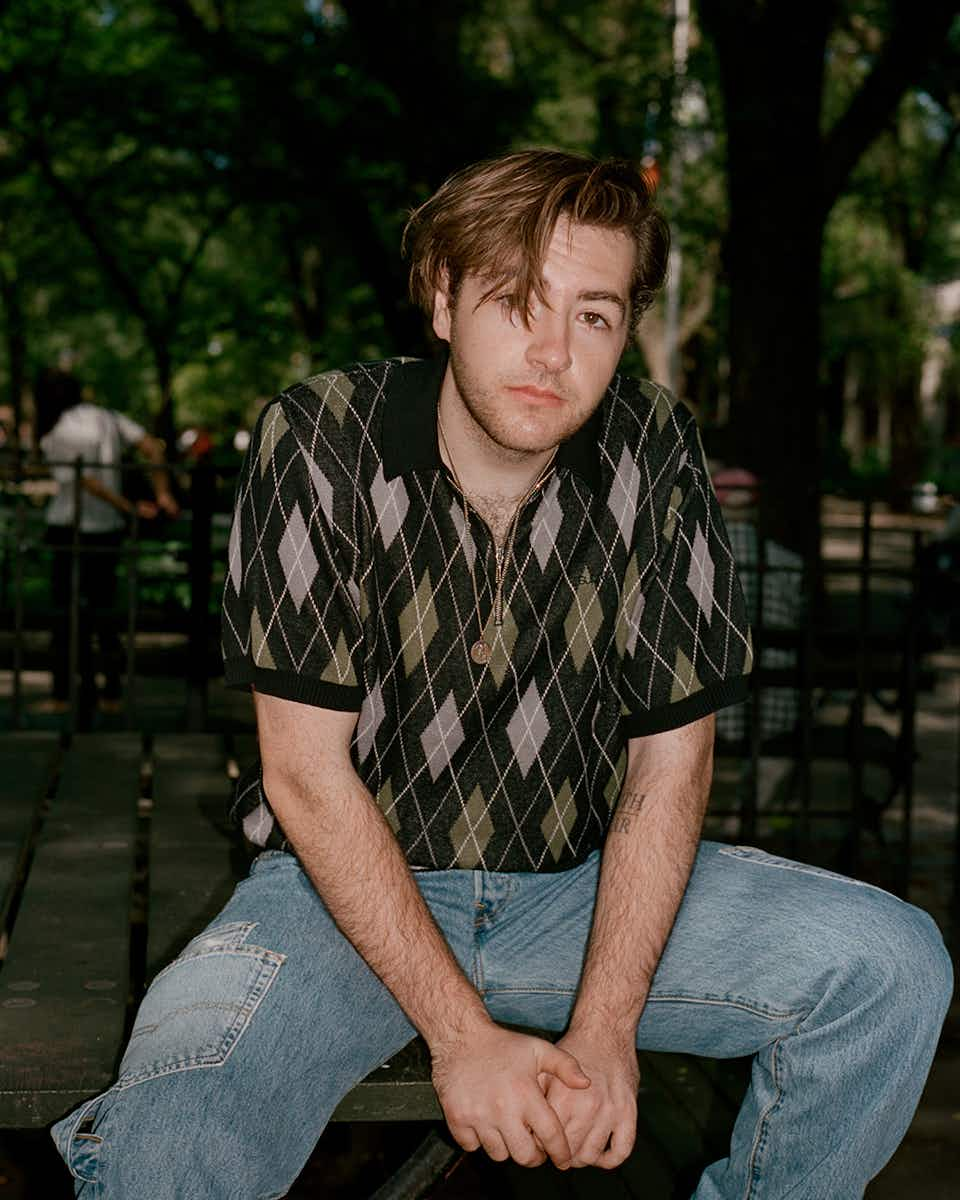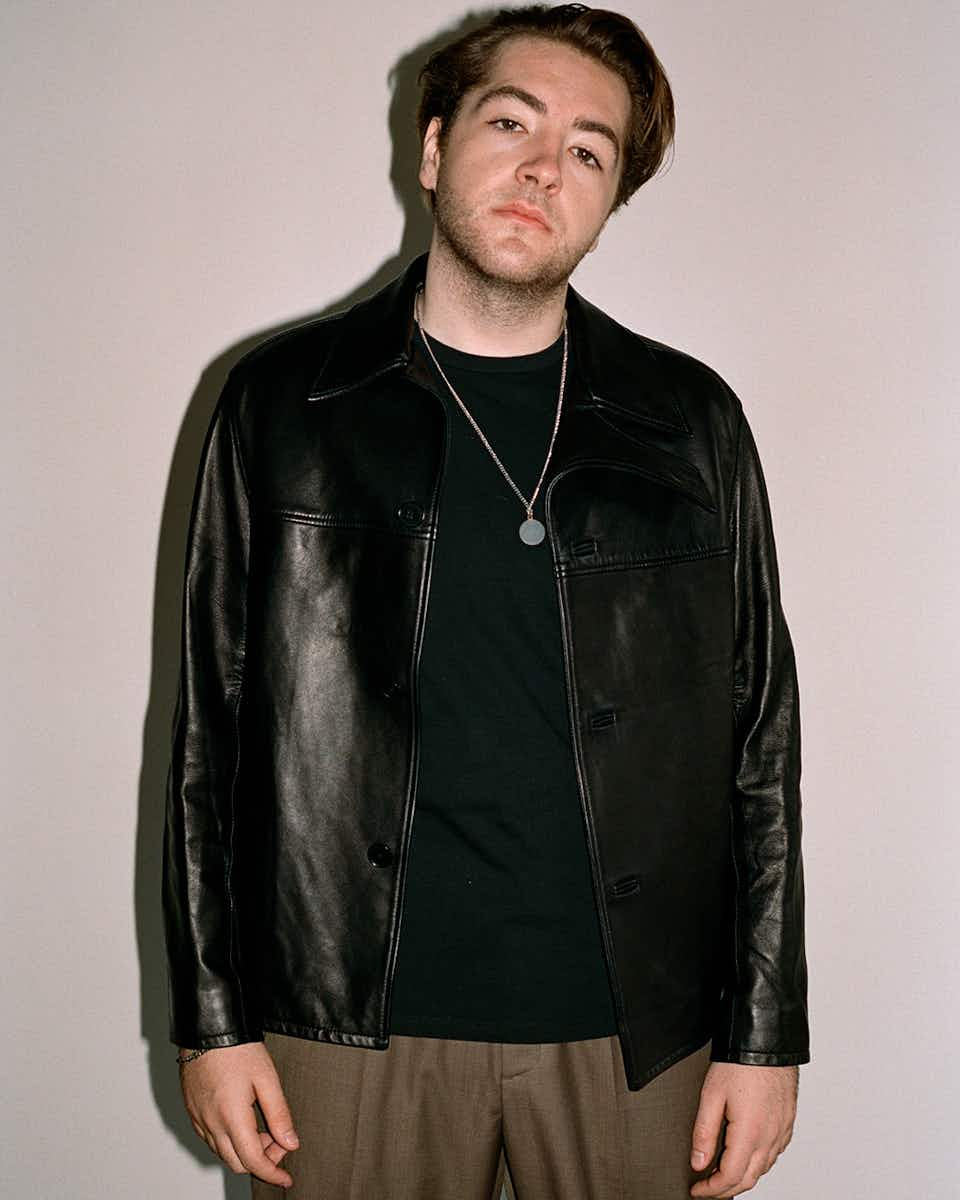 In many ways, Tony Soprano is a victim of his own circumstances, forced to step up to the plate and walk in his father Johnny's footsteps against his better judgment. In this instance, Gandolfini's decision to walk the same path his own father had taken came instead from a healing, restorative place. Following his death, acting lessons turned out to be a great way to cope with grief.
After spending his childhood between New York and New Jersey, before going to school in Los Angeles, Gandolfini enrolled at New York University to pursue acting. ​"I went for one semester and then left," he remembers. ​"I just didn't find my people, I felt super insecure, I couldn't find my groove." Instead, he opted to study at Gallatin, a more flexible school at NYU which allows students to design their own courses. At the time of writing, Gandolfini only has three more classes before he graduates. What is it about acting that makes him tick?
"A lot of my friends had this revelation of feeling so themselves on stage, but I didn't have that at all," he says. ​"I felt frustrated and angry. I remember sitting in the audience, watching my fellow actors, how talented they were, and thinking, how do you do that? How do you transform in that way? That question has infected every part of my life and I'm still figuring it out. Once I do, I don't even know whether I'll be an actor. That's what drives and motivates me."
James Gandolfini was notoriously press-shy. While his son has certainly inherited his humility, he's much more willing to delve deep into the intricacies of what it means to be an actor, laying bare the mental toll that playing a young Tony took on him. For his role in Saints, Gandolfini looked beyond the unmistakable likeness that he and his father share and drew instead from the bottomless well of material provided by The Sopranos to perfect those celebrated mannerisms and turns of phrase.
He even recorded four hours of Tony's monologues with his psychiatrist, Dr Melfi (Lorraine Bracco), and walked around New York with them playing on repeat in his ear. ​"While prepping for the movie, it was Sopranos 24/​7," Gandolfini admits, tugging at a button on his shirt. ​"My friends were so sick of it, I'm sure. It was on if I was cooking or cleaning. I lived and breathed it. I ate cannoli every night. I was trying to get a little heavier and was sweating all the time. I felt very Italian." Madone!
Once he'd captured the rhythm and music of Tony's speech, Gandolfini used certain scenes from the show to understand his triggers and impulsive streak. ​"My mother?" is a quote that stands out in particular, and as Gandolfini turns to his webcam and says it out loud, his resemblance to Tony is uncanny.
The fractious relationship between Tony and the Soprano matriarch is one of the original show's driving forces. In the pilot, he brings her a CD player, which she doesn't want, and they bicker over eggplant. In a much friendlier turn of events, when Gandolfini first met Farmiga, who takes over from Nancy Marchand in the role of Livia for Saints, he brought flowers to her home and they re-­enacted the scene. ​"I knocked on the door and she was like, ​'Anthony! Is that you?' I was like, ​'Yeah Ma, it's me, just open the door.' We had a blast." As oppositional as Tony and Livia are, Gandolfini and Farmiga developed an iron-clad friendship.
"Michael was the Sun to my Earth on set," she says. ​"The kid truly has a beautiful soul energy, he was our vitamin D. We all orbited around his good vibrations, joyfulness, gratitude, optimism and stamina. Inspiration breathes in and out of him – it's irresistible."
Toxic parental relationships aside, it was important for Gandolfini to carefully depict Tony's joyful side, too. ​"When [restaurateur] Artie has the food fight with Tony [in the third Sopranos episode], that is pure joy – that's how he plays with his friends," Gandolfini says, passionately, his voice cres­cendoing." So when he does that in the movie, I know what it looks and feels like. I didn't want to do an impersonation, so you have to give those little moments when he touches his nose, the way he breathes, looks at stuff and processes things."
When Gandolfini brought his newly minted Tony to set, David Chase trusted him implicitly. Everything was already on the page, and as far as Chase was concerned, all Gandolfini needed were a couple of thumbs-ups or encouraging curse words. ​"Sometimes he'd run over and say, ​'Call him fuckstick!' Those were the notes," Gandolfini says. ​"I remember I kept saying ​'aunt', and he'd be like, ​'Hey fucko! It's ANT!' That's right, in Jersey it's ANT."
Chase was acutely aware that being too intentional about portraying Tony's emotions could cut Gandolfini off from anything else the character might feel unexpectedly. ​"His emotional integrity ping-pongs so much, which is why Tony is exhausting to play," Gandolfini says. ​"I think that's why we stayed away from locking ourselves into an idea. The best thing about David was his authenticity to the world."
For Gandolfini, the moments he cherished the most on Saints were the memories and relationships he built with his co-stars: from boxing with Bernthal to create tension between Tony and Johnny, to meeting mob-associated guys with Nivola and visiting New York diners to dissect Dickie and Tony's relationship. In the mob, one has many fathers, or at least father figures. Through The Many Saints of Newark, Gandolfini forged an extended family, and describes himself as Nivola and Bernthal's ​"bonus child".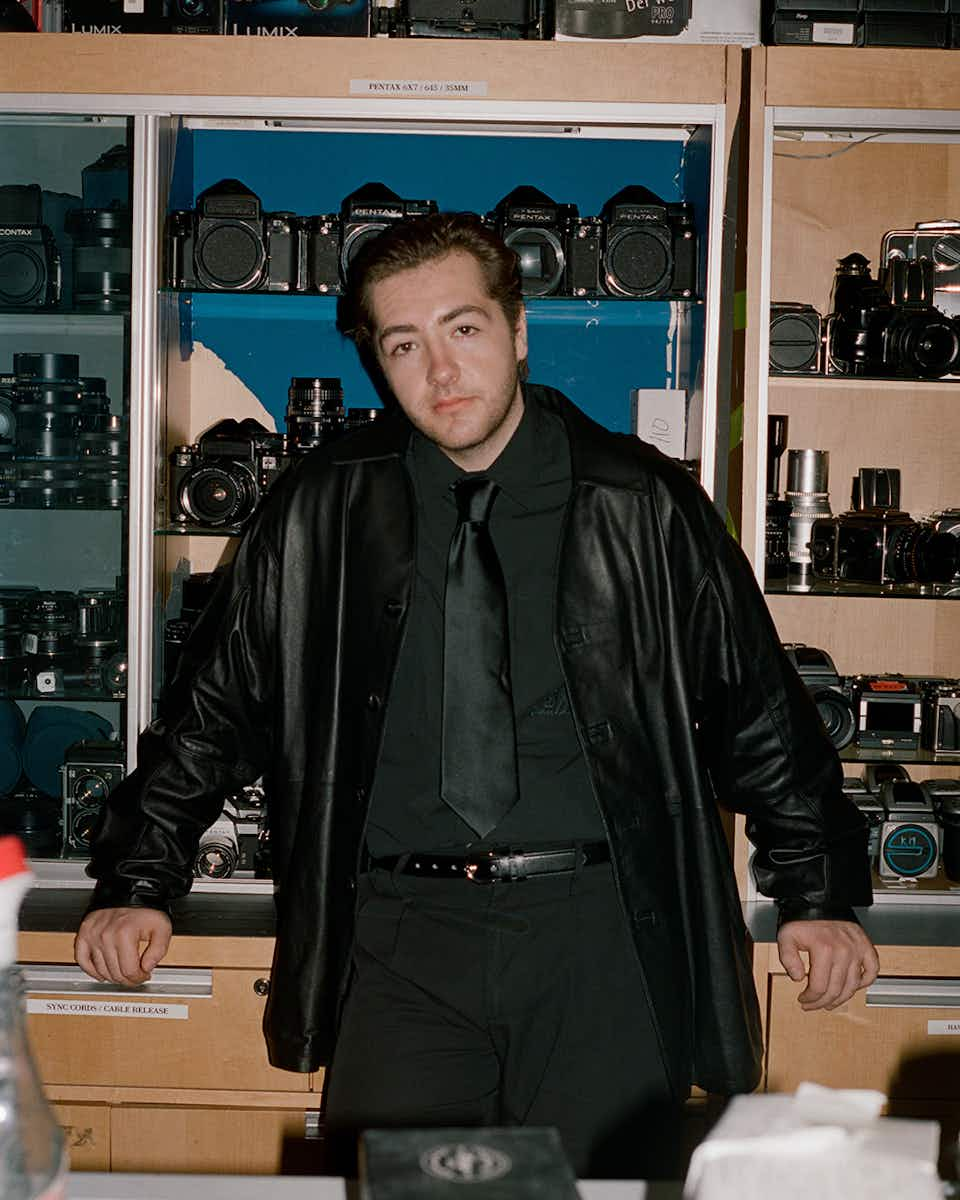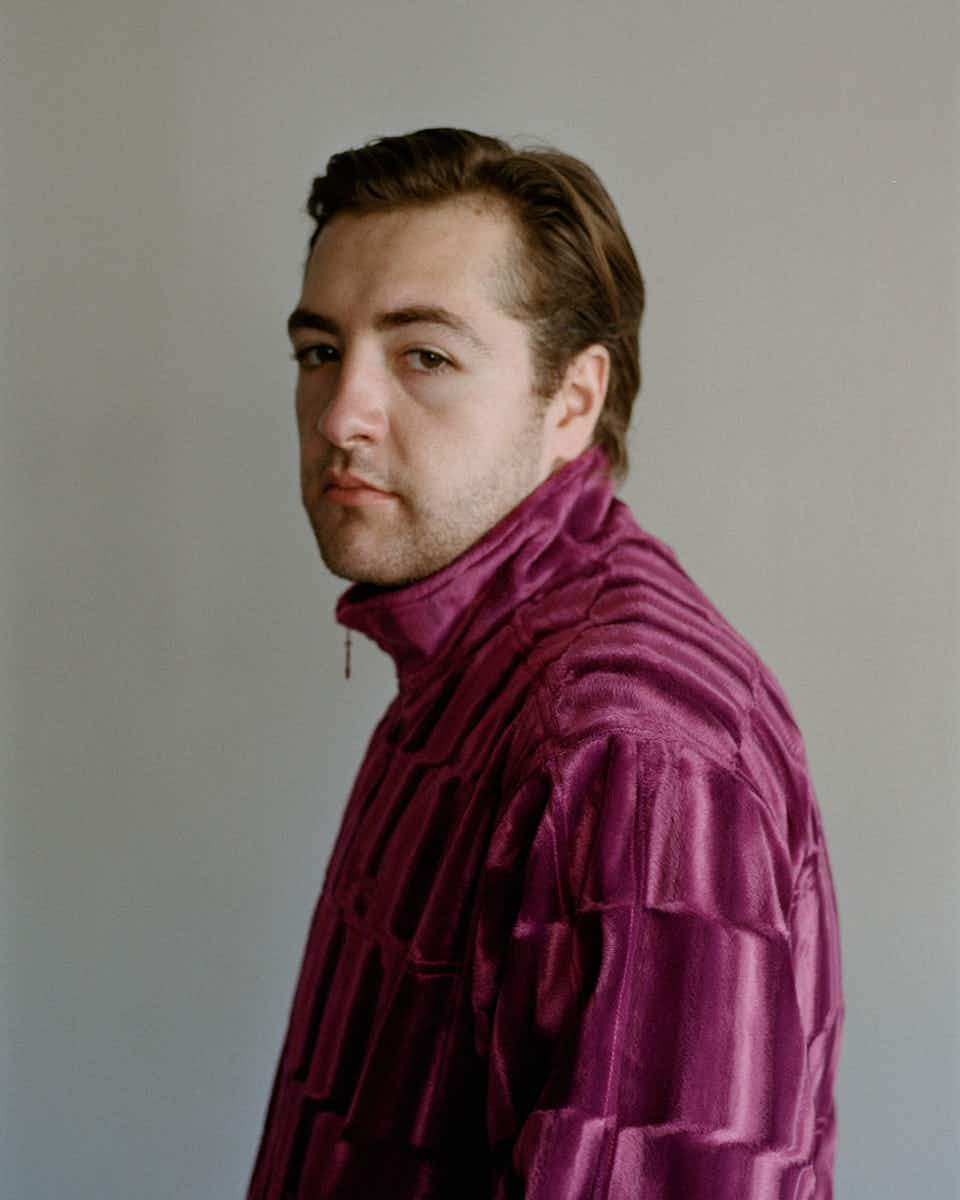 "What a dream for a young actor to get to know people like Vera, Jon, Alessandro, Corey, the list goes on," he says. ​"They've become some of my dearest friends and I've learned not only acting lessons from these men and women, but life lessons."
One of the most important aspects of these close-knit friendships was that they helped Gandolfini extricate himself from the sometimes gruelling task of playing Tony. Going for post-shoot dinners with fellow cast members felt like a flushing out period of letting him go, so that by the time Gandolfini got home, he wasn't still vibrating from the part. ​"It took a toll on me, the bipolar thinking that he has," he says solemnly. Gandolfini's transition in and out of character included music playlists, too: Sapore di Sale, a quintessential 1963 Italian ballad for Tony, and Billie Eilish or Bruce Springsteen for Michael.
When the time came for Gandolfini to finally sit down and watch The Many Saints of Newark, he almost felt desensitised to the fragility and perhaps even sadness of taking on his dad's groundbreaking role." I had watched enough Tony and done enough work to separate myself from it, to really be able to sink my teeth into this character," he says.
Instead, there was only pride. ​"Letting myself feel that connection to my dad is really great. It's there and it's real, and seeing people moved by it means so much to me. I feel closer to him, and it's so special that I got to do this." As a young actor, one thing's for sure – Gandolfini made Tony his own, the first major step in a career that couldn't be further from cutting to black.
GROOMING Dylan Chavles STYLIST'S ASSISTANT Daniel Obaweya and Jade Boulton

More like this