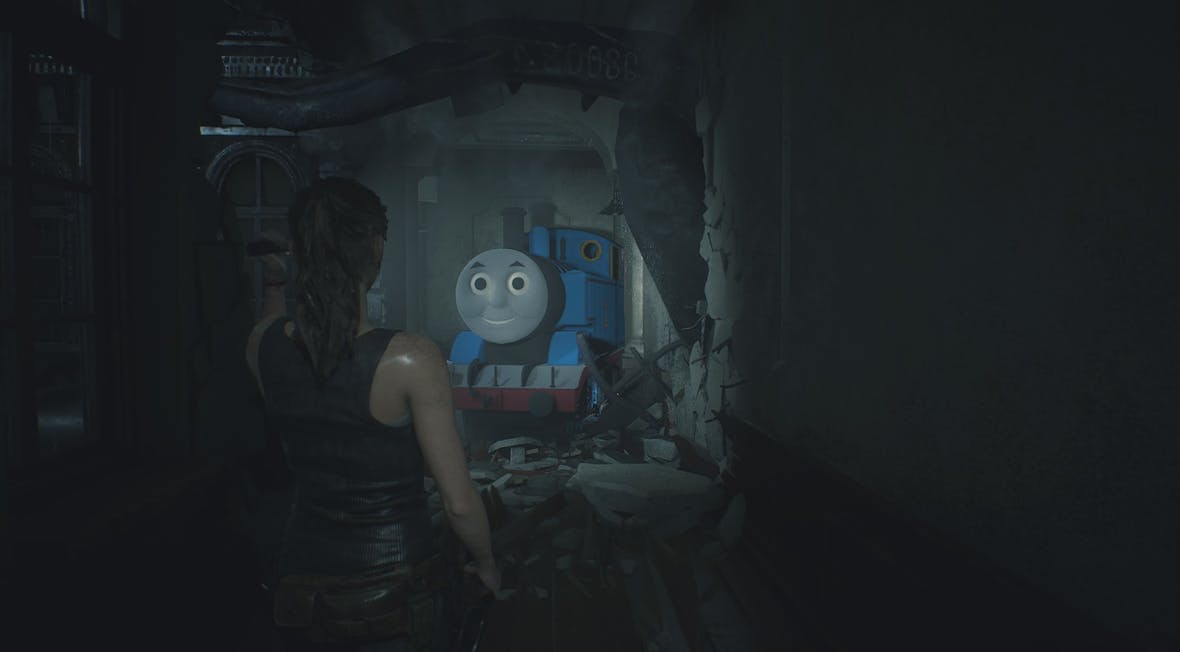 Why are peo­ple mod­ding Thomas the Tank Engine into video games?
From Disney's Some­thing Wicked This Way Comes to Square Enix's Final Fan­ta­sy VI, trains have a rich asso­ci­a­tion with hor­ror in media of all stripes. Even today, many decades after the gold­en age of the rail­ways, they remain potent sym­bols of inevitabil­i­ty and the bru­tal­is­ing force of indus­tri­al moder­ni­ty. Depend­ing on your tol­er­ance for his­tor­i­cal anec­dote, you could argue that one of the first hor­ror films ever made was, in fact, Auguste and Louis Lumiere's cel­e­brat­ed L'arrivée d'un train en gare de La Cio­tat, a 50-sec­ond long shot of a steam engine pulling up to a plat­form. Accord­ing to leg­end, the film fright­ened audi­ences who imag­ined that the train would burst through the frame and crush them.

Skip for­ward a cen­tu­ry, and trains are burst­ing through frames of a dif­fer­ent sort. One of the video game mod­ding community's odd­er recent crazes is replac­ing char­ac­ters in game worlds with Thomas the Tank Engine – the ​"Real­ly Use­ful" children's TV char­ac­ter now owned by toy com­pa­ny Mat­tel. The first of these high­ly unof­fi­cial mods arrived for Bethesda's fan­ta­sy epic The Elder Scrolls V: Skyrim in 2013, mor­ph­ing its roam­ing drag­ons into air­borne, fire-breath­ing loco­mo­tives. Oth­er vic­tims of the trend include Rockstar's top-sell­ing Grand Theft Auto V, FromSoftware's gloomy nin­ja adven­ture Sekiro: Shad­ows Die Twice and Capcom's flashy remake of zom­bie hor­ror clas­sic Res­i­dent Evil 2.
As you'd expect, the mods are essen­tial­ly jokes, much like the ston­er-friend­ly Thomas rap remix­es of the noughties. ​"To be hon­est, the whole thing was spon­ta­neous," recalls Kevin Brock, game design­er and author of the orig­i­nal Skyrim mod. ​"A friend of mine gave me some Thomas mod­els he had ripped from a crap­py iPhone game and asked me what I could do with them, so I spent half an hour replac­ing drag­ons. I read the books as a kid, but hadn't real­ly even thought about the whole thing in years. It was just ​'what would be the fun­ni­est thing at the time?'."
Brock had a track record for train mods, but it was the intro­duc­tion of Thomas to Skyrim that made him infa­mous. As he sug­gests, the appeal of the mod was part­ly the snap­shot it offered of an eccen­tric under­ground artis­tic com­mu­ni­ty, where tal­ent­ed ama­teurs spend years fine-tun­ing games, warp­ing them for kicks, or adding entire new char­ac­ters, areas and plot­lines. ​"At some point the col­lec­tive con­scious­ness of pop cul­ture decid­ed that mods equals Thomas the Tank Engine. By that point, there was enough steam behind the idea (pun intend­ed) that every­thing that can be mod­ded now at some point has Thomas in it."
Nat­u­ral­ly, para­chut­ing licensed char­ac­ters into games risks infring­ing copy­right, though many mods are pro­tect­ed by fair use leg­is­la­tion pro­vid­ing they aren't for prof­it. ​"I got in so much trou­ble," recalls Brock. ​"Mat­tel pret­ty much want me dead at this point – it's the rea­son why the Fall­out 4 mod can't be found on any nor­mal web­site." The com­pa­ny unleashed its lawyers fol­low­ing cir­cu­la­tion of Brock's Skyrim mod on Youtube. ​"It was some inter­me­di­ary law firm based out of Mace­do­nia, say­ing how I dimin­ished the brand of Thomas by show­ing him blow­ing up (noth­ing about him vio­lent­ly mur­der­ing peo­ple). They issued take­down notices on the videos for it. The first time it got tak­en down. The sec­ond time Youtube told them it was cov­ered under par­o­dy law, with no prompt­ing from me. So that was nice."
Legal threats aside, licensed char­ac­ter mods can attract a cer­tain dis­dain from oth­er mod­ders, who object that they steal oxy­gen from more seri­ous or intri­cate projects. ​"After my mod had gen­er­at­ed a lot of buzz, I gained quite the rep­u­ta­tion," says Zom­bieAli, self-taught cre­ator of the Res­i­dent Evil 2 mod, whose works include a set of blocky char­ac­ter mod­els that mim­ic the aes­thet­ic of the game's orig­i­nal 1998 release. ​"I was often called ​'the meme mod­der' who only made mods for atten­tion, when in fact this was my first ever mod like this."
On the whole, though, he says that com­mu­ni­ty reac­tions skew pos­i­tive, because eye-catch­ing char­ac­ter cameos in games help expose oth­er mods to a wider audi­ence. ​"Most actu­al mod­ders under­stand that atten­tion when it comes to a mod isn't some lim­it­ed resource," agrees Brock. ​"Sure, more main­stream audi­ences pick up Thomas-style mods, but there's nev­er been a case where it's some­how pushed atten­tion away from anoth­er mod. If any­thing, I feel like my stu­pid viral joke mods con­tributed to intro­duc­ing peo­ple to my more in-depth works."
If the Thomas mods were cre­at­ed for shits and gig­gles, they can be deeply unnerv­ing in ways their own cre­ators per­haps don't appre­ci­ate. In ZombieAli's Res­i­dent Evil 2 mod, the char­ac­ter appears in place of Mr X, a tow­er­ing, face­less mutant whose approach­ing foot­falls rever­ber­ate through floors and walls. Seem­ing­ly invul­ner­a­ble, and able to fol­low you around the game's gut­ted police sta­tion where basic zom­bies can be sealed away behind doors and bar­ri­cades, Mr X is dread­ful enough in unadul­ter­at­ed form. As an anthro­po­mor­phic steam engine, how­ev­er, he's some­how even worse.
Part of it, per­haps, is that Thomas and his world are innate­ly hor­ren­dous, and there's some­thing hor­ren­dous about tak­ing all that off the rails and into a dig­i­tal space. The orig­i­nal books, penned in the 1940s by the Angli­can rev­erend Wilbert Awdry, now read like an enthu­si­as­tic alle­go­ry for big­otry and exploita­tion. The New York­er, among oth­er pub­li­ca­tions, has a ghoul­ish piece of essay­is­tic fic­tion on the driz­zly dystopia that is Thomas's Island of Sodor, where cheer­ful anthro­po­mor­phic machines are torn apart, worked to death or bricked up in tun­nels at the whim of a well-heeled Fat Con­troller. For all its dark cor­ners and clutch­ing cadav­ers, Res­i­dent Evil 2's set­ting can seem almost benign by comparison.
But per­haps there's some­thing here, too, of the train's his­to­ry as a hor­ror trope, now exac­er­bat­ed by its being trans­port­ed into an envi­ron­ment it doesn't agree with. Like the mono­lith of 2001: Space Odyssey, the Thomas char­ac­ter is an alien pres­ence where even the most revolt­ing of Res­i­dent Evil 2's undead feel at home in their sur­round­ings (indeed, many were once employ­ees of its unfor­tu­nate police depart­ment). The engine is too bulky and inflex­i­ble for the game's drip­ping, jerk­i­ly-lit cor­ri­dors, melt­ing through door frames and cor­ners as it lum­bers wide-eyed into the beam of your torch. It doesn't even get along its own anato­my: rather than mov­ing like a wheeled vehi­cle, the mod­el is rigged to an ani­ma­tion ​"skele­ton" designed for the orig­i­nal char­ac­ter, which leads to heav­ing, queasy motions. It's as though you were being pur­sued by a humanoid phan­tom with poor old Thomas rammed through its torso.
Where the train from the Lumiere broth­ers film embod­ied an approach­ing future, heed­less­ly grind­ing up every­thing in its path, this loco­mo­tive seems caught between eras, half-born-again. As such, it also embraces the beau­ti­ful weird­ness of game sim­u­la­tions where ​"fan­ta­sy" games like Skyrim are too invest­ed in their own coher­ence, too wed­ded to the idea of mak­ing sense. This is espe­cial­ly dis­ap­point­ing, of course, when you're talk­ing about a hor­ror expe­ri­ence like Res­i­dent Evil. It's cer­tain­ly com­ic to see Thomas and chums trundling through such locales, but I think the Real­ly Use­ful aspect of it is the fear.
---