Step inside Wickerham & Lomax's panic room installation at Frieze
The emerging Baltimore-based art duo use tech and loaded questions in their work. Now, they're taking over The London EDITION's nightclub basement with Culture's Panic Room.

Daniel Wickerham and Malcolm Lomax, AKA Wickerham & Lomax, best describe their work as a ​"funhouse of questioning". They question everything: gossip, distancing, surfaces, framing, scripting, storytelling, community, friendships and seduction. See, everything.
Emerging on the Baltimore art scene in 2009, the new media artists focus their work on cultural practices and productions, using digital imagery, sculpture, CGI video and the internet – proper techy stuff.
Through a range of mixed media, they make work that looks like the inside of a circa 1999 computer. Think collages that resemble puzzles made up of layered images, or jungle gym-like sculptures from metal scaffolds painted in lime green acrylic. Less Intel inside, though, is a series titled Time Capsule, which confronts the American Dream through warped portraits that are superimposed over the American flag, in a series of different archetypes framed as an alien couple visiting contemporary America as tourists.
So, what influences their practice? ​"Essentially, [we're influenced] by the material and cultural practices that are produced from self-actualisation and its arrival in the group, as well as the images created in this process." Eh?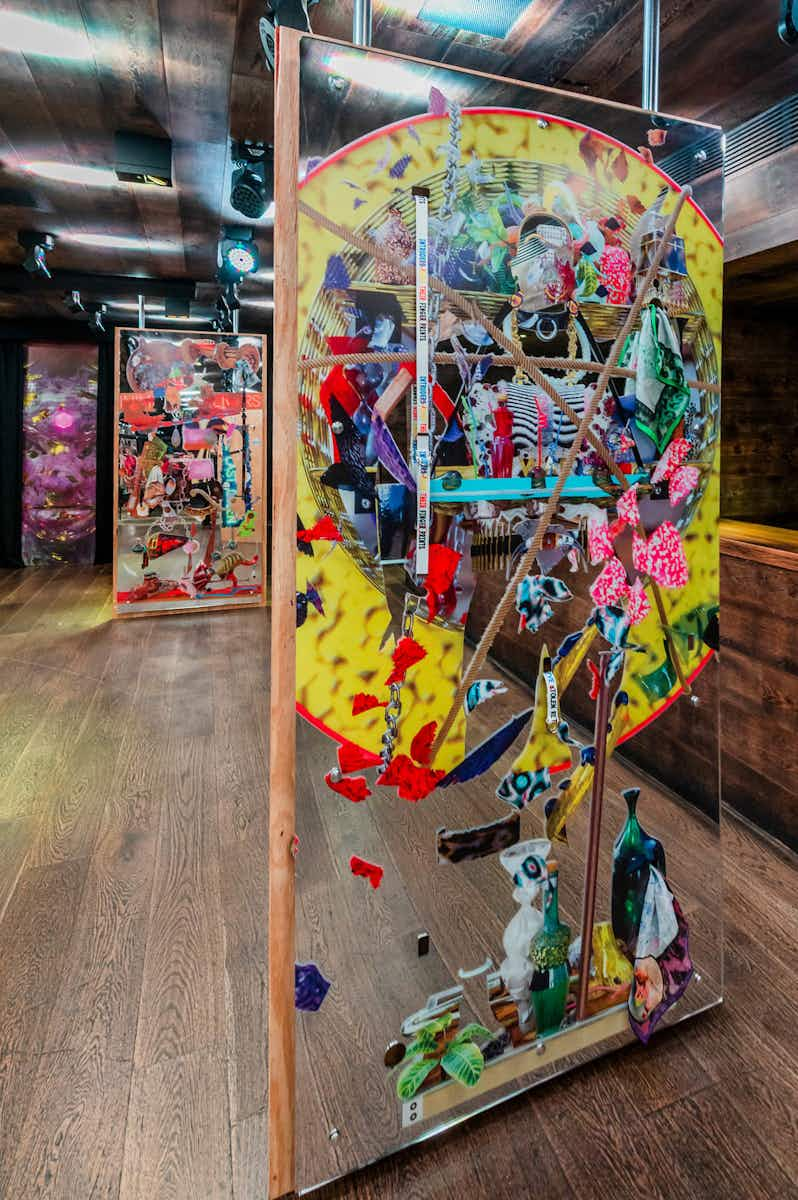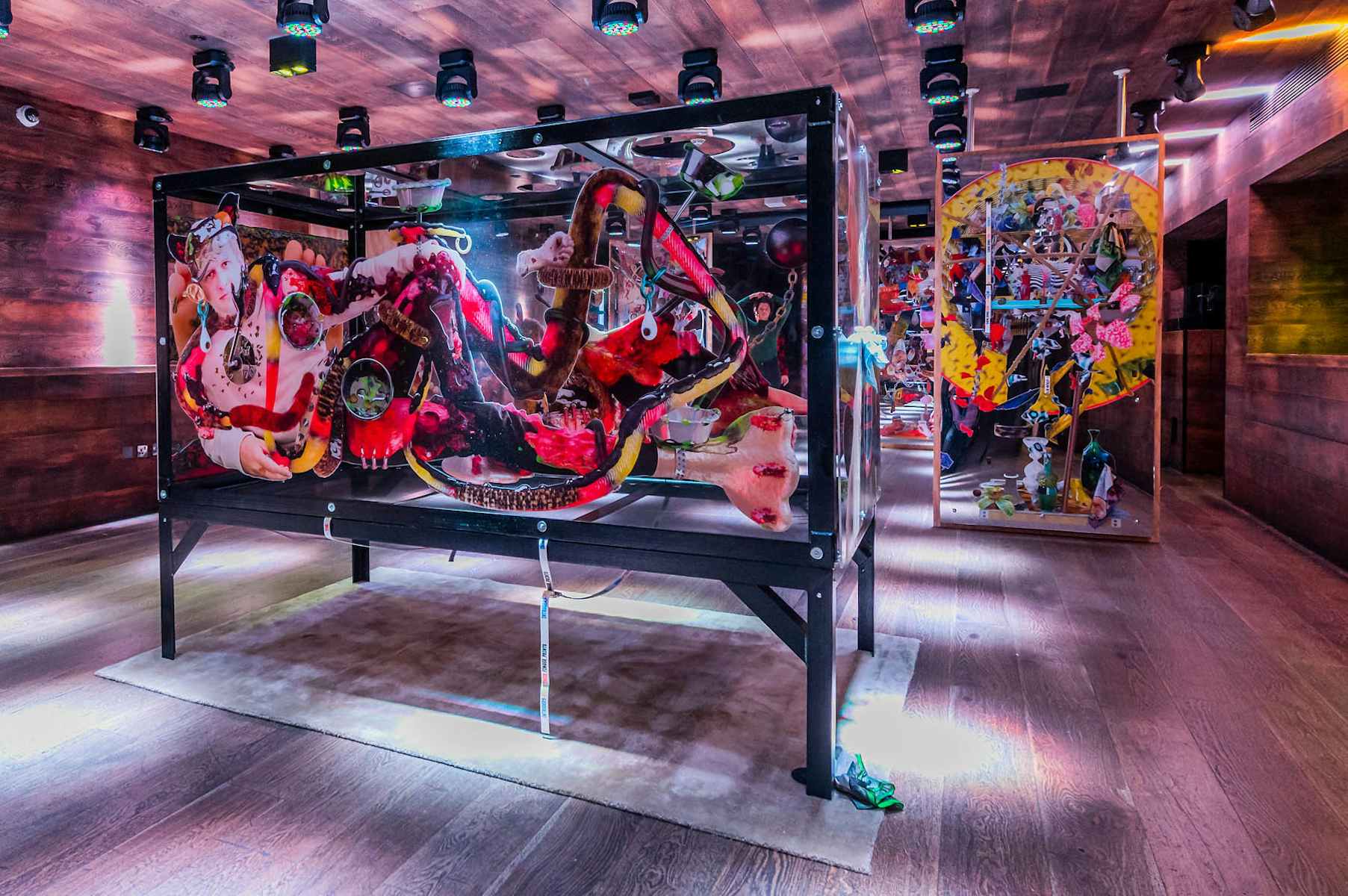 "It takes into account how we as individuals work on becoming: by mirroring others, rebelling against the culture at large and/​or bonding," the duo say. Hmmm. ​"Through certain queer sensibilities paired with individuation, a kind of dissonance is created while showing ourselves as tethered and interconnected."
Head-scratching stuff. But as part of Frieze London 2021, which launches today, the pair was asked to work with The London EDITION, the hotel-slash-club on the outskirts of Soho, London. In its dark basement, which has hosted many a hazy-headed party over the years, Wickerham & Lomax have set up an installation, Culture's Panic Room, initially stemming from the culture surrounding wine and its associations to wealth and luxury.
"Eventually it took another direction," Wickerham says. ​"It became more about access and how one could store something important and significant for multiple people and what that would look like." That storing of something ended up being a money box for people to donate to, with all the proceeds going to an organisation of the artist's choice.
Planted in the club, the mirrored installation is as reflective as a disco ball, while its sensory experience imitates a panic room with CGI characters mapped out: the heist, the encounter, the intruder and the stranger as subjects of imagined realities.
"They ultimately function as prompts from which to engage common iconography associated with these figures that tend to be elusive – those who are hard to pin down, those that start to define themselves in the margins," says Lomax. ​"The speculative aspects of our practice allow us a kind of unintended world-building.
"What we are commonly doing is taking a typical form and readdressing it, radicalising it," he continues. ​"And hopefully putting it back into various spaces and art context, a kind of ​'obscene cuteness' and ​'professionally DIY' are just a few ways of approaching the work's aesthetic."
Culture's Panic Room is running at The London EDITION from 14th ​'til 22nd October. Free admission.


More like this