2021 was the year we learned to say ​

"

no"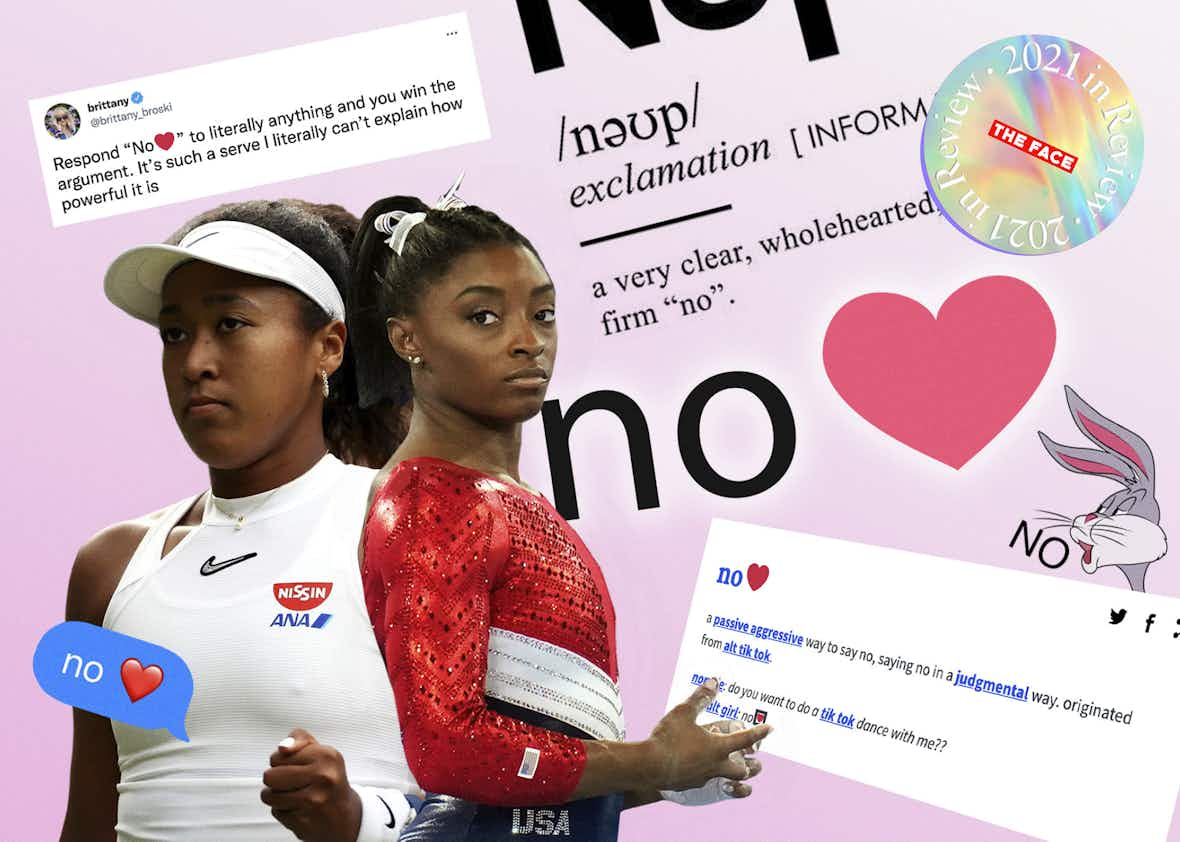 2021 in review: From Naomi Osaka's tennis hiatus to the Great Resignation, this year we turned our backs on always-on culture and prioritised ourselves.
If Elton John insists that ​"sorry" seems to be the hardest word, then ​"no" surely comes in close second.

Both words have negative connotations, yanked from our vocabularies in situations that disappoint, whether you're the person hearing or speaking them. Separately or combined, they're the language of rejection, regret and, sometimes, hurt.

But while apologising requires a certain level of humility, saying ​"no" demands almost the opposite: assertiveness and, most importantly, self-respect.

Of course, some nos come more easily than others. Passing on sugar in your tea isn't going to offend the colleague who's brewing a round for your desk. But that's because you're being asked what you want. When it comes to being asked for something, things suddenly become more complicated. And when we're not even asked, but simply expected to deliver? Well, it can often feel like an immutable obligation.

When Simone Biles withdrew from the women's gymnastics team Olympic finals in Tokyo this summer, she showed the world just how much courage it can take to put your own needs first. With four Olympic gold medals to her name, the whole world expected her to not only show up, but to deliver more jaw-dropping, gravity-defying performances that would scoop the US women's gymnastics team another gold.

The decision came after suffering from the ​"twisties" during her opening vault at the final, the ​"twisties" being the term gymnasts use to describe a mental block that affects spatial awareness during complex moves. In the following days, she also pulled out of the individual all-around, vault, bars and floor finals, citing the same reason.

"We're not just athletes. We're people at the end of the day and sometimes you just have to step back," she explained of the decision. ​"I didn't want to go out and do something stupid and get hurt."

Many were quick to berate her decision, dismissing Biles' need to prioritise her mental health, claiming she was simply upset with her poor performance (ahem, Piers Morgan). But that noise was overwhelmingly drowned out by comments of support and understanding. Gymnasts, in particular, acknowledged how dangerous the twisties can be, while others recognised the immense pressure Biles must have been under, as a 24-year-old Black woman on the world's biggest stage for excellence.

For most, her withdrawal wasn't disappointing. It was inspiring. As US Olympic swimmer Amanda Beard, who has struggled with depression and bulimia, said: ​"She's got the pressure of the whole world on her shoulders, but she knew what was best for her and followed her heart."

Biles wasn't the only person – or Black woman – that publicly prioritised their mental health this year.

In June, Naomi Osaka opened up the conversation around athletes and mental health after she withdrew from the French Open, a day after she was fined and threatened with more charges for her decision to decline press obligations during the tournament. She also pulled out of Wimbledon and, after returning for the Olympics and the 2021 Western & Southern Open, Osaka took a two-month hiatus from tennis.

Once again, it was a decision made for her mental health. ​"I feel like for me recently, like, when I win I don't feel happy. I feel more like a relief," she explained. ​"And then when I lose, I feel very sad. I don't think that's normal."

And who can forget when Prince Harry and Meghan Markle sent shockwaves through the country after announcing their plans to step back from royal duties and move to the US at the start of last year? After years of racist treatment from the press and the public on social media, it was arguably the most high-profile example of self-preservation in the past few years, as the pair put their own sanity above the obligations of Harry's royal status. When they sat down to explain their decision with Oprah a year later, in March 2021, the whole world watched, listened and learned – well, those who didn't have a preexisting opposition to the couple did, at least.

Was it a catalyst for others to start saying ​"no"? Who can say. But it certainly was a pretty compelling argument for not putting up with shit that makes you feel, you know, shit.

On a more everyday scale, this attitude has been reflected in the ​"Great Resignation", the name given to the surge of employees who have quit their jobs in the wake of the pandemic. In the US, record numbers of employees resigned: four million in April, 3.9 million in June, 4.3 million in August. Meanwhile, in the UK, the number of open jobs surpassed a million in August for the first time ever and a survey found that 38 per cent of employees are planning to change roles within six to 12 months.

There are various reasons for this, from lockdown discoveries of new passions, to a general desire for change after a period of time that saw days, weeks and months blur into one. But as Jay Zagorsky, senior lecturer at Questrom School of Business, Boston University, noted in October, many people are ​"just fed up. They are overworked, they feel underappreciated". They're done with being burnt out, but expected to flicker on through the darkness.

While the resignation numbers may be small relative to wider populations, the impetus behind them – a rejection of the idea that we should put up with toxic situations because that's life – is striking.

The ability to resign without a back-up plan is naturally a privilege. But once upon a time, even those with the financial security to quit a job might have stayed put for fear of gaps on CVs hindering their future prospects. Now, it seems as though more people feel empowered to quit on their own terms, recognising when they need a change and exiting as soon as possible.

Earlier this year, for instance, young people opened up to THE FACE about leaving jobs due to stress and personal reasons. Rather than putting pressure on themselves to find new work, they embraced periods of ​"funemployment". As one 29-year-old said: ​"People aren't happy to not have stable income, but getting down in the dumps about it doesn't help."

And after long periods of being obliged to stay indoors, limit social contact and wave to nan through the window at Christmas, is there any wonder that people are feeling more emboldened to do exactly what they want and need to do?

Osaka, Biles, Markle and all those who quit as part of the Great Resignation essentially said ​"no" to harmful social and professional expectations. And in doing so, they also said ​"yes" to themselves. Yes, it's acceptable – good, even – to relieve yourself of crushing pressure. Yes, it's OK to take a break if your mental health is suffering.

Yes, you're allowed to put yourself first.

It's an act that shouldn't be radical, but our always-on culture has made it so. Yet this year, we learned to take pieces of ourselves back from those who abuse them and set boundaries.

Saying ​"no" doesn't have to be negative. As Biles and Osaka proved, it can be liberating.

More like this