Body By Ciara: the fitness entrepreneur getting us through lockdown
Since launching her online fitness platform, Body by Ciara, last March, relatable North Londoner Ciara Madden has become "body goals" to women all over the country – and a figure of strength in their time of need, too.
Arti­cle tak­en from The Face Vol­ume 4 Issue 007. Order your copy here.

"Are you ready? Let's start. On your toes!" shouts Ciara Madden as she bobs up and down on the 5.8‑inch screen balanced in front of me.
It's not even eight o'clock on a Monday morning and there are already 560 people taking part in the fitness trainer's Instagram Live workout. Immediately, the comments are popping off.
"Buy books just to put on that shelf booty," says champion bodybuilder @msfitqueenuk in appreciation of Madden's lean and impeccably sculpted physique. ​"Although it's been a hard year it's been one of personal development and growth thanks to @ciaralondon," types another.
It was just as the UK's first lockdown hit in March that Madden – @ciaralondon to her 140,000 followers – launched Body By Ciara: an online workout subscription featuring daily classes and events.
Just over a year on, and the 31-year-old timetables classes by 17 different fitness instructors, releasing workouts to a 9,400-strong, mainly female fitness squad via a £15-a-month membership platform (a private @bodybyciarasquad Instagram account, which has just been switched out for a dedicated app).
Soundtracked by DJs spinning bashment, Afrobeats and house tracks, the sessions cover body sculpting, boxing, super circuits, muscle-building, lower body blast (a Madden signature), simple yoga, full body pilates, stretch sessions, Sunday meditation and more.
Presenter Maya Jama, model Leomie Anderson and singers Mabel and Mahalia are followers, as are thousands of young women across Britain (and beyond) for whom Madden encapsulates the meaning of ​"body goals".


"Ease your way in this morning," encourages Madden from her usual spot, the living room of her airy, high-rise flat in East Barnet. Today, it's filled with balloons to celebrate her squad's first birthday. ​"Are you all alive?" Madden smirks, in a pair of blue camouflage Gymshark leggings and a black crop top.
"Alive and blessed, baby," replies a conscientious comrade. ​"Lord, I'm so tired but this squad keeps me going."
And that's exactly what Madden has done during the pandemic: kept us going. She's encouraged us to stick at it in the name of a strong body, while galvanising a community of like-minded women (plus the occasional man or two) – many of whom have been facing the effects of isolation and craving communication.
She sweats, she screams, she swears, and does the entire workout with you. You don't just want her to train you. You want her to be your best friend.
Madden is reliable, relatable and, perhaps most importantly of all, she's real. All of which has made her one of Britain's most popular home-gym gurus of the pandemic.
It's also made her a millionaire.
Growing up in Barnett as one of four children, Madden's mum signed her up to swimming, running, Irish dancing and athletics from a young age.
"But she's not a crazy ​'soccer mom' type," she insists when we speak over Zoom between classes. ​"I'm from a very normal working-class Irish family."
At the age of 24, Madden got back into exercise in a big way. Working in events and PR, and in a toxic relationship, she'd found herself on a cliff edge. Throwing herself into the gym as a coping mechanism, it soon became a safe space within which she could wind down, while building her confidence back up.
Her friends started asking to train with her and Madden's carefully choreographed circuit classes soon became an unmissable event within her social circle. One friend encouraged her to become a personal trainer but she couldn't afford the course, so found a low-interest government loan offering support for those looking to reskill. After studying part-time she started training her own clients from 5pm until 10pm on weeknights and weekends – all the while still working her day job.
Fast-forward to 2020. Pre-pandemic, Madden had made the leap into fitness full-time, working – and working out – seven days a week. She operated out of BOXR, a swanky gym in Mill Hill, meeting clients or hosting classes on the hour, every hour, every day.

"I was just really busy," she remembers, still in her gym gear, fresh from an evening session and knocking back a post-workout Bulk shake (the nutrition company for whom she's an ambassador, another dividend of her dominating lockdown). ​"I would wake up in the morning and be in the gym for 8am for my first client. I'd usually have a break at around midday and go to a lunchtime workout, then I would come home and shower quickly, have lunch and get back to the gym – usually from 3pm until around 10pm."
At the time, Madden had a social life, too, albeit one tightly circumscribed by her dedication to her clients' fitness and her own. ​"I would be in the gym changing to go out at 10pm, come home at 1am, then bed, back up, out."
That was until life came to a grinding halt. Madden vividly remembers tracking the pandemic in Italy, Spain and France and thinking: we're next. That's when she put a feeler out.
"I was sitting in my car and I said: ​'Guys, if we go into lockdown, will anyone be up for joining in with Instagram workouts?' Ninety-nine per cent voted yes."
Women are supporting women

Women are supporting women

Women are supporting women

Women are supporting women

Women are supporting women

Women are supporting women

Women are supporting women

Women are supporting women

Women are supporting women

Women are supporting women

Women are supporting women

Women are supporting women

Women are supporting women

Women are supporting women

Women are supporting women

Women are supporting women

Women are supporting women

Women are supporting women

Women are supporting women

Women are supporting women
On 23rd March 2020 lockdown was announced. With a ban on virtually anything except going for a walk each day, Madden's videos were soon pulling in between 1,500 and 2,500 fitness-conscious individuals from all over London, then the UK, Europe and beyond.
But even as Madden was thriving off her success, she was struggling to pay her rent. She did the maths and concluded that even if 10 per cent of her followers paid a monthly fee, it would be enough to sustain her. She announced the subscription service and got a website up and running immediately. It crashed on the day of launch due to the sheer volume of new squad signees. Within a matter of weeks, she had 8,000 subscribers.
"That was stressful," Madden says, shaking her head at the memory. ​"It wasn't the crash, it was the thousands of messages: ​'Hey hun, I'm trying to subscribe and…', ​'Hey hun, the payment has gone through but…', ​'Hey hun…' – gaaah!" she screams, before bursting into infectious laughter.
The ability to work out from anywhere in the world at any given time is one factor in Madden's success. The affordability compared to London fitness studios like Blok (£17 a class) and 1Rebel (£20 a class) is another. But there's more to this than cost-effectiveness and convenience.
Madden's 30-to-60-minute sessions fly by, thanks to entertaining commentary and an excellent selection of sounds. She also manages to evoke the sense of encouragement and sisterhood usually only found through face-to-face contact and team sporting events.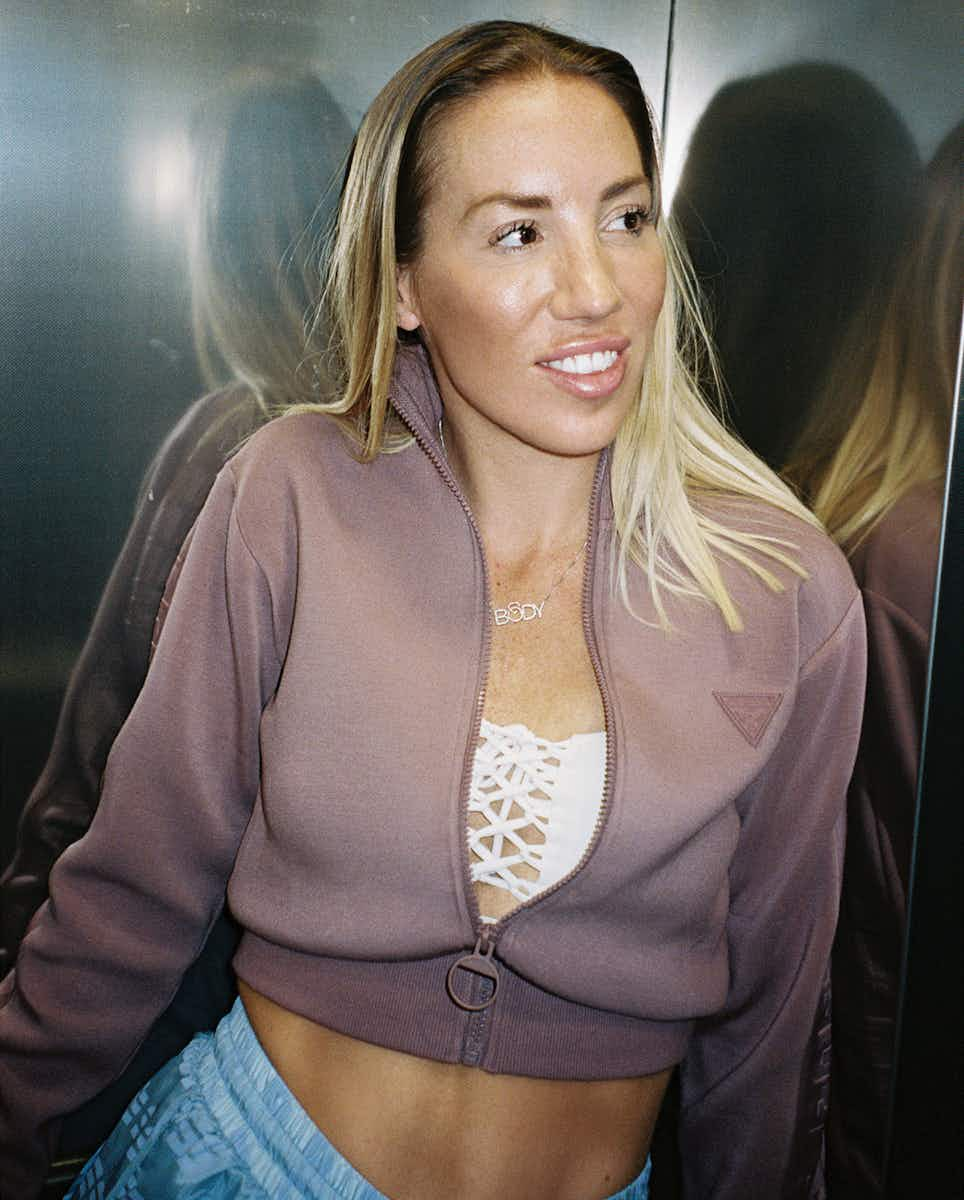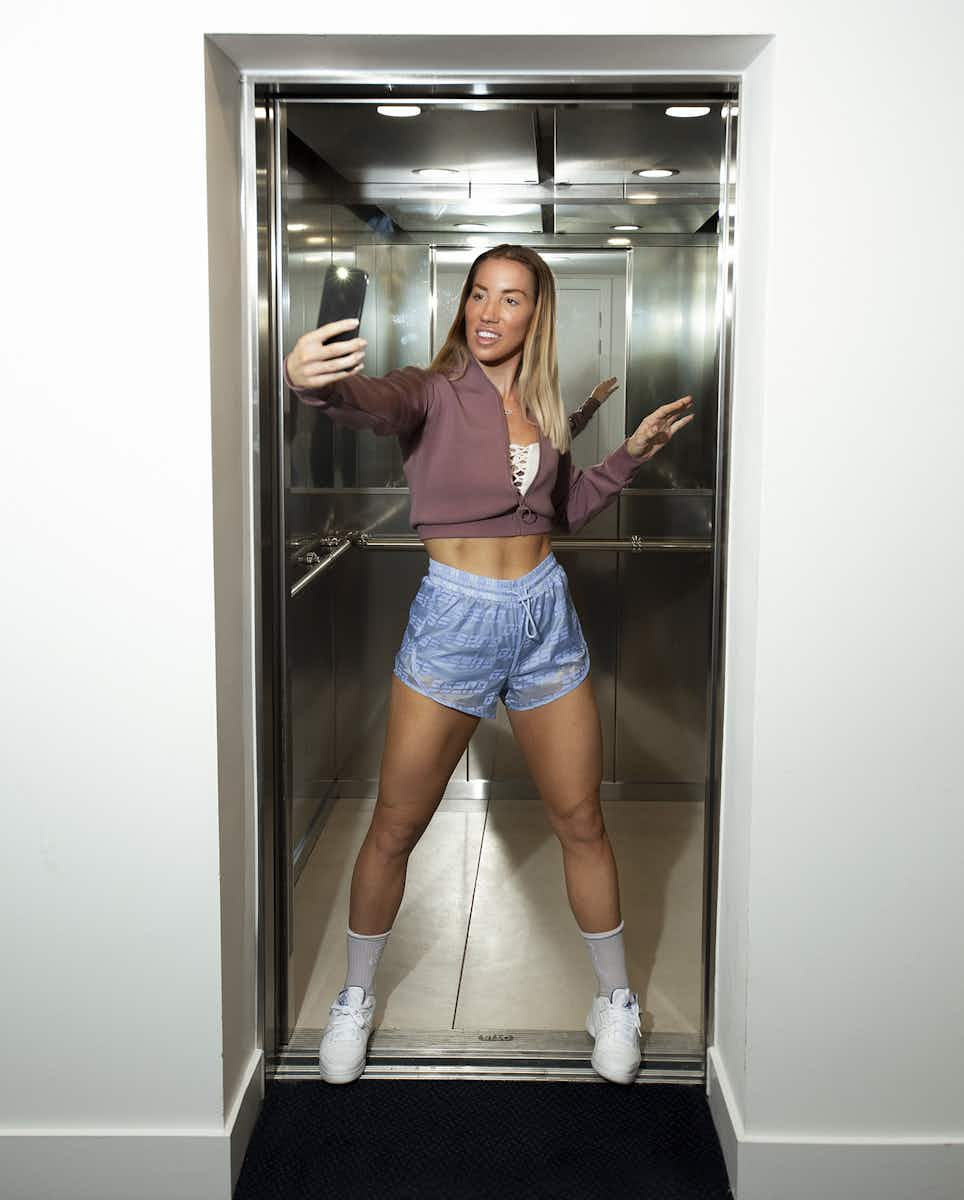 "I've always enjoyed working out as part of a group setting," explains FACE contributor and squad member Zainab Jama. ​"There is something quite special about being part of a community where you all have a common interest that makes working out fun."
To add to the team spirit, Madden and her instructors do every single move with you, while members pep each other up in the comments.
"She isn't like those faux wellness workout people that only eat salad and drink juices 24/​7," says creative producer and consultant Claire Burman. ​"She'll eat pizza, be hungover and still get up and work out with you live. She lets you see that she's not perfect and that's so refreshing!"
What's more, the squad is seeing outstanding results. As Madden puts it: ​"as nice as it is to chat to people, I actually do forget that they really are completely changing their bodies and minds to get to their peak level of fitness." Members tag Madden in their transformation pictures daily, which she reposts as a ​"Transformation Thursday" round-up on her personal Instagram account. Each progress post will receive more than 200 comments from the community.
As well as developing the new Body By Ciara app, Madden has spent the last seven months renovating a property that will serve as her brand's first gym when it opens as soon as lockdown restrictions permit (she's doing anything she can to avoid a false start).
Located in Muswell Hill, Body HQ will span a gym floor and a studio fitted out with top-of-the-range weights, squat racks and punch bags, complete with neon-branded lighting and custom-made Body By Ciara carpet. The hands-on renovation process has been a Team Madden effort, with the work done by her 70-year-old dad (she's recently paid off his credit card and wants to ​"retire him ASAP!") and her family's building and decorating firm, BA Madden.
Keeping her empire intimate, Madden is in the process of enlisting her brother on PT and nutrition courses ("I want him to work in my gym!") and has invested in pre and post-natal qualifications for her cousin, best friend and squad instructor Lauren so she can train pregnant women.
"It's about upskilling people who don't have the skills and bringing them in, too, which is cool," she enthuses. ​"Money is nice and stuff, but to be doing all that on your own and not share the pie – it just wouldn't be so fulfilling."
With more than 9,000 members paying £15 a month and revenue streams spanning her recently-launched app, nutrition plans, merch line, and the soon-to-be-open gym, it doesn't take a mathematician to conclude that Ciara Madden has become a self-made millionaire in less than a year.


"It's true," she admits when probed. ​"I'm not ashamed of it, I just don't like to look like I'm rubbing it in people's faces. But I do like to put the energy out there. If I start denying it, the universe will be like: she doesn't want it!"
Female ownership, entrepreneurship, empowerment and levelling up: these are all things Ciara Madden talks about at length on social media. But above all else, her squad comes first.
"It's so nice to have so many women who are just so nice and supportive," she says. ​"I feel like after years of bitchiness and the wrong culture amongst females, suddenly everyone's cool. Women are supporting women. Women are going against men."
She fully plans to get the squad together IRL, too, when the easing of restrictions allow. So far, she's arranged, and had to cancel, a brunch and a retreat, and weighed up a fitness festival in an aircraft hangar in Essex. Inevitably, the timing hasn't been right.
"I'm itching to do it," says Madden, overflowing with the excitement and passion that make her classes so brilliantly irresistible, even when she's killing you. Here's to her bulletproof mindset and big Body By Ciara moves for years to come.
Photographer's assistant Reece Owen

More like this