Francis Bourgeois is TikTok's trainspotting sensation
Fake Instagram lives with Digga D and Billie Eilish first sparked interest in the 20-year-old's esoteric, heartwarming videos. Now, we're all along for the ride.
Most of the time, when someone mentions trainspotting, the first thing that springs to mind is Trainspotting: Danny Boyle's adaptation of Irvine Welsh's novel of the same name, a riotous, harrowing 1996 film about heroin addicts in Glasgow. And when someone mentions TikTok, it conjures up scenes of viral dance challenge videos, makeup hacks and mental health advice packaged into 60-second segments.
Francis Bourgeois turns both of these cultural cornerstones on their heads. A 20-year-old engineering student at the University of Nottingham, his TikTok account has nothing to do with a doped-up Ewan McGregor wreaking havoc with his mates, or Victoria Paris posting a video of her new I.AM.GIA ​'fit. Instead, it chronicles Bourgeois' adventures as a proper, salt of the earth trainspotter and railway enthusiast, much to the delight of his 242,000 devoted followers.
Whether he's admiring a test train with a GoPro strapped to his head, gushing over a honk, or catching a wave from a driver, Bourgeois has galvanised an entire community with his palpable and infectious enthusiasm. What is it about trains that gets him ticking?
"It's the sound of the engines, the honks, the wheels on the tracks, they're therapeutic noises," Bourgeois says from his bedroom in Nottingham. ​"As for the railways, there's a satisfaction in the way they line up, the way something so huge is on a direct path. On a deeper level, there's something [special] about how the direction of a train is predefined – you know where it's come from and where it's going to go."
For Bourgeois, trainspotting has been a lifelong pursuit. He grew up in Harlesden, North West London, where his parents would take him on road trips to Willesden Junction, one of the city's busiest stations. They'd sit on the platform with him all day and Bourgeois later drew pictures of the tracks from memory. He moved to Frome in rural Somerset aged 7, and after starting secondary school, Bourgeois felt compelled to suppress his interest in trains in order to fit in.

"I didn't really know what people would think," he says, thoughtfully. ​"Coming to university, I've turned a new page and allowed my passions to [flourish] and not be held down. It's made me a lot happier." This sentiment has rubbed off on his audience, too. You don't need to be an avid trainspotter to appreciate Bourgeois' videos. His energy and lust for life alone are powerful enough to offer a slice of much-needed escapism.
"People have shared very personal feelings and emotions about how [my videos] have helped them overcome hard times," he continues. ​"It's very moving. The number of messages has been almost overwhelming. It really spurs me on." Bourgeois has even become something of a local celebrity. Last night, a group of boys at the pub recognised him instantly. ​"Wheyyyy!" they shouted, before telling him how much they enjoyed his videos.
Bourgeois' foray into TikTok actually came about as a result of lockdown boredom. His account took off after he stitched together fake videos of himself talking to British drill artist Digga D and alt-pop sensation Billie Eilish on Instagram Live. ​"I think people liked that because it was something they hadn't really seen before," Bourgeois says.

What kind of train does he imagine Eilish would enjoy riding on? ​"Probably the Caledonian Sleeper from London Euston to Inverness," he says. ​"You can get a sleeper train with two bunk beds and apparently the views are absolutely amazing. I'd wake her up in the morning and say, ​'Billie, look out the window!' And she'd be in Scotland."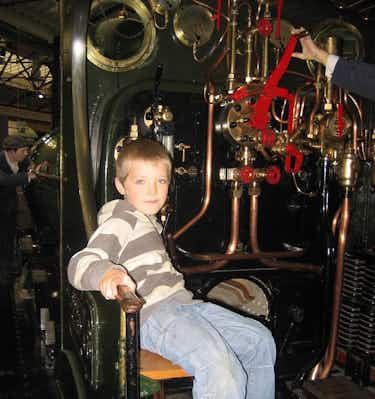 Another of Bourgeois' fake Insta Lives took place with British rapper Swarmz, who wasn't best pleased. He reposted it on his own account, branding Bourgeois a ​"weirdo", before the latter's fans flooded Swarmz's video with comments. ​"I don't think he's posted many videos since then," Bourgeois adds with a smile. He prefers listening to reggae legends Aba Shanti‑I and Augustus Pablo, or electronic music by Aphex Twin, anyway.
Still, he acknowledges the common misconception that trainspotters are ​"grumpy, unapproachable people," as he puts it. ​"To an extent that's true, but maybe it's because they've been shut out and feel like outcasts."
This stereotype is the antithesis of Bourgeois' demeanour. He's too busy bringing joy to TikTok's ​"For You" page to care about what anyone thinks – and he's doing it in style. Today, he's wearing a smart, striped British Rail shirt. Tomorrow, he'll pop on his ​'50s overcoat from eBay, an inspector's hat from the Second World War and maybe even a pair of London Underground-themed socks (the Bakerloo Line ones are his favourite).
When he's not out trainspotting, Bourgeois likes to keep his head down and focus on his degree. ​"I'd like to go into civil engineering, to create new railways or revitalise older lines," he says. ​"I can't wait to get started. I hope I spend the rest of my life working on the railways and trying to make them better for everyone." Of course he would. That's why we love him.
Francis Bourgeois' trainspotting tips:
Find a good trainspotting location, ideally behind barriers or on a footbridge.
Make use of Rail Record or Realtime Trains. These will show you exactly which trains will be passing certain points and you'll also get to know different types of trains.
If you want a train to honk, don't put two hands up! The driver might interpret the gesture as a warning that something's on the tracks.
Make sure you've got one hand up in the air and, if you really want a honk, pull the imaginary lever.

More like this