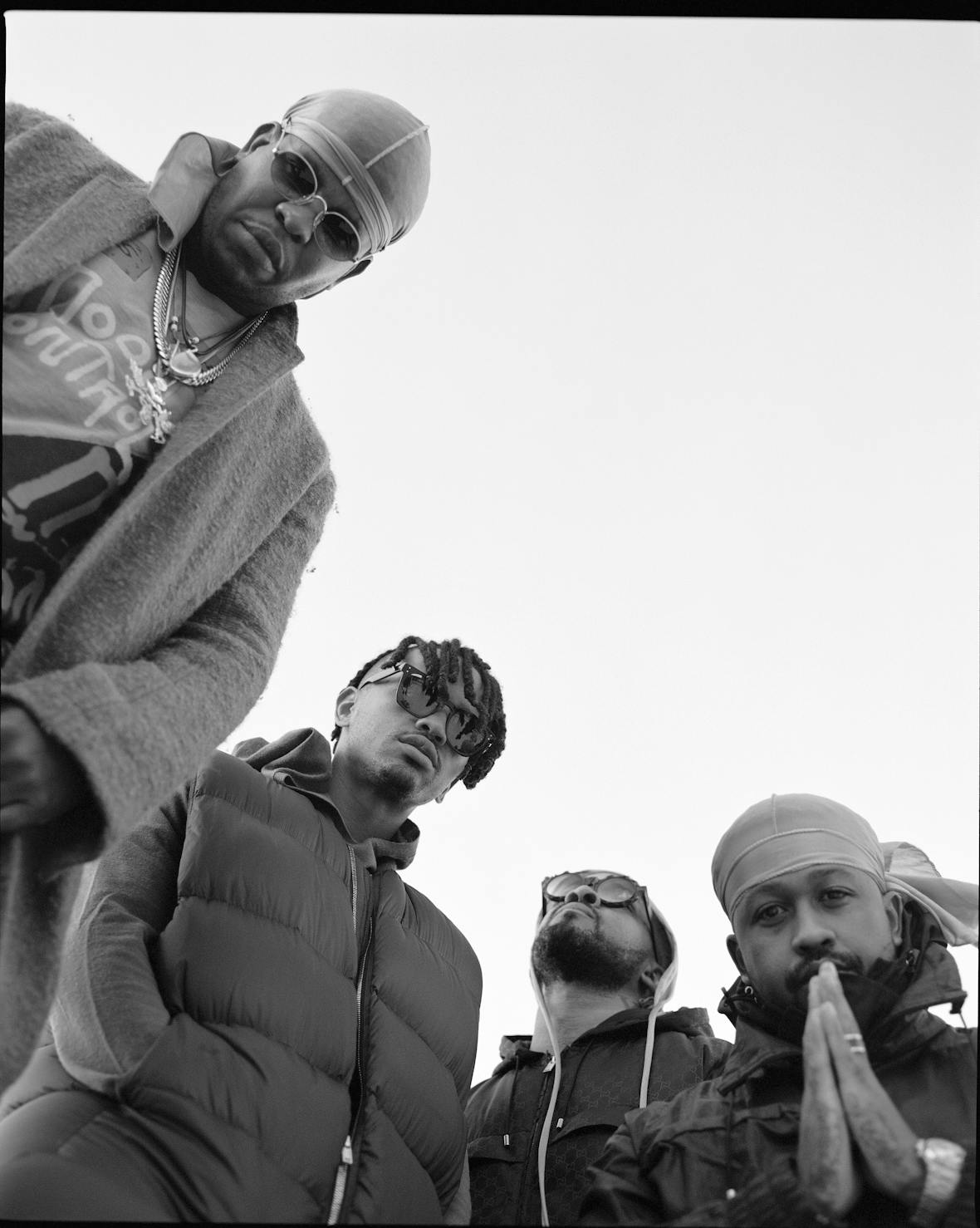 Ghet­to Gastro's guide to New York
In the mouth of Jon Gray, Ghet­to Gastro's CEO and founder, ghet­to nev­er felt so fab­u­lous. They're a ​"Black Pow­er Kitchen", who've mas­ter­mind­ed events for every­one from Vir­gil Abloh to Rick Owens, Tom Sachs to Martha Stew­art, Fly­ing Lotus to Vic Men­sa, The Ser­pen­tine to MoMA. They curate all aspects, from the venue to the DJs to the decor, with themes rang­ing from the Black Pan­ther future-world of Wakan­da to the coloni­sa­tion and re-appro­pri­a­tion of the yam.
Gray and his tight crew (Lester Walk­er, Mal­colm Liv­ingston II, and Pierre Ser­rao) are proud mem­bers of an influ­en­tial and high-func­tion­ing African dias­po­ra with a glob­al mind­set. They take long-haul flights like the rest of us hop on the tube. But they're New York til they die. ​"We want­ed to dis­till what it meant to be from The Bronx and apply that to a new dis­ci­pline," Gray explains. ​"The thing about New York is that a mil­lion­aire and some­one who lives in the Projects will ride the train togeth­er. I saw an oppor­tu­ni­ty to cap­ture the val­ue and aes­thet­ic of the hood and bring it in a dif­fer­ent context."
And so the crew are at once ambas­sadors and activists for their home town. Each high-end par­ty brings the funds to do good with­in their com­mu­ni­ty. ​"The world needs bet­ter rich peo­ple, so we bet­ter become them!" laughs Gray. ​"I call it a Robin Hood approach." But the ever-present crew are also show­ing kids grow­ing up in their neigh­bour­hood just what is pos­si­ble — ​"the vis­i­bil­i­ty of us is activism in itself."
Gray explains that a lot of cre­atives and inno­va­tors have been leav­ing New York for LA of late. ​"For me it's giv­ing me moti­va­tion to real­ly dou­ble down on New York." And so we hit him up for a guide to the places that keep his heart and feet firm­ly in the Big Apple.

THE

FOOD
"Since I've been spend­ing more time in the Bronx I love sup­port­ing local busi­ness­es run by peo­ple of colour," Gray explains. Like an undoc­u­ment­ed and fam­i­ly-owned Oax­a­can restau­rant called La Mora­da, with its own poet in res­i­dence and lend­ing library; or juice bar, Broth­er Roy of Green Gar­den Health Food Store.
Every food pro­fes­sion­al has their com­ing-of-age tale. Gray's came cour­tesy of reg­u­lar trips to Low­er Span­ish Harlem's Wok 88 aged five with his Mum, and a plate of orange chick­en, with a side of broc­coli brown rice and a shrimp won­ton soup. ​"Those were my vibes. That's where my food jour­ney began."
These days the crew's fur­ther-afield food finds include Wildair – ​"they have fun with it, but they're flavour dri­ven. I don't care about the bells and whis­tles if the food isn't deli­cious." Attaboy for Kore­an fine-din­ing; Uncle Boons and Uncle Boons Sis­ter for Thai with a New York atti­tude; and Crown Shy in the finan­cial dis­trict, where their ​"homie Jamal" is keep­ing it bou­jie. Plus, crew-mem­ber Mal­colm earned his chops at WD50 before head­ing to Noma (Wylie Dufresne always let them use his equip­ment when they were just start­ing out, so they reg­u­lar­ly drop by Du's Donut's for his leg­endary egg sandwich).

THE

SPACE
Last year Ghet­to Gas­tro final­ly decid­ed it was time to cre­ate a hub where they could ​"just jam out togeth­er every day." And so Labyrinth 1.1 — a ware­house com­pris­ing test kitchen, stu­dio and art gallery – was born. And of course it was in The Bronx. It offered them the oppor­tu­ni­ty to be pos­i­tive and con­spic­u­ous mem­bers of the local com­mu­ni­ty, whilst bring­ing art­ful glam­our to their ends. ​"I'm an art col­lec­tor, so to be able to have a space where peo­ple can inter­act with the art is great," says Gray.
In the Labyrinth you'll find a kitchen-cum-mod­u­lar fur­ni­ture sys­tem that breaks down into sta­di­um seat­ing and stage, designed by Kun­lé Adeye­mi; Tom Sach's NASA chair; wood­en tables designed by Noe Duchau­four Lau­rence; and a Deb­o­rah Roberts and Lar­ry Men­sah col­lab­o­ra­tion piece.
THE

MUSIC
Gray's the­o­ry is that the inter­net has cre­at­ed a sit­u­a­tion where par­ties are less about venue and more about ​"who's play­ing and the crowd they bring." And so he'll hit up ​"any par­ty that Venus X is throw­ing"; The Orig­i­nals nights with Stretch Arm­strong and Clarke Kent; clubs where Kit­ty Say Word's on the line-up; The Blue Note res­i­den­cy series; and Aya Brown and Angela Dimayuga's GUSH par­ties, where the price on the door is $5 for femmes and $75 for straight men.
Record shop­ping is a tourist pur­suit for Gray – ​"I like to grab records in most coun­tries that I vis­it. I got some Thai funk records when I was in Bangkok." Back home he heads to A-1 Records in the Low­er East Side.

THE

ART
The team are also mas­sive ambas­sadors of local artists, many of whom make an appear­ance in the Labyrinth space. Gray cites cre­atives across a range of dis­ci­plines, includ­ing Lucia Hier­ro, a Domini­can Amer­i­can artist who does ​"these soft sculp­tures that imi­tate plas­tic super­mar­ket bags and fills them with items that are cul­tur­al­ly rel­e­vant to being a Domini­can in New York – that deeply res­onat­ed with us." There's also the ​"real­ly dope painter-sculp­tor" Kennedy Yanko, a Bush­wick local with a go-big-or-go-home approach; Brooklyn's Hugo McCloud, who works with typ­i­cal­ly urban mate­ri­als to cre­ate ethe­re­al and beau­ti­ful things; Harlem boy Joshua Woods whose giant pho­to­graph of a Sene­galese wrestler sub­merged in dusky pink lake water hangs at the heart of the lab­o­ra­to­ry space; and Brook­lyn-based Mex­i­can fur­ni­ture-design­er Fer­nan­do Mas­trange­lo, who teams sand and glass with Ital­ian cash­mere for ​"a very, very cosy situation".

THE

FAM­I­LY
Ghet­to Gas­tro shop for the mak­ings of their spice mix at a local insti­tu­tion called Kalustyans Spices; their bro­ken rice, palm oil and fufu at a West African sup­plies shop called Eddie's Place; and their veg at the Union Square farmer's market.
Beyond food, Ghet­to well­ness — med­i­ta­tion, yoga, ther­a­py and mas­sage – is at Brooklyn's Heal­Haus. Lit­er­ary inspi­ra­tion comes cour­tesy of a new bar-slash-book­shop in the Bronx called The Lit Bar. It's been crowd-sourced by Noelle San­tos – ​"a young woman of colour killing shit".
"I real­ly like to see young peo­ple of colour putting things in their own neigh­bour­hood," explains Gray. ​"It's like FUBU — for us, by us. These are the things that keep me inspired and keep me on my toes."
---