Kai-Isaiah Jamal: ​

"

Sometimes being in a space is disrupting enough"
Earlier this year, the deadly-cool poet and visibility activist became Louis Vuitton's first Black trans model to walk in a show. And with a bone structure like that, they'll be coming to many more catwalks near you soon.

Kai-Isaiah Jamal is recalling the biggest ​"pinch me" moment in a whirlwind year: shooting a campaign for Rihanna's Fenty.
"I was their only trans model other than the Savage show," begins the 24-year-old South Londoner as we talk over Zoom. ​"It was just a real moment to be able to be like: ​'Oh my God, this is who I grew up listening to! I'm in a room with her.' It was mad. ​'Am I going to wake up from this?'" they continue. "'Is Ashton Kutcher going to jump out and be like: ​"This has all been a punking"?'"
Almost a year on and Jamal – who prefers the pronouns they/​them, and who won the genetic lottery in terms of bone structure – has yet to encounter Kutcher. No matter. The model, poet and visibility activist has worked with Stella McCartney, Playboy and Ugg, been included on the British Fashion Council's 2020 New Wave: Creatives list and collaborated with Patti Smith on a poetry project. When I speak to them in January, it's the day before they're due to walk in Virgil Abloh's Louis Vuitton show in Paris.
"I will be the first Black trans model to model for them," they say. ​"I feel like I haven't sat with it, and acknowledged it. Maybe tomorrow."
Jamal will also need to sit with the fact that their poem was on the soundtrack of Abloh's show, alongside Yasiin Bey (formerly Mos Def) and Saul Williams. While they began modelling around 2017, they've been working with words a lot longer. They wrote as a child because ​"I was cheeky and I had to learn all of the words and charm my way in and out of everything." As they grew older, they experimented with spoken word and raps, but things clicked into place when they encountered the emotional imagery of the Romantic poets. Poetry became an outlet to say things that were too hard to express: ​"I had to find non-explicit ways of talking about who I was, and that I guess in a way [that] is a metaphor."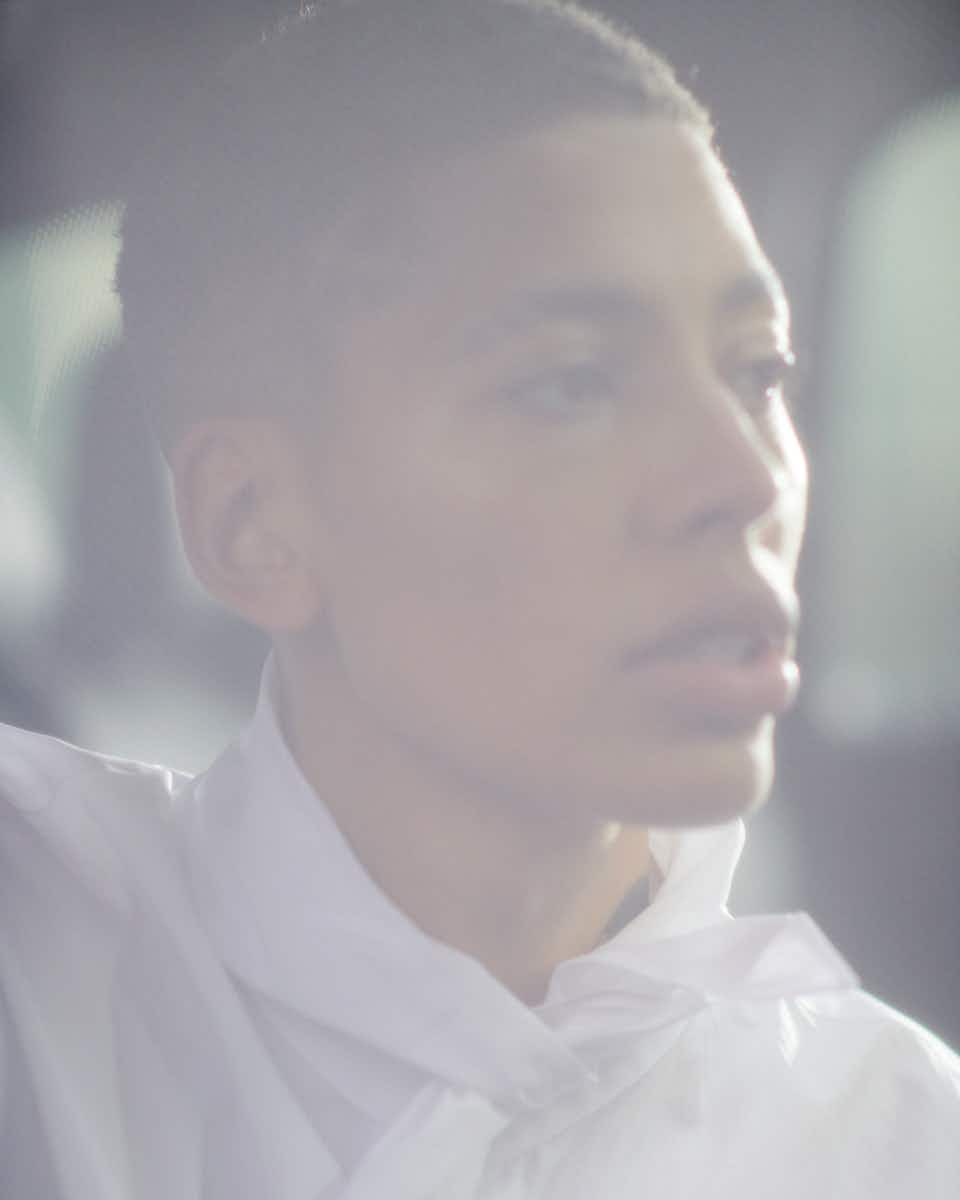 Their work still stems from lived experience. Grandpa, a poem about their grandfather, an imam, talks about problems of acceptance by their family, while a poem for Vogue was titled A Love Letter To Black Womxn. Others have covered everything from the importance of free travel for under-18 POC, to love, and the meaning of this thing called life. ​"There are still days when I wake up and I'm like: ​'This is so weird, I get to write poems as my job'," they say.
Imagery now helps them articulate gender beyond physicality. ​"I can understand more if someone says: ​'My gender feels like an undone shoelace.' I always say my gender feels like ​'crop tops and combats'."
All this is light years from the limited arsenal of expression Jamal had growing up in the noughties. They say Grace Jones and Prince were important – ​"anyone who was on the fringes of gender and playing with gender" – while further influence came from The Aggressives, a 2005 documentary ​"about masculine-centred people who are assigned female at birth". But the younger Jamal struggled to find a trans person as a direct role model, simply because there weren't many in the public eye. They are aware they could fulfil this role for the next generation: ​"When I do become the first trans model to do things I'm like: ​'Wait, this is me being what I needed or wanted to have.'"
Jamal talks movingly about their relationship with their father, recounting their day on one of London's Black Lives Matter marches last summer.

"He marched with a Black trans sign which I had made for myself, and he was like: ​'No, I [will] carry that'," remembers Jamal. ​"We had this whole conversation because there were straight cis boys who looked at him. Maybe if they look at me and I am holding the sign it feels like too foreign for them to engage with. But they could understand it from him because he's a replica of their father or a male presence in their lives. I cried so much throughout it."
Jamal's Instagram, which has 57,000 followers, covers work, politics and trans rights but also Bashy (their Frenchie, who's partial to a comfy bed), skincare routines and selfies with Saul Williams and Bey. It's a conscious decision.
"That's why [describing myself as a] ​'visibility activist' was more fitting [than ​'activist'] because sometimes me just being in a space is disrupting it enough," they say. ​"I don't need to say anything, I don't need to have a political agenda." For Jamal, progress really begins when trans people have the privilege of being unremarkable. ​"I walk my dog in Hackney Downs [park], the same as half of East London do. It's not just [that] we're on front covers or on billboards… we always just exist day to day in the most mundane way."
Of course, what with being particularly blessed in the looks and talent departments, Kai-Isaiah Jamal isn't quite as mundane as the rest of us. The whirlwind continues apace. Next up is an EP of poems mixed with music so ​"people can listen to it on the bus" and a children's book.
"It's not necessarily a trans child, just a child that doesn't think about gender or a child who uses ​'they' pronouns." This, they note, is crucial to that quest to becoming unremarkable. ​"We have such a focus on the subject and usually the trans kid gets it. It's more about everyone else in that classroom need[ing] to understand it better."


More like this