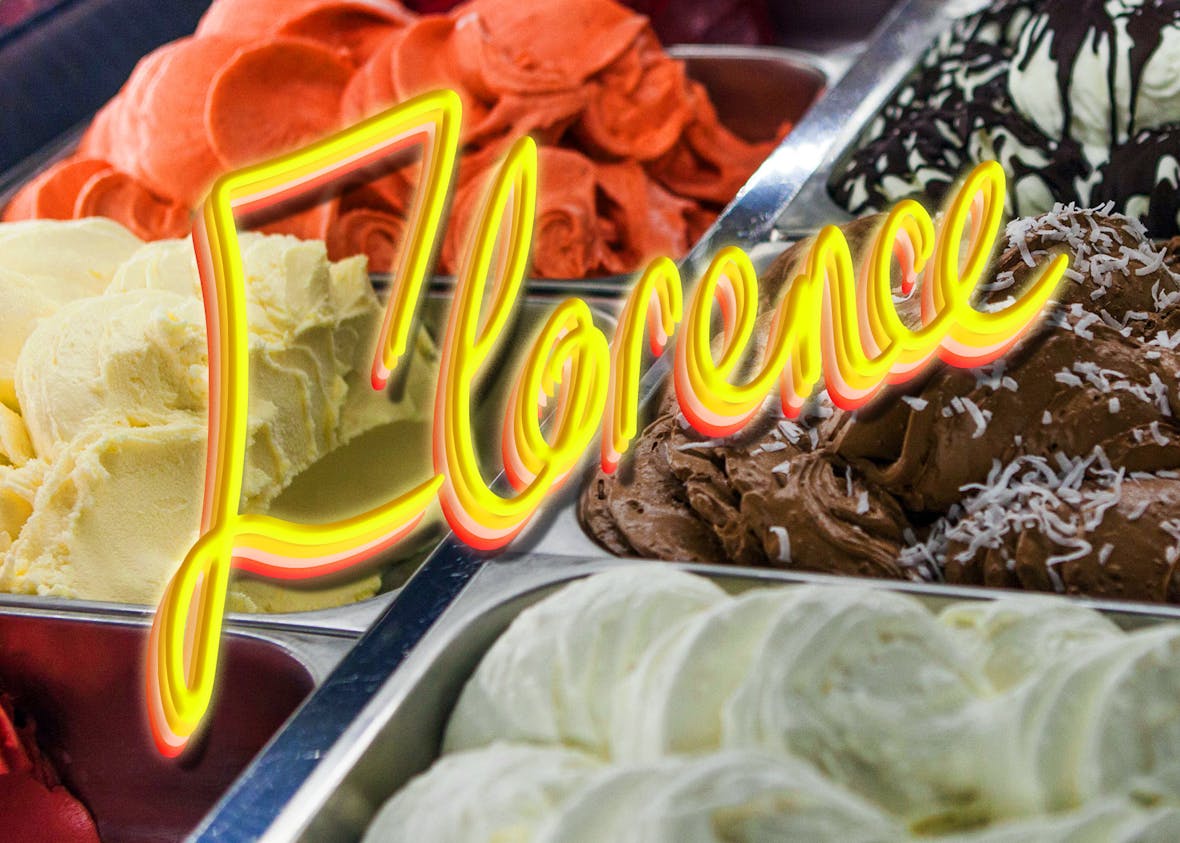 A legit local's guide to Florence
Flo­rence isn't just home to mouth-water­ing gela­to, excel­lent piz­za, fine wines, and aper­i­ti­vo. It's also the loca­tion of the annu­al Pit­tI Uomo fash­ion show­case that's now entered it's 90th year. To com­mem­o­rate the mon­u­men­tal event, Pit­ti Uomo enlist­ed the help of Ital­ian lux­u­ry fash­ion retail­er LuisaViaRo­ma (and CEO Andrea Pan­cone­si) and for­mer edi­tor-in-chief of Vogue Paris Carine Roit­feld and her CR Run­way con­cept to host a cel­e­bra­tion in the shape of an impres­sive cat­walk show at piaz­za­le Michelan­ge­lo that saw 5,000 mem­bers of the gen­er­al pub­lic attend.
A grand total of 102 looks from the AW19 col­lec­tions were shown (from Pra­da and Givenchy to Simone Rocha and Richard Quinn), worn by 61 female and 22 male mod­els, includ­ing the likes of Alek Wek, Doutzen Kroes, Natasha Poly and Bel­la and Gigi Hadid. The spec­tac­u­lar played out as a homage to the icon­ic run­way moments of the 90s. ​"It's a trib­ute to Flo­rence, the cap­i­tal of the Renais­sance, where the first prêt-à-porter run­ways were held in the Fifties," explains Andrea.
We caught up with Andrea Pan­cone­si after the event to get his insid­er guide to Flo­rence, includ­ing his go-to spots for the holy trin­i­ty: piz­za, wine and aperitivo.

What's your favourite restau­rant in Florence?
Trat­to­ria Cocolez­zone. It trans­lates to ​"very dirty cook". In ancient times they said that if you were too clean you couldn't get food. Now it's very clean and prop­er. It's my sec­ond home.
Where would you take some­one on a first date?
Forte dei Mar­mi – it's a clas­sic high soci­ety sea­side loca­tion that Ital­ians have flocked to for decades. It's in Tus­cany and you can see the white Alpi Apuane moun­tains. It looks like now, but it's not, it's white marble.

Where do you go book shopping?
Fash­ion Room Book Store. It spe­cialis­es in fash­ion and design is a must vis­it here in Flo­rence for cre­ative peo­ple. We also open­ing library in our new con­cept store in Via Mattonaia.
What about the finest Ital­ian wine?
Head to Can­ti­na Anti­nori in Chi­anti coun­try. It's world renowned. I also love Fiaschet­te­ria Fan­tap­pié, it opened in 1947 in Via dei Ser­ragli. It has the best selec­tion of labels and wines in the city.
The best low-key piz­za joint?
Go to Pizze­ria Anti­ca Por­ta, they'll make kind of piz­za you'd like!
Do you do cof­fee and cake?
Yes, the bar at St Reg­is is one of my favourites in town for a relaxed cof­fee. And Dol­ci & Dol­cezze in Piaz­za Cesare Bec­ca­ria, is great for sweets and cakes.

Where do you go for aperitivo?
Enote­ca Belli­ni. It is one of the spots in town, favoured by many Flo­ren­tines, and myself.
Do you have a favourite gallery?

I love to wan­der around the Le Gal­lerie Degli Uffizi. If you're look­ing for mod­ern and con­tem­po­rary art, I'd sug­gest Gal­le­ria Tornabuoni Arte.
What's your go-to road trip?
A trip to Castel­lo Di Ama. It's a medieval cas­tle in Chi­anti. Beside amaz­ing wines, they also host con­tem­po­rary art exhi­bi­tions in col­lab­o­ra­tion with Gal­le­ria Con­tin­ua.

What is it about Flo­rence that fuels your creativity?
You just have to look up, raise your eyes, and you see some­thing new every time. I see some­thing new every day.
How do you keep your fin­ger on the pulse?
The key word is curios­i­ty. I'm fas­ci­nat­ed by things that are dif­fer­ent and unex­pect­ed. Things that are a nov­el­ty. If you're curi­ous you nev­er grow old. I'm only 29!
---