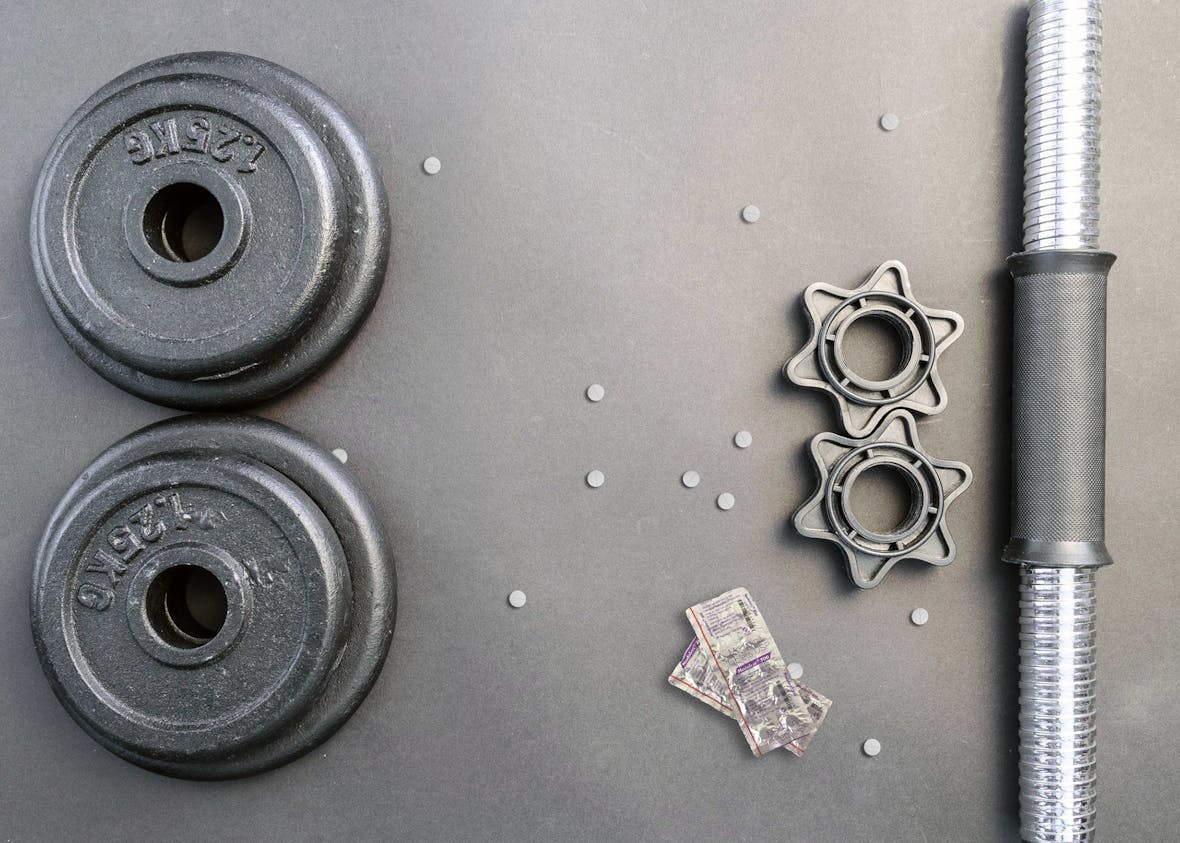 Meet the modafinil gym bros
Evan is a 29-year-old finan­cial advi­sor from Dal­las, Texas, who is 6'1, weighs 212 lbs and has 14.5% body­fat. His inter­ests include body­build­ing, cow­boys, trucks, guns, and video games such as Skyrim and Runescape (the 2007 ver­sion). He owns a ​"meat rab­bit" called But­ters that he bought for $10 sev­en years ago. Some­times, Evan uploads cute pic­tures of But­ters pos­ing next to his guns to Reddit.

Evan spends a lot of time on Red­dit. He brows­es men's fit­ness forums and oth­er parts of the manos­phere – the casu­al name giv­en to men's online spaces. He some­times posts in Gen­tle­man­bon­ers, which is a place where peo­ple upload pic­tures of ​"ele­gant, grace­ful, time­less" women. Its top three posts of all time are Star­gate actor More­na Bac­carin look­ing cute in a low-cut dress, X-Men actor Olivia Munn eat­ing cook­ies in a low-cut dress, and Laina Mor­ris – face of the Over­ly Attached Girl­friend meme – splash­ing water in a low-cut dress.

Some­times Evan posts about modafinil – a drug which comes up curi­ous­ly fre­quent­ly in the manos­phere. Some describe it as a ​"mir­a­cle" drug that gives them the self-dis­ci­pline and moti­va­tion they need to work for 18 hours straight. Oth­ers insist that it makes them feel like a ​"psy­chopath" becom­ing more anti­so­cial and goal-orientated.

And for a sub­set of users, it's the per­fect drug for mas­sive gains.
"I absolute­ly would rec­om­mend modafinil in the gym," says Evan over email. ​"I don't think you can over­do it."
Modafinil is not a sub­stance that is usu­al­ly asso­ci­at­ed with the kind of peo­ple who drink their pro­tein. A wake­ful­ness-pro­mot­ing agent usu­al­ly pre­scribed to nar­colep­tics (it is ille­gal to buy with­out a pre­scrip­tion), it is nev­er­the­less wide­ly used off-licence as a ​'smart drug'. Stu­dents in par­tic­u­lar are known for co-opt­ing it as a potent study aid, help­ing them to work hard­er for longer, and improv­ing their plan­ning and focus.

Evan uses it to work and to work out. He takes 50mg of modafinil every morn­ing, five or six days a week. At work, he ben­e­fits from the improved focus modafinil gives him. At the gym, he feels less tired and says he can achieve a state of zen-like con­cen­tra­tion – one that can real­ly help him lean into the dull rep­e­ti­tion of bicep curls and squats.
"On modafinil, it can get easy to get lost in a par­tic­u­lar exer­cise," says Evan.
"Every sin­gle rep is max­imised and focused. It is a much bet­ter workout."

"[On modafinil, Evan] feels less tired and says he can achieve a state of zen-like con­cen­tra­tion – one that can real­ly help him lean into the dull rep­e­ti­tion of bicep curls and squats."
If drugs like LSD sub­jec­tive­ly improve users' abil­i­ty to think lat­er­al­ly and cre­ative­ly, modafinil seems to endow its users with a pro­found capac­i­ty to think pro­ce­du­ral­ly. Thoughts coa­lesce rapid­ly like beads of mer­cury skit­ter­ing across a sur­face. You might talk until you run out of air; you will prob­a­bly not run out of ideas.
A sys­tem­at­ic review of research into modafinil's cog­ni­tive ben­e­fits in 2015 found that modafinil improved deci­sion mak­ing and per­for­mance in com­plex tasks.
The phys­i­cal advan­tages are less well-doc­u­ment­ed. But a scan­dal 15 years ago led to its inclu­sion in The Pro­hib­it­ed List of uni­ver­sal­ly banned sub­stances for pro­fes­sion­al ath­letes. In 2003 US sprint­er Kel­li White clinched a rare dou­ble vic­to­ry in the 100m and 200m sprint at the Paris World Cham­pi­onships. After­wards she test­ed pos­i­tive for modafinil. At the time modafinil was not specif­i­cal­ly list­ed as a banned sub­stance, but the Inter­na­tion­al Asso­ci­a­tion of Ath­let­ics Fed­er­a­tions (IAAF) felt that it fell under the umbrel­la phrase of ​"relat­ed sub­stances" for stim­u­lants. White was stripped of her medals.

Since then, the World Anti-Dop­ing Agency has list­ed modafinil as a stim­u­lant that can pro­vide enough of an advan­tage in com­pe­ti­tion for it to war­rant inclu­sion on its pro­hib­it­ed list. For ama­teur ath­letes, how­ev­er, the advan­tages are less clear. One small study of 15 cyclists from 2004 con­clud­ed that modafinil increased the time it took for them to feel exhaust­ed, hypoth­e­sis­ing that the drug damp­ened the sen­sa­tion of fatigue.
"The World Anti-Dop­ing Agency has list­ed modafinil as a stim­u­lant that can pro­vide enough of an advan­tage in com­pe­ti­tion for it to war­rant inclu­sion on its pro­hib­it­ed list."
Rol­lo* is a teacher in his ear­ly 20s from Cen­tral Europe who uses modafinil about three times a month. Although he uses it main­ly for its cog­ni­tive ben­e­fits, he enjoys cycling on the drug.
"Bicy­cling on (and off) modafinil is med­i­ta­tive. You just keep going with­out think­ing about much," he says in an email.
"When I'm that focused I can push a bit hard­er," he says. "[But] the dif­fer­ence in phys­i­cal per­for­mance is so small that tak­ing modafinil for exer­cise specif­i­cal­ly would be a waste for me."
Even so, Rol­lo looks for­ward to the days when he exer­cis­es on modafinil. He sees the phys­i­cal ben­e­fits as a use­ful addi­tion to the cog­ni­tive ben­e­fits. By com­bin­ing it with a cup of cof­fee or two, he is able to work pro­duc­tive­ly for hours at a time.
"With the com­bo of modafinil plus caf­feine I'm just in the zone," he says. ​"I don't feel the typ­i­cal effects of tired­ness while working."
"My focus is insane. It makes me incred­i­bly pro­duc­tive. And it makes work­ing a lot more fun."

Rollo's cur­rent per­for­mance-enhanc­ing regime also includes micro­dos­ing LSD three times a month, and tak­ing amphet­a­mines twice a month. To so-called ​"bio­hack­ers" like him, drugs are sim­ply tools on the road to reach­ing peak men­tal and phys­i­cal per­for­mance – not much dif­fer­ent to reach­ing for a mul­ti­vi­t­a­min or a pro­tein shake.

The experts aren't so sure, though. Just as well­ness trends like ​'clean eat­ing' have been accused of incu­bat­ing eat­ing dis­or­ders by stealth, in the manos­phere the drug-assist­ed pur­suit of per­fec­tion could be pro­vid­ing cov­er for body dys­mor­phia and men­tal illness.
"My line as a doc­tor is you shouldn't be tak­ing any­thing that's not pre­scribed," says Dr Louise Theo­dosiou of the Roy­al Col­lege of Psy­chi­a­trists. ​"So why are these indi­vid­u­als get­ting into these pat­terns of behav­iour? Are they using this as a way of dis­tract­ing them­selves from oth­er stres­sors in their lives? What's hap­pen­ing in their lives that they feel the need to be enhanc­ing their per­for­mance in this way?"
Indeed in 2018, NHS fig­ures revealed that the num­ber of boys receiv­ing treat­ment for eat­ing dis­or­ders had dou­bled in recent years. The blame for the spike has been laid at every­thing from the pres­sures of social media to TV shows such a Love Island. In 2015, Rob Will­son, chair of the Body Dys­mor­phic Dis­or­der Foun­da­tion, argued that around 10% of men in the gym suf­fered from mus­cle dys­mor­phia – more com­mon­ly known as ​'big­orex­ia'.
An anx­i­ety dis­or­der which caus­es men to see them­selves as small despite being mus­cu­lar, big­orex­ia is char­ac­terised by (amongst oth­er things) overex­er­tion at the gym and com­pul­sive work­ing out. It wouldn't be a huge stretch to assume that a drug which allows a user to feel laser-focused could be eas­i­ly abused by any­one suf­fer­ing from the condition.

And the phys­i­cal impact may be just as neg­a­tive as the psy­cho­log­i­cal: ​"Gen­er­al­ly speak­ing peo­ple exer­cise to improve their phys­i­cal health," says Dr Theo­dosiou. ​"But these drugs may be putting a strain on the car­dio­vas­cu­lar system."
Modafinil's most enthu­si­as­tic advo­cates seem unphased by the poten­tial risks. Jake dis­cov­ered modafinil five years ago – ​"right before I quit my job in Cor­po­rate Amer­i­ca and start­ed try­ing to make mon­ey online," he says in an email. The drug was the per­fect com­pan­ion to set­ting up an online mar­ket­ing busi­ness that allowed him to work long hours, trav­el the world and be his own boss. At one point Jake was tak­ing modafinil three times a week.
Jake was so tak­en with the ​"mir­a­cle" drug that he start­ed build­ing blog posts around it. Before long his trav­el blog Nomadic Hus­tle was pop­u­lat­ed with more than 100 blog posts men­tion­ing modafinil. He explains on his blog how to buy modafinil in coun­tries includ­ing the Philip­pines, Rus­sia and South Korea. He has writ­ten more than 100 tweets that men­tion modafinil. He has writ­ten about sex on modafinil. He has writ­ten a book on modafinil. And he has writ­ten about going to the gym on modafinil.

Jake works out ​"gen­er­al­ly 3 – 4 days a week with weights and anoth­er cou­ple yoga ses­sions each week, although I don't move big weights around these days after mul­ti­ple surg­eries." For a while, he was an evan­ge­list of modafinil in the gym – until one day things didn't go to plan.
"I usu­al­ly skip the gym on my modafinil days," he says. ​"But on this day I was in the mood. I want­ed to pump some iron. The modafinil high was still going strong."
Jake head­ed for the gym in his com­pres­sion sweats – and found he was more focused than usual.
"Ener­gy was rag­ing through my body. Dis­turbed was flow­ing through my head­phones. I was focused," he says.
The ses­sion start­ed well. Jake was going hard.
"I was focused. The form was ide­al. Going deep and all that good shit," he says.
But as Jake hit his fourth set of squats, his ham­strings went tight. He knew some­thing was wrong.
"I start­ed cramp­ing up," he says. ​"Luck­i­ly, I got the weight racked before any­thing too rough hap­pened. [But] I hadn't cramped up in a year or so."
Jake realised he had bare­ly eat­en or drunk any­thing all day. Modafinil is an appetite-sup­pres­sant, and he sus­pect­ed this had enabled him to work beyond his nat­ur­al lim­its with­out food or drink.
"You feel an intense con­nec­tion to the mus­cles you're train­ing. How­ev­er, you don't feel a burn or pain," he says. ​"This can be amaz­ing, but wor­ri­some at the same damn time."
For Jake, the ben­e­fit of being able to push through his nor­mal lim­its is not jus­ti­fied by the risk of injury.
"I wouldn't rec­om­mend it." He says. ​"Modafinil is not going to put on mus­cle mass or improve physique like steroids or testos­terone would. It's not going to change your hor­mon­al pro­file in a pos­i­tive man­ner to ensure you get more gains from every gym ses­sion. So I'd say it's bet­ter to avoid tak­ing Modafinil as a ​"pre-work­out" type substance."

---