Bend ​

'

n' flick: meet the netball lads

As men's netball begins to take off, Ralph Jones heads to Halifax to train with one of only two all-male teams in Britain, The Northern Titans.
Ain't No Mountain High Enough is playing from a small speaker in a Halifax sports hall and I'm watching a dozen men play netball. As the group become red-faced and short of breath, the skid of rubber bounces off the gymnasium walls in the distance. I realise as they throw the ball around that this is something I've basically never seen before: netball being played by men.
For as long as anyone can remember, netball has been considered a sport for women. But that's beginning to change. The Northern Titans are not only the sole men's netball team in the north of England, but the second men's team in the country. In April, and then again in June, Declan Kohl (the team's founder) watched men's netball team the Knights playing in London. The Knights were the first men's team in the country, having formed in 2018. Kohl knew that there were more than 60 men who played netball in mixed-sex teams every week in Leeds. He wondered: why couldn't they set up something in the north?
Kohl (a molecular biologist by day) didn't hang about and he did exactly that, getting a team of 15 men together after trials on 3rd August. The men who have turned up today for a training session that I've been allowed to watch are in their early 20s to late 30s, and all seem to take the game seriously in a sweet and good-natured way. Today they had been due to play a women's team in the latter part of the session but the women didn't manage to a field a team. It's rare and refreshing to see a sport in which men take instruction from women. Della Claydon is the team's head coach and Taryn Moss, a friendly Scouse woman, is their assistant coach. Right now they're focusing on attacking. Claydon takes no prisoners. ​"A lot of you guys throw your weight around to get the ball," she says, teaching them to be more skilful as they listen in a circle. Later she despairs as they seem to have taken none of the lessons from previous sessions on board.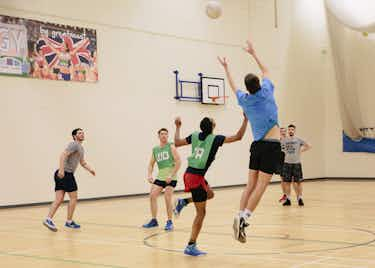 At one point the men split into two groups: those who specialise in shooting, and the others. One gobsmacking stat Kohl passes on is that the world's best basketball players throw the ball into the net around 50% of the time, whereas the world's best netball players score around 90% of the time. This is a shock because in netball there is only a dauntingly small hoop – no backboard to forgive misfires. In netball, however, players only ever shoot when they are a few feet away. (As I watch the team play a six-a-side game at the end of the session, I find it funny that time seems to stand still as attackers, essentially completely unimpeded by defenders who are not allowed to touch them, loft the ball slowly into the air.) Compared with basketball, the sport is not particularly physical, and it is a little slower, if only because the player in possession cannot take more than one step while holding the ball. There is, however, a thrilling kind of energy transferred in the ball as one throw instantly becomes another, the ball bouncing from person to person like in a pinball machine.
"It's probably harder than basketball, to be honest with you," says 23-year-old Lewis Brierley, who has a distinctive style of often throwing the ball with only one hand. Brierley began playing in sixth form, and, as with several of the team, did so just to make up the numbers against the girls. ​"All of us lads decided, ​'We'll have you a game,'" he says. ​"It's considered a women's game but it's just as fun for us lads to get together and play against each other because we're just as competitive as anyone else."
Like Lewis Keeling, who founded Knights, Kohl is conscious to ensure that the emerging men's contingent doesn't mean that the spotlight shines any less brightly on the women's game. He hopes that the presence of the men's teams brings a whole new audience to netball in general, not just to the men.
Almost a century and a half after its invention, exactly why netball should still be synonymous with women is unclear. The sport began as a women's alternative to basketball, perceived as less strenuous and therefore ​"more feminine". It is a quirk of history that, whereas it was considered necessary that basketball have a female equivalent, the same logic wasn't applied to football, which is played by millions of women worldwide (though with smaller coverage). The fact that netball was explicitly intended for women inevitably meant that it attracted women, as basketball did men.
Its historical baggage has affected the way that the sport is presented in schools, even in the 21st century. ​"When I was at school, it was ​'Boys play basketball, girls play netball' – all the way up to high school," says 29-year-old Dan Wood, who wears stripy sandals today, less involved in the training on account of a dodgy knee. Even at university, it wasn't until Wood's third year that a female basketball team existed. Andy Bray is a primary school teacher and has looked into what he can do at his school in order to bring young boys into the sport. ​"It's gonna take time," says the 26-year-old. But he's optimistic.
Without men's teams to play against, the Titans' competitive experience is in facing women's teams. ​"It's more scary playing against girls," says Wood. Why? ​"Um…I don't want to sound like an arsehole…" he says. He says that because women tend to be smaller – he is over six feet tall and one of the women he plays against is five foot – he fears he will injure someone when he runs full pelt towards them.
Innocent Granger is 26 and works in digital marketing. In primary school he played as part of the girls team in Zimbabwe. He moved here when he was 14 and now umpires women's games on Mondays, Wednesdays and Thursdays, and plays on Tuesdays and Saturdays. Does anyone make fun of him for playing netball? Not really. He mentions that he was teased for playing in Zimbabwe but that in Yorkshire it's not a problem. ​"Here it's fine," he says.
I wonder if the others have been teased for playing what some men would categorically consider ​"a girl's sport"? Wood says that there's been some stick from the basketball team he's in. ​"Just that typical sort of lad culture, I suppose – ​'That's a bit girly', that kind of thing." Wood did ballroom dancing until he was 17, so is used to confounding expectations; the comments clearly wash over him. Brierley says that he does endure some teasing from friends. ​"I don't really care but I can understand why some people would do. You just have to take that on the chin and just ignore it." And Jamie Baker, 37, says that he's teased a little by his friends but ​"that's just something to add to the pile of things that we tease each other about".
None of the men seem to think that there is a regional element to this teasing – that men up north are under any greater pressure to be stereotypically manly. Baker says that conversations down south have tended to be the same as in Yorkshire. One regional difference, says Kohl, is that in the north they are trying to recruit from ​"netball dads and people whose wives play", whereas down south there are more mixed leagues.
What I notice and what I think is beautiful about watching the Titans train for two hours is that when they sprint around and throw the ball they do so totally free of any self-consciousness. Though they're all grown men, they remind me of boys playing in the park. Their story, though it may seem small to some, is about disrupting the status quo through the simple act of getting together and doing something they love. As Brierley says after the match, ​"If you enjoy what you do, it doesn't matter what anyone else thinks, does it."

More like this