Reading Festival: inside the post-GCSE mecca

Results in, school's out.
Whether you were marked in letters or numbers, got the grades or missed the mark, one thing's for sure: if you were a 16-year-old in the south of England, you went straight to Reading Festival after last week's GCSE results day.
A cornerstone of British teen culture, Reading – and its accompanying Leeds site for our friends in the North – has become a rite of passage for young fans across the country. No curfews, no parents, just 100,000 youths running riot. Marvellous.

With The 1975, Post Malone and Foo Fighters headlining (plus Billie Eilish stealing the show), this year's iteration was a scorcher. Literally. Temperatures hit a high of 32 degrees and judging by the sweat on everyone's bodies, you could feel it.
Not one to miss a party, The Face went along to join in on the fun. And although we couldn't fully keep up, we definitely got a taste of the frontline action (and the battle scars to prove it).
In short: it smelt like hormones, it looked like a dystopian playground and it felt like freedom.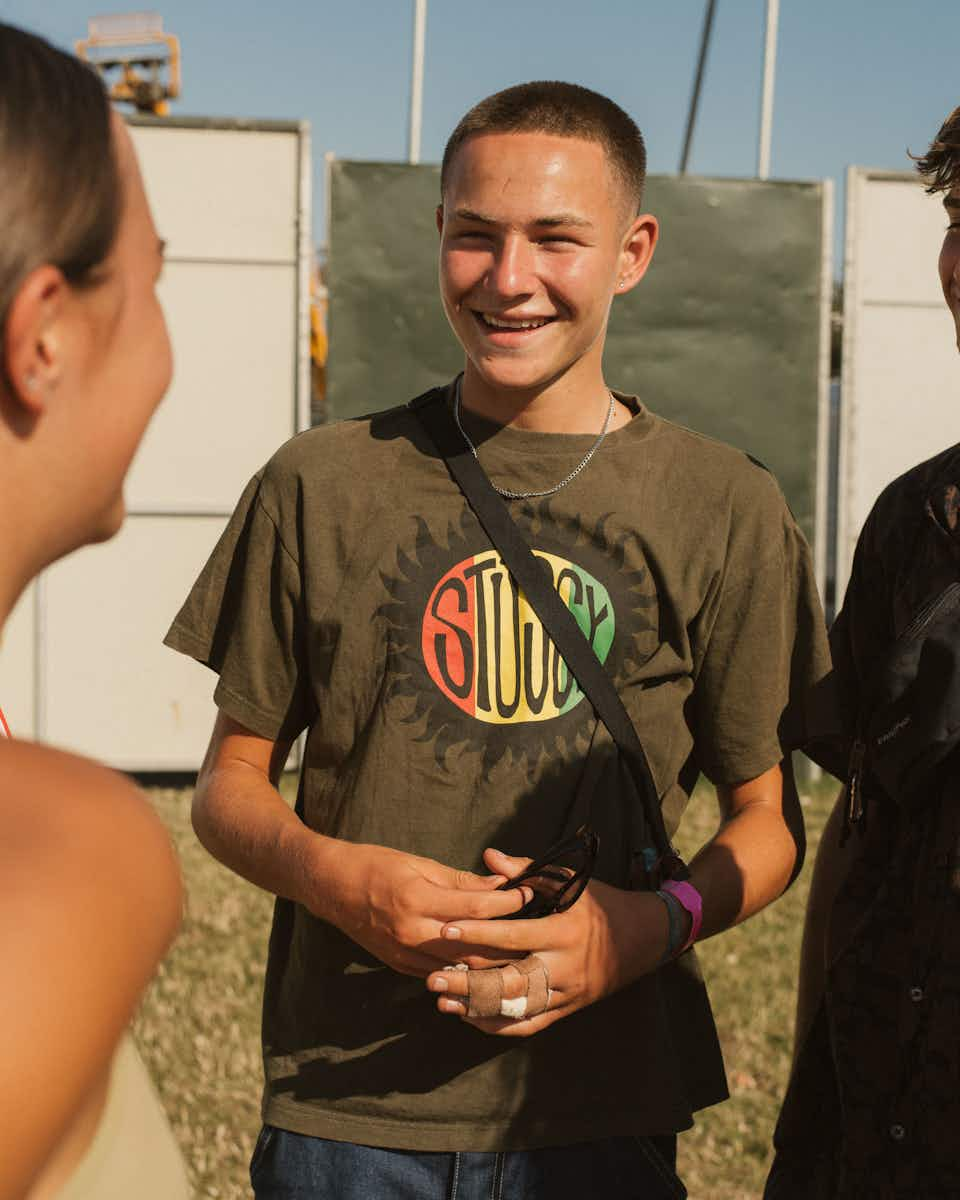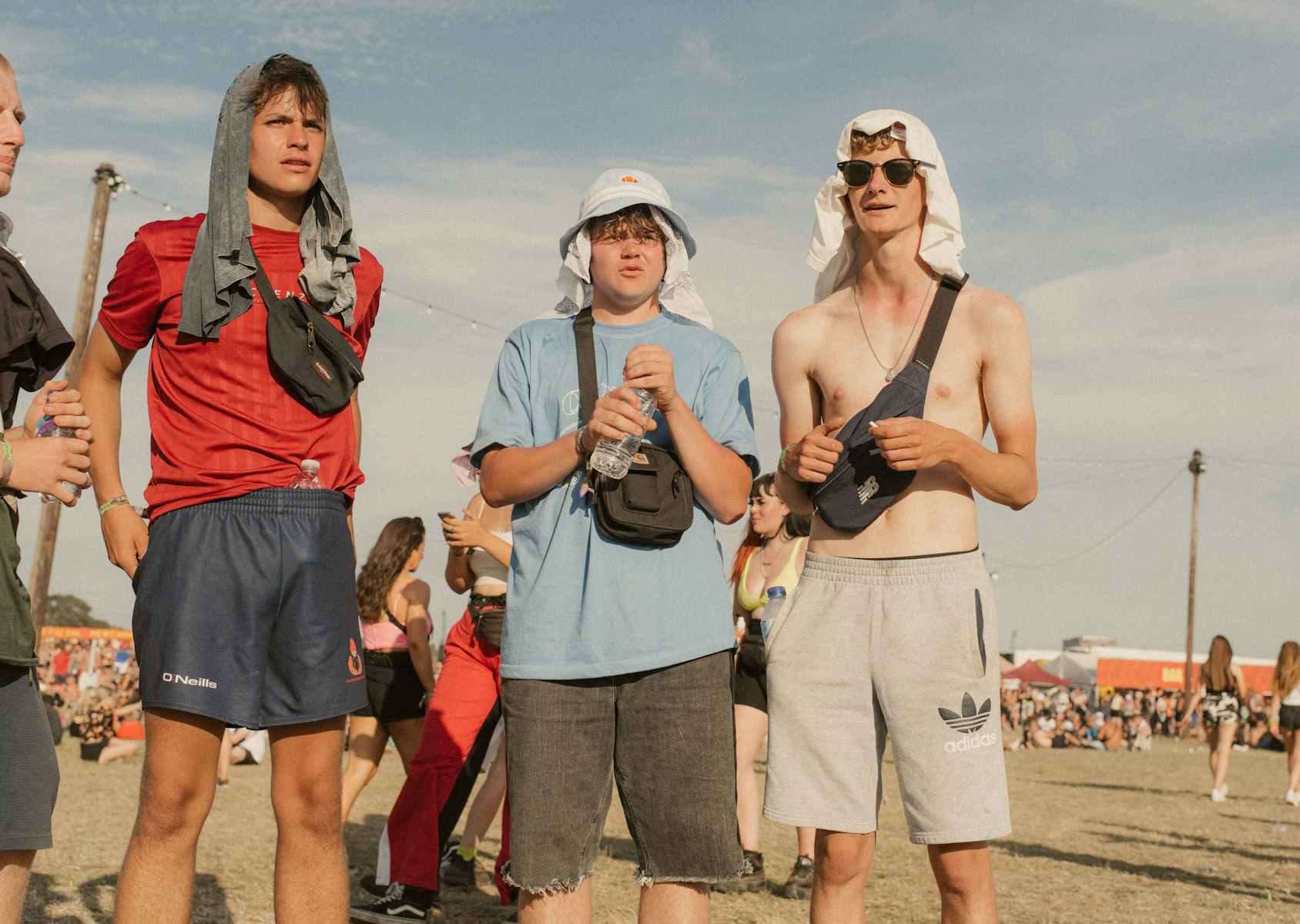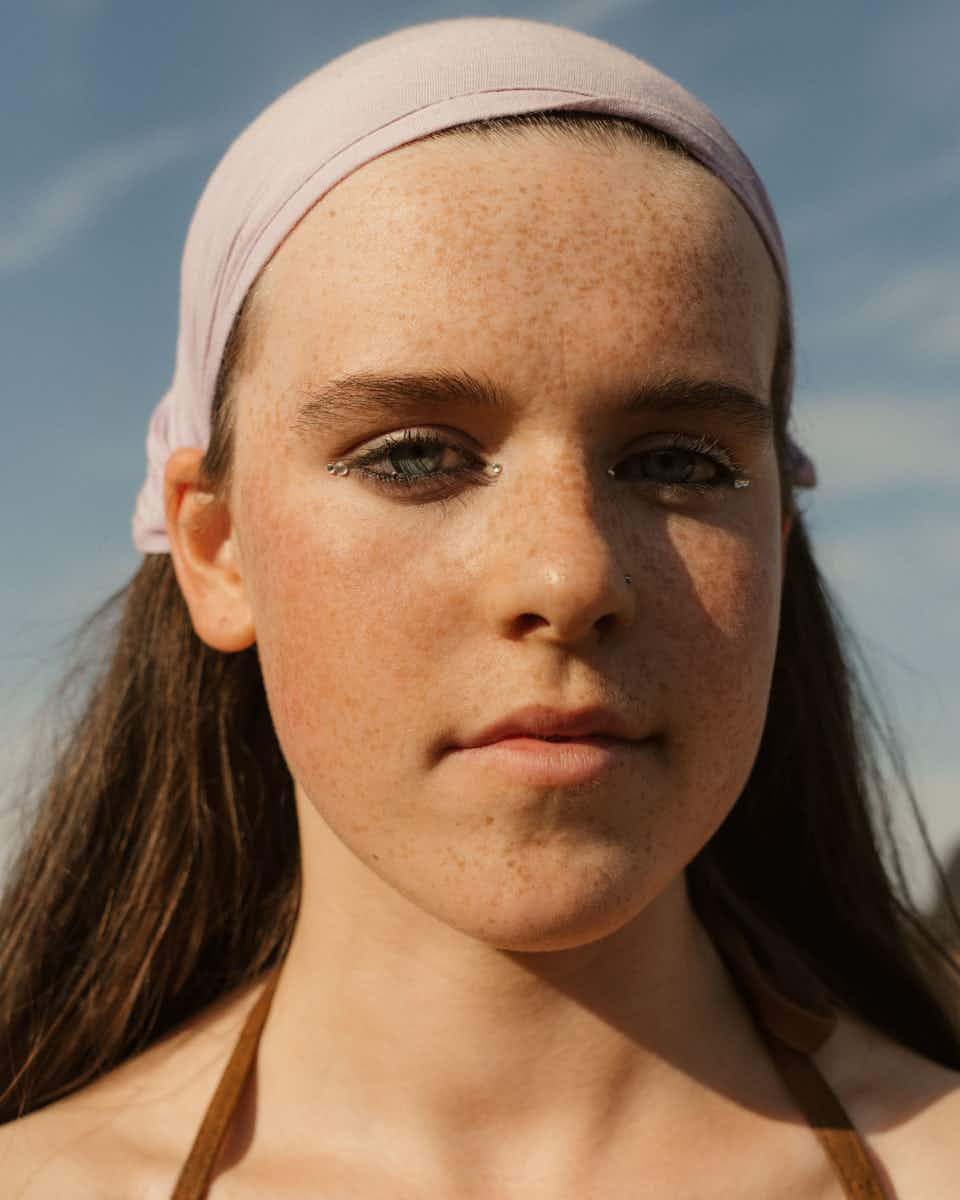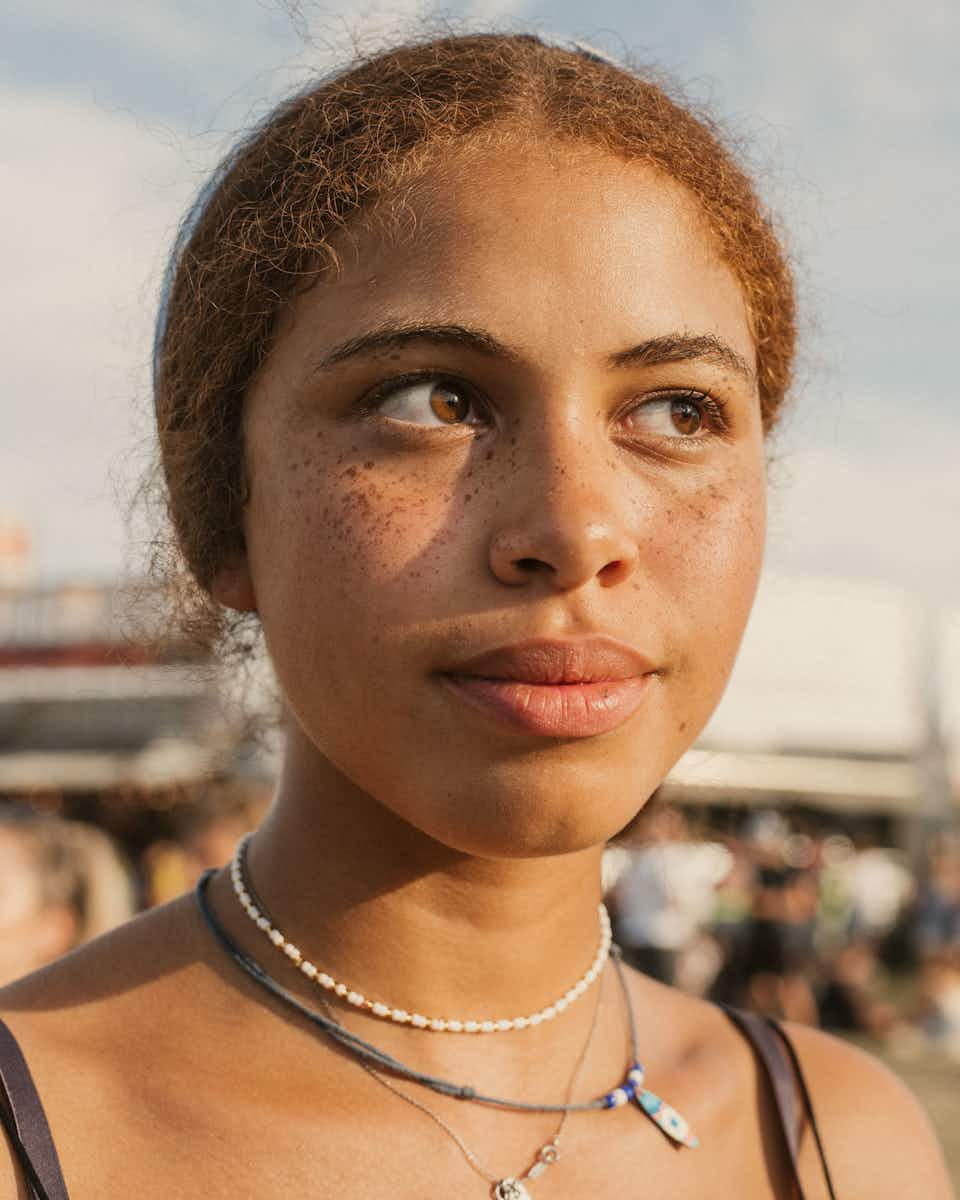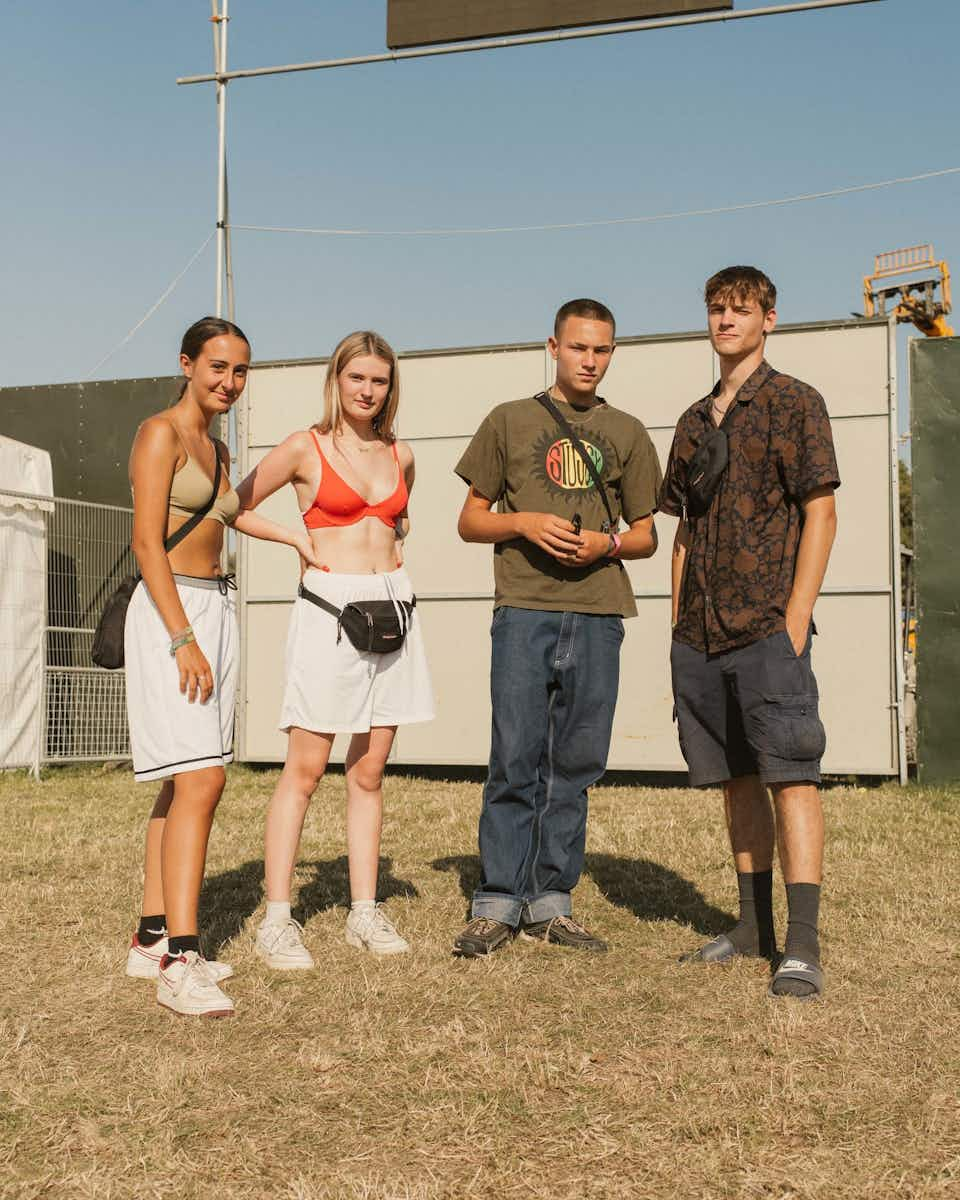 Why did you come to Reading Festival after GCSE results day?
"

It's kinda like a tradition. It's a massive party. It's all people our own age. What's there not to like?"
"

Everyone's just come here to have a great time. No matter if they did well or they did bad. It's the place you go to to drown your sorrows or to celebrate."
"

The older years had done it before so we just followed them."
"

It's reputation is really good for just getting fucked. Just having a good time, basically."
"

While people do their GCSEs, they stop doing drugs and then they get their results and they're like: ​

'

Wow, it's my time to shine.' "
Were your parents alright with you coming?

"

I've got an older brother, so they were fine."
"

I don't know how I convinced them to let me come, I genuinely don't know. I don't think they know what this is. I just told them everyone in my year was going and that it's a post-GCSE ritual."
"

I think they regret saying ​

'

yes'."
"

My parents bought my ticket."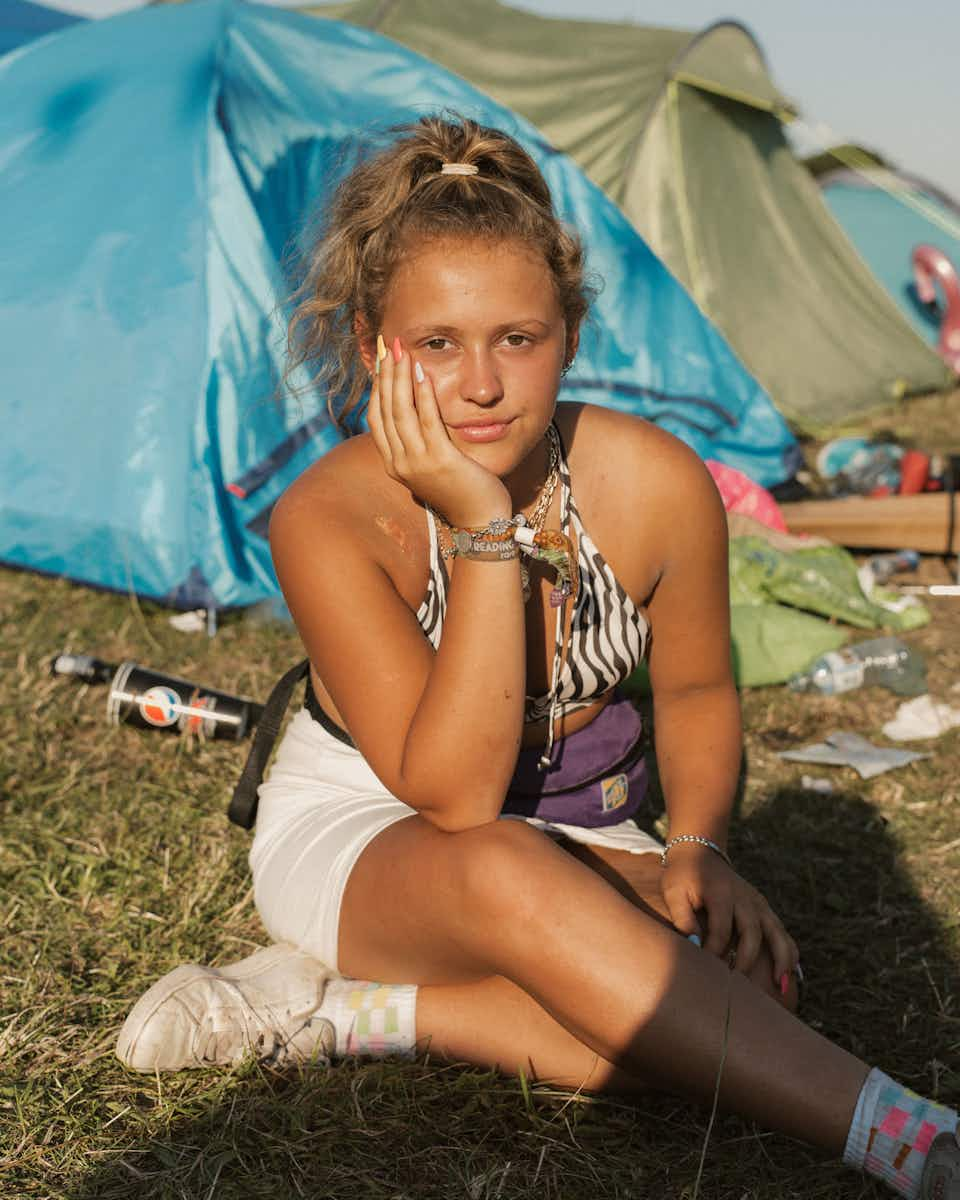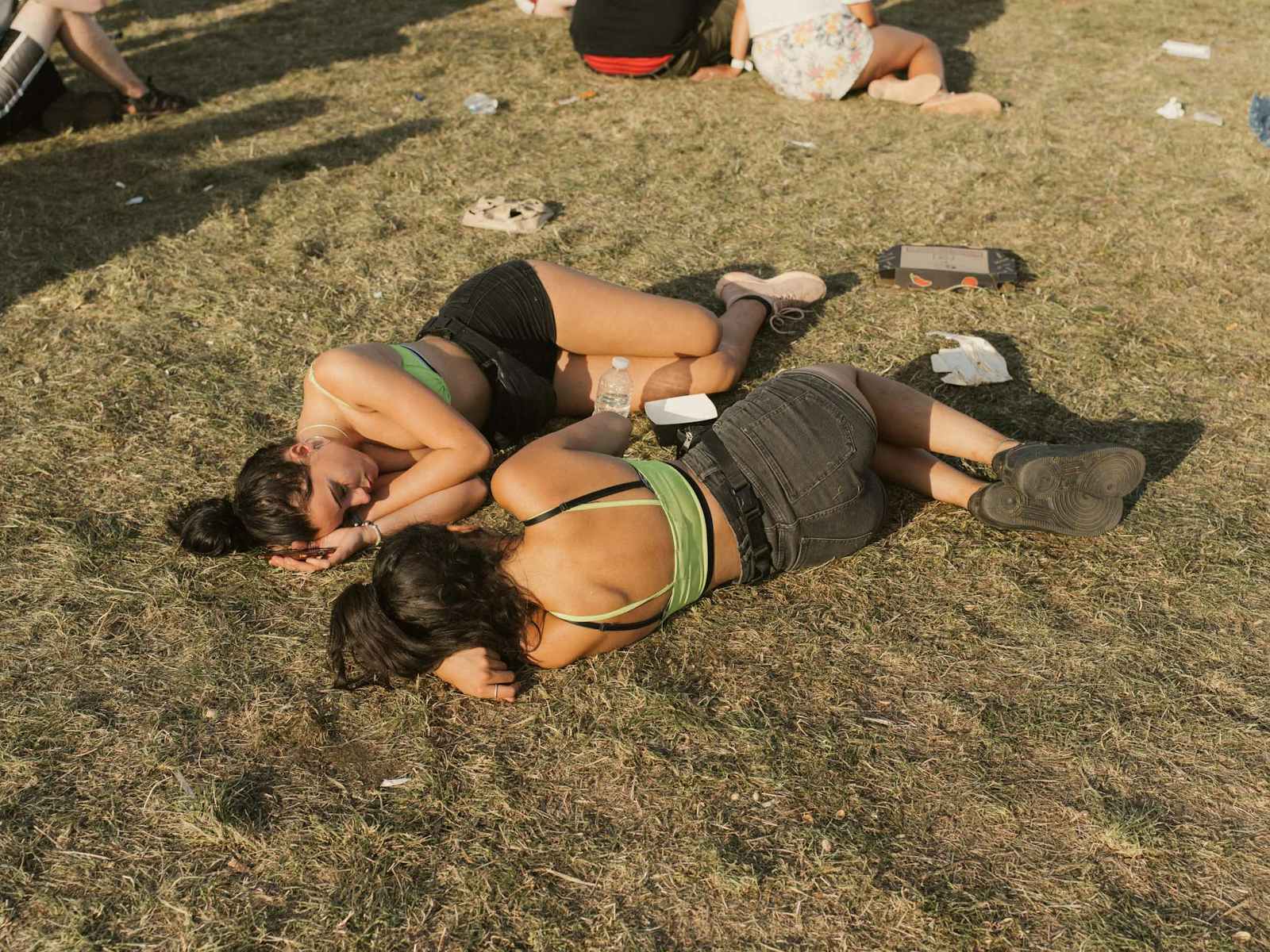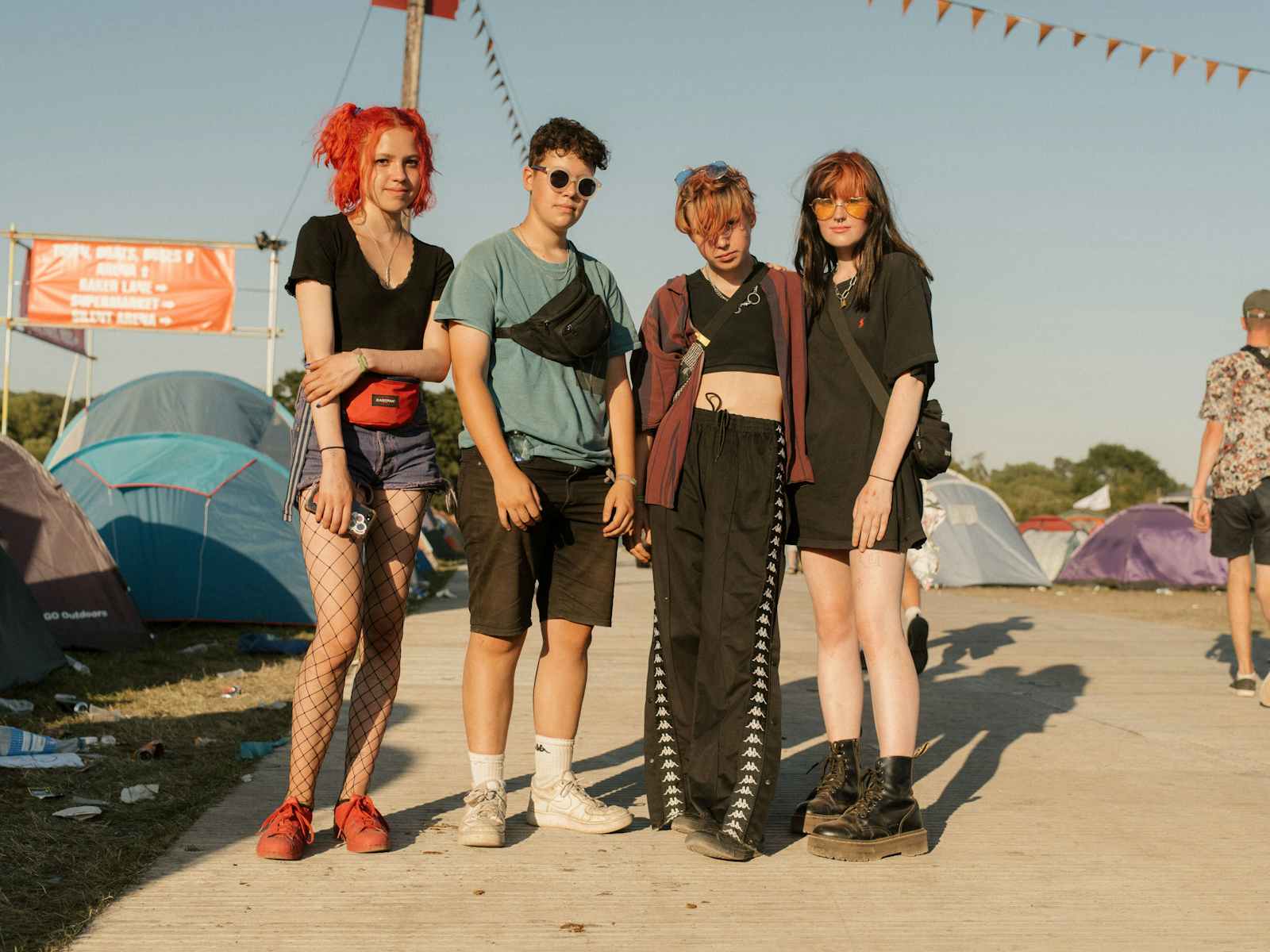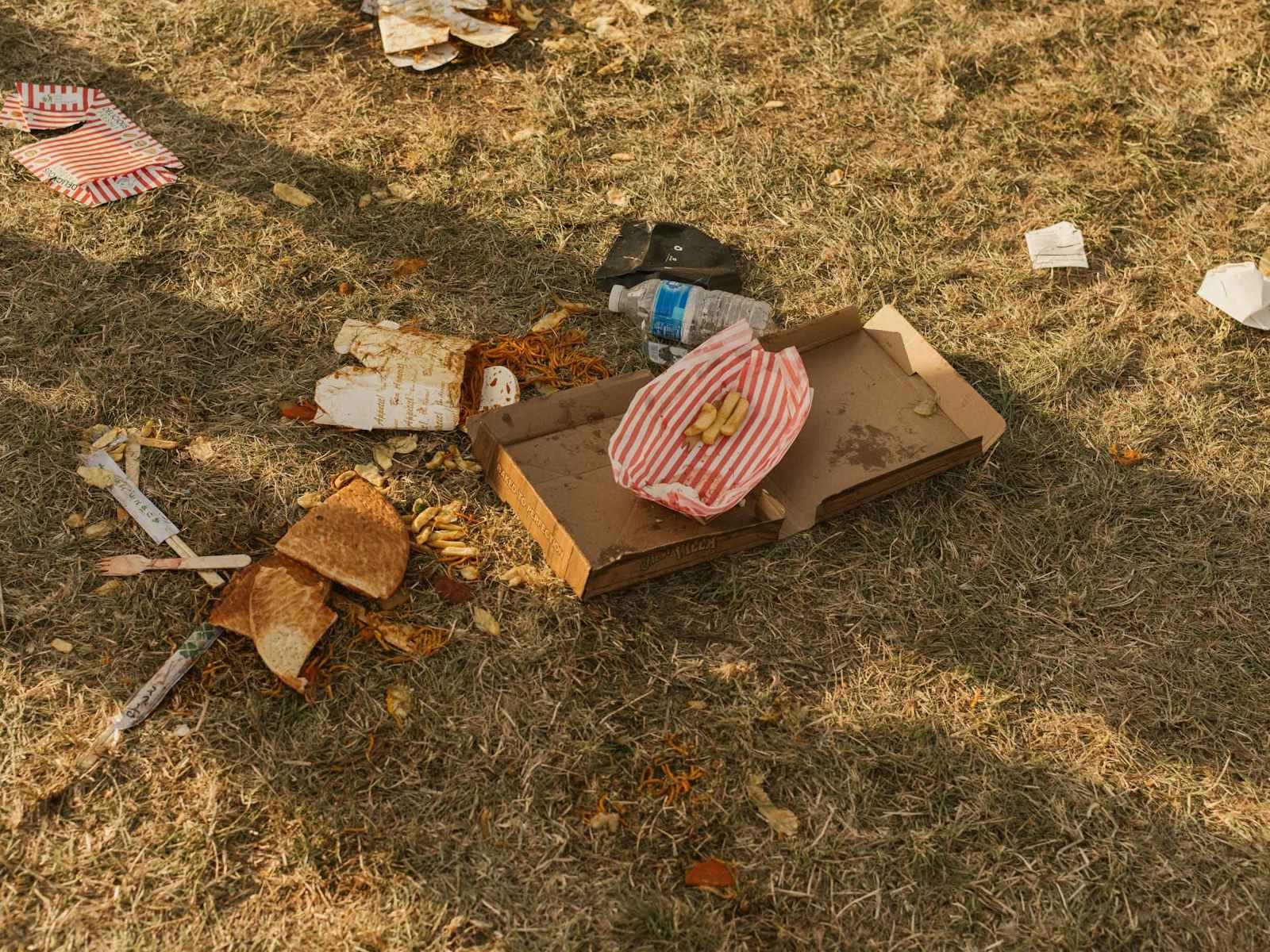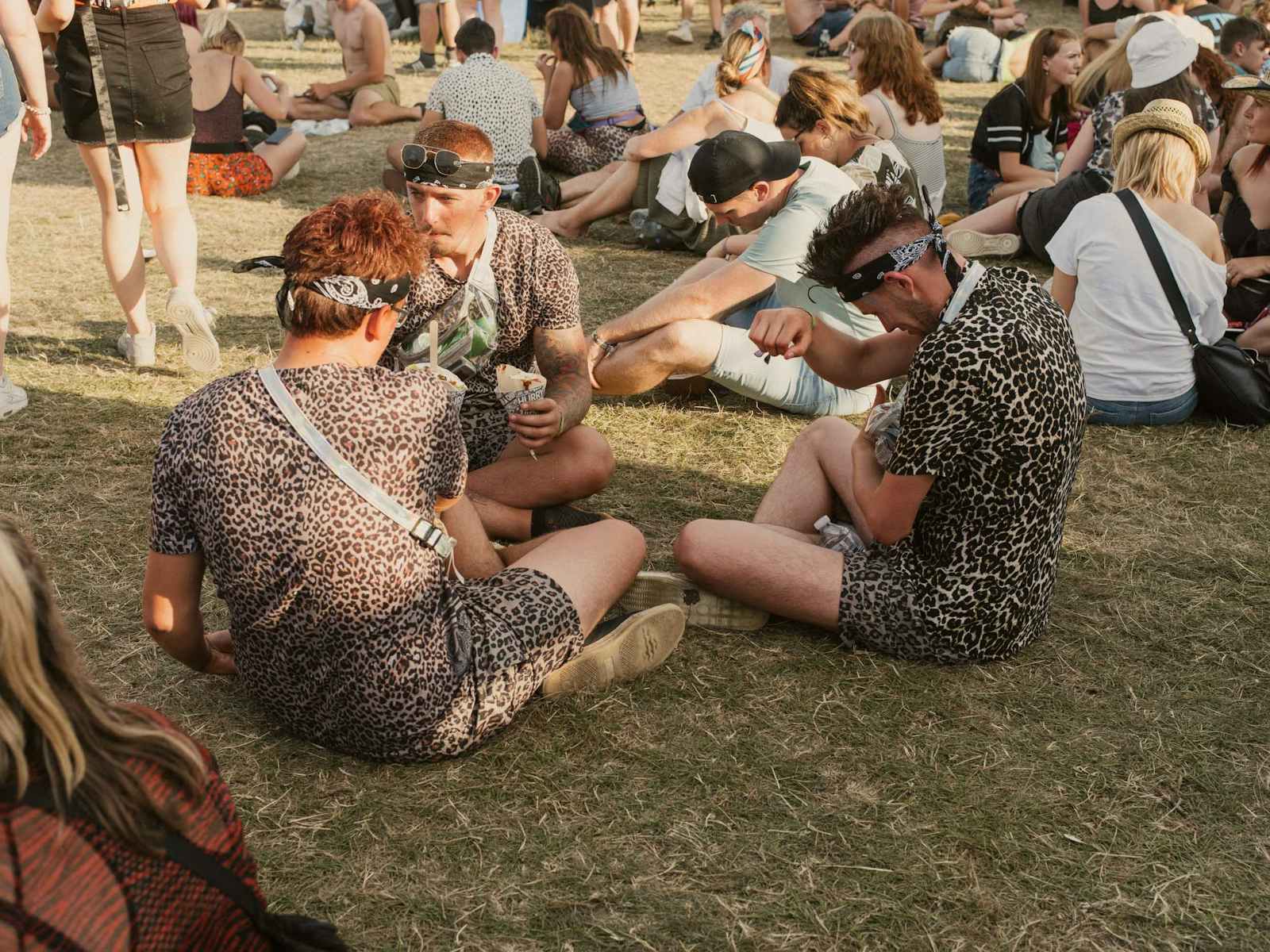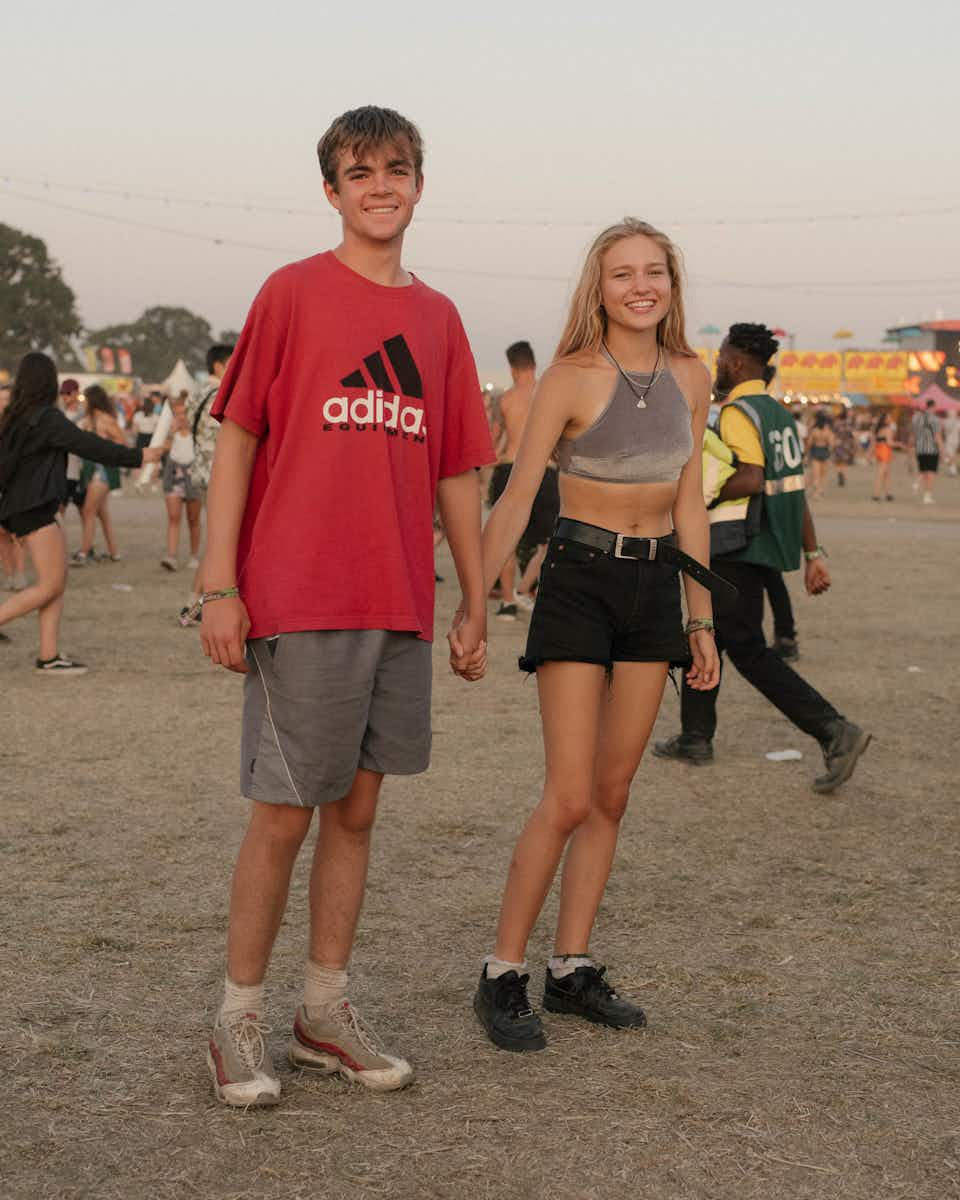 Thursday:

- So excited to go. Reading was a bigger priority than getting my GCSE results back.
- Security was stressing me out bare. My bags weren't touched once.
- No acts on Thursday so the evening was pretty much spent at our camp with music, chatting and lots of awful singing. Smoked a bit and then got bored of sitting around. Went to the arena around 8pm. Went on rides and danced at the music tent.
- So fun. Everyone looked after each other and helped everyone in the mosh pits when they got a bit too violent.
Friday:
- Got too claustrophobic at Dave (BBC Radio 1 Stage), had to leave with my mate and sat outside. Dave should've been on a bigger stage not in a tiny tent.
- My friend got better at the silent disco, had much more energy. Silent Disco was defo a highlight. Two competing channels/​DJs. So live.
- Funny moment was my friend decided to punch a metal fence and break his knuckles so we had to trek back and forth to the medical tent for X‑rays.
Saturday:
- Saturday morning was awful. Everyone tired, sweaty. Tents were too hot couldn't nap in them. Me being stupid brought zero food. Resorted to one fatttt trip to the Co-op and bought pain au chocolat (hard as rocks).
- Billie Eilish (Main Stage 4:20pm) so good, actually in love with that girl. Too many forced mosh pits from annoying crowds. So good live, she's so sweet but has bare energy. Such an amazing voice as well.
- Walk back from Billie Eilish killed me, We stayed in white camp, 40 minute walk and over a steep bridge (got back home on Monday with bleeding toes)
- D‑Block Europe (BBC Radio 1 Xtra Stage 8:20 pm) sooooo good. Only know like 3 songs but had the best time, mosh pits were live and literally had so much energy.
- Octavian (BBC Radio 1 Xtra Stage) best performance. Seen him once before but at Reading he was so live. Me and three other friends got dragged away from the others, but it was so calm and we had so much energy we didn't even notice.
- Silent Disco (Alternative Stage) so good again. Songs through the years, longest queue, had to cut some corners. Some woman tried to start arguments with our group causing some drama, quite funny. My friends climbed up one of the poles in the tent and security took them away, but somehow they made it back in.
Sunday:
- Woke up SO SO tired at like 10am. The videos we have of everyone that morning are hilarious. Two friends were out all night and fell asleep on the camping chairs outside.
- Didn't leave the camp on Sunday till later because there weren't any acts on that I needed to see so it was quite a relaxing day. Went out later in the day but it was so, so hot I couldn't hack it.
- A few of my friends decided to stay the last night but half of us were feeling a throat infection or something coming on so most of us left Sunday evening. Best decision ever – woke up Monday literally paralysed!

Thursday:

15:00pm — Arrived at Reading, had the fattest trek to white camp which nearly killed me.

20:30pm — Sooo bugged out by quantity of people there and the lights.

22:00pm‑1:30am — (main arena) Spent the night dancing to the music pounding from the fairground rides as there wasn't any actual music that night.

2:00am — Got back to the tent, hung out, was woken up by my friend at 4am trying and failing to unzip the tent.
Friday:

7:00am — After having gone to sleep in 3 jumpers I woke up sweating our tent was already like 40 degrees.

3:30pm — (dance stage) Saw like 10 minutes of Becky Hill who was amazing.

9:00am — Caught the last couple songs of Fredo.
22:00pm — (Radio 1 tent) Went to see Dave, friend had setlist was shit he played like 3 of his good songs, crowd was fucking crazy the mosh pits were mad everyone trampled on me during location but I survived.
23:00pm — The best time with all my friends was soo happy hopping around dancing to all the music.

00:00am — Such love and euphoric happiness, made loads of friends tonight; one who'd had his fingers broken by security and another who'd broken a rib from being trampled on in a mosh pit.

4:00am — Fell asleep next to a heater was v content.
Saturday:

6:00am — Arrived back at the campsite after the longest and one of the best nights of my life.

16:20pm — Took a nap and slept through AJ Tracey, Billie Eilish and Roddy Ricch, woke up pissed off and hot.

20:00pm — Had to hide a fat sun exotic bottle and a Smirnoff bottle down the back of my shorts to get it passed security and into the arena

21:00pm — Saw D‑Block Europe who were so mad couldn't actually see them, but had a great time in the mosh pits carrying a fat Tesco bag filled with all my friends jumpers.

22:00pm — (Radio 1 Xtra tent) Octavian came on and brought out Skepta he was probably the best artist of the weekend.

23:00pm — (dance tent) Skanked to Andy C's drum and bass set which was so good.

1:00am — Went to the silent disco which played music from the 80's till 2019, which may have been the most fun I had all weekend. It was so nice to be not wasted and just dancing and singing with all my closest peoples.
Sunday:
Nothing really happened all I wanted to do was touch yard I was so tired.
Camper #3, 16, London
Thursday:
- Last minute panic of trying to think of way to pack all the essentials for the weekend.
- Made sure to bring a multipack of crisps.

- Left campsite at 8pm to allow for 2 hour queue ahead of the silent disco, as this was the only thing on that evening.
- Ended up dancing outside the many roller coasters available as surprisingly had really good drum and bass playing.
Friday:

3pm — Everybody was at the campsite in the baking heat listening to music and revising the lyrics for Fredo who was playing later.
My Friend fell asleep in the sun and managed to get sunburnt within the first day.

11pm — After watching Dave we decided to go on a ride and my friend decided it would be a great idea to wear the Goggles on the ride. He then passed out for about five seconds on the ride. Shortly after he still claimed it was the best thing he'd ever done.
- We then also watched Fredo and my other friend got crushed and lost in a giant mosh pit and luckily enough we managed to bump into her randomly in the crowd about 20 minutes later.

Saturday:

- This day was by far the craziest. By 11am everybody was so excited and the idea of freedom got to everybody. Me and a few others were still feeling rough and trying to recover from the previous night.

- Forgot to bring any shorts. Wore black out shades in a feeble attempt at saying cool.

- Sadly by 8:30pm after seeing D‑Block Europe my friends started to see the consequences of starting the day early and began to feel terrible, they were desperate to go back to camp. However, my favourite artist Octavian was playing at 9:15pm at the Radio 1 Xtra stage, so me and my closest friends decided to stay. We're so glad we stayed as he was better than even we thought.
Sunday:
- This day for me and my friends was the most chilled day we had. We woke up late this day and for most of the day stayed around the campsite. Everybody felt very rough – they could no longer tackle the marathon.
- Me and 4 others stayed for the last night and thought it would be a great idea to take it slightly easier.
- We watched Bastille in the Radio 1 stage and loved every minute of it. We danced with lots of much older 35 – 50 festival goers.
Thursday

We lugged all our stuff from the train station to the festival entrance. No security at all, not even a pat down.
Walked all the way through to white campsite because the entire place was packed. My friend accidentally kicked someone in the head through their tent and got called a ​"stupid dumb cunt", which briefly cheered us up.
Absolutely decimated in the queue for the Silent Disco that got cancelled, friends got trampled, fence fell on me and I saved a girl from getting completely crushed.
Went to the Rocktail Cocktail afterwards for the music and managed to roll both my ankles on the same power cable but was a bit too drunk to care, so just resulted in me moshing on the one foot that hurt to say the least.
Called people probably over 40 times tonight with fuck all response from anyone bc we all got separated, so ended up just walking back to camp by myself and bumped into all my boys, was a good night.
Went back to the camp and a lot of people were smoking, seemed like everyone needed to relax. Probably stayed up until 5am and then slept until 7:30am.
Friday
Woke up feeling awful.
Had a poor breakfast of just-add-water porridge – was the dryest thing I've ever had.
Friends came round from another campsite looking disheveled from the night before which was pretty hilarious.
Basically lounged around doing nothing the whole day.
Waited until about 4pm to go and see DigDat which was honestly so bad, wasn't worth going.
Headie One was straight after though which was insane, we started moshpits and I did the worm through the middle of one of them, one of the highs of the day. I came out of Headie One and met all my mates, one of them was wasted and was repeatedly punching a metal fence. It was 7pm.
I saw him two hours later with a cast on his hand and he told us he'd dislocated two knuckles with a big smile on his face.
At 10.30pm I was at Dave and it was one of the most insane performances, probably the best of the day, I barely remember any of it but I had about three different people on my shoulders/​
Got elbowed twice in the eye which left me with a semi black eye for Saturday, but I didn't realise it happened until after we got back to camp.
As everyone left Dave, I started a chant ​'OGGY OGGY OGGY', and then someone snatched my hat from off my head behind me. I was so angry. I tried to find who had it but obviously the person wasn't saying anything so I started a crowd wide chant and that made me feel a bit better.
Went on a couple of rides which were like nothing I'd ever felt before.
Realised honestly like two hours after Dave that I had lost my t‑shirt which had been attached to my pouch and the temperature had dropped rapidly.
Met my boy and some new girls he'd just made friends with, who I knew, and we basically walked all the way from the arena to camp (about 40 minutes) in the freezing cold with me having barely any clothes on. I'm pretty sure I caught a cold that night.

Saturday
Security came round and took our gas for our cooker which pissed us all off.
AJ Tracey was a lot earlier, at 3pm that day, but we were all shattered and a load of people couldn't be arsed.
Skipped the hour long queue for the water refill and had a quick truckers wash – the most refreshed I'd felt all weekend.
Roddy Ricch came next and the bass was insane, like it penetrated your entire body and everyone was just going mental. I saw what I'm pretty sure was some guy getting a handy against the barrier which I told my friend and we were cracking up while Roddy Ricch was banging in the background.
Best performance of the Day though by far was Octavian. It was so insane, he brought out skepta, the moshpits were intensely dangerous but everyone was actually really friendly, just a bit aggressive.
Best part of the day was going on this boy's shoulders because I'm tall and I never get a chance to do it, like no jokes the best part of the day.
Went to the silent disco at 12 on the dot and it was mad. I lost all my friends then two of them climbed up onto the metal pole in the middle of the stage and so I went over and found them all.
Ended up with the same situation of basically having no t‑shirt and did the 40 minute trek back to camp all huddling together, stopping off at just about every single Christian shop to try and get a free cup of tea.
Sunday
Wake up really late, like 12.
We all decided we couldn't be bothered to do a single thing. I was gagging for water because this point my throat was so sore and I'd lost the ability to speak
My mate Ben handed me a big bottle of water which I started downing… until after the first sip when I realised it was just straight vodka, I felt the worst I had felt all weekend but I was so numb and tired from the night before I just didn't flinch, I have honestly have never felt that bad.
We lounged around at the campsite all day and I skipped the queue again for water which was needed bc it was 32 degrees.
We took a boat back to the station which was blasting ​'80s rock music as we all slept. 5:30pm, done.


More like this