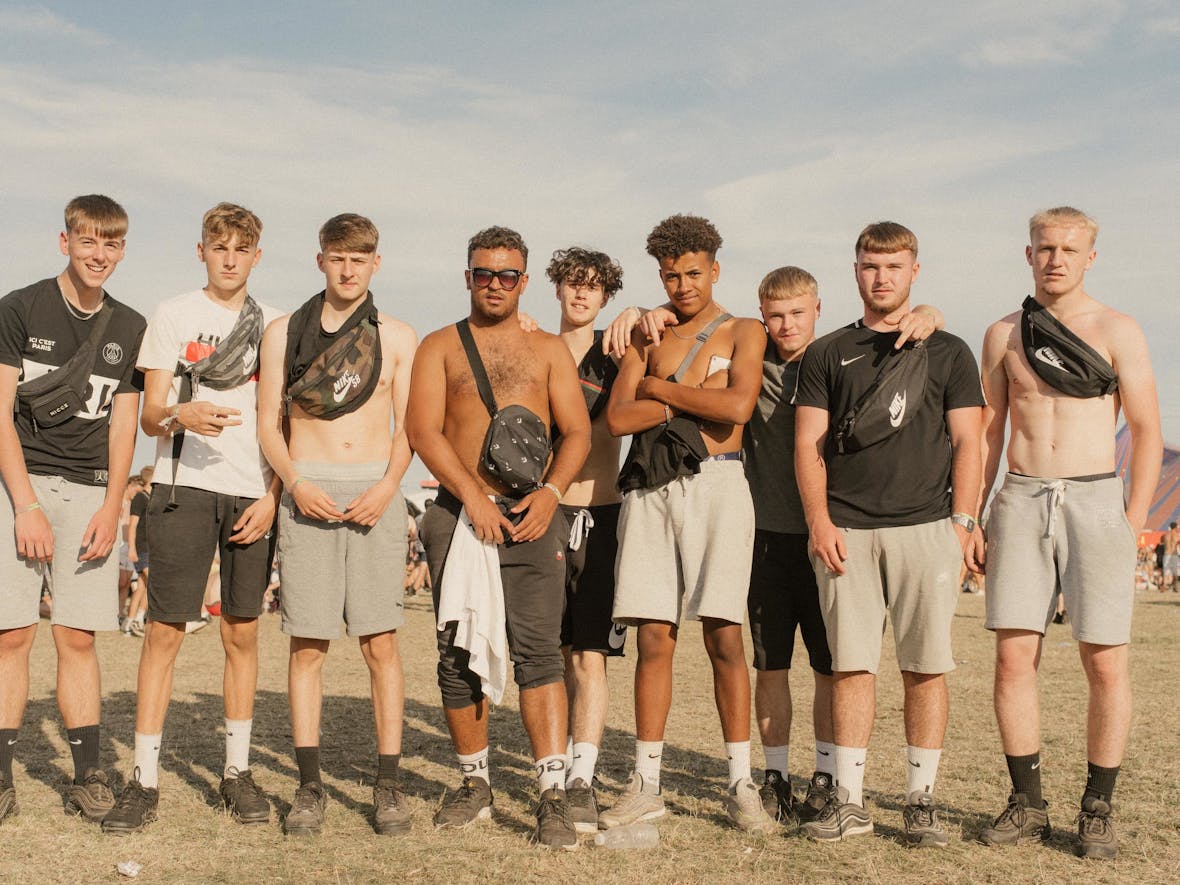 Read­ing Fes­ti­val: inside the post-GCSE mecca
Whether you were marked in let­ters or num­bers, got the grades or missed the mark, one thing's for sure: if you were a 16-year-old in the south of Eng­land, you went straight to Read­ing Fes­ti­val after last week's GCSE results day.
A cor­ner­stone of British teen cul­ture, Read­ing – and its accom­pa­ny­ing Leeds site for our friends in the North – has become a rite of pas­sage for young fans across the coun­try. No cur­fews, no par­ents, just 100,000 youths run­ning riot. Mar­vel­lous.

With The 1975, Post Mal­one and Foo Fight­ers head­lin­ing (plus Bil­lie Eil­ish steal­ing the show), this year's iter­a­tion was a scorcher. Lit­er­al­ly. Tem­per­a­tures hit a high of 32 degrees and judg­ing by the sweat on everyone's bod­ies, you could feel it.
Not one to miss a par­ty, The Face went along to join in on the fun. And although we couldn't ful­ly keep up, we def­i­nite­ly got a taste of the front­line action (and the bat­tle scars to prove it).
In short: it smelt like hor­mones, it looked like a dystopi­an play­ground and it felt like freedom.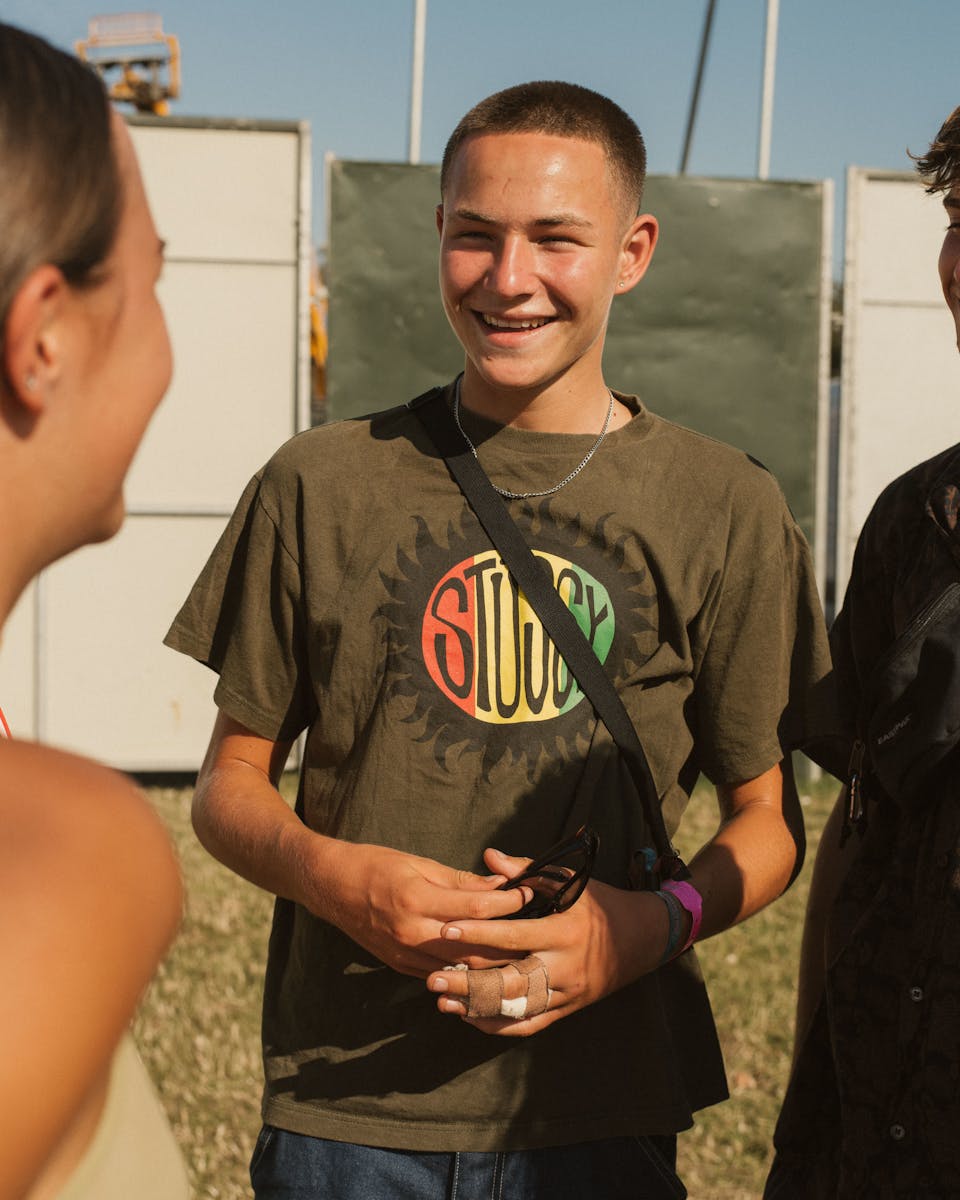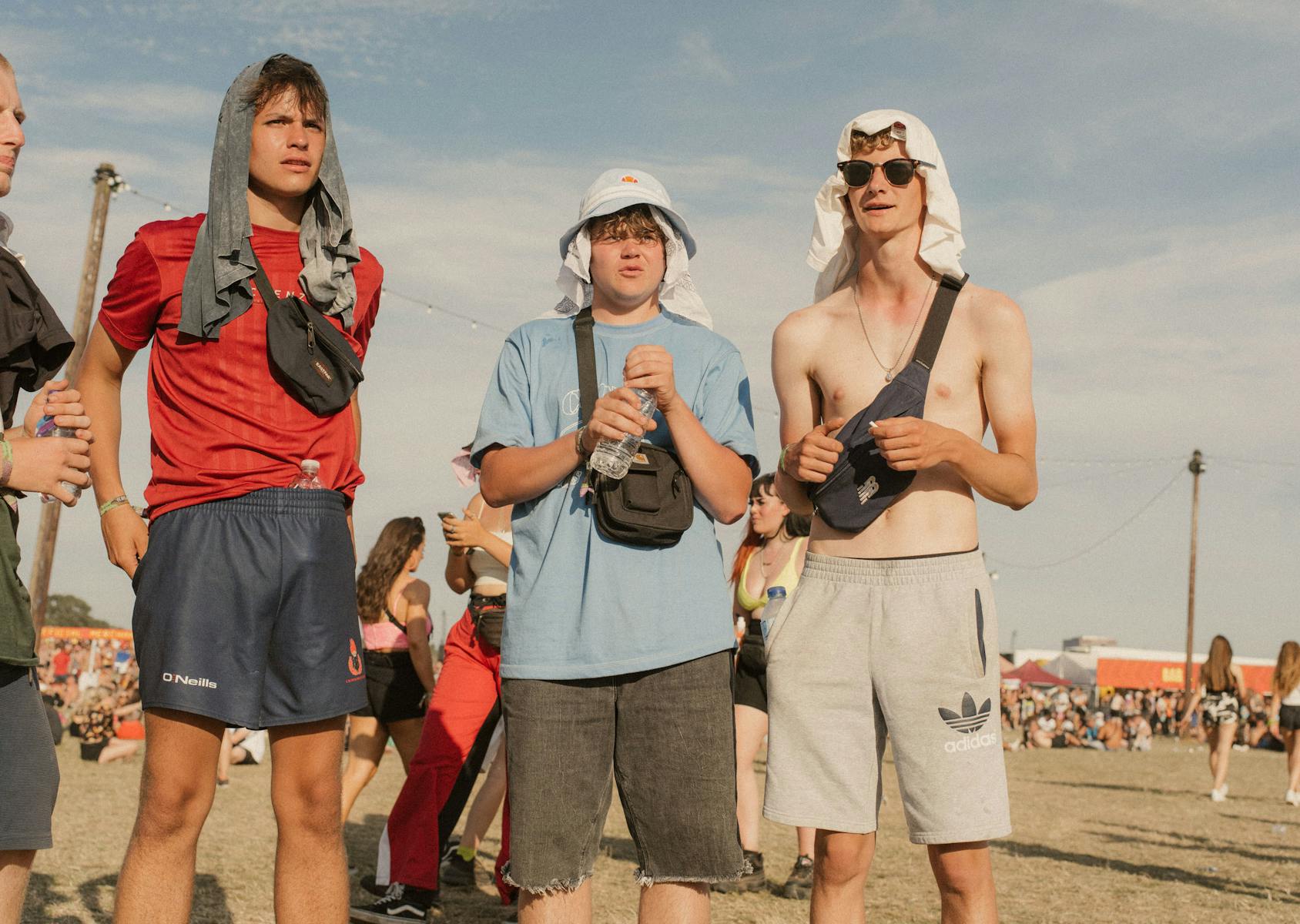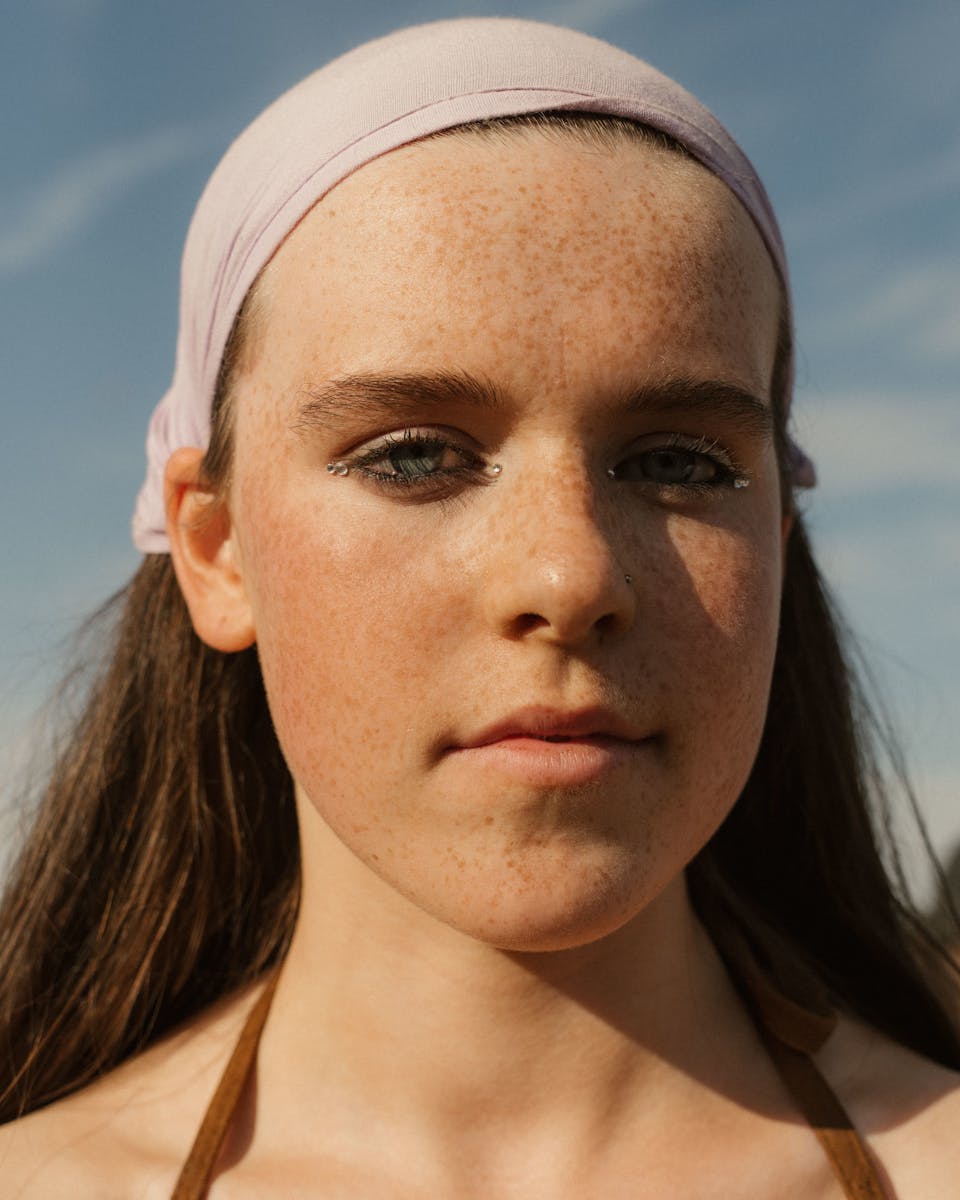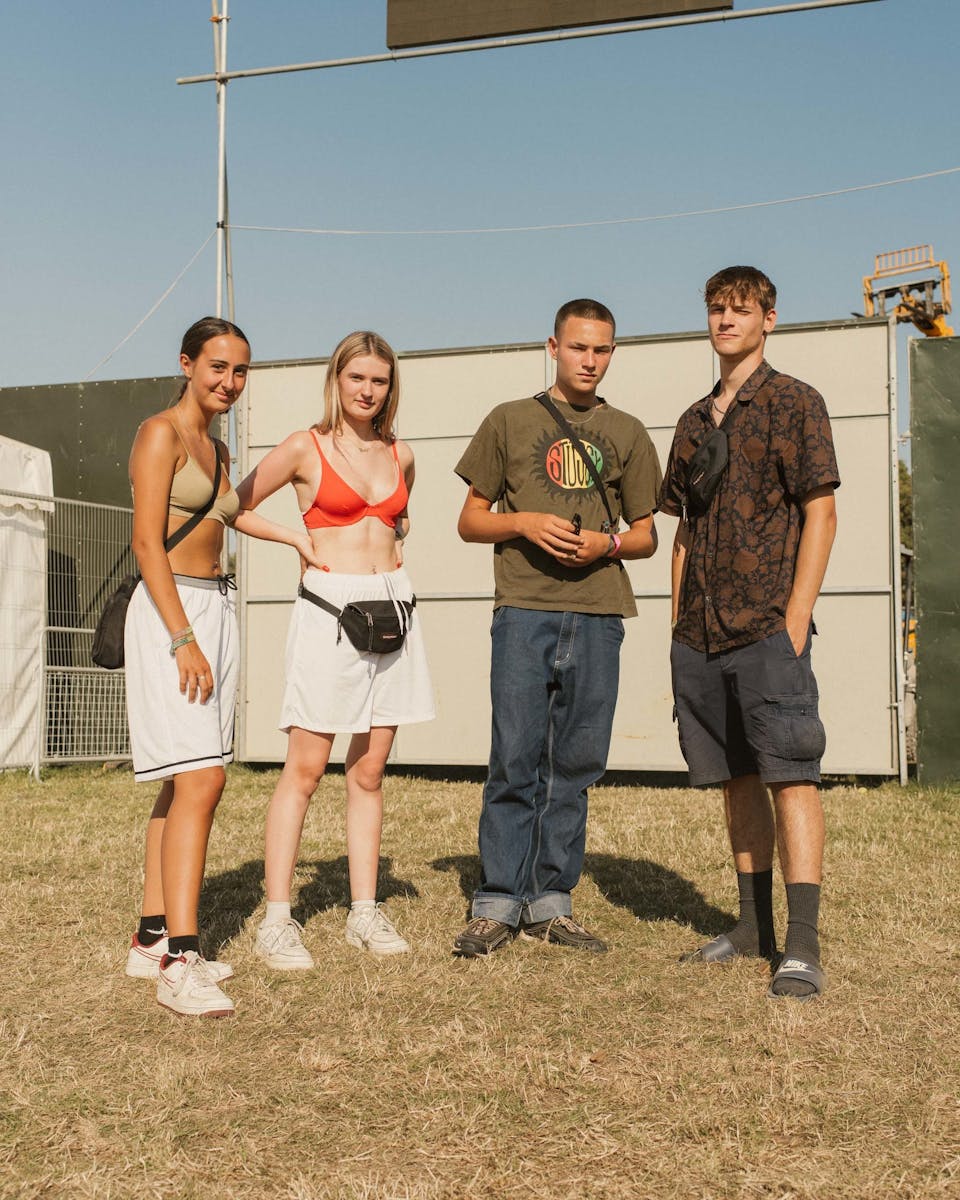 Why did you come to Read­ing Fes­ti­val after GCSE results day?
"

It's kin­da like a tra­di­tion. It's a mas­sive par­ty. It's all peo­ple our own age. What's there not to like?"
"

Everyone's just come here to have a great time. No mat­ter if they did well or they did bad. It's the place you go to to drown your sor­rows or to celebrate."
"

The old­er years had done it before so we just fol­lowed them."
"

It's rep­u­ta­tion is real­ly good for just get­ting fucked. Just hav­ing a good time, basically."
"

While peo­ple do their GCSEs, they stop doing drugs and then they get their results and they're like: ​

'

Wow, it's my time to shine.' "
Were your par­ents alright with you coming?

"

I've got an old­er broth­er, so they were fine."
"

I don't know how I con­vinced them to let me come, I gen­uine­ly don't know. I don't think they know what this is. I just told them every­one in my year was going and that it's a post-GCSE ritual."
"

I think they regret say­ing ​

'

yes'."
"

My par­ents bought my ticket."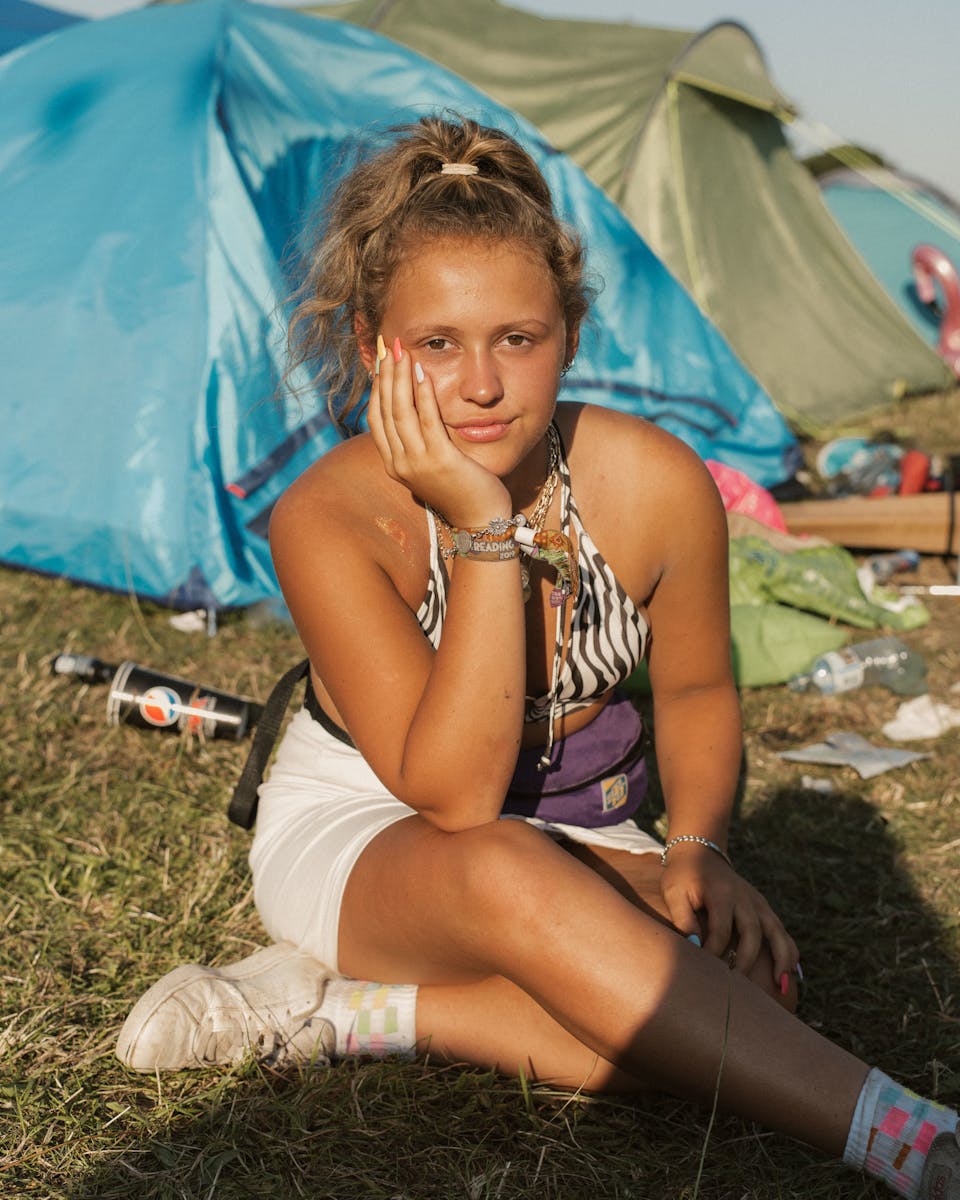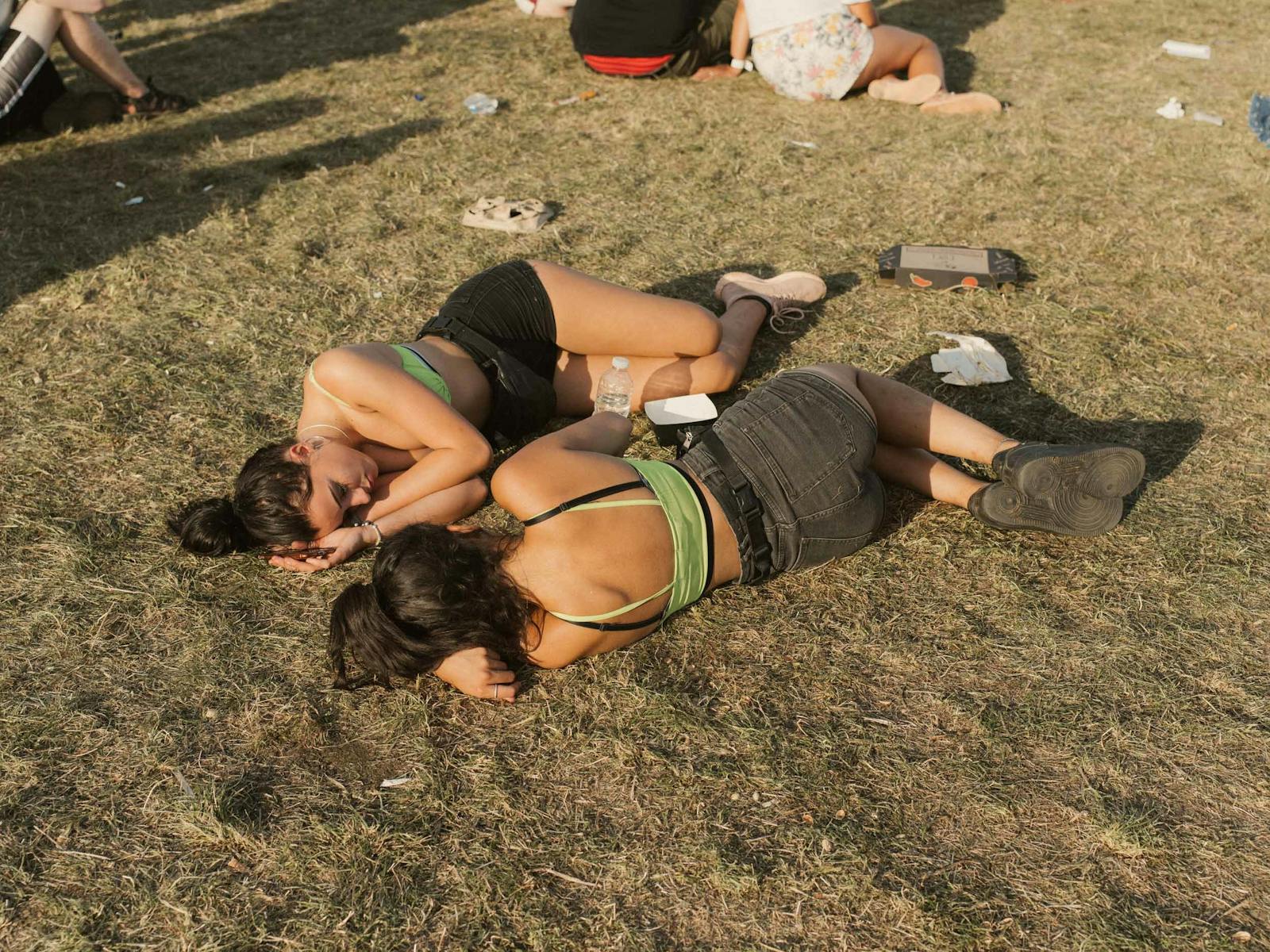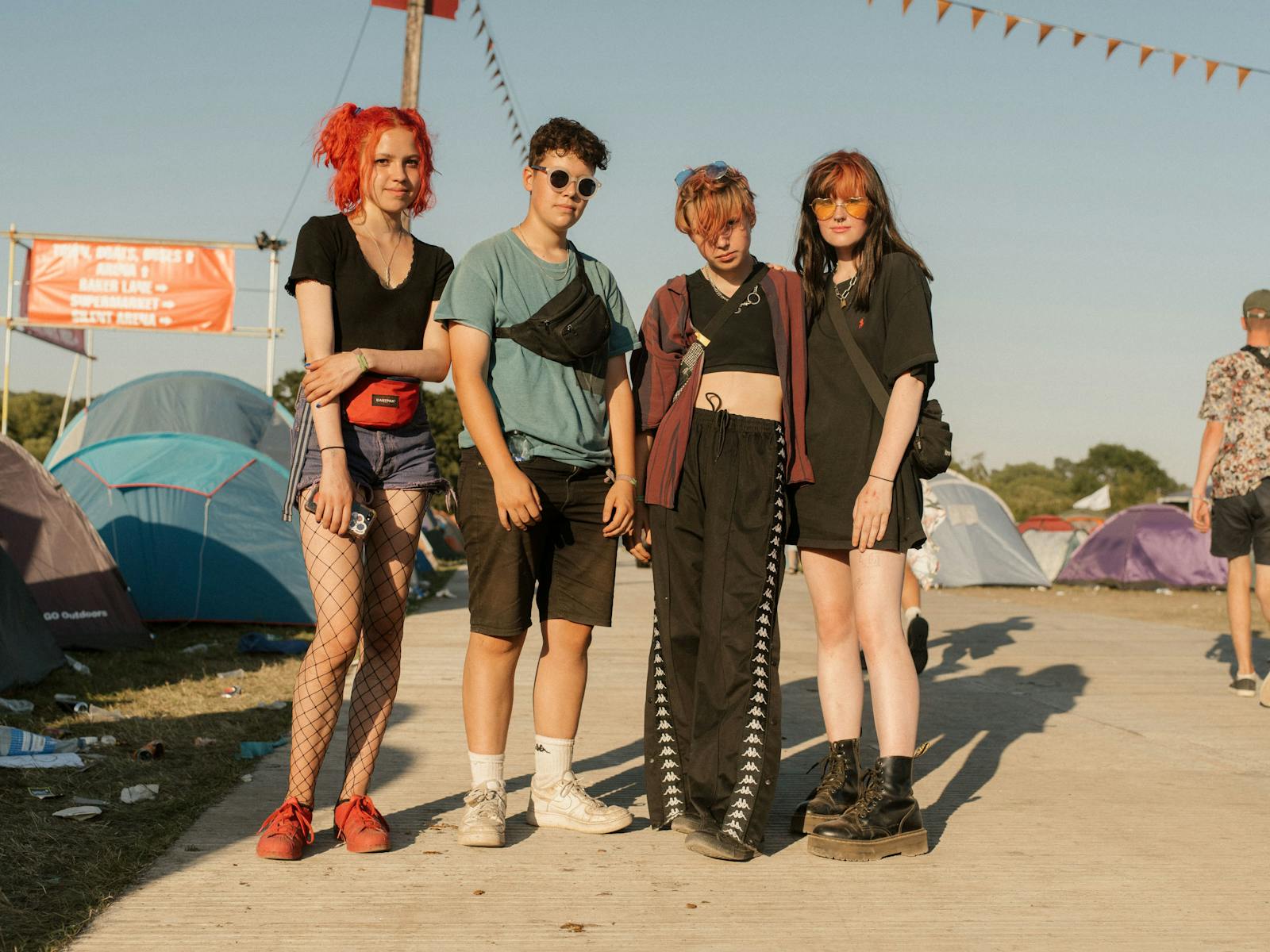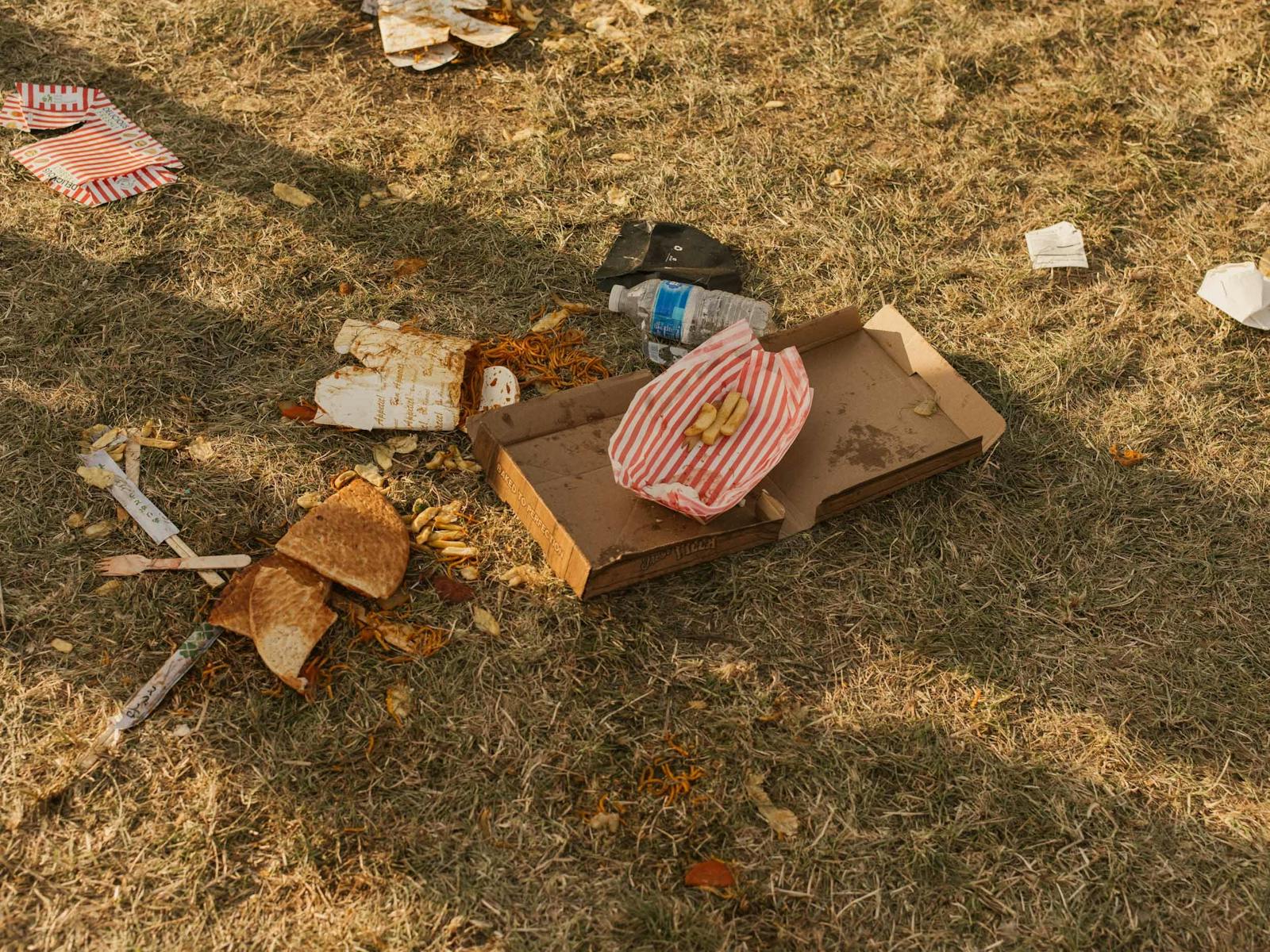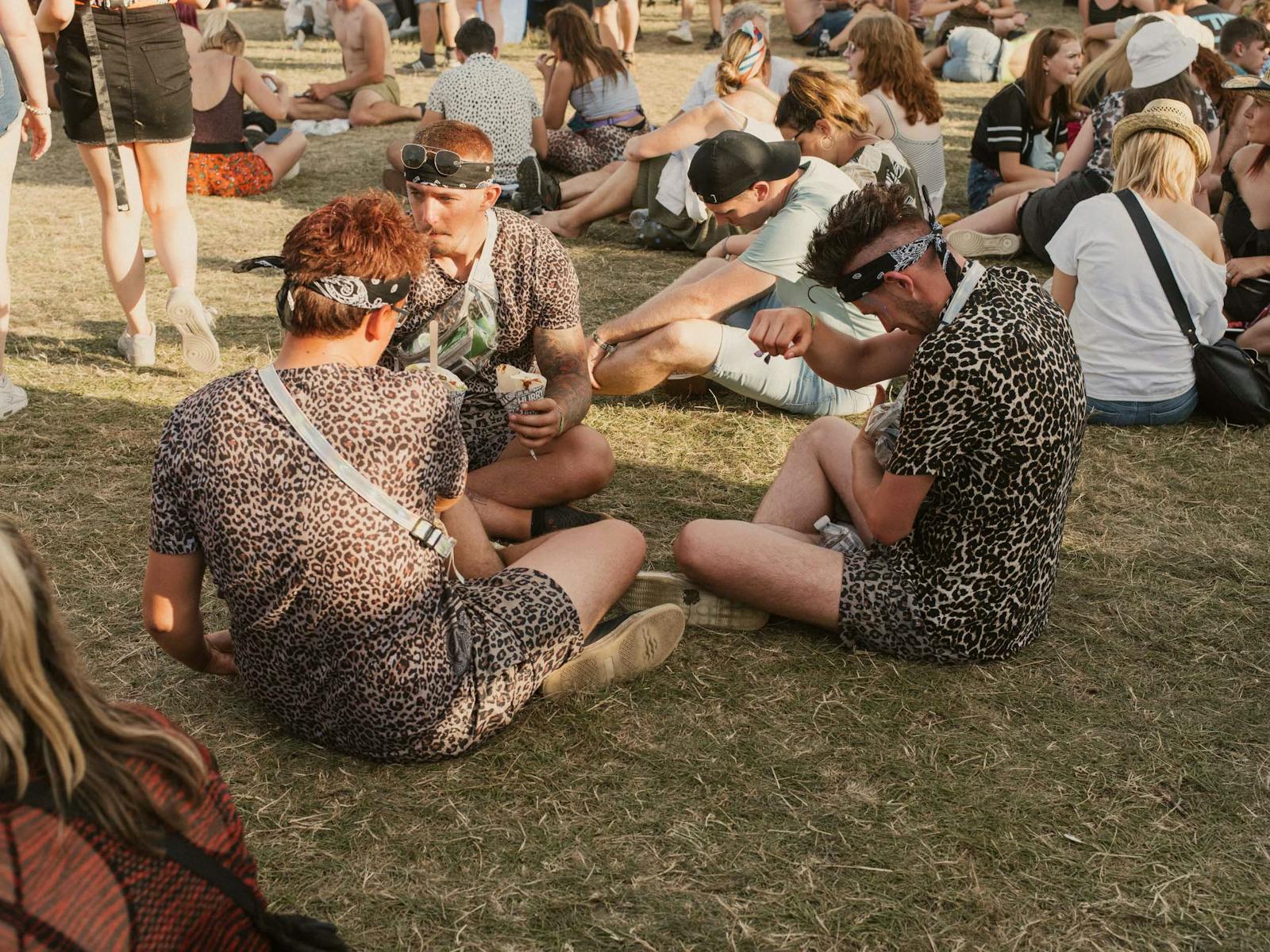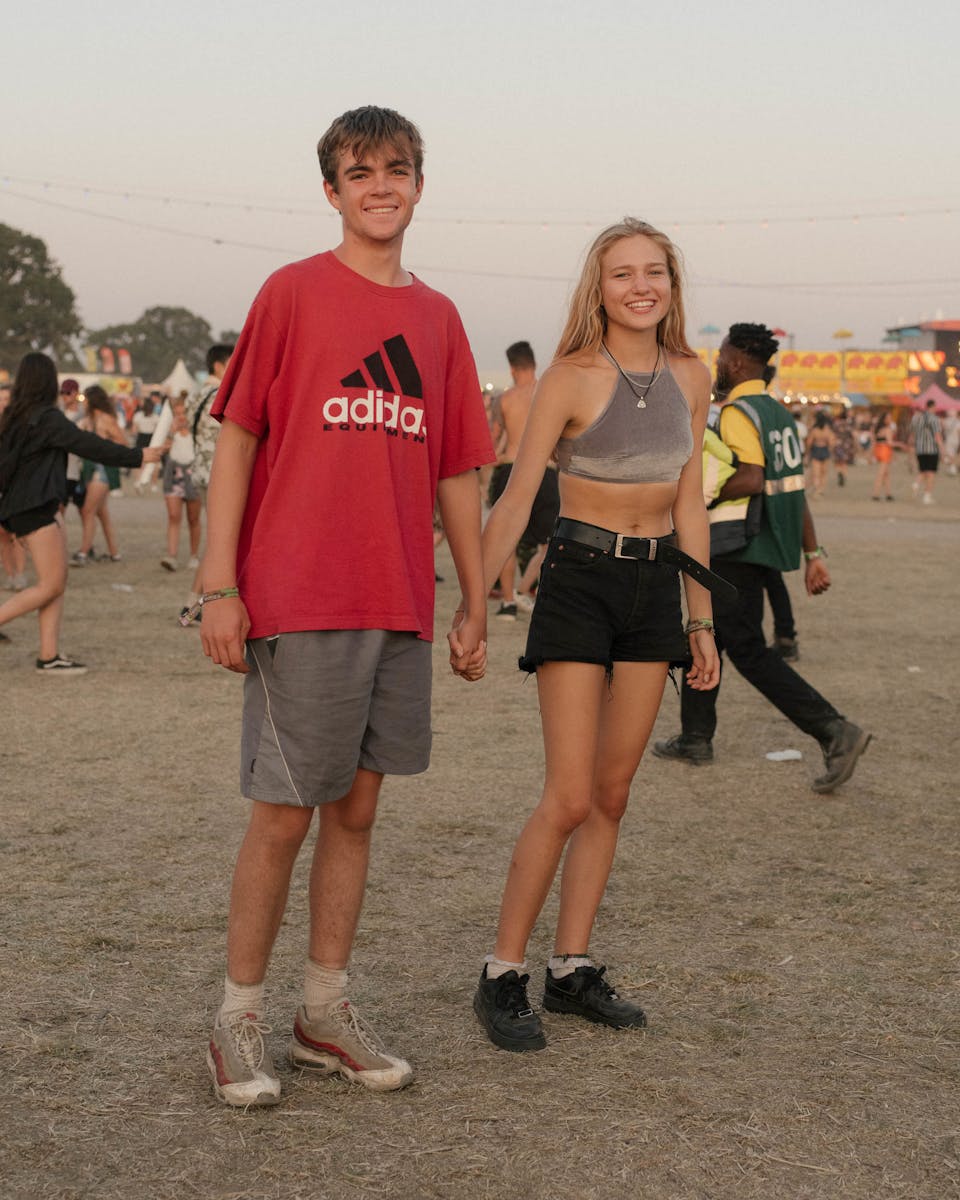 Thurs­day:

- So excit­ed to go. Read­ing was a big­ger pri­or­i­ty than get­ting my GCSE results back.
- Secu­ri­ty was stress­ing me out bare. My bags weren't touched once.
- No acts on Thurs­day so the evening was pret­ty much spent at our camp with music, chat­ting and lots of awful singing. Smoked a bit and then got bored of sit­ting around. Went to the are­na around 8pm. Went on rides and danced at the music tent.
- So fun. Every­one looked after each oth­er and helped every­one in the mosh pits when they got a bit too violent.
Fri­day:
- Got too claus­tro­pho­bic at Dave (BBC Radio 1 Stage), had to leave with my mate and sat out­side. Dave should've been on a big­ger stage not in a tiny tent.
- My friend got bet­ter at the silent dis­co, had much more ener­gy. Silent Dis­co was defo a high­light. Two com­pet­ing channels/​DJs. So live.
- Fun­ny moment was my friend decid­ed to punch a met­al fence and break his knuck­les so we had to trek back and forth to the med­ical tent for X-rays.
Sat­ur­day:
- Sat­ur­day morn­ing was awful. Every­one tired, sweaty. Tents were too hot couldn't nap in them. Me being stu­pid brought zero food. Resort­ed to one fatttt trip to the Co-op and bought pain au choco­lat (hard as rocks).
- Bil­lie Eil­ish (Main Stage 4:20pm) so good, actu­al­ly in love with that girl. Too many forced mosh pits from annoy­ing crowds. So good live, she's so sweet but has bare ener­gy. Such an amaz­ing voice as well.
- Walk back from Bil­lie Eil­ish killed me, We stayed in white camp, 40 minute walk and over a steep bridge (got back home on Mon­day with bleed­ing toes)
- D-Block Europe (BBC Radio 1 Xtra Stage 8:20 pm) sooooo good. Only know like 3 songs but had the best time, mosh pits were live and lit­er­al­ly had so much energy.
- Octa­vian (BBC Radio 1 Xtra Stage) best per­for­mance. Seen him once before but at Read­ing he was so live. Me and three oth­er friends got dragged away from the oth­ers, but it was so calm and we had so much ener­gy we didn't even notice.
- Silent Dis­co (Alter­na­tive Stage) so good again. Songs through the years, longest queue, had to cut some cor­ners. Some woman tried to start argu­ments with our group caus­ing some dra­ma, quite fun­ny. My friends climbed up one of the poles in the tent and secu­ri­ty took them away, but some­how they made it back in.
Sun­day:
- Woke up SO SO tired at like 10am. The videos we have of every­one that morn­ing are hilar­i­ous. Two friends were out all night and fell asleep on the camp­ing chairs outside.
- Didn't leave the camp on Sun­day till lat­er because there weren't any acts on that I need­ed to see so it was quite a relax­ing day. Went out lat­er in the day but it was so, so hot I couldn't hack it.
- A few of my friends decid­ed to stay the last night but half of us were feel­ing a throat infec­tion or some­thing com­ing on so most of us left Sun­day evening. Best deci­sion ever – woke up Mon­day lit­er­al­ly paralysed!

Thurs­day:

15:00pm — Arrived at Read­ing, had the fat­test trek to white camp which near­ly killed me.

20:30pm — Sooo bugged out by quan­ti­ty of peo­ple there and the lights.

22:00pm-1:30am — (main are­na) Spent the night danc­ing to the music pound­ing from the fair­ground rides as there wasn't any actu­al music that night.

2:00am — Got back to the tent, hung out, was wok­en up by my friend at 4am try­ing and fail­ing to unzip the tent.
Fri­day:

7:00am — After hav­ing gone to sleep in 3 jumpers I woke up sweat­ing our tent was already like 40 degrees.

3:30pm — (dance stage) Saw like 10 min­utes of Becky Hill who was amaz­ing.

9:00am — Caught the last cou­ple songs of Fredo.
22:00pm — (Radio 1 tent) Went to see Dave, friend had setlist was shit he played like 3 of his good songs, crowd was fuck­ing crazy the mosh pits were mad every­one tram­pled on me dur­ing loca­tion but I survived.
23:00pm — The best time with all my friends was soo hap­py hop­ping around danc­ing to all the music.

00:00am — Such love and euphor­ic hap­pi­ness, made loads of friends tonight; one who'd had his fin­gers bro­ken by secu­ri­ty and anoth­er who'd bro­ken a rib from being tram­pled on in a mosh pit.

4:00am — Fell asleep next to a heater was v content.
Sat­ur­day:

6:00am — Arrived back at the camp­site after the longest and one of the best nights of my life.

16:20pm — Took a nap and slept through AJ Tracey, Bil­lie Eil­ish and Rod­dy Ricch, woke up pissed off and hot.

20:00pm — Had to hide a fat sun exot­ic bot­tle and a Smirnoff bot­tle down the back of my shorts to get it passed secu­ri­ty and into the are­na

21:00pm — Saw D-Block Europe who were so mad couldn't actu­al­ly see them, but had a great time in the mosh pits car­ry­ing a fat Tesco bag filled with all my friends jumpers.

22:00pm — (Radio 1 Xtra tent) Octa­vian came on and brought out Skep­ta he was prob­a­bly the best artist of the week­end.

23:00pm — (dance tent) Skanked to Andy C's drum and bass set which was so good.

1:00am — Went to the silent dis­co which played music from the 80's till 2019, which may have been the most fun I had all week­end. It was so nice to be not wast­ed and just danc­ing and singing with all my clos­est peoples.
Sun­day:
Noth­ing real­ly hap­pened all I want­ed to do was touch yard I was so tired.
Camper #3, 16, London
Thurs­day:
- Last minute pan­ic of try­ing to think of way to pack all the essen­tials for the weekend.
- Made sure to bring a mul­ti­pack of crisps.

- Left camp­site at 8pm to allow for 2 hour queue ahead of the silent dis­co, as this was the only thing on that evening.
- End­ed up danc­ing out­side the many roller coast­ers avail­able as sur­pris­ing­ly had real­ly good drum and bass playing.
Fri­day:

3pm — Every­body was at the camp­site in the bak­ing heat lis­ten­ing to music and revis­ing the lyrics for Fre­do who was play­ing later.
My Friend fell asleep in the sun and man­aged to get sun­burnt with­in the first day.

11pm — After watch­ing Dave we decid­ed to go on a ride and my friend decid­ed it would be a great idea to wear the Gog­gles on the ride. He then passed out for about five sec­onds on the ride. Short­ly after he still claimed it was the best thing he'd ever done.
- We then also watched Fre­do and my oth­er friend got crushed and lost in a giant mosh pit and luck­i­ly enough we man­aged to bump into her ran­dom­ly in the crowd about 20 min­utes later.

Sat­ur­day:

- This day was by far the cra­zi­est. By 11am every­body was so excit­ed and the idea of free­dom got to every­body. Me and a few oth­ers were still feel­ing rough and try­ing to recov­er from the pre­vi­ous night.

- For­got to bring any shorts. Wore black out shades in a fee­ble attempt at say­ing cool.

- Sad­ly by 8:30pm after see­ing D-Block Europe my friends start­ed to see the con­se­quences of start­ing the day ear­ly and began to feel ter­ri­ble, they were des­per­ate to go back to camp. How­ev­er, my favourite artist Octa­vian was play­ing at 9:15pm at the Radio 1 Xtra stage, so me and my clos­est friends decid­ed to stay. We're so glad we stayed as he was bet­ter than even we thought.
Sun­day:
- This day for me and my friends was the most chilled day we had. We woke up late this day and for most of the day stayed around the camp­site. Every­body felt very rough – they could no longer tack­le the marathon.
- Me and 4 oth­ers stayed for the last night and thought it would be a great idea to take it slight­ly easier.
- We watched Bastille in the Radio 1 stage and loved every minute of it. We danced with lots of much old­er 35 – 50 fes­ti­val goers.
Thurs­day

We lugged all our stuff from the train sta­tion to the fes­ti­val entrance. No secu­ri­ty at all, not even a pat down.
Walked all the way through to white camp­site because the entire place was packed. My friend acci­den­tal­ly kicked some­one in the head through their tent and got called a ​"stu­pid dumb cunt", which briefly cheered us up.
Absolute­ly dec­i­mat­ed in the queue for the Silent Dis­co that got can­celled, friends got tram­pled, fence fell on me and I saved a girl from get­ting com­plete­ly crushed.
Went to the Rock­tail Cock­tail after­wards for the music and man­aged to roll both my ankles on the same pow­er cable but was a bit too drunk to care, so just result­ed in me mosh­ing on the one foot that hurt to say the least.
Called peo­ple prob­a­bly over 40 times tonight with fuck all response from any­one bc we all got sep­a­rat­ed, so end­ed up just walk­ing back to camp by myself and bumped into all my boys, was a good night.
Went back to the camp and a lot of peo­ple were smok­ing, seemed like every­one need­ed to relax. Prob­a­bly stayed up until 5am and then slept until 7:30am.
Fri­day
Woke up feel­ing awful.
Had a poor break­fast of just-add-water por­ridge – was the dryest thing I've ever had.
Friends came round from anoth­er camp­site look­ing disheveled from the night before which was pret­ty hilarious.
Basi­cal­ly lounged around doing noth­ing the whole day.
Wait­ed until about 4pm to go and see Dig­Dat which was hon­est­ly so bad, wasn't worth going.
Head­ie One was straight after though which was insane, we start­ed mosh­pits and I did the worm through the mid­dle of one of them, one of the highs of the day. I came out of Head­ie One and met all my mates, one of them was wast­ed and was repeat­ed­ly punch­ing a met­al fence. It was 7pm.
I saw him two hours lat­er with a cast on his hand and he told us he'd dis­lo­cat­ed two knuck­les with a big smile on his face.
At 10.30pm I was at Dave and it was one of the most insane per­for­mances, prob­a­bly the best of the day, I bare­ly remem­ber any of it but I had about three dif­fer­ent peo­ple on my shoulders/
Got elbowed twice in the eye which left me with a semi black eye for Sat­ur­day, but I didn't realise it hap­pened until after we got back to camp.
As every­one left Dave, I start­ed a chant ​'OGGY OGGY OGGY', and then some­one snatched my hat from off my head behind me. I was so angry. I tried to find who had it but obvi­ous­ly the per­son wasn't say­ing any­thing so I start­ed a crowd wide chant and that made me feel a bit better.
Went on a cou­ple of rides which were like noth­ing I'd ever felt before.
Realised hon­est­ly like two hours after Dave that I had lost my t-shirt which had been attached to my pouch and the tem­per­a­ture had dropped rapidly.
Met my boy and some new girls he'd just made friends with, who I knew, and we basi­cal­ly walked all the way from the are­na to camp (about 40 min­utes) in the freez­ing cold with me hav­ing bare­ly any clothes on. I'm pret­ty sure I caught a cold that night.

Sat­ur­day
Secu­ri­ty came round and took our gas for our cook­er which pissed us all off.
AJ Tracey was a lot ear­li­er, at 3pm that day, but we were all shat­tered and a load of peo­ple couldn't be arsed.
Skipped the hour long queue for the water refill and had a quick truck­ers wash – the most refreshed I'd felt all weekend.
Rod­dy Ricch came next and the bass was insane, like it pen­e­trat­ed your entire body and every­one was just going men­tal. I saw what I'm pret­ty sure was some guy get­ting a handy against the bar­ri­er which I told my friend and we were crack­ing up while Rod­dy Ricch was bang­ing in the background.
Best per­for­mance of the Day though by far was Octa­vian. It was so insane, he brought out skep­ta, the mosh­pits were intense­ly dan­ger­ous but every­one was actu­al­ly real­ly friend­ly, just a bit aggressive.
Best part of the day was going on this boy's shoul­ders because I'm tall and I nev­er get a chance to do it, like no jokes the best part of the day.
Went to the silent dis­co at 12 on the dot and it was mad. I lost all my friends then two of them climbed up onto the met­al pole in the mid­dle of the stage and so I went over and found them all.
End­ed up with the same sit­u­a­tion of basi­cal­ly hav­ing no t-shirt and did the 40 minute trek back to camp all hud­dling togeth­er, stop­ping off at just about every sin­gle Chris­t­ian shop to try and get a free cup of tea.
Sun­day
Wake up real­ly late, like 12.
We all decid­ed we couldn't be both­ered to do a sin­gle thing. I was gag­ging for water because this point my throat was so sore and I'd lost the abil­i­ty to speak
My mate Ben hand­ed me a big bot­tle of water which I start­ed down­ing… until after the first sip when I realised it was just straight vod­ka, I felt the worst I had felt all week­end but I was so numb and tired from the night before I just didn't flinch, I have hon­est­ly have nev­er felt that bad.
We lounged around at the camp­site all day and I skipped the queue again for water which was need­ed bc it was 32 degrees.
We took a boat back to the sta­tion which was blast­ing ​'80s rock music as we all slept. 5:30pm, done.

---