A review of Snoop Dogg's chicken wing recipe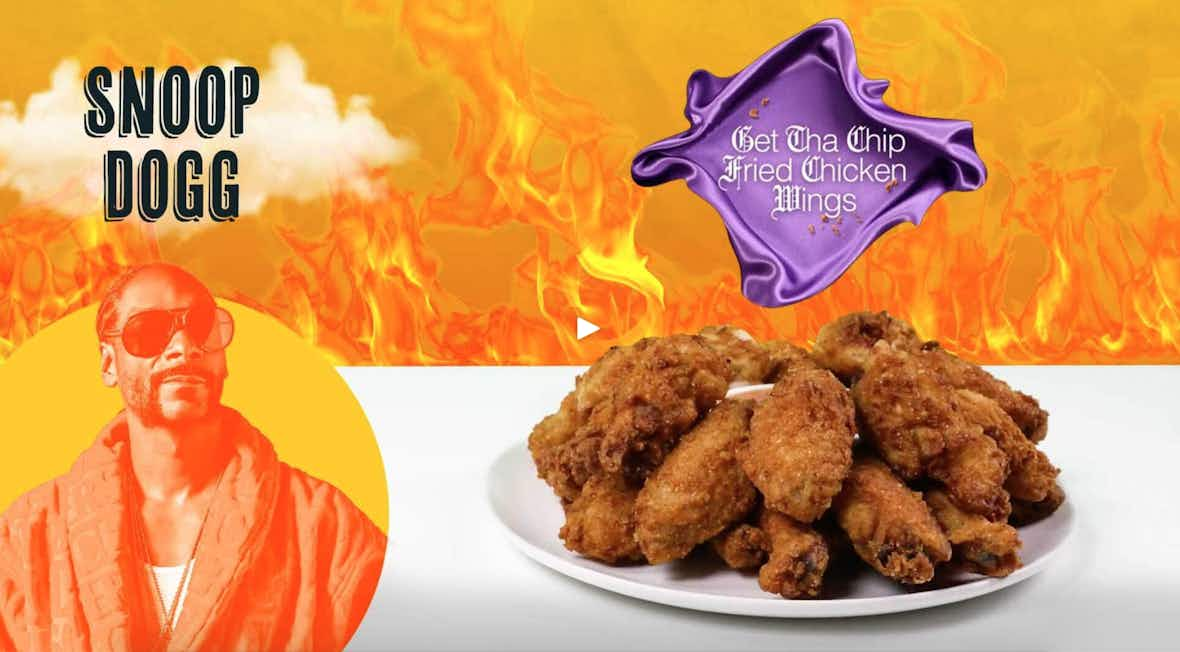 We tried his peppery, crushed chip-covered flash in the pan(demic). Here are our findings.
I am not sure how you are navigating the hazy, crepuscular present – for me, any attempts to mark the passage of time have remained very much outside of my grasp – but may I suggest a familiar means to punctuate the weeks: indulging in guilty nuggets of corporate-sponsored pleasure.
Let me expand. Last week, to celebrate National Wing Day in America (and to fundraise for a litany of charitable causes, including the Center for Policing Equity), Uber Eats and Off The Menu partnered with 10 random celebrities, connected only by an apparent fondness for deep fried, sauced-up white meat. As part of a convoluted, voting-based, social distancing food festival, each shared a personal recipe, to be reproduced in the wing-friendly kitchens of participating restaurants, and exclusively available for delivery via the app.
There were honey buffalo wings by Hallmark sweetheart Haylie Duff. There were ​"tangy" wings by Tyler Cameron, a model and former Bachelorette contestant. There was a sticky, garlicky, salt-and-pepper variant by Blackish actor Anthony Anderson. Tyra Banks proffered her spin on wings, as did the designer Zac Posen – there were also ​"Big Chicken Nashville Hot Wings" from Shaquille O'Neal, and a honey-sriracha permutation of ​"Cheat Meal Wings" by bodybuilder Phil Heath, the seven-time winner of Mr Olympia, now tied with Arnold Schwarzenegger (who was, apparently, unavailable). The promotional logo for this ad-hoc Wing Showdown featured a visual stunt: its W resembled a chicken wing anthropomorphised into a jocular, two-armed shrug.
For my big Saturday evening inhaling succulent, celebrity-backed poultry, I opted for Snoop Dogg's ​"Get Tha Chip Fried Chicken Wings," priced at $14 for six, with a side of Texas-style queso mac and cheese. (The recipe was plucked from his 2018 cookbook, From Crook to Cook, though I noted minor tweaks in production: the rapper's hot sauce was absent, and they appeared to be double fried.)
Procuring Snoop's wings proved more difficult. They were available in a single New York location – Hometown Bar-B-Que in Red Hook, Brooklyn – which was outside my delivery area. To circumnavigate this, I selected the pick-up option, and, rather than two hours on the subway, booked a 20-minute rideshare there and back, because my palette's curiosity was piqued, and because I am an idiot.
The chicken wing is currently viewed as a desirable cut, but this was not always the case: up until the last five decades or so, it was a throwaway part, used mainly for stock. The best history I know of the wing's elevation to hors d'oeuvres status is by New Yorker writer Calvin Trillin. In 1980, he attempted to compile an origin story for the buffalo-wing variety: revisionist historians had traced it to Anchor Bar, Buffalo, where it was served chopped, deep-fried, and unbreaded, alongside the blue-cheese dressing the bar had previously used as a house relish for salads.
Snoop's batter technique pays homage to the wing's previous use as a junk-part: it comprises flour, cornmeal, garlic powder, and heaped black pepper, but most crucially, crushed potato chips. I ate the juicy little buttermilk wings straight from their cardboard box, perched on a rock overlooking the corpse-filled water of the Hudson River: they were golden-brown, like a cherry-wood stain, their uneven surface speckled with pepper. One bite, and I immediately detected notes of Lays Original™.
The batter – somehow not overly greasy – was extra crunchy, its strong black pepper taste pared back with what I assumed to be a Hometown Bar-B-Que sauce: buttery, chunky and reminiscent of tzatziki, with cucumber swapped out for scallions. It was even better when paired with the restaurant's barbeque. The recipe – available to recreate – has many steps but is not overly complex. But the resulting bag‑o'-chip with chicken mash-up is tantalising. It's deeply satisfying in crunch, flavour, and texture, especially when double-fried, a process that turns the skin into a biting, shell-like hold-all for the slightly-fatty chicken juices within. It's exactly the kind of thing a person should ​"drop" – in a large bowl, then on a wire rack or pan, then in a Dutch oven over medium heat, in batches – ​"like it's hot". A recommendation for the amateur home chef.

More like this