Rishi Sunak is the UK's first crypto bro prime minister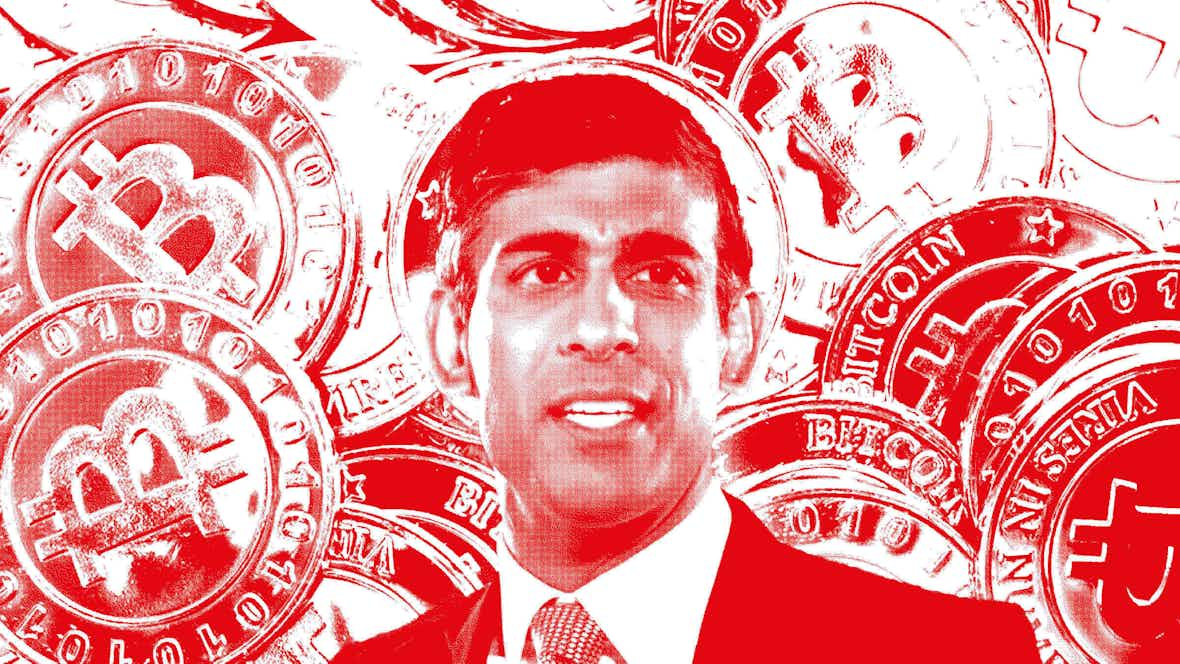 Obviously. Britcoin, anyone?
Another month, another prime minister. Our leaders change almost as quickly as fast fashion trends these days. Now, it's the turn of Rishi Sunak, a former Goldman Sachs employee, who sits on an estimated fortune of £730m when his net worth is combined with his wife's. And this is a man who loves a bold idea. Remember Eat Out to Help Out? Of course you do. It was a delicious disaster. But it turns out that wasn't the only thing he experimented with during his time as Chancellor of the Exchequer, between 2020 and 2022.

That's right – Sunak's a bit of a crypto bro. We've had evidence of this for a while. When he was in charge of all things finance back In April, for instance, the government announced a plan to ​"make the UK a global cryptoasset technology hub", which basically involves encouraging crypto businesses to set up bases here. At 42-years-old, Sunak's now the youngest prime minister in over two hundred years, so it's perhaps unsurprising that he's a little more ahead of the curve when it comes to techy things, for better or worse.

But what does this all mean for crypto enthusiasts in the UK? Well, actually, it probably won't be that terrible. In fact, a crypto bro PM could even do some good – at least he'll be someone who takes the concepts and potentials of crypto seriously. Plus, he seems to understand more about crypto wallets and exchanges than he does contactless payments.

Sunak's crypto credentials mean that we'll likely get a centralised digital currency quicker, too. In 2021, Sunak explained what this means in this video, sounding very much like Will from The Inbetweeners. Too cringe, didn't watch? Basically, it's a centralised coin that uses blockchain technology (so transactions are more secure), but with similar currency and financial implications as the fiat currency we already use – a crypto pound, if you will. He also announced that the Bank of England was already looking into developing one, and that the goal was to implement it by 2025. Now that he's in charge, that might be a deadline that the UK actually hits.

This isn't great news for those who like crypto from an ideological perspective, though, as it goes against its USP of being decentralised, which is what makes the blockchain so appealing to many. Worse still, there's a chance it'll be called something awful like ​"Britcoin", a word that nobody needs to see popping off on socials, ever.

That ​"cryptoasset hub" thing Sunak was on about might get his fellow crypto bros back on side, though. Essentially, the government wants the UK to ​"become the country of choice for those looking to create, innovate and build in the crypto space," as Richard Fuller, Economic Secretary to the Treasury, said during the first ever crypto debate at Westminster back in September.

Buzzwords such as ​"innovate and build" are a bit LinkedIn, but they do at least show enthusiasm for crypto as a viable sector of the economy. Fuller continued to say that ​"we can attract investment, generate new jobs, benefit from tax revenues, create a wave of groundbreaking new products" and more, if we allow crypto companies to make their offices UK-based.

And if new technology comes together in the UK, it might mean that UK-based prospective investors will get a chance to hear about these projects earlier than others too, which means they could have a better chance of their investment doing well. Though as ever, with both crypto and British politics, there's a risk. We'll say it again: remember Eat Out to Help Out?

But hey, Sunak's minted. Maybe that means he's ahead of the game and will be able to turn the economy into a state as happy as his bank account. Or, er, maybe he's simply more willing to take financial risks given he's worth about twice as much as the King of England. Only time will tell.

More like this