Rishi Sunak is a reverse Robin Hood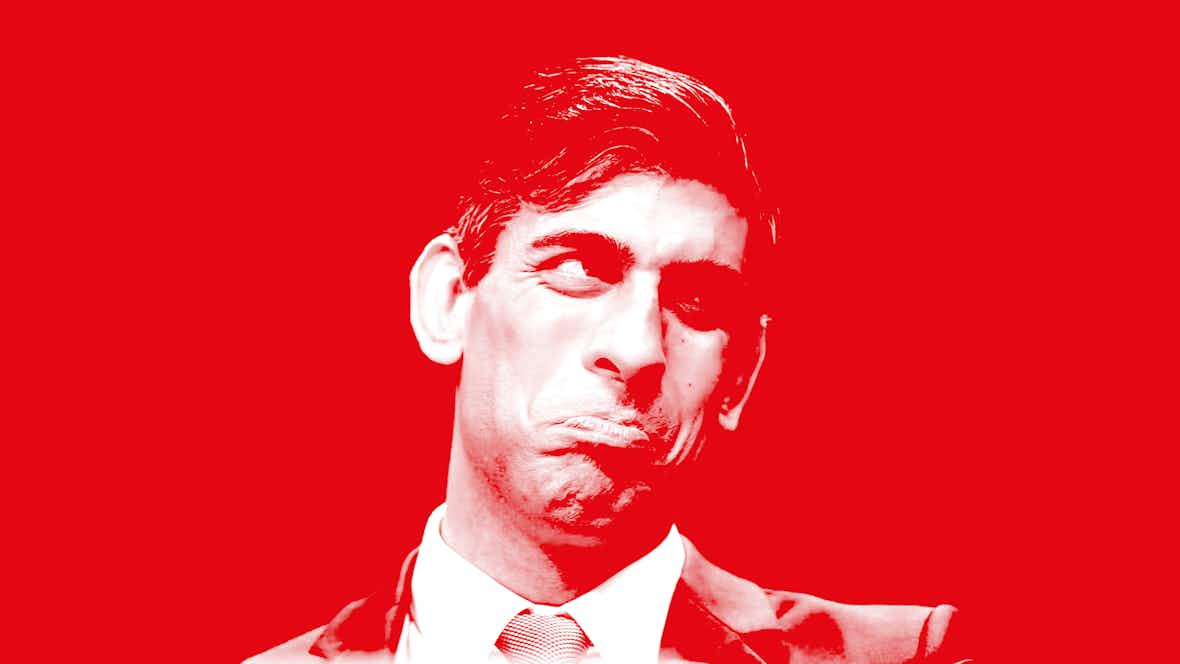 He takes from the poor to give to the rich, and doesn't mind breaking the law. What a man to have running the country during a cost-of-living crisis, eh?
If the current iteration of British politics was a website, it would just be one page displaying the number 404. As Liz Truss packed her bags (if you have many when you've been in post for 45 days) and hosted farewell parties at Chequers, the revolving door at Number 10 Downing Street was left spinning again over the weekend. The latest Tory leadership race was on. After some tedious will-he-won't‑he, Boris Johnson astonishingly didn't go for it in the end and, less than 24 hours after he pulled out of the race, Penny Mordaunt also dropped out at the last minute. Only Rishi Sunak remained. It was the parliamentary equivalent of getting picked for a team during PE simply because you were the only one left.
So, after no interviews, no debates and certainly no say from the British public, Rishi Sunak – the runner-up even among his own party members – is now officially our new prime minister. The former Chancellor of the Exchequer will be the first British-Asian prime minister and only the second from an ethnic minority after Benjamin Disraeli, who died in 1881 (he was baptised into the CofE but that's only because Jews were not allowed into parliament until 1858). That's cool. But the positives unfortunately end there.
He's an ultra-privileged, Oxford-educated businessman who has been accused of offshore dealings and having links to right-wing think tanks. He's also thought to be the first Chancellor to be criminally sanctioned while in the role, after he was fined for breaking the Covid-19 rules in April this year. Meanwhile, research found that his Eat Out to Help Out scheme, designed to help the battered hospitality industry during lockdown, was ​"responsible for a huge rise in deaths among the Bangladeshi and Pakistani community". Sparkling CV, eh?
But his political failings aren't the only reason he's unsuitable for the job. Sunak is also woefully out of touch. Before he became Chancellor of the Exchequer in 2020, he was a banker and hedge fund manager. Rishi and his wife Akshata Murty, the daughter of a billionaire with an IT business empire in India, have a combined wealth of £730 million. This is ​"double the estimated £300m-£350m wealth of King Charles III and Camilla, Queen Consort", according to The Guardian. The Enough is Enough campaign calculated that a worker ​"earning the median wage (£31,772) would need to have been working since the Stone Age 22,976 years ago to amass the same" wealth.
In 2020, Sunak also faced questions over the transparency of his financial affairs after a Guardian investigation established that his wife and her family ​"hold a multimillion-pound portfolio of shareholdings and directorships that are not declared in the official register of ministers' interests". Sunak was eventually cleared by the cabinet's ethics adviser and it was revealed that his wife had ​"non-domicile status", which legally allowed her to potentially avoid up to £20 million in UK tax. But just because it was legal, that doesn't make it morally sound. After a backlash, she gave up this tax status and now pays British taxes.
Despite all this, Sunak has painted himself as quite the underdog, saying that he ​"never thought" he'd get a top job in government. It's surprising he should say that, considering his upbringing. He went to Stroud Independent Prep School, which cost an estimated total of £12,794. Then he studied at King Edward VI School in Southampton, now £17,000 a year, before moving to Winchester College, which at the moment costs £45,936 a year. Five previous Chancellors of the Exchequer and one other prime minister have attended Winchester. It's a place people go specifically to be groomed for top government jobs. In short it's entirely unsurprising that Sunak has become the most powerful man in Britain.
Sunak is not a man of the people, he's a man of his people. By that I mean rich people. In 2001, he admitted that he had no working-class friends at all. In fact, he's so far detached from your everyday person on the street that he appears not to know how to use a debit card. A grown man not knowing how to use a debit card is pretty funny on the face of it, but less so when that man happens to be in charge of the country's money.
Having this man in power is dangerous during a cost of living crisis. Can we trust him to act with compassion? In the lead-up to his previous Tory leadership race, a whole seven weeks ago, a video obtained by the New Statesman showed him admitting that as Chancellor he diverted funding from deprived urban areas so that he could redistribute it to wealthy rural communities. ​"We inherited a bunch of formulas from the Labour Party which shoved all the funding into deprived urban areas," he said to Conservative party members in Tunbridge Wells, Kent. ​"That needed to be undone and I started the work of undoing that."
This man is the reverse of Robin Hood: he takes from the poor, gives to the rich and doesn't mind breaking the law. He cut taxes for the banks while ushering in the biggest drop in living standards since 1956. We can only expect this to continue now he has the top job. Imagine the spectacle: the richest man in parliament thrashing the poorest in our society with further austerity measures, as punishment for his party's failures, for the economic pandemonium he himself helped to create.
With economic chaos, strained public services and the prospect of thousands dying this winter because they can't afford to heat their homes, we need someone who will at the very least recognise the struggles of people suffering from social deprivation. Perhaps not the wealthiest political leader in the democratic world. Maybe not someone who will be chilling in his £400,000 pool and spa while the poor congregate in the increasing number of warm banks set up for those unable to cope with the astronomical rise in energy costs. We need the real Robin Hood.


More like this