How two devilish glassblowers created a little slice of Heven

Side Hustles: Model duo Breanna Box and Peter Dupont are raising the stakes in the homeware game, designing horny carafes and functional glassware – a creative pursuit found in the middle of lockdown.
It's sobering to think it's been over 12 months since Wuhan announced the world's first lockdown. Since then, everything has changed, not least how – and where and if – we work. By last August, 9.6 million people were furloughed in the UK. By this summer, unemployment is likely to reach 2.6 million, up from 1.3 million at the end of 2019. Little wonder that 2020 was also a record year for new businesses, with 85,000 more start-ups launching year-on-year.
Now, as the one-year anniversary of the UK's first lockdown looms, THE FACE investigates the working realities for those who've had to say goodbye to their former employment. From sneaker schools to sandwich services, bakers to candlestick-makers, our new fortnightly series celebrates the inventive side hustles of the Business Class of 2020/​1. Who knows, maybe you'll have a venture soon, too…
HEVEN

HEVEN

HEVEN

HEVEN

HEVEN

HEVEN

HEVEN

HEVEN

HEVEN

HEVEN

HEVEN

HEVEN

HEVEN

HEVEN

HEVEN

HEVEN

HEVEN

HEVEN

HEVEN

HEVEN

FOUNDERS: Breanna Box and Peter Dupont
LAUNCHED: October 2020
LOCATION: London via New York
£££: Two glassblowing lessons at The Glass Hub
BEST SELLER: Fascia, a sexy pink carafe

For this week's instalment of Side Hustles, we've zoomed into the aesthetically pleasing world of ultra busy couple, Breanna Box and Peter Dupont. Independently, the duo are storming the creative world: Box is an Elite model, actress, musician and filmmaker, while Dupont has been hailed as Kim Jones' modelling muse and is a staunch activist, raising awareness for climate change via action platform DURA. But together they have built Heven, a sexy glassware brand that is every bit as angelic as its name would suggest.
Before lockdown hit last year, the duo were battling a hectic schedule. Dupont was in Ghana on a shoot, while Box was living it large in New York City, meeting acting agents and producers. ​"Suddenly it was a ghost town," she says. ​"I was just staying with some friends who were really scared to do anything, so I was like, ​'Alright, well, I'm going to go glassblowing by myself, so I'll see you.'" Hitting up the studio where they shoot the Netflix glass blowing show, Blown Away, Box got to grips with the basics.
When they both returned to their shared home in London, she didn't give up on her new-found venture. So used to a bustling lifestyle, it was the perfect activity to stave away boredom. ​"I discovered a place called the Glass Hub in Wiltshire that's completely run by women and co-owned by an incredible woman called KT. I took Peter and we just fell in love with her."

The glassware they continue to create is vibrant and playful, with cheeky daredevil horns on their carafes already becoming a brand signature. After the first session, they showed their work to a close friend, who convinced them that this pursuit was more than just a pandemic passtime. ​"She was like ​'this is really fucking good, you should sell it'," says Box. Tapping up their talented list of contacts, the Heven-ly pair turned to chef and photographer Alex Paganelli (aka @deadhungry) to shoot the few special homeware pieces they had created.
If you peek at their ever growing Instagram, you'll see Box at the Glass Hub site dressed in red kitten heels and vampy Dilara Findikoglu pieces, proving you can look fabulous while mastering the craft. So far, their abstract approach to a traditional skill has not only landed them fans in the tight-knit glassblowing community, but has already secured them a selection of high-profile stockists including Assembly in New York and APOC store, undoubtedly with many more in the pipeline.
To keep up with demand, they now visit the studio twice a month to fulfill orders. In fact, it's become so popular that Box has been able to fund her latest documentary project, Turn Around, into a true-crime cinematic gangster flick.
So keep your eyes peeled for Heven. For them, ​"Glass is just the beginning."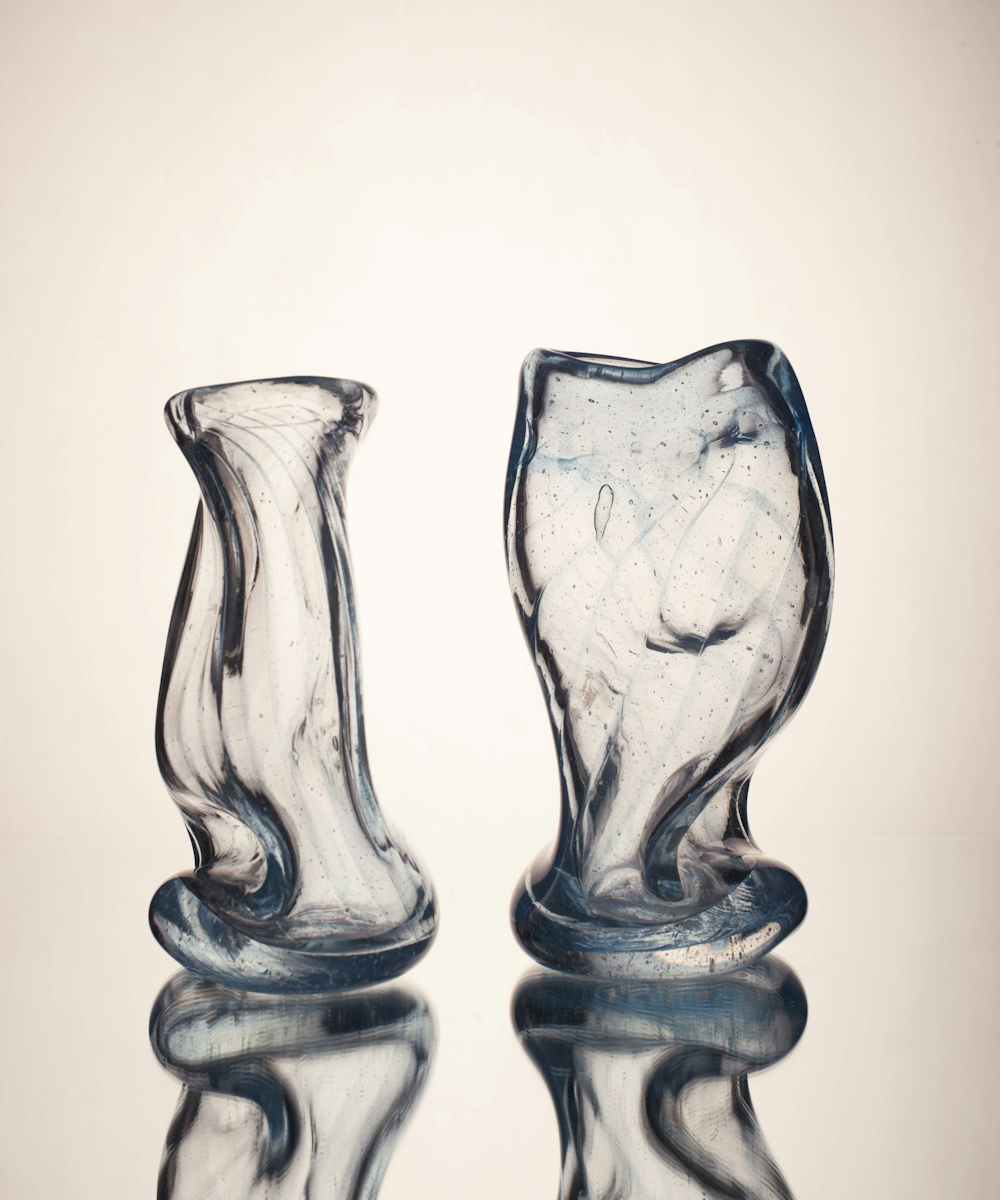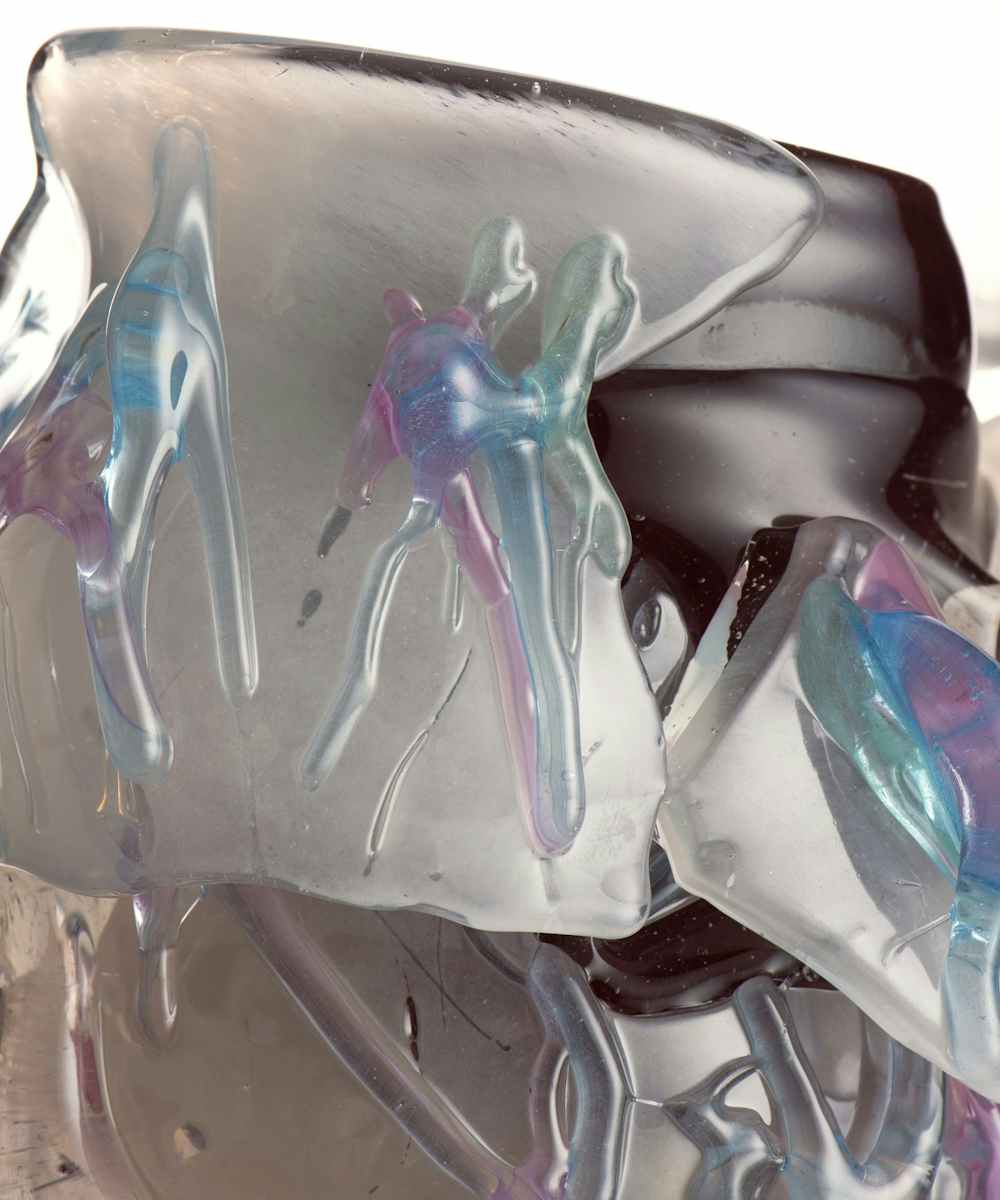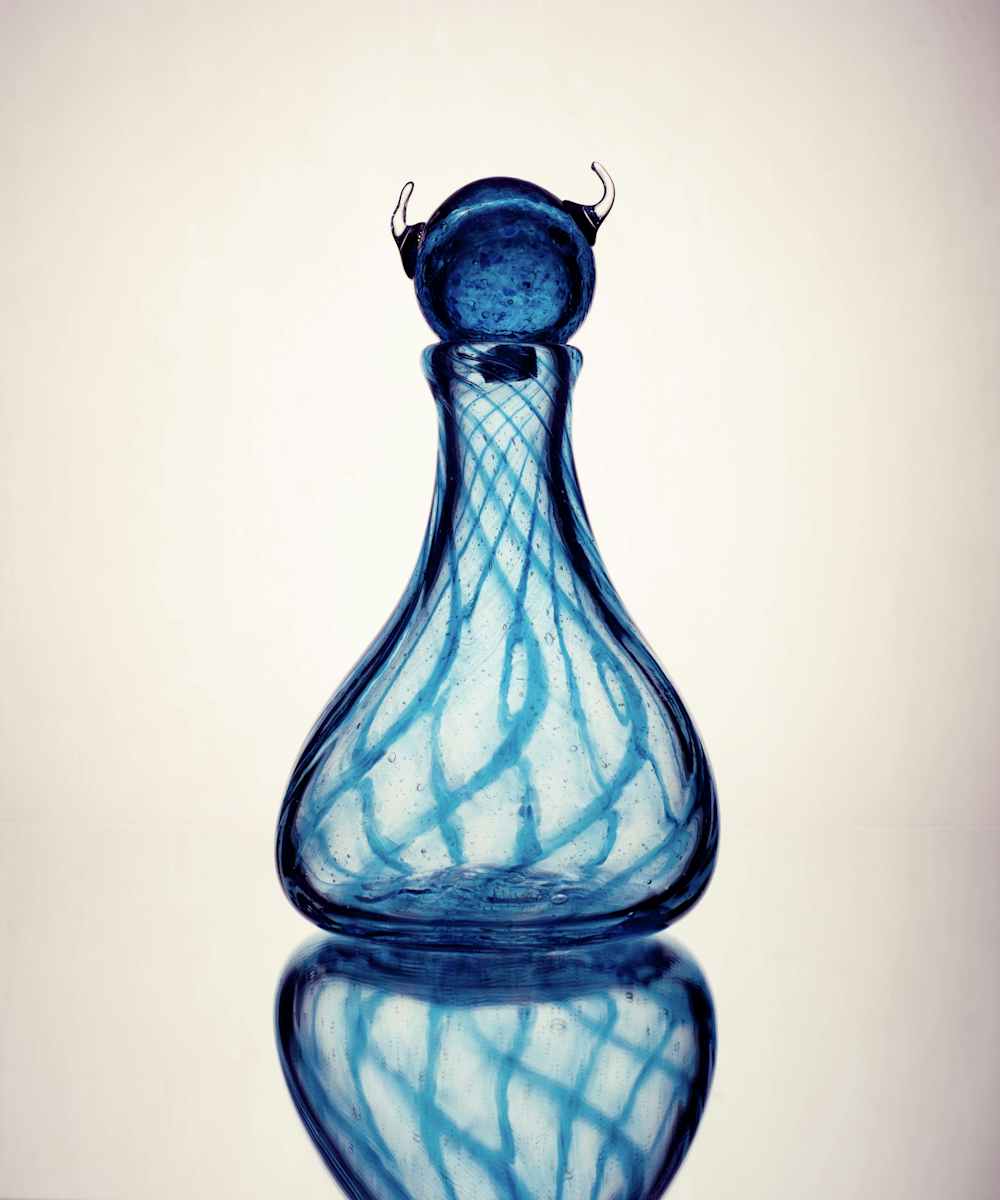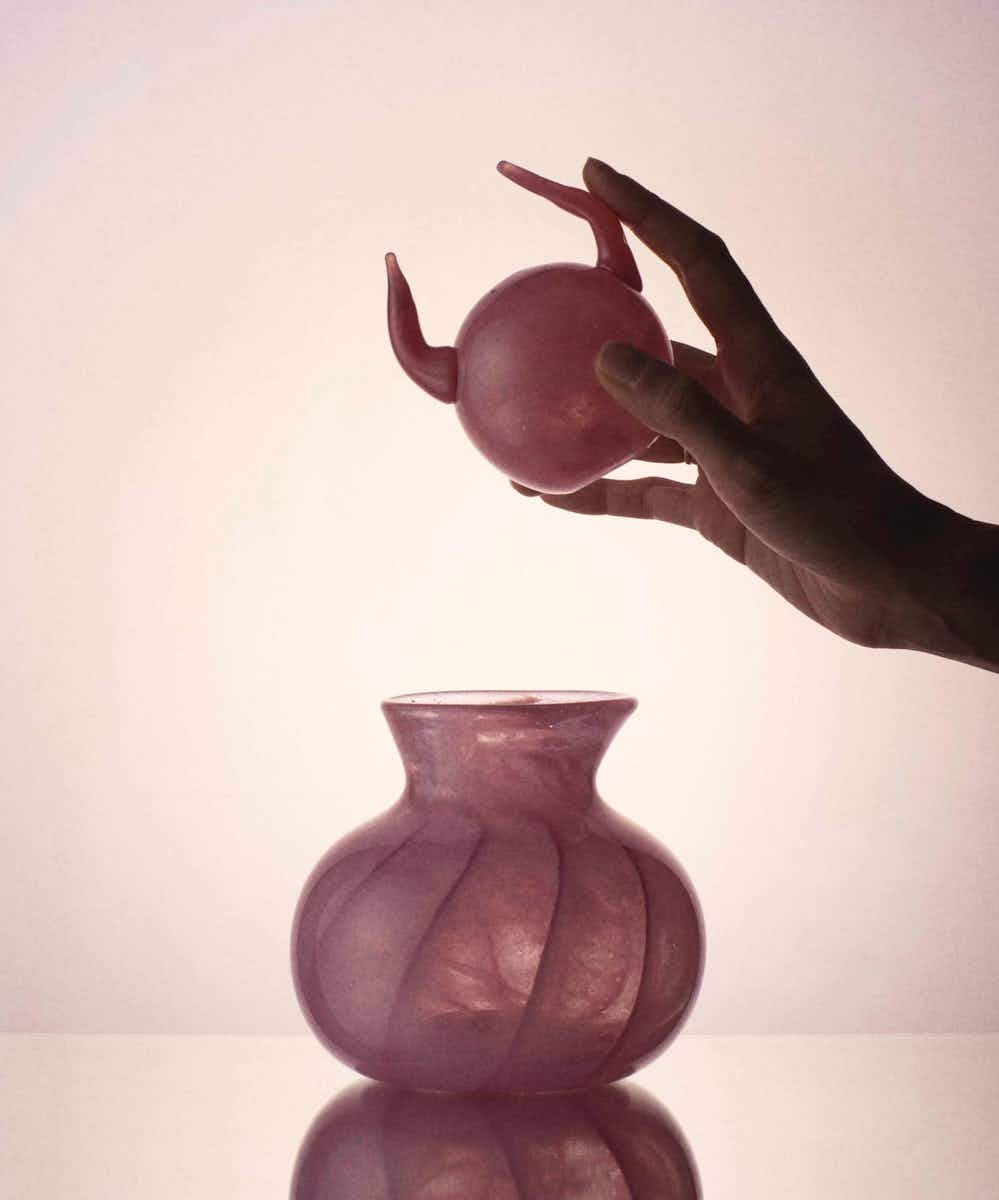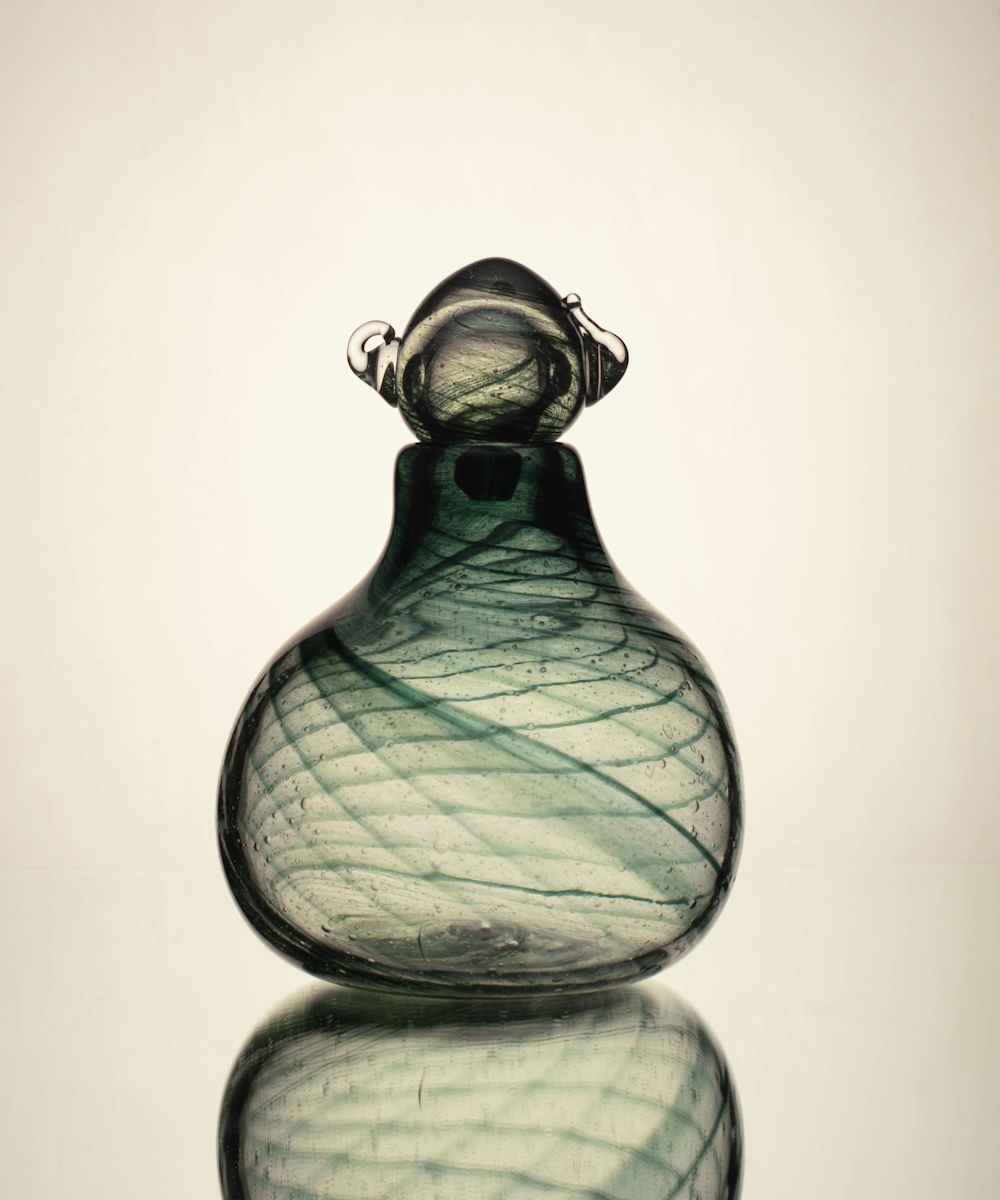 By day you're both models and Breanna, you act, sing and you're currently producing a film… So how did you get started in glass blowing in the first place?
Breanna Box: I love to do random shit and then just see if I'm good at it. Like, ceramics is a fucking bust! I hate it, I'm so bad at it. That [pottery] wheel hurts my hands – it is demonic.
But glassblowing is amazing. It's really meditative and you have to pay attention. It's super dangerous, yet very beautiful, fragile and all these weird opposites that I love about life. With music and acting you don't get something tangible in your hands. And I never thought of myself as an artist, even though I have ideas to design stuff. But with these other careers I'm in, you're always waiting for someone. It's nice to be able to be like: no, no, no, I'm going to do this. And now it's actually something you can touch and have in someone's home, which is so rewarding.
Did you take to it naturally?
Breanna: Yeah, we gravitated towards it really quickly. We've gotten good because we go out to this place called Glass Hub in Trowbridge [in Wiltshire], which is very rural. We get a very cosy Airbnb with this family. We're there for four days at a time, but we're doing it all day.
I've even wanted to stop having lunch because I feel like I'm high from it, not wanting to stop because we're still learning so much. The teacher, KT, lets us do so much, whereas in New York, there's so many health regulations and people are scared you're going to set yourself on fire. At Glass Hub I'm like: let's wear some Manolo Blahnik.

Peter Dupont: Without KT it would be completely impossible for us.
What are your design references?
Breanna: My grandma has a flower shop in Minnesota and I helped her set up an Instagram to start selling some of her vintage vases. She has brands like Lalique. We love Memphis [Milano], Ettore Sottsass' stuff. All Italians that are in design are it for me.
Peter: I stand between Memphis in terms of colours and weird shapes, but still dragging back a history of Bauhaus. We like primary shapes and functionality. We've made a couple of pieces that can't hold anything. It's just like art, and we don't like that. It needs to be something people can use.

How is your collection evolving?
Breanna: We are playing with colours more and more. We're fulfilling orders most of the time now, which is also crazy! But that doesn't give us much time to experiment, so there's not going to be anything too insane this round. Peter's doing some new things. I broke a plate and he put it together for a vase. I made my first cake stand, which has been a goal of mine to be able to even try to attempt. It's not perfect, but I've gotten over the fact of having to be perfect in general. I just love to be able to show my grandparents what we're doing and have them be proud of us.
Peter: It's a balance between perfecting the things that people like and then also playing around. We cut the horns for the first carafes we created and we got them down pretty well, then we started messing them up on purpose to keep playing around with it. We don't want to be caught up in just doing what people like and then not having time for our own thing. That's what a lot of people we know end up doing.
Breanna: Then they're unhappy because they insisted on making the same vase a thousand times.
Peter: Because we are in a privileged position where we still have our model jobs, which is kind of still working, we have space to just experiment.
Where did the name originate from?
Breanna: I have been wanting to name my child Heaven, whenever the hell I have one! Originally I was just thinking of Hevin like Kevin, but H E V E N is the biblical spelling. This is kind of my first baby. And I think it makes so much sense because even during lockdown, we finally had time to get more than like a bed because we were modelling so much. We have built our nest into a heaven.

Do you expect to turn a profit?
Breanna: We've been covering our costs, which is incredible. And then it's also funding my film about my grandparents. So it's doing that and more.
How do you juggle modelling, your other projects and glass blowing?
Breanna: Now it's starting to pick up we're going to have to figure that out. But up until now the timing has been such a blessing. With all of the sales from the vases going into the film fundraiser, they're feeding each other. It's all circular.
What's been your biggest hurdle so far?
Peter: We don't have that much experience in business. But for shipping stuff, Brexit's the problem.
What are your visions for the future of your side-hustle?
Peter: We've had a furniture idea for a while. It's not going to be glass, but it's going to have some of the same sisterly quality. I'm working on it with two friends, one in London and then a carpenter in Denmark. The process of perfecting prototypes, materials and testing them for home use takes so long. With the glass, though, you can go in and make 20 products that you're proud of. It's nice to have instant gratification.
Breanna: Homeware is so vast, there's so many different mediums. But I want to learn welding. Jewellery would be really cool. Also, shaping gold. And I want to work with someone who knows how to do ceramics because I have an idea for the carafe to be more durable. So you can have tea in it.


More like this