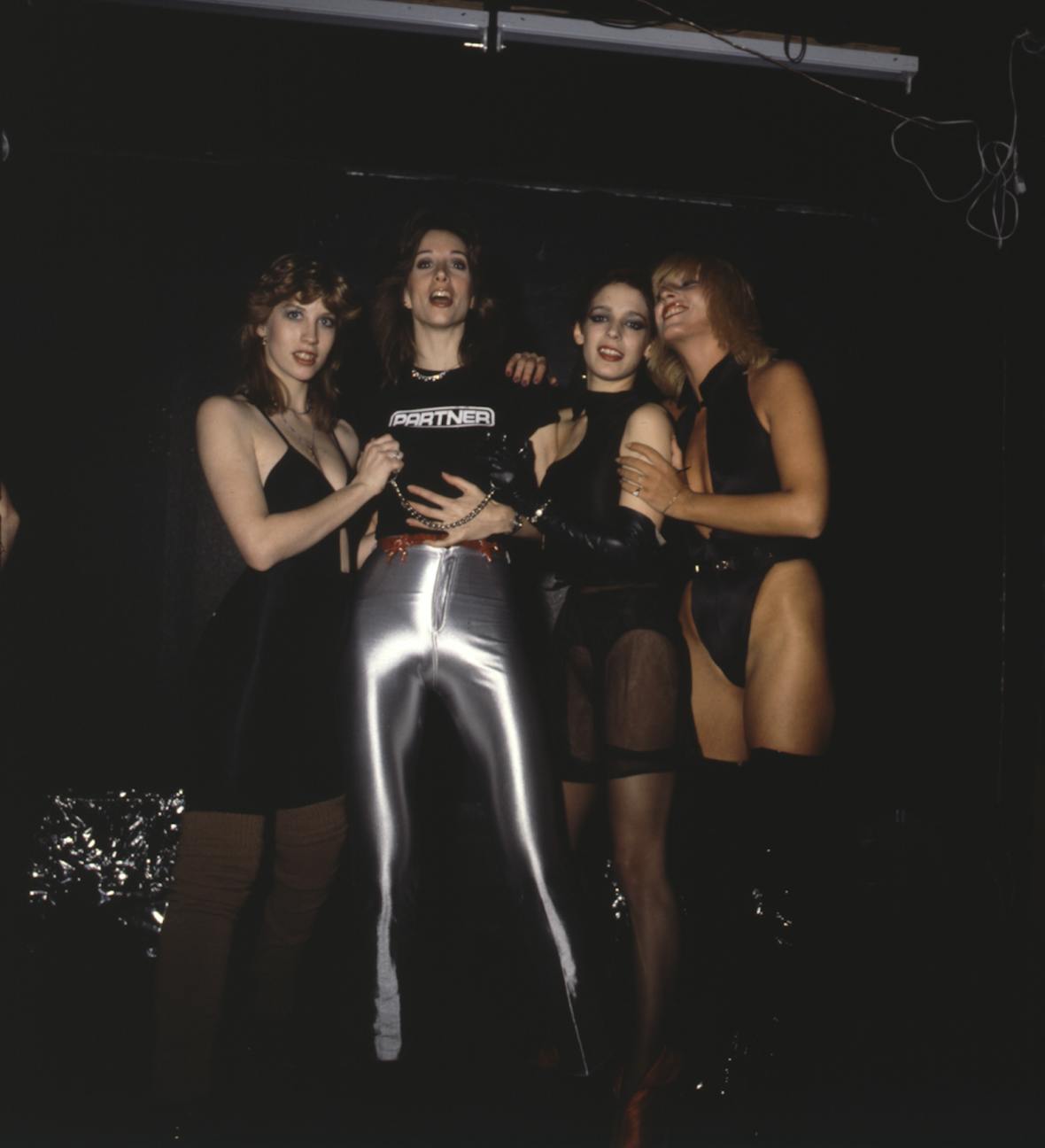 The Future of Sex is Masturbation!
The British Library's Pri­vate Case, a col­lec­tion of sex­u­al­ly explic­it con­tent, was opened to the pub­lic ear­li­er this year. Under strict lock and key for over a cen­tu­ry, the com­pi­la­tion of lit­er­a­ture and scratchy draw­ings was the hard­core porn of the time – ​"erot­ic nov­els imag­in­ing the female body as land need­ing to be ​"ploughed", as Ali­son Flood of The Guardian put it. Porn has long been infused in pop cul­ture – whether it's Madonna's book, SEX, Blue Boy mag­a­zine or the tube sites of today, our rela­tion­ship with the obscene has always been a sub­ject of heat­ed con­tro­ver­sy, so much so that even today – the clos­est we've ever been to sex­u­al lib­er­a­tion, the world-at-large will nar­row­ly avoid own­ing up to their fetish­es, for we are con­cealed beings, pre­fer­ring to retreat into our dark­ened bed­rooms than to exchange the con­tent of our brows­er histories.
Dian Han­son, Taschen's Sexy Book Edi­tor, isn't one to shy away from can­did dis­cus­sion and there isn't a load the afi­ciona­do hasn't seen, or won't enter­tain. As New York Mag­a­zine put it 18 years ago, ​"Every­thing Han­son has seen in 23 years of writ­ing and edit­ing porn has led her to one ineluctable truth: that sex­u­al aber­ra­tion does not exist. Para­dox­i­cal­ly, aber­ra­tion is the norm." Being at the fore­front of the sex indus­try since the late 70s, hav­ing held the posi­tion of Edi­tor at both Leg Show and Jug­gs, has giv­en Hansen the cre­den­tial to speak frankly about our sex lives – because she knows all about it; what gets us hot, why twen­ty-some­things are hav­ing less sex than the baby boomers were and why porn has long-fol­lowed a mys­tog­y­nis­tic nar­ra­tive. Han­son is ful­ly aware of the detri­men­tal effects her indus­try has had on the way young peo­ple approach sex and rela­tion­ships today, not­ing ​"I take respon­si­bil­i­ty, I've been work­ing in porn for all my adult life. This was not our inten­tion, we didn't intend to impact people's abil­i­ty to form attachments."
While it's easy to point the fin­ger at porn for the fact that twen­ty-some­things are hav­ing less sex than their par­ents, you could also argue that inad­e­quate sex edu­ca­tion has had a huge part to play. The British sex edu­ca­tion guide­lines haven't been updat­ed since 2000 and, evi­dent­ly, a great deal has changed since then – porn was by no means as acces­si­ble as it is today. Nowa­days, experts argue that young peo­ple are get­ting their sex ed from Porn­Hub and try­ing to emu­late what they see on screen is hav­ing some pret­ty dire con­se­quences. After all, most men can't hold an erec­tion for an hour, anal isn't pain­less and the gag reflex is a real thing.
Han­son argues that the indus­try needs to take notice. ​"The future of porn needs to be a recog­ni­tion that porn is now a sex edu­ca­tor and that it needs to take some respon­si­bil­i­ty for the sex edu­ca­tion of youth and the wider real­i­sa­tion from soci­ety is that this is where sex edu­ca­tion is com­ing from." Eas­i­er said than done, sure, but for young minds to dif­fer­en­ti­ate between fact and fic­tion, changes have to be made – and site restric­tions are cer­tain­ly not the answer.
Over the next month, Han­son has two books com­ing out through Taschen: the first is Lau­rent Benaim a trans­gres­sive ode to the photographer's fas­ci­na­tion with extreme and alter­na­tive sex­u­al­i­ty. The sec­ond Roy Stu­art: The Leg Show Pho­tos, Embrace Your Fan­tasies, Get­ting Off col­lides Stuart's taboo-bust­ing, fetishis­tic work with Hanson's orig­i­nal text in Leg Show when she held the posi­tion of edi­tor, from 1987 – 2001.
Below, we dis­cuss cud­dle whores, cumshots and the future of the porn industry…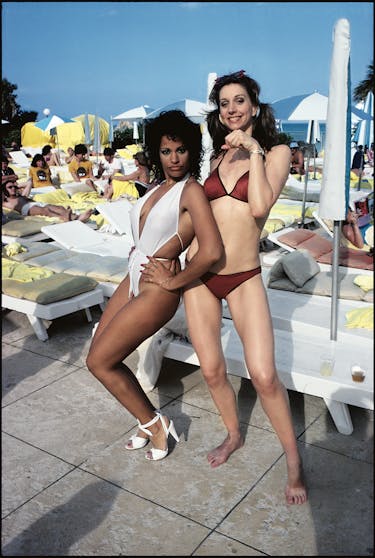 Extreme, misog­y­nis­tic acts are so com­mon­place on main­stream porn sites – how extreme can it real­ly get?
I'm not exact­ly sure why they decid­ed misog­y­ny would sell, but that has gen­er­al­ly been the direc­tion porn has gone. When they see flag­ging sales they just ramp up the misog­y­ny. When Gonzo porn start­ed at around 2000 it was worse than what we have now – they were doing 300 man gang­bangs and bukkake scenes. That's how the creampie has become so big. It's fas­ci­nat­ing to me that all through­out the ear­ly days of porn the idea was that peo­ple want­ed to see the cumshot. But now the creampie rules because everybody's wear­ing con­doms, so the creampie has become more trans­gres­sive than pulling out and shoot­ing on her.
How is the indus­try fund­ed when so few peo­ple are buy­ing porn?
Every­thing is free and every­one expects to get their porn for free, except peo­ple have to make a liv­ing out of it. Now the per­former has to do every­thing to pro­duce a scene, then take it to the tube site and get a tiny amount of mon­ey per view. Then it's their job to go on social media and try to build up an audi­ence for their name. These porn­stars can­not make a liv­ing from this – this is a side hus­tle to dri­ve clients to buy per­son­al expe­ri­ences with them, be they live cams or pros­ti­tu­tion which some are con­tent with, but many are not. Peo­ple get into porn because they don't want to work hard – now they have to work nine hour days like exec­u­tives to make a slow amount of mon­ey to try and get by.
Have you noticed any emerg­ing pat­terns amongst young peo­ple in sex and rela­tion­ships that were per­haps dif­fer­ent in the ​'80s and ​'90s?
The sta­tis­tics tell us that peo­ple in their 20s are hav­ing less sex, few­er rela­tion­ships and less desire for rela­tion­ships. A lot of this means you have young men jerk­ing off to porn and hav­ing a hard time actu­al­ly inter­fac­ing with human beings. What they see on porn is so extreme that it has become fright­en­ing to get togeth­er with a real woman. How will they be able to match up to all the things they see in porn? What I'm see­ing with the young men is that they don't know how to have sex – they don't even know how to relax and get a blowjob. These guys have to be edu­cat­ed to see that sex can be a mutu­al activ­i­ty. The future of porn is going to have to be a recog­ni­tion that porn is now a sex edu­ca­tor and that it needs to take some respon­si­bil­i­ty for the sex edu­ca­tion of youth and the wider real­i­sa­tion from soci­ety is that this is where sex edu­ca­tion is com­ing from and it's start­ing from the age of 11 and 12. It doesn't start at 18 – bull­shit. They're look­ing at porn the minute they can get alone with that com­put­er and it is dri­ving huge rela­tion­ship change.
Will the porn indus­try ever hold their hands up and admit they've messed up a lot of young people's per­cep­tions of sex?
No, I don't think so. Sites like Porn­Hub are run entire­ly by mil­len­ni­al techies – they're not even think­ing about the con­tent, they're just going via algo­rithms and demand­ing what­ev­er has the high­est views. The high­est views are from the sim­plest things like POV, a guy hav­ing sex with a young woman with a real­ly nice body – it's not par­tic­u­lar­ly pun­ish­ing. The real­ly extreme things, the odd things, just go down from there. The biggest searched term is ​'teen', after that it's ​'milf' and ​'mature'. Why? It's about young men want­i­ng to be sex objects and want­i­ng to be desired – there's this huge rise in young men want­i­ng to have sex with old­er women because they think those old­er women will teach them how to have sex.
Every­one knows young peo­ple are watch­ing porn. I guess the first great step would be to intro­duce it into school curriculums?
It should be taught in schools by a prop­er teacher who is com­fort­able doing this – they need some­one who can com­mu­ni­cate their own com­fort to dis­cuss online porn, in a mixed class. The young peo­ple who I talk to are all look­ing at it and there are very few with par­ents they can talk to about it – these peo­ple have a bet­ter under­stand­ing of what's real and what's not.
So, if the gen­er­al con­sen­sus is that peo­ple are hav­ing less sex, what does this mean for the future of intimacy?
Well, now we have dat­ing sites exclu­sive­ly for cud­dling, for the exchange of non-sex­u­al affec­tion. We're told that men want sex and women want affec­tion, but what you find on these sites in Los Ange­les are hun­dreds of men and very few women. The gross major­i­ty of the women are ​"cud­dle-whores" – women who charge mon­ey to cud­dle you. These men aren't look­ing for rela­tion­ships – they're try­ing to put togeth­er sex from col­umn A and affec­tion from col­umn B but not let them touch each other.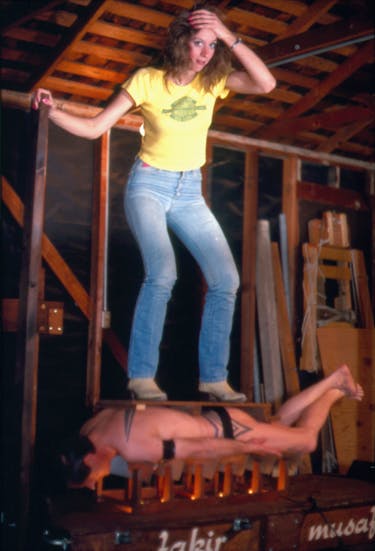 Do you think there's a mir­ror­ing effect in terms of how peo­ple use social media and how peo­ple use porn?
It's a way to build what appears to be a nor­mal human social exis­tence, because we're social ani­mals, with­out actu­al­ly hav­ing to get to know any­one. With beau­ty fil­ters we nev­er have to present our­selves as we real­ly are. There's a film called Sur­ro­gates about a future where you see all these good-look­ing, trim peo­ple walk­ing around and the whole world appears to be great. It turns out these peo­ple are robots, and at home there are these fat, slug­gish peo­ple in sweat­pants lying on Barcaloungers, liv­ing their lives through these sur­ro­gates. This is the future we're work­ing towards – so many peo­ple are try­ing to be what those beau­ty fil­ters create.
What are your views on the tech­nol­o­gy being used in porn, like aug­ment­ed reality?
I don't think they've per­fect­ed it for porn yet – they've been try­ing to get it right. But, giv­en that POV has the high­est rat­ing on tube sites, I'm going to say once they get it per­fect­ed it'll prob­a­bly be pop­u­lar. You can be there ​"hav­ing sex" with that per­fect girl – the one you'd be scared to death of if faced with her in real life. Mas­tur­ba­tion is the future – peo­ple ask what the future of porn is and I say it's going to be bright because mas­tur­ba­tion is our future. Maybe the world is try­ing to fuck us all off and con­trol the pop­u­la­tion. It may all be hard­er for nat­ur­al evo­lu­tion because the pop­u­la­tion is get­ting too high and instead of run­ning off the cliff, we all retire into our dark­ened bed­rooms, put on our head­sets, peer into our phones and jerk off – not allow­ing our gen­i­tals to touch each other.
---