The Future of Sex is Masturbation!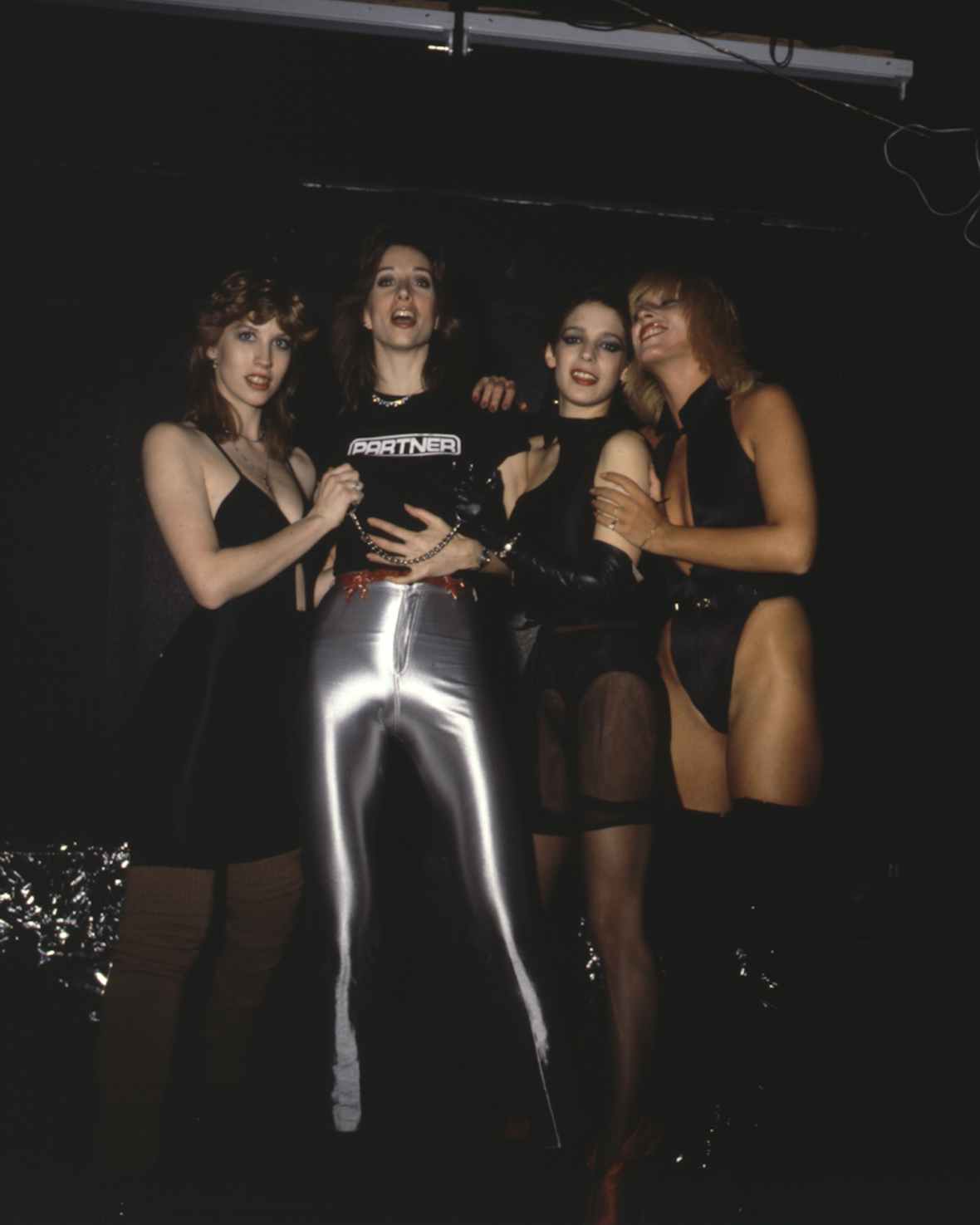 Dian Hanson has been at the forefront of the porn industry since the late '70s and she knows all about your sex lives.
The British Library's Private Case, a collection of sexually explicit content, was opened to the public earlier this year. Under strict lock and key for over a century, the compilation of literature and scratchy drawings was the hardcore porn of the time – ​"erotic novels imagining the female body as land needing to be ​"ploughed", as Alison Flood of The Guardian put it. Porn has long been infused in pop culture – whether it's Madonna's book, SEX, Blue Boy magazine or the tube sites of today, our relationship with the obscene has always been a subject of heated controversy, so much so that even today – the closest we've ever been to sexual liberation, the world-at-large will narrowly avoid owning up to their fetishes, for we are concealed beings, preferring to retreat into our darkened bedrooms than to exchange the content of our browser histories.
Dian Hanson, Taschen's Sexy Book Editor, isn't one to shy away from candid discussion and there isn't a load the aficionado hasn't seen, or won't entertain. As New York Magazine put it 18 years ago, ​"Everything Hanson has seen in 23 years of writing and editing porn has led her to one ineluctable truth: that sexual aberration does not exist. Paradoxically, aberration is the norm." Being at the forefront of the sex industry since the late 70s, having held the position of Editor at both Leg Show and Juggs, has given Hansen the credential to speak frankly about our sex lives – because she knows all about it; what gets us hot, why twenty-somethings are having less sex than the baby boomers were and why porn has long-followed a mystogynistic narrative. Hanson is fully aware of the detrimental effects her industry has had on the way young people approach sex and relationships today, noting ​"I take responsibility, I've been working in porn for all my adult life. This was not our intention, we didn't intend to impact people's ability to form attachments."
While it's easy to point the finger at porn for the fact that twenty-somethings are having less sex than their parents, you could also argue that inadequate sex education has had a huge part to play. The British sex education guidelines haven't been updated since 2000 and, evidently, a great deal has changed since then – porn was by no means as accessible as it is today. Nowadays, experts argue that young people are getting their sex ed from PornHub and trying to emulate what they see on screen is having some pretty dire consequences. After all, most men can't hold an erection for an hour, anal isn't painless and the gag reflex is a real thing.
Hanson argues that the industry needs to take notice. ​"The future of porn needs to be a recognition that porn is now a sex educator and that it needs to take some responsibility for the sex education of youth and the wider realisation from society is that this is where sex education is coming from." Easier said than done, sure, but for young minds to differentiate between fact and fiction, changes have to be made – and site restrictions are certainly not the answer.
Over the next month, Hanson has two books coming out through Taschen: the first is Laurent Benaim a transgressive ode to the photographer's fascination with extreme and alternative sexuality. The second Roy Stuart: The Leg Show Photos, Embrace Your Fantasies, Getting Off collides Stuart's taboo-busting, fetishistic work with Hanson's original text in Leg Show when she held the position of editor, from 1987 – 2001.
Below, we discuss cuddle whores, cumshots and the future of the porn industry…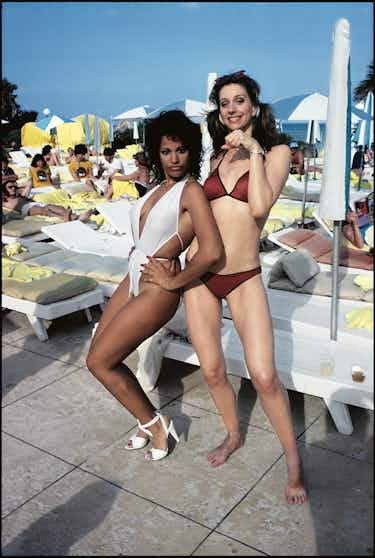 Extreme, misogynistic acts are so commonplace on mainstream porn sites – how extreme can it really get?
I'm not exactly sure why they decided misogyny would sell, but that has generally been the direction porn has gone. When they see flagging sales they just ramp up the misogyny. When Gonzo porn started at around 2000 it was worse than what we have now – they were doing 300 man gangbangs and bukkake scenes. That's how the creampie has become so big. It's fascinating to me that all throughout the early days of porn the idea was that people wanted to see the cumshot. But now the creampie rules because everybody's wearing condoms, so the creampie has become more transgressive than pulling out and shooting on her.
How is the industry funded when so few people are buying porn?
Everything is free and everyone expects to get their porn for free, except people have to make a living out of it. Now the performer has to do everything to produce a scene, then take it to the tube site and get a tiny amount of money per view. Then it's their job to go on social media and try to build up an audience for their name. These pornstars cannot make a living from this – this is a side hustle to drive clients to buy personal experiences with them, be they live cams or prostitution which some are content with, but many are not. People get into porn because they don't want to work hard – now they have to work nine hour days like executives to make a slow amount of money to try and get by.
Have you noticed any emerging patterns amongst young people in sex and relationships that were perhaps different in the ​'80s and ​'90s?
The statistics tell us that people in their 20s are having less sex, fewer relationships and less desire for relationships. A lot of this means you have young men jerking off to porn and having a hard time actually interfacing with human beings. What they see on porn is so extreme that it has become frightening to get together with a real woman. How will they be able to match up to all the things they see in porn? What I'm seeing with the young men is that they don't know how to have sex – they don't even know how to relax and get a blowjob. These guys have to be educated to see that sex can be a mutual activity. The future of porn is going to have to be a recognition that porn is now a sex educator and that it needs to take some responsibility for the sex education of youth and the wider realisation from society is that this is where sex education is coming from and it's starting from the age of 11 and 12. It doesn't start at 18 – bullshit. They're looking at porn the minute they can get alone with that computer and it is driving huge relationship change.
Will the porn industry ever hold their hands up and admit they've messed up a lot of young people's perceptions of sex?
No, I don't think so. Sites like PornHub are run entirely by millennial techies – they're not even thinking about the content, they're just going via algorithms and demanding whatever has the highest views. The highest views are from the simplest things like POV, a guy having sex with a young woman with a really nice body – it's not particularly punishing. The really extreme things, the odd things, just go down from there. The biggest searched term is ​'teen', after that it's ​'milf' and ​'mature'. Why? It's about young men wanting to be sex objects and wanting to be desired – there's this huge rise in young men wanting to have sex with older women because they think those older women will teach them how to have sex.
Everyone knows young people are watching porn. I guess the first great step would be to introduce it into school curriculums?
It should be taught in schools by a proper teacher who is comfortable doing this – they need someone who can communicate their own comfort to discuss online porn, in a mixed class. The young people who I talk to are all looking at it and there are very few with parents they can talk to about it – these people have a better understanding of what's real and what's not.
So, if the general consensus is that people are having less sex, what does this mean for the future of intimacy?
Well, now we have dating sites exclusively for cuddling, for the exchange of non-sexual affection. We're told that men want sex and women want affection, but what you find on these sites in Los Angeles are hundreds of men and very few women. The gross majority of the women are ​"cuddle-whores" – women who charge money to cuddle you. These men aren't looking for relationships – they're trying to put together sex from column A and affection from column B but not let them touch each other.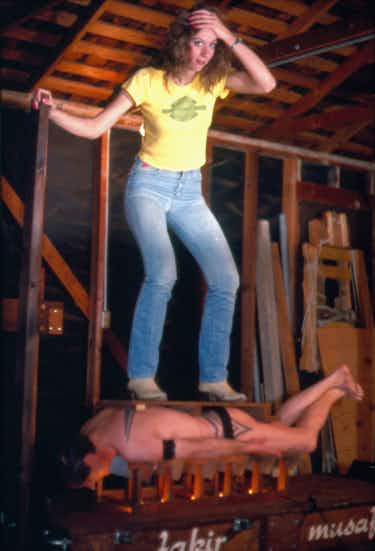 Do you think there's a mirroring effect in terms of how people use social media and how people use porn?
It's a way to build what appears to be a normal human social existence, because we're social animals, without actually having to get to know anyone. With beauty filters we never have to present ourselves as we really are. There's a film called Surrogates about a future where you see all these good-looking, trim people walking around and the whole world appears to be great. It turns out these people are robots, and at home there are these fat, sluggish people in sweatpants lying on Barcaloungers, living their lives through these surrogates. This is the future we're working towards – so many people are trying to be what those beauty filters create.
What are your views on the technology being used in porn, like augmented reality?
I don't think they've perfected it for porn yet – they've been trying to get it right. But, given that POV has the highest rating on tube sites, I'm going to say once they get it perfected it'll probably be popular. You can be there ​"having sex" with that perfect girl – the one you'd be scared to death of if faced with her in real life. Masturbation is the future – people ask what the future of porn is and I say it's going to be bright because masturbation is our future. Maybe the world is trying to fuck us all off and control the population. It may all be harder for natural evolution because the population is getting too high and instead of running off the cliff, we all retire into our darkened bedrooms, put on our headsets, peer into our phones and jerk off – not allowing our genitals to touch each other.

More like this