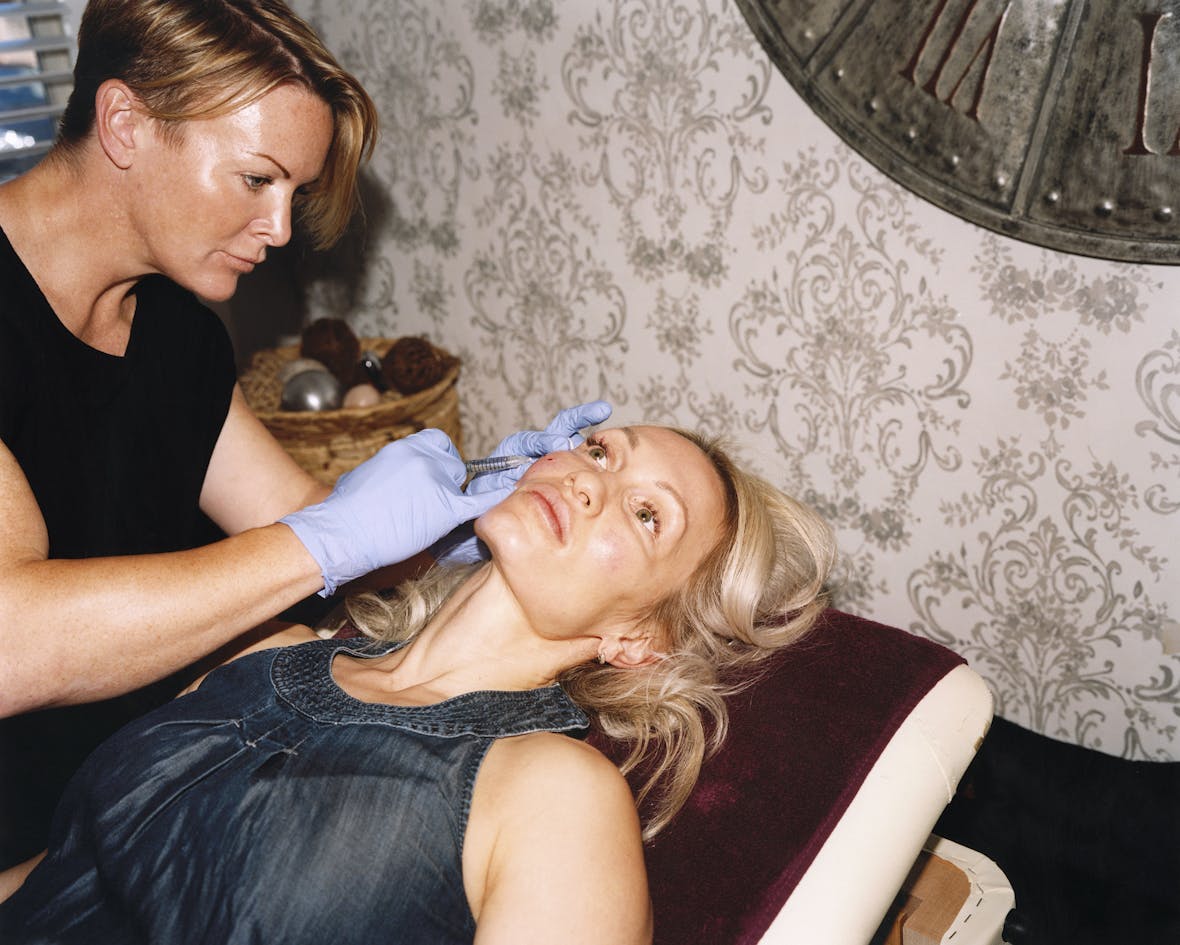 This is what

10

+ years of Botox looks like
Botox is one of the world's most recog­nised cos­met­ic drug brands (see 4.8million #Botox posts on Insta­gram), and it's soar­ing amongst millennials.
Lat­est research from the British Asso­ci­a­tion of Aes­thet­ic Plas­tic Sur­geons (BAAPS) found requests from 19 – 34 year olds for Botox and filler rose by 41% between 2011 and 2015. In the US – where Botox has been the most pop­u­lar aes­thet­ic treat­ment for 20 years – pro­ce­dures among the same age group had increased by 87% in the five years to 2018, with more of the self­ie gen­er­a­tion book­ing ​'pre­ven­ta­tive' Botox to beat wrin­kles before they've even appeared.
But the UK's non-sur­gi­cal cos­met­ic indus­try – which is said to be worth over £2.75billion – is also large­ly unreg­u­lat­ed, mean­ing treat­ments can be admin­is­tered by any­one, any­where. We might think we have a decent idea what Botox does now, and we're all aware that social media pres­sure and real­i­ty TV has played a mas­sive part in the boom, but there's also been a rise in the num­ber of patients being dan­ger­ous­ly mis­in­formed.
Fol­low­ing Superdrug's £99 Botox ser­vice com­ing under fire, and claims that the cos­met­ic indus­try wasn't doing enough over­all to help vul­ner­a­ble patients, par­tic­u­lar­ly those with body image obses­sions, tighter con­trols have recent­ly been bought in to pro­tect young people's men­tal health. In future, the Joint Coun­cil for Cos­met­ic Prac­ti­tion­ers (JCCP) says staff of its mem­ber clin­ics will be trained to screen patients for men­tal health issues before admin­is­ter­ing Botox and fillers, direct­ing any­one vul­ner­a­ble to near­by NHS services.
Nee­dles might be rife for gen Z and mil­len­ni­als but with Botox dri­ve-thrus and a longer-last­ing E-type 2 tox­in on the hori­zon,what do peo­ple who've been tak­ing facial freez­ing mea­sures for more than a decade have to say?
What does it real­ly look like 20 years on? And why do they have it? Here, four women bare all about their long-term rela­tion­ship with Botox…

"You wouldn't think I'd had work done'"
Emma Copeland, 37, from Kent
"Grow­ing up, I remem­ber sit­ting in the back of my mum's car, catch­ing my reflec­tion in the rear view mir­ror and see­ing a big dent and shad­ow run­ning from the mid­dle of my fore­head down to my nose. Hav­ing such promi­nent frown lines upset me, and I knew that one day I'd try and get rid of them.
That day came when I was 25 dur­ing my Fash­ion Pro­mo­tion degree. I was con­scious of being a ​'mature' stu­dent – and I didn't want to look like one. To me, fash­ion was young, cool and new. I remem­ber think­ing that if I could elim­i­nate the frown lines get­ting big­ger with Botox, it might make me look younger. So I Googled where to go and found a com­pa­ny that rent­ed a space in Harley Street. I was real­ly ner­vous but it didn't hurt: just a short, sharp prick.
That was 13 years ago, and I've been hav­ing it done reg­u­lar­ly ever since – apart from when I was preg­nant with my son. I go to Botox and filler par­ties where an ex-nurse sets up in my friend's front room and we all get a dis­count­ed rate because there's a group of us. At first, I was wary as I like a clin­i­cal envi­ron­ment – and a big spot­light. But she's very pro­fes­sion­al and as most of my friends get it done, it feels nor­mal. We all con­gre­gate in the kitchen on a Sat­ur­day or Sun­day, our kids are usu­al­ly around, and then take it in turns to see her.
I have Botox injec­tions in three areas of my face for £200. Obvi­ous­ly, once you get one area done, you start look­ing at oth­er ​'prob­lem' areas. It's why I've also had fillers in my cheeks and lips and prof­phi­lo injec­tions (which does hurt). After about two weeks, I might be iron­ing or walk­ing to the sta­tion and sud­den­ly it's like a switch goes off; I feel the Botox kick in and I can't move that area.
But it's all quite sub­tle. You wouldn't look at me and think ​'she's had work done'.
Although I have faced judg­ment, main­ly from men, say­ing: ​"What you get­ting that done for?" But I nev­er lis­ten. My mum is also dead against it. She says she'd nev­er stick ​"crap" into her face. Look­ing back, I prob­a­bly didn't need it as much 10 years ago, but rather than try­ing to ​'cure' my wrin­kles when I'm 50, I've tried to pre­vent them in my 20s and 30s."


"I think you can have too much, too young"
Corinne Nunn, 49, from Essex
"I recent­ly bumped into some­one I went to school with and I'm not being rude, but I thought she looked ter­ri­ble. When I com­pared how she looked with how I look, there was no com­par­i­son. Appear­ance is real­ly impor­tant to me; I'm into look­ing as good as I can. I go the gym and I run a nail salon. I've also been get­ting Botox for 23 years.
My first Botox treat­ment was a birth­day present. I didn't real­ly know any­thing about it but I went along and I just real­ly liked the affects. These days, I leave it to my prac­ti­tion­er at Wood­ford Med­ical to decide what ​'needs' doing. I go every three or four months and she usu­al­ly does a bit around my eyes, fore­head and some­times in my chin. I trust her completely.
Peo­ple are always ask­ing where I get mine done because it looks so good and every­one says I don't look my age. Some­times I get asked why I start­ed so young, but it's more accept­able now, espe­cial­ly where I live in Essex. But I do think you can have too much, too young. You also need to be care­ful who you see because I think it makes some young girls look old­er. I've also seen some peo­ple look hor­ren­dous with ​'bad Botox.' You know, when they end up look­ing like a dead per­son because it's so frozen? Or like Mr Spock from Star Trek because their eye­brows are so forced up that it looks too false. I don't mind the false look but you should have a bit of movement.
Over­all, when it comes to nat­ur­al beau­ty over cos­met­ic beau­ty, I'm cos­met­ic all the way. I'd have a face-lift if I need one, but with my reg­u­lar Botox and fillers, that's a long way off. We're prob­a­bly more obsessed with how we look than 20 years ago but I blame social media for that, where peo­ple look the same; it's all about the teeth, the hair, the Botox. When I first start­ed get­ting it, there was no Insta­gram, but now we live in a soci­ety where unfor­tu­nate­ly we feel like we have to look a cer­tain away.
I don't feel I have to be ful­ly ​"made up" to feel con­fi­dent, though. I have a semi-per­ma­nent line around my lips and tat­tooed eye­brows so it looks like I'm wear­ing make up any­way, but when my Botox wears off, I just don't feel as fresh. I'll keep get­ting it done as long as I can afford to. I spend about £1400 a year on it, but that's part of my regime and bud­get – just like my haircuts."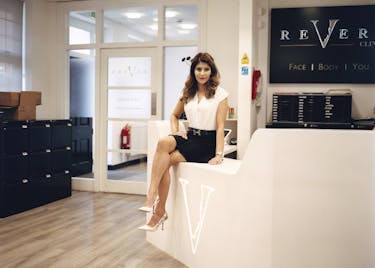 "I would nev­er keep it a secret"
Dr Sabi­ka Karim, 41, from London
"I nev­er felt beau­ti­ful when I was younger. I had two stun­ning sis­ters but I was always the ​'aca­d­e­m­ic' of the fam­i­ly: I knew I want­ed to be a doc­tor by the time I was 10. Dur­ing med­ical school, I learnt about med­i­cine and surgery but also how appear­ance impacts patients and, in the end, I chose to become a cos­met­ic physician.
At 23, I start­ed get­ting ear­ly signs of the deep, fur­row lines that my Dad has on his fore­head. I didn't want them – so I went to have Botox in Amer­i­ca. They were much fur­ther ahead with it than the UK. But I had no expec­ta­tions. At that point, almost two decades ago, I knew that it had been used med­ical­ly for over 50 years, and I knew how it came to be used aes­thet­i­cal­ly. But it still felt tri­al and error. Even when I start­ed my prac­tise 11 years ago, and I was get­ting it done here, Botox was still taboo.
I would nev­er keep my Botox a secret, though. I get it in my frown lines, around my eyes and along my hair­line every six months. I like that it makes me look more relaxed. I also get it for my migraines and in my under­arms to stop me sweat­ing, which gives me con­fi­dence when I'm lean­ing over my patients. Oh – I'm so naughty – I also get it in my mas­seter­mus­cles to stop me grind­ing. But I'd nev­er do my own Botox because I don't have that objec­tiv­i­ty. I know what both­ers me but I need an expert to say yes or no.
The sad thing is that some peo­ple go to prac­ti­tion­ers who won't give them that med­ical opin­ion. So many peo­ple come to my clin­ic with work that's gone wrong – and don't know the qual­i­fi­ca­tions of the per­son who did it, or even what they had done. Imag­ine not hav­ing a clue what some­one is inject­ing into your face? It's scary! I once saw a girl who was left not being able to smile on one side of her jaw for months.
If it's being admin­is­tered cor­rect­ly, I don't think there's any­thing wrong with Botox. When my mum's gen­er­a­tion was younger, no one coloured their hair. But, for us, that's total­ly nor­mal – just like Botox and fillers are now for many peo­ple. The prob­lem is when you look arti­fi­cial. If a young girl wants enor­mous lips, for me, that's not accept­able – and I have no prob­lem say­ing no. Even if is is the norm. Equal­ly, if I see some­one the same age being affect­ed by some­thing that can be helped with Botox, will I help them? Absolute­ly. I have a respon­si­bil­i­ty to do right by my patients."


"I'm glad I didn't start earlier"
Deb­bi Ward, 55, from London
"I nev­er thought Botox was going to be my thing. I thought it was for peo­ple who had more mon­ey than sense. Then, 10 years ago, I ran­dom­ly popped into a Revere Clin­ics open day, sim­ply because it was near my gym. Doc­tors were talk­ing about all these dif­fer­ent cos­met­ic pro­ce­dures. At first, I was scep­ti­cal – but I also wasn't hap­py with cer­tain lines on my face. I mean, I could actu­al­ly fit a 50p between my eyes!
The prac­ti­tion­ers told me they could sort it get­ting big­ger with Botox so I booked in, and was thrilled with the results. I looked fresh­er, younger… less angry. I now get it in three areas of my face up to four times a year and, at 55, I think I look younger than I did 10 years ago. In fact, my rela­tion­ship with Botox has prob­a­bly last­ed longer than any oth­er rela­tion­ship – includ­ing my pre­vi­ous marriage.
But I'm glad I didn't start ear­li­er because it wasn't as com­mon and I prob­a­bly wouldn't have believed the prac­ti­tion­ers. Also, the tim­ing felt right for me at 45. I was accept­ing that I was slight­ly old­er and I just want­ed to arrest the age process a bit. Most­ly peo­ple I've told have an ​'each to their own' reac­tion, and to be hon­est, it's nobody else's busi­ness what you do to make your­self feel bet­ter, if you're not harm­ing anyone.
Because when did you last open a mag­a­zine or social media and see ​'nat­ur­al' beau­ty? You just don't. Pho­tos are pho­to­shopped, smoothed or fil­tered. Right­ly, or wrong­ly, this is the soci­ety we live in. It made be sad but if you can post a pho­to where you look a bit bet­ter, why not? If you can have a treat­ment done that makes you look younger, do it. There's no point think­ing how we got here, or how we could have done things dif­fer­ent­ly. Of course, if you choose not to have it, that's absolute­ly fine. But I say don't judge some­one for get­ting it because you don't know their reasons.
I get why young peo­ple are hav­ing pre­ven­ta­tive Botox, if they under­stand the sci­ence behind it. But my advice? Gen­er­al­ly, it can be left a lit­tle longer: live some of your life first. I have three chil­dren who are 23, 21 and 19 and I'm very aware that young peo­ple feel pres­sured to look ​'per­fect', but what young peo­ple see on where they look, isn't nat­ur­al or real. If my eldest daugh­ter said she was think­ing about hav­ing it done now, I would put her off and say it's just not necessary."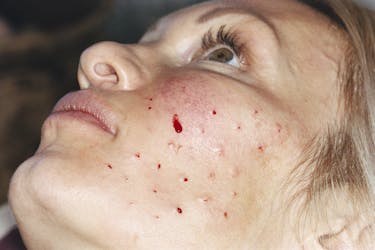 ---