What does

KFC

's new Chee­tos® chick­en sand­wich taste like?
Rat­ing: 4⁄5
On a recent Thurs­day after­noon, I left my office ear­ly and strode – amid the soupy New York heat – to the KFC on 14th Street and 2nd Avenue. Out­side, there were var­i­ous sig­nals that the fried chick­en fran­chise was tem­porar­i­ly shut­tered, at least to the pub­lic: greased win­dows had been com­plete­ly obscured with vinyl decals – fea­tur­ing illus­trat­ed chee­tah spots atop fur – and there was a clus­ter of secu­ri­ty guards man­ning the doors, clad in suits and sunglasses.
On the pave­ment were a series of car­toon­ish orange paw prints, a PR inter­ven­tion designed to shep­herd media toward a woman with a clip­board. She con­firmed my RSVP, and I was beck­oned through hur­ried­ly, as the chee­tah print doors closed behind me. I'd been invit­ed, along with a hand­ful of oth­er jour­nal­ists and fast food VIPs, includ­ing KFC's CMO, to sam­ple the restaurant's lat­est prod­uct ahead of its release.
For the month of July, KFC stores across Amer­i­ca will stock a Chee­tos® Sand­wich. Inside the toast­ed bun sits KFC's clas­sic ​"extra crispy" chick­en fil­let, its pres­sure-fried form now drenched in a ​"spe­cial Chee­tos® sauce" and paired with a wig­gle of mayo. There is also a lay­er of crunchy, gold­fish-hued Chee­tos® lin­ing the bun.
For the major­i­ty of the one-hour tast­ing event, I sta­tioned myself in a cor­ner near the kitchen beside a pot­ted plant – the prime van­tage point to obtain first help­ings of Mac and Chee­tos® and dust­ed Chee­tos® wings as they streamed out on plas­tic trays – and observed exact­ly what hap­pens at the offi­cial VIP pre­view of a fried chick­en sandwich.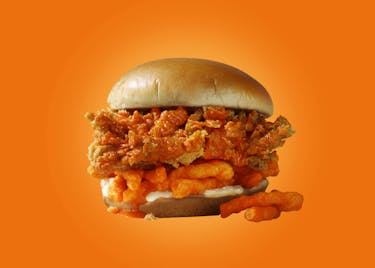 I watched a serv­er adjust a pair of flick­er­ing tealight can­dles on a KFC table, spac­ing them on diag­o­nal­ly oppo­site ends, before wip­ing a mound of Chee­tos® dust off care­ful­ly with a wash­cloth. I saw a woman and man pose glee­ful­ly in front of the media wall – a Cheetos®-branded scarf tied, Audrey Hep­burn-style, around the han­dle of the woman's Longchamp Le Pliage bag, while he had arranged anoth­er as a pock­et square, a move both genius and insane. (Lat­er, because it seemed like the right thing to do, I had my pho­to­graph tak­en in the very same spot – an erst­while ambas­sador for KFC and Chee­tos® – my tor­so bisect­ed by a gilt card­board frame, while a still life of the syn­thet­ic cheese snacks loomed large behind me.)
I watched servers mill about wear­ing white suit jack­ets over T-shirts that were print­ed with trompe l'oeil tuxe­dos – like a sort of dou­ble suit – a pair of bright-orange cos­tume glass­es wrapped over their ears. In the part of the cus­tomer-fac­ing kitchen where the colonel's chooks would usu­al­ly be dis­played (a sil­ver shelf with slid­ing doors), there were bags and bags of Chee­tos®, art­ful­ly stacked against one anoth­er. As I sipped a bour­bon and Moun­tain Dew cock­tail – apt­ly chris­tened the ​"Ken­tucky Light­ning" – I heard some­body men­tion to some­body else that they would love to ​"get into the pod­cast space."
The afternoon's cli­max – insert­ing a sand­wich full of indi­vid­ual Chee­tos® inside my human mouth – was not dis­ap­point­ing, at least in regards to a nuanced, slight­ly tangy flavour pro­file, or plump white meat hunks ren­dered nuclear-orange with sim­u­lat­ed cow prod­uct, or an exag­ger­at­ed, gen­uine­ly sat­is­fy­ing crunch. I do not rec­om­mend you open the bun and look at it for an extend­ed peri­od, but if you are the type of per­son who finds grat­i­fi­ca­tion in unex­pect­ed spaces (cross-pol­li­nat­ing cor­po­ra­tions, a clas­sic crunch Chee­to over the hot vari­ety) then this sand­wich is a steal for $4.79.
---