What's really in your weed vape?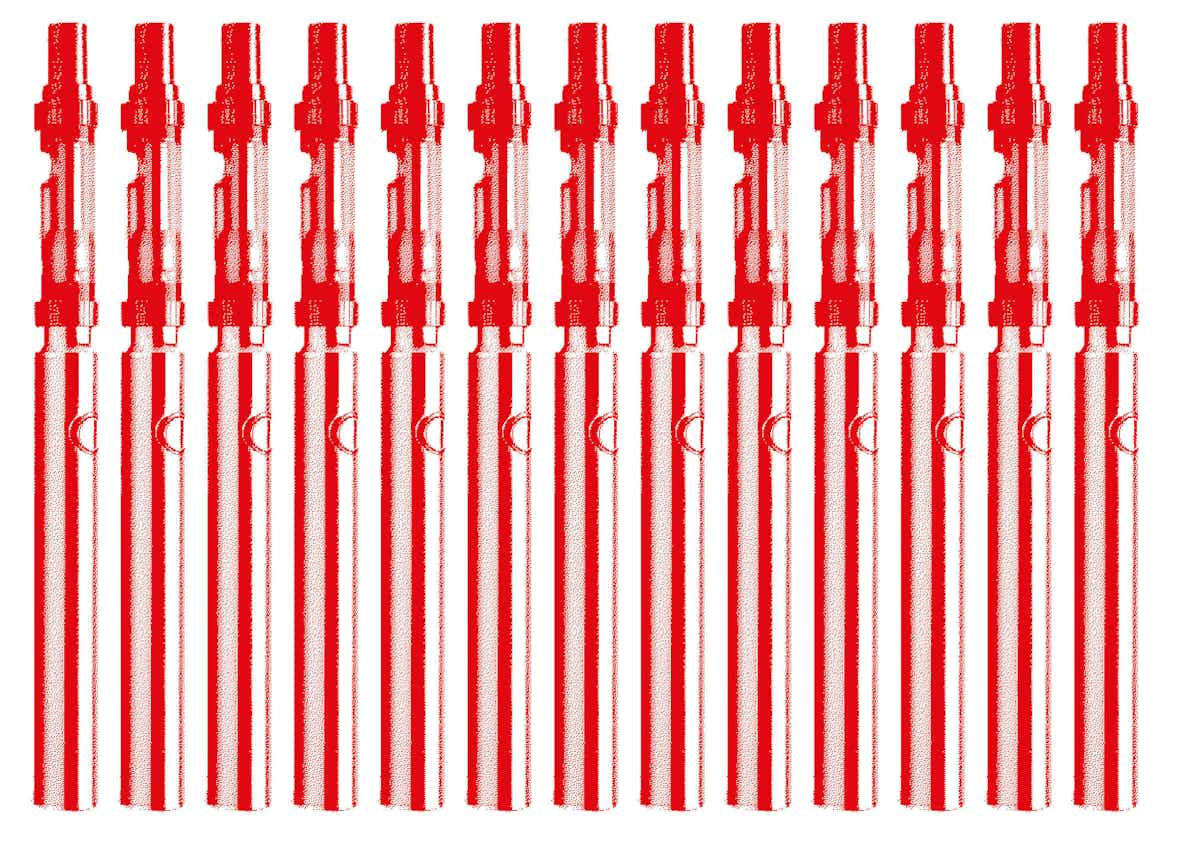 New data has revealed the contents of your vape might not be all it seems. Ever heard of 4-Chloromethcathinone? Yeah, us neither.

A couple of months ago, someone in Hampshire got their weed vape juice lab-tested, after it made them feel agitated and nauseous. The results, published by the Welsh government-funded testing service Wedinos, showed that the vape liquid in question actually ​"contained two nitazenes, synthetic opioids; a benzodiazepine; a gabapentinoid and nicotine". With the exception of the latter, all these substances are central nervous system depressants.
"This could kill you," Steve Rolles, Senior Policy Analyst at Transform Drug Policy Foundation, tweeted. ​"Unfortunately I suspect there's just a few amoral chancers trying to make a quick buck," he continued. ​"Even if only a small minority, you don't need many to cause real harm."

Last September, someone in Suffolk sent their THC vape juice in for analysis to find that it contained ​"6‑MAM, morphine, noscapine, paracetamol, 6‑acetylcodeine, caffeine and codeine". The month before that, another person in Suffolk (from the same postcode) sent in a THC vape sample which contained the following drugs: heroin, 6‑MAM, noscapine, 6‑acetylcodeine, paracetamol, phenacetin, caffeine, morphine and papaverine. The contents read like an opening of a Hunter S. Thompson book.
Being sold this kind of thing would be quite a situation to confront; after vaping THC, you'd expect a gentle experience, getting a little bit too involved in a nature documentary before eating a bowl of cereal at an inappropriate time, perhaps. Not unwittingly galloping through enough substances to potentially cause death.

In the UK, people are generally smoking less. ​"In 2021, 13.3 per cent of people aged 18 years and over smoked cigarettes," the Office of National Statistics reported last month. This is a decrease from 14.0 per cent in 2020 and is the lowest proportion of current smokers since records began in 2011. This is partly attributed to the increased use of vapes. The largest review into the effects of vaping, by King's College London, was published recently. ​"The levels of exposure to cancer causing and other toxicants are drastically lower in people who vape compared with those who smoke," the study concluded.
This trend has extended to the world of weed too, with many users opting to swap long rizlas and tobacco for THC vapes. And can you blame them? Aside from potential health benefits, the smell of weed being vaped is far less pungent than the smell of it being smoked. It's discreet. This means you can get high in a pub smoking area or on the dancefloor at a rave without turning heads. The THC vape oil is also indistinguishable from normal nicotine vape juice (in the absence of lab testing), so you can take it on a plane or anywhere else you'd usually get searched.
But while it's hard for bouncers or police officers to identify what's in the vape, it's also more difficult for users to know exactly what they're consuming. And from what little data we have, it looks THC vapes are being largely missold. In its most common form (flower or hash) you can look at weed, smell it and make a reasonable assumption about its quality. With a THC vape, you can't – you'd have to get it lab tested to be sure of its contents.

The Loop don't currently test THC vapes, so all we have to rely on is the Wedinos data. THE FACE looked at every sample tested last year: out of 120 people submitting THC vape juice, only 35 of the samples actually contained THC, while 16 contained no active compound at all. The rest contained an alphabet soup of random chemicals. Synthetic cannabinoids were quite common (one called ADB-BUTINACA appeared in 21 samples) as was simple CBD (eight samples contained CBD and no THC) and 18 samples contained nicotine. A bunch of fringe chemicals like lidocaine (a local anaesthetic), 4‑Chloromethcathinone (a cathinone) and xylazine (a veterinary tranquiliser) also made an appearance.
"I started smoking weed a long time ago," Pete, a 27-year-old DJ, tells us. ​"But I've never been a cigarette smoker. So I quit smoking and moved on to vapes because I wanted to decouple the weed from the smoking to avoid side effects." Although evidence suggests that vaping is better than smoking, in 2019 THC vapes were linked to lung injury in America where a legal weed economy runs parallel to a black market brimming with bootleg vapes and counterfeit products.
The Wedinos data cannot be generalised across the weed vaping population in the UK. It may hold biases given that the samples only involve people who went to the efforts of testing. But it does show that synthetic cannabinoids are doing the rounds in vapes. It also shows us that many legit ones containing THC also contain nicotine. And a small number of people are selling THC vapes with unexpectedly dangerous compounds in them.
Buying cheap THC vapes is not advisable, but if you do, get the contents tested. People wanting to buy weed ending up with opioids is a fine example of the desperate need for a regulated market with quality control measures introduced. At this point, it's difficult not to see that as a human rights issue.


More like this