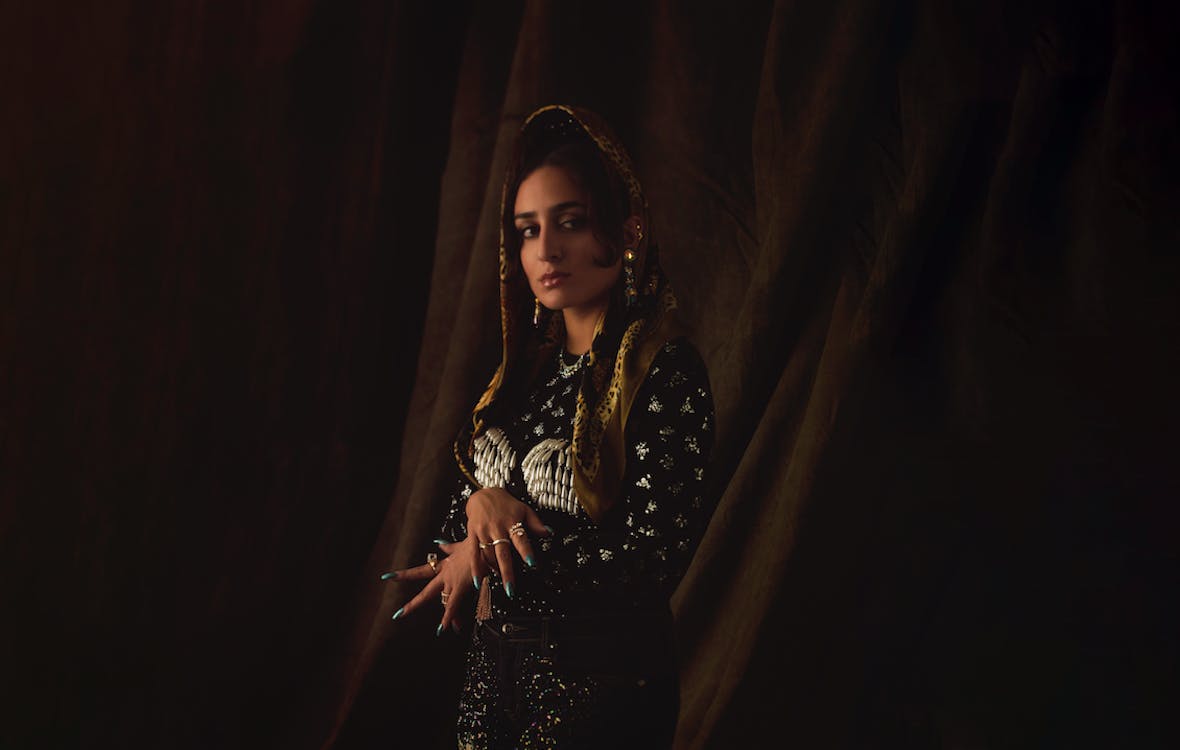 100

% Nadia Tehran: the Swedish-Iran­ian artist who won't be suppressed
Nadia Tehran is a politi­cised artist. Styl­ish­ly rebel­lious, she explores issues sur­round­ing race and immi­gra­tion over glitchy, punky synth beats.
Born in Jönköping, Swe­den to mus­lim Iran­ian par­ents, her hodge­podge cul­tur­al upbring­ing is weaved into her music. Inspired by tales of her dad fight­ing front­line in the Iran-Iraq war and irked by the dehu­man­is­ing gaze of the West, the 29-year-old sings of bor­der­less skies, of a ​"refugee queen in a Guc­ci-Tee" and stand­ing in uni­ty with her sup­pressed sis­ters across the world. Tehran's track Refugee is accom­pa­nied by visu­als which were ille­gal­ly filmed in Iran – an expe­ri­ence that caused her much aggro with the author­i­ties due to the government's accor­dance with Sharia law.
Cur­rent­ly noto­ri­ous with­in Sweden's under­ground scene, the ris­ing singer is set to pen­e­trate fur­ther afield. An even­tu­al­i­ty only accel­er­at­ed by her recent­ly released debut album Doza­kh: All Lovers Hell.
10%: Where were you born, where were you raised and where are you now based?
I was born and raised in Jönköping, south­ern Swe­den, but I moved to Stock­holm when I graduated.

20%: At what point did you realise you'd be able to do what you love for a living?
I've always known that I'm an artist and that that's how I would live my life. I don't remem­ber think­ing that I would be any­thing else. I've had my doubts about being able to sup­port myself finan­cial­ly through art though, that's still a fuck­ing struggle.

30%: What's a piece of advice that changed your life?
My grand­moth­er taught me the most valu­able les­son about how to avoid con­flict with grown ups and fig­ures of author­i­ty when they were telling me what I can and can­not do as a young girl. Her advice was basi­cal­ly: ​"Say ok and smile, and then do what­ev­er you want any­way." I was always going to do it my way, but this way peo­ple couldn't argue with me – it saved me a lot of time.
40%: What kind of emo­tions and expe­ri­ences are influ­enc­ing your work?
I think the most pre-emi­nent feel­ing is rest­less­ness. Grow­ing up in a coun­try like Swe­den, it's easy for a girl like me to feel under-stim­u­lat­ed and under­whelmed, but also left out or caged in. It's such a stiff and square coun­try, with a men­tal­i­ty that tells you that – what­ev­er you do – don't stand out. I think it's root­ed in the idea of equal­i­ty, but some­where along the line it's become an aspi­ra­tion for indif­fer­ence. I think the resis­tance to this men­tal­i­ty is some­thing that dri­ves me – and my work. I've had to fight against soci­ety for my desire to be who I want to be, regard­less of all the peo­ple that are telling me to shut up and sit down.
50%: What can you tell us about your new project?
It's called Doza­kh: All Lovers Hell and is a 15 track record that is my debut album and my life's work. I spent a decade work­ing on it. The word ​'doza­kh' means hell in Far­si. Metaphor­i­cal­ly this is also a place of tor­ment one believes they are in when sep­a­rat­ed from their lover. Doza­kh is a place that I have expe­ri­enced and that's where this album takes place, a life in some kind of burn­ing long­ing for some­thing that's miss­ing. Like a void, a dis­tance, a gap, a sep­a­ra­tion. This sep­a­ra­tion can be a dis­tance to a lover, to soci­ety, to an iden­ti­ty, to a home or to a life that could've been but nev­er will.
The first song writ­ten from the album is more than 15 years old. I was 13 when I wrote it on my gui­tar in my teenage room back in Jönköping. It's called High and it's about the first boy who ever broke my heart. I've car­ried it with me through all these years, and it's grown with me, shaped by every­thing that's hap­pened, and crys­talised into what it is today. The whole record is about that, when you spend a decade on a song it slow­ly becomes timeless.
60%: Break down your typ­i­cal day at work…
I pre­fer work­ing at night time, my days are hon­est­ly most­ly kind of dull. I answer emails and take care of prac­ti­cal stuff. At night time I'm in the zone, feel­ing moody in the dark, writ­ing my best songs when nobody is around, and the streets are qui­et and I can feel com­plete­ly alone in my own world.
70%: What can artists do to help save the world?
DON'T GO TO ISRAEL! Make con­scious deci­sions about who we asso­ciate with, who endorse us, who we pay and who makes mon­ey off us, ask our­selves why Israel main­tains a regime of set­tler colo­nial­ism, apartheid and occu­pa­tion of the Pales­tin­ian peo­ple. This is only pos­si­ble because of inter­na­tion­al sup­port. Artists don't just get paid for the work that we do, we are paid to give cred­i­bil­i­ty and cul­tur­al val­ue to organ­i­sa­tions, com­pa­nies and gov­ern­ments. So we need to know who we are sup­port­ing and why. When we let an ener­gy drink com­pa­ny endorse us we need to know that in exchange we are indi­rect­ly help­ing their lead­ers to build an alt-right move­ment. In that case we're not only giv­ing them cred­i­bil­i­ty, we're also sell­ing out our democ­ra­cy. There are many exam­ples of this, and we can only do our best; some­times you just need the mon­ey and I get that. But it needs to be a con­scious choice. Even if you don't want to be a polit­i­cal artist, your actions are still political.
80%: Who would you most like to see on the cov­er of The Face?
I mean… Obvi­ous­ly myself.
90%: You rule the world for a day. What went down?
Open bor­ders, free move­ment across the world. Replace today's world lead­ers with Alexan­dria Oca­sio-Cortez, Athena Far­rokhzad, Robyn Fen­ty, Pussy Riot, Nadia Murad, Gre­ta Thun­berg, Chi­ma­man­da Ngozi Adichie, Shirin Eba­di, Khadi­ja Sad­diqi and Angela Davis.
100%: Love, Like, Hate?
Love the smell of gaso­line, like to smoke in the rain, hate rich peo­ple with bad taste.
---