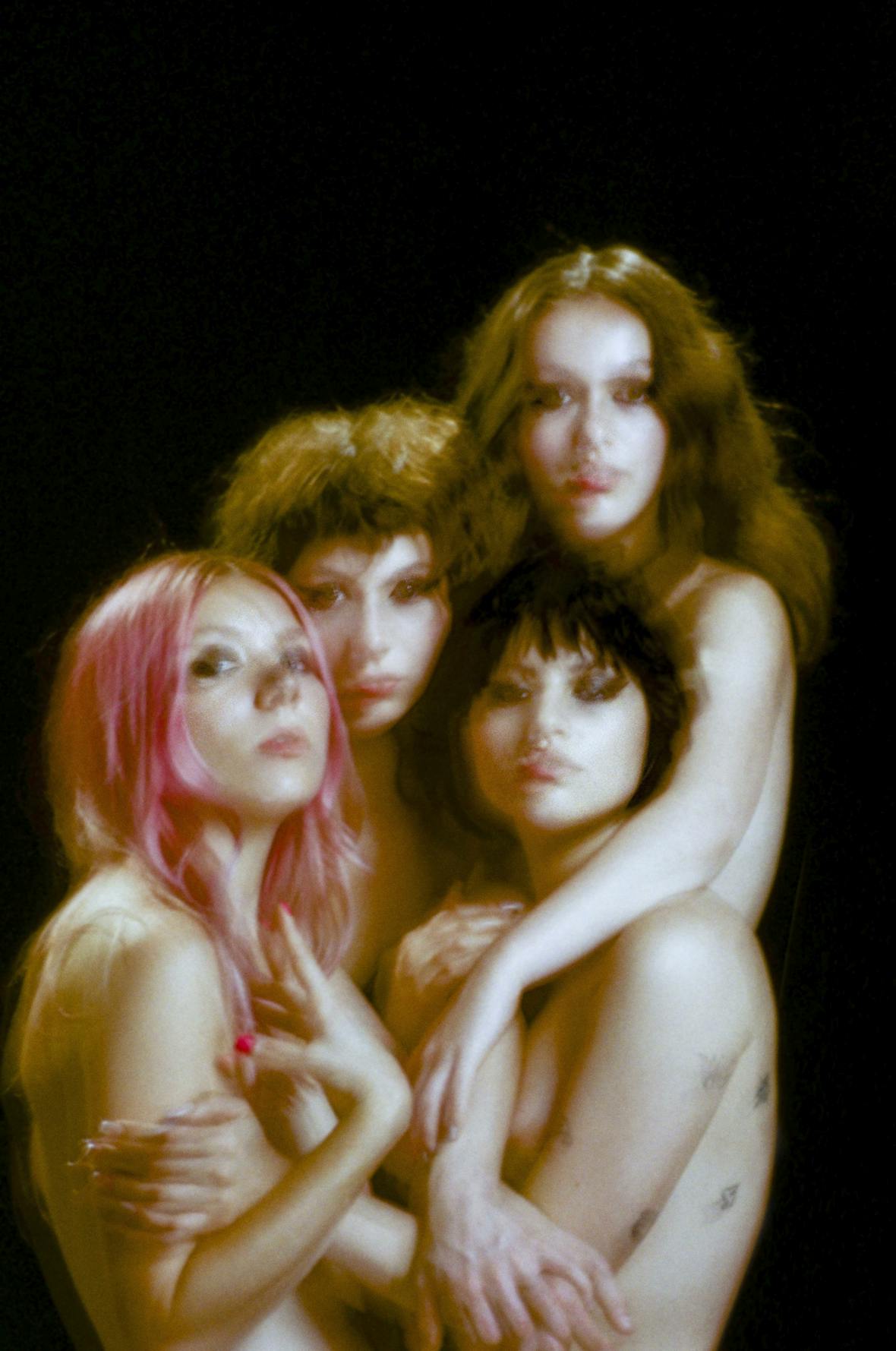 100

% Nasty Cher­ry: Char­li

XCX

's favourite new girl gang
"ITS 2019 ANGELS SO FOL­LOW MY NEW FAVOURITE BAND @NASTYCHERRYBAND IF YOU LIKE CRAZY BITCH­ES, GOOD MUSIC AND LOLZ CON­TENT," Char­li XCX told her 3.1 mil­lion fol­low­ers on New Year's Day, direct­ing them to a feed fea­tur­ing sul­try self­ies, moody dance-offs in full bridal­wear and a clip of sweet, sweet cham­pers being poured into a flute bal­anced on a bare butt.

It wasn't until March that the chart-top­ping star deliv­ered on her final promise when the all-girl group released their first track Win. Co-writ­ten by the band's mas­ter­mind Char­li XCX, the glam-punk banger cement­ed their Insta­gram image as an apa­thet­ic pop quar­tet that's part Heathers, part The Run­aways.
Now the brat­ty four­some, made up of mod­el and lead singer Gab­bri­ette Bech­tel, for­mer XCX drum­mer Deb­bie Knox-Hew­son, bassist (and ex-Star Wars set design­er) Geor­gia Somary and gui­tarist Chloe Chaidez, have just released their sec­ond offer­ing What Do You Like In Me. Show­ing a soft­er side to them, the lo-fi visu­als see the star­lets per­form their silky melodies and whim­si­cal lyrics while sur­round­ed by witchy para­pher­na­lia. Expect to be scrib­bling ​"I <3 Nasty Cher­ry" all over your note­book very soon.
The Face caught up with the UK half of the band Deb­bie and Geor­gia to get the 100% low-down.
10%: Where were you born, where were you raised and where are you now based?
Deb­bie (drums): I was born in Lon­don, I was raised on a small Greek island and I am now based in London.
Geor­gia (bass): Born and raised in the UK, based in London.
20%: When did you realise you'd be able to do what you love for a living?
D: In my late teens. I knew I had to make it work some­how because I loved drum­ming too much to do any­thing else.
G: Well it still feels like a dream and someone's going to come in and say, ​'come on George, get a prop­er job'. I think it's just the luck­i­est situation.
30%: What's a piece of advice that changed your life?
D: Make peo­ple feel good.
G: That some of the best cre­ative things can be made from hav­ing limitations.
40%: What kind of emo­tions and expe­ri­ences influ­ence your work?
D: Con­fi­dence, hon­esty, heartache.
G: Falling out of love, watch­ing Russ Mey­er films, and dri­ving. What a trio.
50%: What can you tell us about your next project?
D: Get­ting ready for Nasty Cherry's head­line show in New York.

G: There's a plan to release an EP soon. Nasty Cher­ry is still a baby so I'm hap­py to focus on one thing at a time. It's my first band and every small thing makes me feel so excit­ed, and we have a lot of songs I'm very excit­ed to share.
60%: Break down your typ­i­cal day at work…
D: I'm cur­rent­ly on tour, so: Get up, leave hotel, go to venue, sound­check, wait, play show, love it, feel like I'm nev­er going to be able to sleep again, go to sleep… and repeat.
G: Each day is so dif­fer­ent, but there are small con­sis­ten­cies. I'll like to have a minor cri­sis by 9am and repeat­ed­ly call Deb­bie. Chloe likes to dance while she plays… Gab­by will lose her Juul and then we start writ­ing… we don't real­ly have a routine.
70%: What can artists do to help save the world?
D: Make music that makes peo­ple feel what they need to feel.

G: Use your plat­form to give oth­er peo­ple a voice.
80%: Who would you most like to see on the cov­er of The Face?
D: I'd like to see Georgia's face on the cov­er of The Face.
G: Nasty Cherry!
90%: When do you feel most sexy?
D: When I'm in a car with my band, lis­ten­ing to our newest demos.

G: After mak­ing a bold decision.

100%: You rule the world for a day – what went down?
D: Every­one just had a love­ly time. Lots of Vic­to­ria sponge and pop music.
G: I'd be a ter­ri­ble leader. But I would give every­one a free elec­tric scoot­er because I'm obsessed with them. I think that would make peo­ple hap­py too, scoot scoot­ing around.
---