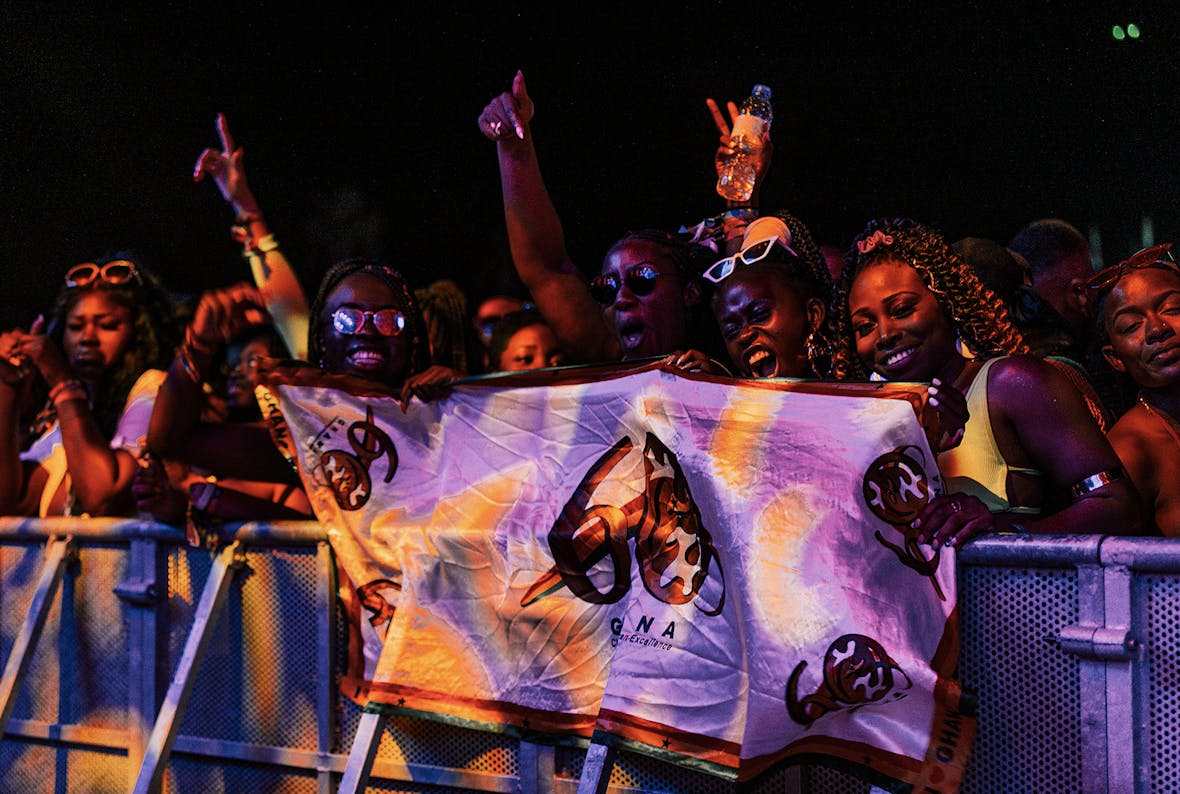 Music of African ori­gin is hav­ing a moment – now fes­ti­vals are cel­e­brat­ing the wave
"What the hell is going on in Por­timão?" a local tweet­ed at the start of the Por­tu­gal based Afro Nation fes­ti­val. ​"It's a thou­sand Nic­ki Minaj and Drakes here!"
The star­tled tweet­er was ref­er­enc­ing the unof­fi­cial dress code of Afro Nation, which saw the Por­timão beach in Por­tu­gal become a blur of neon biki­nis, hand held fans made from kente cloth, dia­mante stud­ded mesh dress­es and most notably, melanin. The four day event which saw over 20,000 pre­dom­i­nant­ly Black British rev­ellers rock up to the Algarve, is arguably the first of its kind in terms of ambi­tion and scale.
With a line-up that boast­ed Wiz­kid, Busy Sig­nal, Davi­do, Stef­flon Don, Bur­na Boy and as a sur­prise act, J Hus, many believed it was too good to be true. An anx­i­ety around the organ­i­sa­tion of black run-events saw it soon rub­bished as ​"the black Fyre fes­ti­val" on social media and hic­cups regard­ing the line-up (NSG dropped out, IAMD­DB said she was nev­er per­form­ing, despite being billed) saw it instant­ly com­pared to white-run, ​"more pro­fes­sion­al" urban music event out­fits like Fresh Island before it had even begun. But as the unfor­get­table first night unfold­ed to much fan­fare and FOMO induc­ing Ins­ta-sto­ries, it was clear it would not sim­ply exceed expec­ta­tions but shat­ter them. As the events host Eddie Kadi said of Fyre Fes­ti­val com­par­isons: ​"I'm here to be the extinguisher."
Since Afro Nation's vin­di­ca­tion, there has been an unshake­able sense of tri­umph, not just because it was an impec­ca­bly run event, but at what its exis­tence means more broad­ly. Artists like Bur­na Boy and Mr Eazi play­ing Coachel­la and Stor­mzy head­lin­ing Glas­ton­bury pro­voke pride, but per­form­ing at white-dom­i­nat­ed events is only one part of the jour­ney. This year has seen the dias­po­ra carve out its own spaces on the fes­ti­val land­scape in a way nev­er seen before; the log­i­cal con­clu­sion of con­tin­ued chart takeovers by UK rap, grime, Afrobeats and Afrobash­ment. With Dave's UK num­ber one album, Bur­na Boy's reach­ing the Bill­board 200, the suc­cess of Afro B's Drog­ba state­side and Uni­ver­sal Music launch­ing a Niger­ian divi­sion, it's a great time musi­cal­ly – some­thing we are final­ly see­ing reflect­ed at large events.




Afro Nation 2019
This year has seen not just the launch of Afro Nation, but One Africa Music fes­ti­val which will take place in London's SSE are­na, with Stef­flon Don, Bur­na Boy, Tekno, 2face. Sum­mer saw The Ends fes­ti­val in my home­town of Croy­don, whose stel­lar line up includ­ed Wiz­kid, Maleek Berry, Wande Coal, Kra­ni­um, Teni, Sneak­bo, Dami­an Mar­ley. Despite fears of vio­lence, it too went off with­out a hitch. The three day, 15,000 capac­i­ty fes­ti­val took place in the local­ly-beloved Lloyd Park, dur­ing the best bit of the British sum­mer. The year before, Wiz­kid also head­lined the Afro Repub­lik fes­ti­val at the O2 with sup­port from the likes of Tiwa Sav­age and UK artists like Not3s and Yxng Bane. Afrobeats fans will know that the O2 has always been the stomp­ing ground of heavy­weights such as D'banj, R2Bees and Wande Coal. Smade (the brains behind Afro Nation) was the pro­mot­er of Wiz­kid and Davido's sold out O2 shows, and took his years of cham­pi­oning music of African ori­gin and explod­ed it onto the Algarve.
But this sense of tri­umph goes beyond well-orches­trat­ed, well-received events. Gen­res like Afrobeats and Afrobash­ment are respon­si­ble for many sec­ond gen­er­a­tion immi­grant Brits find­ing pride in the iden­ti­ties they were shamed for. For too long, so lit­tle in Britain has been pro­mot­ed about the African con­ti­nent beyond Com­ic Relief adverts. An African iden­ti­ty is some­thing you were often teased for, as most who grew up in the UK know too well. ​"We can now say ​'ehen' and ​'ah-ahn', in pub­lic with­out being embar­rassed," Eddie Kadi said to a whoop­ing crowd on the final night of Afro Nation, in ref­er­ence to the excla­ma­tions often made by Nige­ri­ans. He split the crowd in two, hav­ing each side chant them.
Afro Nation tru­ly felt like one uni­fied nation too, found­ed on #Black­Ex­cel­lence and good vibes. Not only was fear of fall­outs unwar­rant­ed, but it was a wel­come reprieve to the so-called ​"dias­po­ra wars" we so often see online, a hang­over from the sec­ondary school expe­ri­ences of many black British youths. Whether it be light­heart­ed debates between African and Caribbeans around the pro­nun­ci­a­tion of ​"plan­tain" or more seri­ous divi­sions that quick­ly turn into dan­ger­ous stereo­typ­ing, any­thing can set off the near-dai­ly Twit­ter debates that leads to fric­tion and fac­tion­ing. In it, there are few allies: Africans vs Caribbeans, West Africans vs East Africans, Nige­ri­ans vs the rest of the dias­po­ra. Black Brits ral­ly togeth­er when being attacked as a whole – for instance, when many African Amer­i­cans were incensed about the cast­ing of black British actress Cyn­thia Eri­vo in the role of Har­ri­et Tub­man, or when black Brits and Africans world­wide staged a coor­di­nat­ed drag of Spike Lee's por­tray­al of an African-British char­ac­ter in his show She's Got­ta Have It which was offen­sive to all. Even joy­ous occa­sions such as Bey­on­cé bless­ing us with new music are marred by them – the release of her Lion King album was dom­i­nat­ed by crit­i­cism of what some saw as the snub­bing of musi­cians from East Africa, in which the film is set.
But his­tor­i­cal­ly, to quote Madon­na, music makes the peo­ple come togeth­er. The ​"Afrobeats vs Bash­ment" raves I used to go to as a teenag­er were about dance-offs, not divi­sion. Fric­tion on social media between these groups rarely trans­lates offline, and cer­tain­ly not at events. Afro Nation in par­tic­u­lar show­cased the sym­bi­ot­ic rela­tion­ship between var­i­ous black coun­tries and com­mu­ni­ties, who bor­row from each oth­er son­i­cal­ly and are inspired by each oth­ers sounds. It is unsur­pris­ing that one genre that dom­i­nat­ed the event, Afrobash­ment, is the love child of Afrobeats, bash­ment, dance­hall and UK rap.
The best part about it's suc­cess is that in a world that so often expects the black com­mu­ni­ty to seek accep­tance from wider, whiter soci­ety, Afro Nation was about us val­i­dat­ing our­selves. To remind us that well-run events are not the pre­serve of white com­pa­nies, that sup­port­ing each oth­er goes a long way and that when it's all said and done, we all sim­ply want to get lit to each oth­ers music, in sun and safe­ty. With the Ghana­ian iter­a­tion around the cor­ner in Novem­ber, I for one plan to do so again.
---