Aitch in Ayia Napa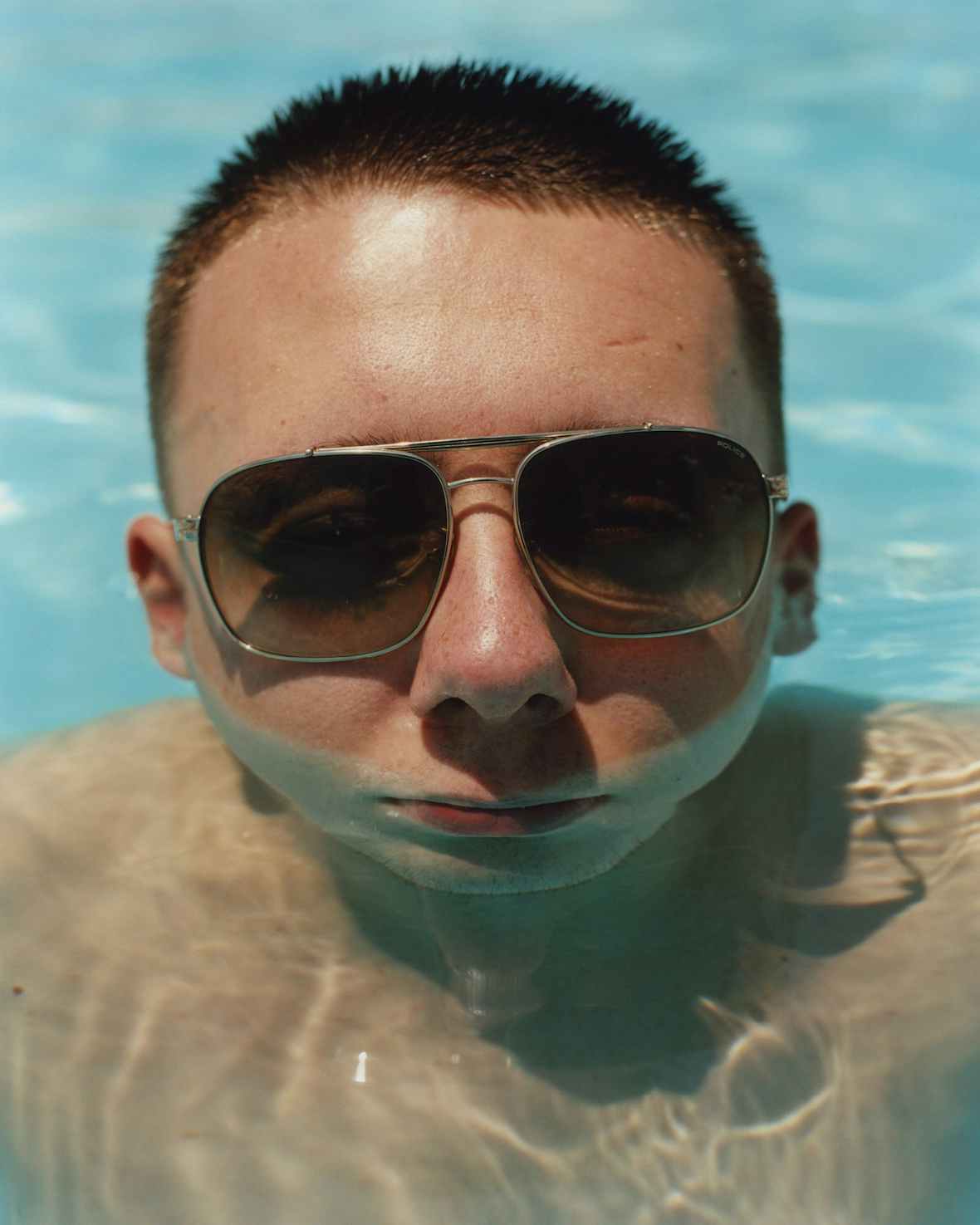 Volume 4 Issue 001: The Mancunian MC on the pull, on the lash and on top of the world.
Arti­cle tak­en from The Face Vol­ume 4 Issue 001. Order your copy here.

"I'm gonna take my horse to the old town roaaad!" Aitch is straddling an inflatable rainbow unicorn in the middle of Ayia Napa and singing Lil Nas X's summer anthem. ​"I'm gonna riiide till I can't no more!" It's 30 degrees in the Cyprus town that was once a holiday home for UK garage and early grime, but is now more of a codeword for lads-on-tour doing eyeball shots of ouzo. The 19-year-old Mancunian MC (real name Harrison Armstrong) is spread out in the middle of the pool overlooking Nissi Beach. He's on a 24-hour stop-off before his next commitment takes him to Malia, and he's exclaiming how white he is while clutching a Soltan factor 15 mini spray.
His cheeky, north Manchester accent is drowning out the other British accents around the pool as he tells me about last night's show at Club Ice, after which he did a load of balloons, met a few girls and caught up with Brixton MC Sneakbo. Aitch is relishing the buzz of being an artist in the breakthrough period, a rapper who's jumped from local to national fame in a matter of months with support from BBC 1Xtra, festival slots and big-name UK collabs. He's recorded with the likes of his northern rap brother-in-arms, Bugzy Malone (on Kilos), and Nottingham's Young T & Bugsey (on Strike a Pose, which showcases the absurd sexual bravado that's become one of his lyrical trademarks: ​"Came from Nottingham to Manny with a baddy in the coupe/I'm nineteen she's thirty-two, to her I'm actually a yute").
They're all part of a new wave of UK rap talent flourishing outside of the capital. ​"I think there's a little thing for MCs that aren't from London, like we've got each other! They're my guys!" he says, before flipping himself and the unicorn over in the pool. ​"Foock! Don't shoot that, I need to do Manny proud!" he says.

Hailing from Moston, he was always a local celebrity. ​"I used to be the king of wheelies in Moston! Anyone in Moston knows I was the baddest at wheelies." These days, though, when Aitch drops a track it immediately racks up a couple of million YouTube views, and his fame extends far beyond the Manchester ring road. He recently reached the top five of the UK Singles Chart with Taste (Make it Shake), and in the lead up to his AitcH20 EP, he's established himself as one of the UK rap scene's biggest breakout stars.

He might not take himself too seriously, but Aitch is a dedicated MC. He fell in love with grime by watching Channel AKA and videos from the likes of Chip and N‑Dubz. He'd listen to 50 Cent and write bars on an iPhone 4 when he was 13. At some point, he started textingthose bars to his mate. ​"I was like, ​'Yo, mine are actually good innit. I've got some rhymes.' But I didn't show anyone except my guy. Then one day we werejust drunk in the park drinking Glen's vodka and I got brave and I asked my friends to put a beat on and I just started spitting."
He might have been stuck doing drunken battles were it not for the same friend, who went behind his back and uploaded a freestyle to YouTube and rap platform P110 (a sort of GRM Daily for people outside London). His Straight Rhymez freestyle earned him attention, and in November 2018, GRM Daily uploaded his Daily Duppy session, proving his skill to anyone who might have doubted him. ​"Step up on the stage, fuck everyone it's my time/​Dash a man's watch in the crowd, look how time flies," he rapped with a sense of nonchalant cockiness. Now he's working with some of the scene's hottest talents, being flown around the world (last week he was in Los Angeles), and making friends with the likes of Manchester United's Jesse Lingard, who recently scored him tickets for Old Trafford.

Earlier that morning, I'd found Aitch hungover in a pillarbox red Adidas tracksuit and Moncler trainers, shuffling through the lobby of the NissiBlu Beach Resort. Before I can even stand up to say hi, a girl with a thick Manchester accents pushes past. ​"Excuse me!" she shrieks, ​"can I get a picture with you? We were looking everywhere for you last night!" He grins, obliges, then sits down next to me and gets to ordering some piña coladas.
He's got his suitcase with him and I ask if he's ever travelled without his mum before. ​"Not really. I can't lie, I'm a mummy's boy, so mumzy needs to help me pack the case! I'm not in a rush to move out. I don't even care! If I were to move out, that's just a disaster waiting to happen."
Aitch's life is taking him to heady heights, but for now he's happy, hot dog in hand, enjoying a weekend in Ayia Napa before he has to think about making his debut album and prepare for two headline tours across the UK. He takes a bite out of his frankfurter, and after my recorder is turned off, gives me a cheeky grin: ​"So… are we in Spain?"

If you're wondering what style Aitch asks for at the barbers, what his favourite website is, or – gasp! – who he fancies, watch our video below. It's as easy as AitchP sauce.

More like this