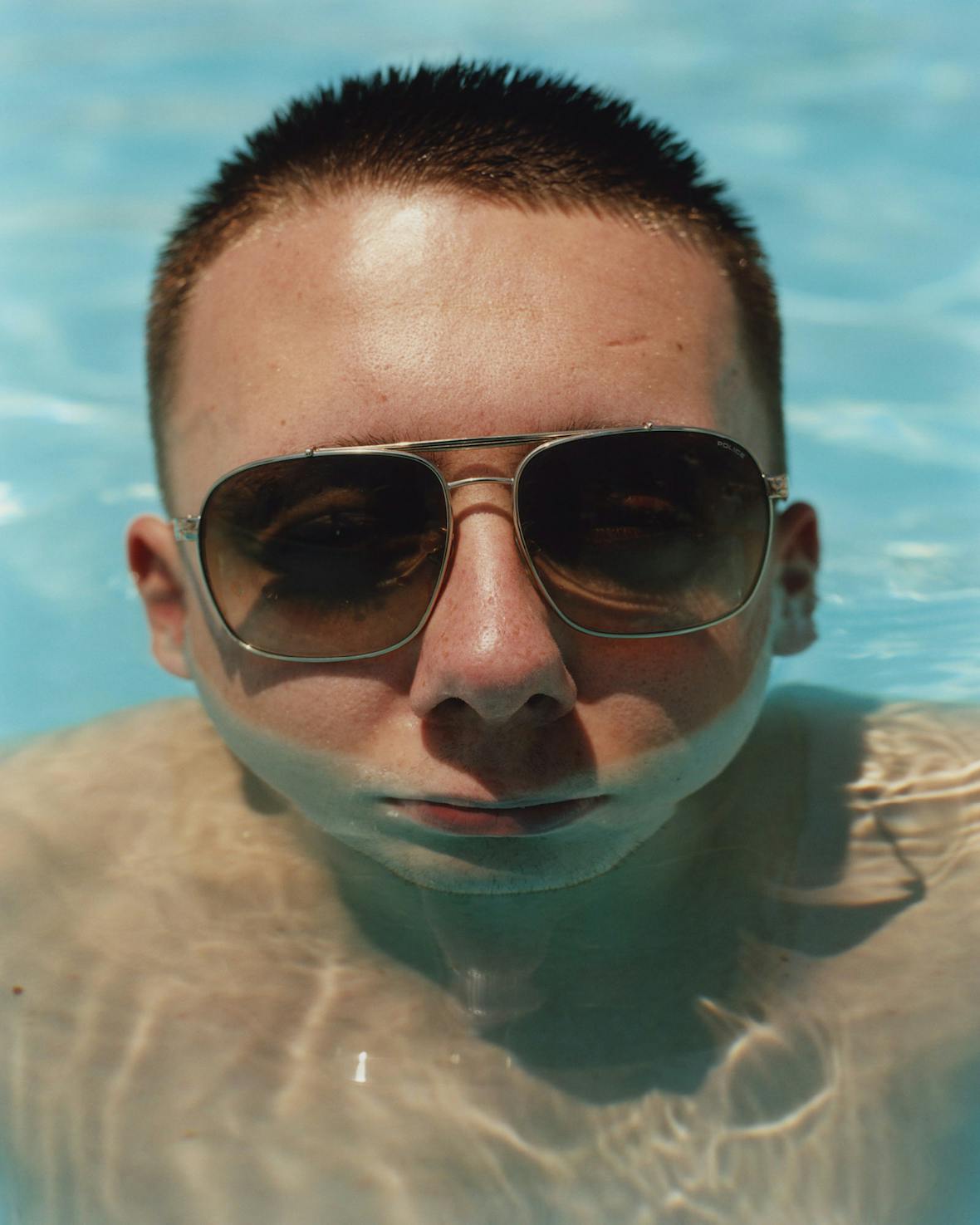 Aitch in Ayia Napa
Arti­cle tak­en from from The Face Vol­ume 4 Issue 001. Order your copy here.

"I'm gonna take my horse to the old town roaaad!" Aitch is strad­dling an inflat­able rain­bow uni­corn in the mid­dle of Ayia Napa and singing Lil Nas X's sum­mer anthem. ​"I'm gonna rii­ide till I can't no more!" It's 30 degrees in the Cyprus town that was once a hol­i­day home for UK garage and ear­ly grime, but is now more of a code­word for lads-on-tour doing eye­ball shots of ouzo. The 19-year-old Man­cun­ian MC (real name Har­ri­son Arm­strong) is spread out in the mid­dle of the pool over­look­ing Nis­si Beach. He's on a 24-hour stop-off before his next com­mit­ment takes him to Malia, and he's exclaim­ing how white he is while clutch­ing a Soltan fac­tor 15 mini spray.
His cheeky, north Man­ches­ter accent is drown­ing out the oth­er British accents around the pool as he tells me about last night's show at Club Ice, after which he did a load of bal­loons, met a few girls and caught up with Brix­ton MC Sneak­bo. Aitch is rel­ish­ing the buzz of being an artist in the break­through peri­od, a rap­per who's jumped from local to nation­al fame in a mat­ter of months with sup­port from BBC 1Xtra, fes­ti­val slots and big-name UK col­labs. He's record­ed with the likes of his north­ern rap broth­er-in-arms, Bugzy Mal­one (on Kilos), and Nottingham's Young T & Bugsey (on Strike a Pose, which show­cas­es the absurd sex­u­al brava­do that's become one of his lyri­cal trade­marks: ​"Came from Not­ting­ham to Man­ny with a bad­dy in the coupe/I'm nine­teen she's thir­ty-two, to her I'm actu­al­ly a yute").
They're all part of a new wave of UK rap tal­ent flour­ish­ing out­side of the cap­i­tal. ​"I think there's a lit­tle thing for MCs that aren't from Lon­don, like we've got each oth­er! They're my guys!" he says, before flip­ping him­self and the uni­corn over in the pool. ​"Foock! Don't shoot that, I need to do Man­ny proud!" he says.

Hail­ing from Moston, he was always a local celebri­ty. ​"I used to be the king of wheel­ies in Moston! Any­one in Moston knows I was the bad­dest at wheel­ies." These days, though, when Aitch drops a track it imme­di­ate­ly racks up a cou­ple of mil­lion YouTube views, and his fame extends far beyond the Man­ches­ter ring road. He recent­ly reached the top five of the UK Sin­gles Chart with Taste (Make it Shake), and in the lead up to his AitcH20 EP, he's estab­lished him­self as one of the UK rap scene's biggest break­out stars.

He might not take him­self too seri­ous­ly, but Aitch is a ded­i­cat­ed MC. He fell in love with grime by watch­ing Chan­nel AKA and videos from the likes of Chip and N-Dubz. He'd lis­ten to 50 Cent and write bars on an iPhone 4 when he was 13. At some point, he start­ed tex­tingth­ose bars to his mate. ​"I was like, ​'Yo, mine are actu­al­ly good innit. I've got some rhymes.' But I didn't show any­one except my guy. Then one day we were­just drunk in the park drink­ing Glen's vod­ka and I got brave and I asked my friends to put a beat on and I just start­ed spitting."
He might have been stuck doing drunk­en bat­tles were it not for the same friend, who went behind his back and uploaded a freestyle to YouTube and rap plat­form P110 (a sort of GRM Dai­ly for peo­ple out­side Lon­don). His Straight Rhymez freestyle earned him atten­tion, and in Novem­ber 2018, GRM Dai­ly uploaded his Dai­ly Dup­py ses­sion, prov­ing his skill to any­one who might have doubt­ed him. ​"Step up on the stage, fuck every­one it's my time/​Dash a man's watch in the crowd, look how time flies," he rapped with a sense of non­cha­lant cock­i­ness. Now he's work­ing with some of the scene's hottest tal­ents, being flown around the world (last week he was in Los Ange­les), and mak­ing friends with the likes of Man­ches­ter United's Jesse Lin­gard, who recent­ly scored him tick­ets for Old Trafford.

Ear­li­er that morn­ing, I'd found Aitch hun­gover in a pil­lar­box red Adi­das track­suit and Mon­cler train­ers, shuf­fling through the lob­by of the Nis­si­Blu Beach Resort. Before I can even stand up to say hi, a girl with a thick Man­ches­ter accents push­es past. ​"Excuse me!" she shrieks, ​"can I get a pic­ture with you? We were look­ing every­where for you last night!" He grins, oblig­es, then sits down next to me and gets to order­ing some piña coladas.
He's got his suit­case with him and I ask if he's ever trav­elled with­out his mum before. ​"Not real­ly. I can't lie, I'm a mummy's boy, so mumzy needs to help me pack the case! I'm not in a rush to move out. I don't even care! If I were to move out, that's just a dis­as­ter wait­ing to happen."
Aitch's life is tak­ing him to heady heights, but for now he's hap­py, hot dog in hand, enjoy­ing a week­end in Ayia Napa before he has to think about mak­ing his debut album and pre­pare for two head­line tours across the UK. He takes a bite out of his frank­furter, and after my recorder is turned off, gives me a cheeky grin: ​"So… are we in Spain?"

If you're won­der­ing what style Aitch asks for at the bar­bers, what his favourite web­site is, or – gasp! – who he fan­cies, watch our Rev­e­la­tions video below. It's as easy as AitchP sauce.
---