Arlo Parks is leaving her bedroom

The west London singer-songwriter, poet and fashion muse has had a stellar 2020 – yes, in spite of everything. On the eve of the release of her debut album, she discusses weird dreams about Harry Styles and the Gucci bag that got away.
Arlo Parks arranges to meet at her favourite local cafe in Hammersmith, west London, the appropriately intimate and (it will turn out) aptly named Truth.
Yet despite the piercing December chill and general end-of-the-year, end-of-the-world malaise that's hanging around like second-hand smoke, she's waiting for me outside. The singer-songwriter is statuesque in the cold, gift-wrapped in a black Napapijri puffer, AirPods in, vibing to something soulful.
Even her burnt orange cropped hair doesn't fully account for the immediate feeling: here's a woman who's a warm beacon of light on a grimly grey day.
In October Parks was named the BBC Introducing Artist of the Year. This same year she hit three million monthly listeners on Spotify; walked for Valentino and acted (and directed) for Gucci; collaborated with Leicester band Easy Life on Sangria and with producer Fraser T. Smith, appearing on two tracks on his star-studded Future Utopia album 12 Questions. Then, Billie Eilish picked the Londoner as her favourite artist in that Vanity Fair interview.
Global pandemic notwithstanding, Parks has also found the time, inspiration and freedom to write and record the breathtaking Collapsed In Sunbeams, the dreamlike, jazzy and at times properly poppy 12-track debut album that will take this bedroom star stratospheric.
And all that in the year Parks, all bright eyes and soft features, turned 20 – ​"and I'm still in the same bedroom I recorded those first demos in!" she laughs.

Parks, for sure, is writing for herself (and by herself). But like fellow west Londoner Beabadoobee and Clairo, Atlanta's own internet sensation, she's also writing for the Super Sad Generation, the kids hymned in the title of 2019's breakout EP, recorded in an AirBnb in Islington, north London. The kids that need to be told, as recounted in beautiful lead track Hurt – a Hottest Record In The World for Radio 1's Annie Mac – that everything's going to be OK.
The characters who wander her lyrics feel plucked from a special episode of what you might call Arlo's World, an imaginary Noughties show you didn't realise everyone else was secretly watching, too. That person you're in love with reading Sylvia Plath to someone else, which appears with searing poignancy on Eugene: ​"I thought that was our thing". Your dream guy who likes to ​"quote Thom Yorke and lean in for a quick kiss" but feels just Too Good to be true. People for whom love is a complex thing, often intimately bound up in their identity: Eugene is about the painful, knotty experience of Parks, who is bisexual, falling in love with a straight best friend.
"I think my music will always have that element of intimacy," she says once we've sat down inside, oat cappuccinos and OJ on their way. She likes to write in flats and houses and ​"can't really do the whole studio thing". That comfortability, she thinks, translates to her music. ​"Because I always feel so comfortable, that's why it might feel like you're just overhearing a conversation I'm having with my friend in a bedroom."
It's no surprise she was named a CALM (Campaign Against Living Miserably) ambassador this year, alongside her friend and collaborator Loyle Carner. Or that she was one of three artists chosen by Channel 4 to appear on The Whole Truth, a documentary to mark October's World Mental Health Day, talking about self-care as a Black British artist. As she sings in Hope, her dad's favourite on the album: ​"You're not alone, like you think you are/​We all have scars, I know it's hard." Or, Hurt: ​"I know you can't let go/​Of anything at the moment/​Just know it won't hurt so /​Won't hurt so much forever."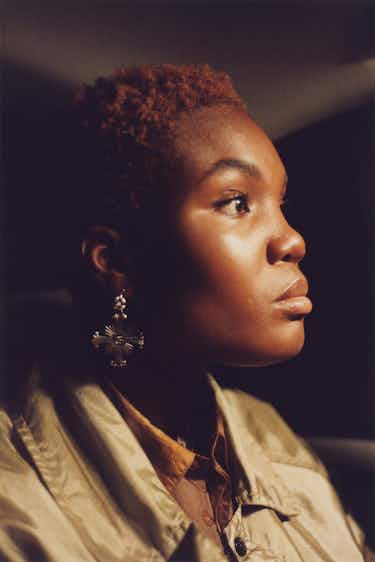 These are especially powerful messages for the Super Sad Generation to hear. And yet it's also this confident specificity that makes the west Londoner's music feel so global.
"It's about striking that balance between something that feels universal and specific. That line from Hurt is something that can touch everyone, no matter how old you are, or where you are, or whether you're in my generation or not. That's something that everyone at some point in their lives will need to hear."
This overwhelming sense of intimacy also permeates our conversation. At times I feel like a teenager again, sharing soft-spoken secrets in the library. But that never lasts, as before long she sideswipes me with her stunning musical vocabulary. Parks speaks with incredible poise – she barely swears once – and there's a cool queenliness to the woman born Anaïs Oluwatoyin Estelle Marinho. Plus she admits to being ​"snobby about coffee". Proper grown-up stuff, right?
Up for discussion is everything from Virginia Woolfe ("the way she uses language is just so effortless. There are moments when I'm reading and I'm like, where is this going? But it all ties up in the end"), to psychoanalyst Carl Jung's theory of the ​"collective unconscious", to the symbolic content of her dreams. As you might expect from someone who spends a lot of time in her bedroom, hers are weird.
"Every single night my dreams are, like, psychedelic!" she says with a laugh. ​"Since I was seven! I've got a whole list. Some of them are wild."
She's not just talking about a few missing teeth. A few nights before we meet, she had a dream about Harry Styles and a palm tree. ​"I was on a mountain and Harry was there and he was like: ​'I brought you the palm tree – the palm tree.' And I was like: ​'What do you mean, ​"the" palm tree?' ​'THE PALM TREE!' With a lot of urgency!" she laughs again.
Parks gives a casual shrug as if to say, ​"crazy, huh?", then admits that, like the rest of us, ​"I love Harry Styles. I feel like he's definitely coming into his own as an artist. ​'Cause it must be hard, when you come from this hyper pop sphere, to do your own stuff and start making, like, ​'70s rock music. Power to him, to be honest, ​'cause that's hard, to make the turnaround and still be seen as cool after being a band like that."

The transformation of Harry Styles is something to which she can, in part, relate. The girl formerly known as Anaïs – whose mum is French-Chadian and dad is Nigerian – was born and raised not far from where we've met this morning. She first picked up an electric guitar when she was 13 and, with the help of GarageBand and the internet ("I literally typed ​'How To make lo-fi hip-hop' into YouTube") – started making her own beats, layering over spoken-word poetry and, eventually, vocals.
But it was hearing 6 Feet Beneath The Moon by punk-jazz crooner King Krule, I Thought I Was An Alien by French singer-songwriter Soko and Portishead's seminal Dummy that set her on her path. ​"Those three were the big ones," she nods, the albums that made her feel: ​"OK – this is something I want to do."
She was, and still is, proudly bookish, too, loving a range of poetry that, rather than being school-taught or forced, ​"was poetry that I found myself randomly on the internet". Her passion for Plath, kickstarted by a teacher giving her a copy of Ariel when she was 15, has been much discussed. But she seems keen to steer away from that now, to put them away like the faded jeans you'll always love but no longer represent you.
"But I was definitely a big Plath fan," she concedes. ​"I think when you're 15, you read The Bell Jar, and you're like: ​'Ah! She gets me.' I still carry those references with me, but you grow to look on those novels differently as you grow up."
It was ​"literally days" before the UCAS deadline when Parks decided to take a year out and, instead of studying English at University College London, see how far music could take her. Even though it was far from a sure thing – this was before ​"everything started expanding" – her parents supported her decision. ​"They could see how happy music made me," she smiles.
And their faith was rewarded. In November 2018, two months after she would have been starting uni, she released her first single, Cola. At the start of the following year she signed to discerning indie Transgressive (home of Let's Eat Grandma and Sophie) and, that April, released Super Sad Generation.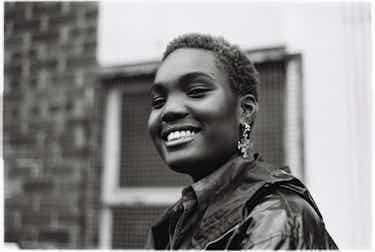 Literature certainly hasn't taken a backseat – having written short stories from the age of seven, she still dreams of writing a novel and is currently halfway through her first poetry collection. But for now she feels more comfortable practising economical storytelling with emotional heart. She cites Frank Ocean as the master of this. ​"Obviously there is a story behind it, but there's a lot of him just glimpsing different images, and being quite surreal with it, and I like that."
It's why she got into poetry in the first place, why she went through a phase of obsessively writing haikus. ​"They taught me how to condense a whole year of a relationship: something this big into something this small. And that's kinda what a song is – telling a story in just a few verses."
Less plot, then, more vibes. Eyelids that are purple, kisses that are amethyst. ​"I'm definitely all about images," she smiles. ​"I'm all about the flowers."
That visual flair has taken Parks in other interesting directions, too. This summer she graduated from making her own music videos to co-directing a short film for Gucci, titled Knotted Gold, in which she also stars, reciting some of her poetry. Set by the sea in Margate, its feel and flavour were influenced by watching a lot of Wong Kar-Wai and Wes Anderson films. ​"I wanted those colour schemes and that sense of surrealness to come through."
What was actually happening? ​"I was reading poetry, and because it was Gucci – and, well, there was A Bag!" she grins. That is: an Expensive Fashion Bag, patent, bubble-gum pink, slightly impractical. One she ended up pitching into murky Margate waters.
Still, was she wondering the whole way through the shoot: ​"Am I gonna get to keep the bag?"
"A little bit!" she admits, then collapses into laughter.
There are sure to be more bag-snatching opportunities as clearly the fashion world loves Arlo Parks. In September she walked for Valentino in Milan, and in November made her acting debut in At The Café, the sparkling second episode of Gucci's seven-part miniseries, Ouverture of Something that Never Ended. Directed by Gus Van Sant and Alessandro Michele and presented as part of Guccifest, the film project-cum-collection showcase – whose other episodes also starred Styles, Billie Eilish and Florence Welch – took her to Rome for the first time.
"That was really fun. It was a whole new world. I feel so wide-eyed when I'm in those places, like: ​'Oh my God, this is amazing!"
Which means this year for the Italian fashion powerhouse alone, she has been poet, director and actress. It's almost as if, like a proper Gen Z powerhouse, Arlo Parks came out of the womb a multi-hyphenate. She laughs. ​"There are just so many avenues, and they all feel interconnected. Music, art, curation. So many pursuits that I want to explore."
For now, though, it's time for some rest. It's been a hectic year, and the wonder of Collapsed In Sunbeams promises an even busier 2021. But as she laments the collective burnout that the Year of Covid has gifted us this Christmas, she sighs.
"You can't be productive and excellent all the time. It's actually why the world is, like, crumbling."
At least we have Arlo Parks to write about it for us. Thank God she left the bedroom.
Collapsed In Sunbeams (Transgressive Records) is released on 29th January

More like this