A run-down of 2021's best(ish) new Christmas songs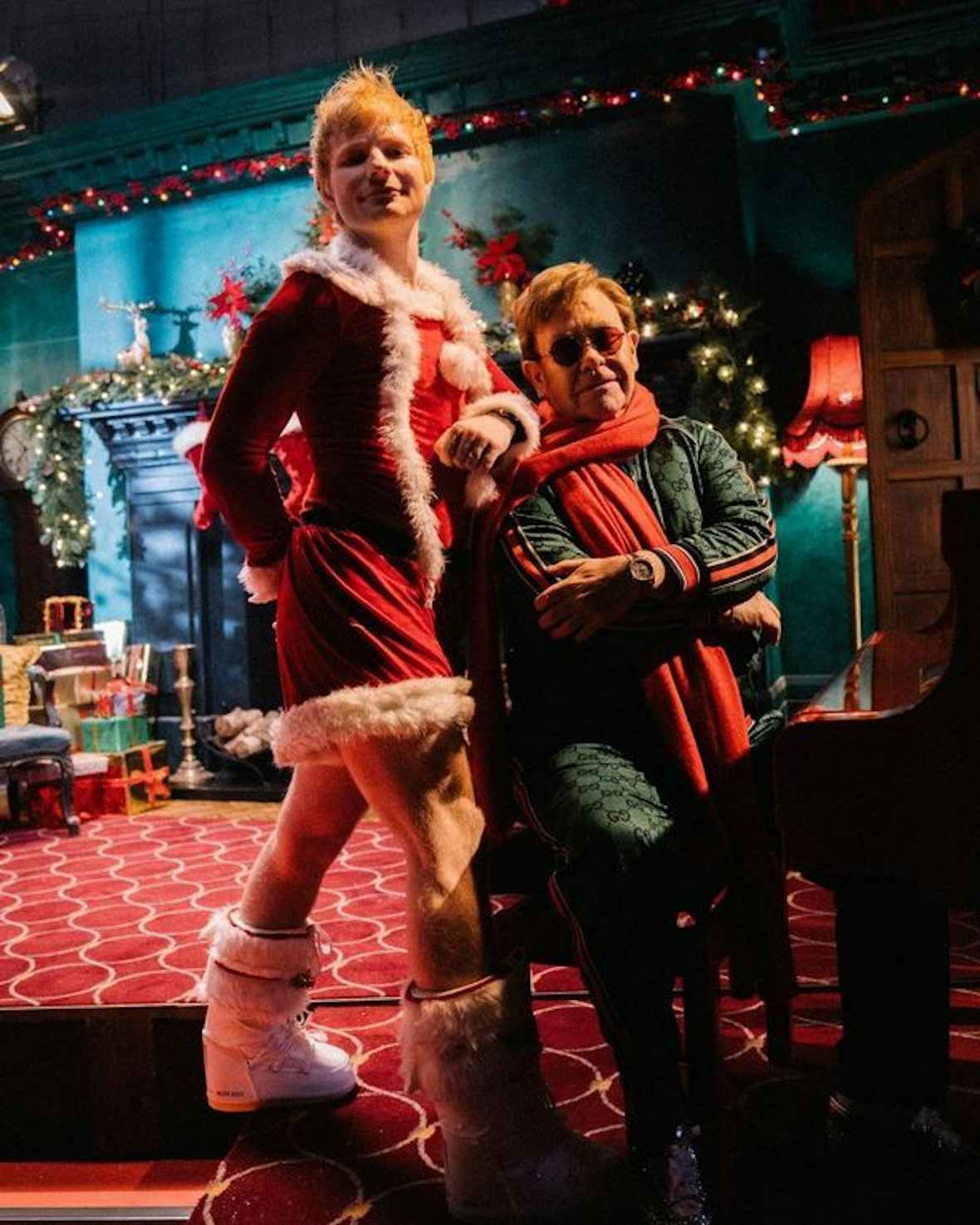 As artists strive to replicate the successes of Wham! and Mariah Carey's Christmas classics, we've ranked the year's best – and more turkey-shaped – offerings for spreading festive cheer.
Rejoice, music lovers! It's that time of year when our favourite musicians famously put their everything into creating their best work: Christmas songs.
OK, fine. Festive tunes may not be the pinnacle of most artists' body of work (unless your last name is Carey, Michael or Ridgely, obviously). And we have a sneaking suspicion that many Christmas songs are hurriedly recorded for a cash grab.

But who cares? They're cheesy, predictable and typically have a best-before date that expires on New Years Eve, and that's why we love them. Christmas is the one time of the year when we can indulge in total clichés and no one can say anything about it. So here we are, indulging in all the clichés for a very serious and official ranking of 2021's new Christmas songs.

Before we get started, some rules: covers don't count, nor do reissues of old festive bangers that have been repackaged for round two (we're looking at you Bublé). That being said, we must give a special mention to the late DMX's rendition of Rudolph The Red-Nosed Reindeer, which still slaps four years after its original release and nine years after a video of him singing it went viral in 2012.

Now, get comfy, friends. We're about to take you on one hell of a musical sleigh ride.

10. Little Things by ABBA
This song sounds like ABBA were simultaneously auditioning for the John Lewis Christmas ad and the local am-dram nativity play. Bad, boring vibes. Sure, the sentiment of appreciating those titular Little Things is sweet and, yes, those twinkly, music-box chimes do kind of make you want to watch The Nutcracker. But this tune is ultimately very forgettable and, coming from a band that has written hooks so catchy that entire musicals have been based around them, that's pretty disappointing. It's lumps of coal for ABBA this year, sorry.
9. Fall in Love at Christmas by Mariah Carey, Khalid & Kirk Franklin
Mariah, babe. We're so sorry to do this, but this year's addition to your extensive Christmas catalogue just isn't hitting like the others. The unofficial queen of festive music enlisted the help of Khalid and Kirk Franklin for her latest offering. And while nothing about it is particularly off-putting, there's nothing particularly exciting about it either. As always, the lyrics are about love and there's breathy vocals aplenty. But it's sorely missing the sing-a-long factor that ensures it will be belted at office do's for years to come. But don't worry, All I Want For Christmas just surpassed one billion Spotify streams, so Carey's reign as Christmas Queen is far from over.
8. Merry Christmas by Ed Sheeran & Elton John
The nation's two favourite gingers (sorry, Halliwell) have teamed up for a festive ditty this year and, you know what, it might just have a chance of becoming a mainstay on festive playlists. This is Ed Sheeran and Elton John, after all, both of whom know how to write a hit. But alas, listening to this song feels as though you're running through a checklist of seasonal safe bets. Church bells? Yep. Sleigh bells? Uh-huh. References to mistletoe, trees, snow and cosy fireplaces? In bloody abundance. Even the title, Merry Christmas, is unimaginative. We know the song's for charity, but we can't help but feel that Ed ​'n' Elt could have tried a bit harder. And let's not even get started on why Big Narstie and Jonathan Ross are dressed up as East 17 in the music video…
7. Krampus by The Lathums
For all you Scrooges out there, northern indie band The Lathums have decided to cancel Christmas this year. Inspired by Krampus, the creature from Central and Eastern Alpine folklore who comes to scare the living daylights out of naughty kids over Christmas, this song pairs jolly guitar riffs with not-so-jolly lyrics that proclaim ​"the end of world's coming". And with the worsening climate crisis still looming over us, we can't really argue. Bah, humbug!
6. lonely christmas by Bryson Tiller, Justin Bieber and Poo Bear
Each year, an R&B‑meets-pop lad picks up an acoustic guitar to sing something soppy about their love lives. After last year's Dixie D'Amelio-assisted Naughty List, Liam Payne passes the torch onto Bryson Tiller and friends, whose addition of a jaunty beat to the acoustic guitar tradition makes this track stand out. And this isn't the only Christmas song Tiller's got up his sleeve this year. His EP A Different Christmas was released last month, apparently inspired by the lockdown celebrations of 2020. And guess what? The rest of the EP is also pretty good! If you're still recovering from last year's curtailed Christmas, or you just have some festive feelings you want to sit with, then this is the project for you, sad friends.

5. Christmas Isn't Canceled (Just You) by Kelly Clarkson
Nothing says peace and goodwill to all mankind like a bit of Christmas cancel culture! Take Kelly Clarkson's second Christmas album, When Christmas Comes Around… – this one's a fun twist on the lovelorn festive bop. You see, Clarkson's not trying to cancel someone who pissed her off on Twitter here. She's talking about her ex, who she's not going to let ruin her holiday fun. When so many Christmas songs are about pining for an unrequited love, this original take over upbeat horns is like a breath of fresh, albeit frosty, air. ​"Winter wonderlands weren't made for one /​So we've all been told since we were young," she sings during the second verse. ​"But I'm not feeling incomplete /​Turns out I don't need a thing underneath my tree". Miss Independent returns.
4. I Dream of Christmas by Norah Jones
No stranger to a cosy jazz ballad, Norah Jones is back on the scene with this wistful ode to Christmas. Lyrically, it's pretty simple, mainly consisting of ​"I dream of Christmas" and ​"fa la la las". But her distinctive voice and soothing production make this track the perfect accompaniment to curling up by a fire with a glass of mulled wine. Plus, there's not a single sleigh bell to be heard throughout, proving that you don't need to be hamfisted with the Christmas references to write a seasonal song. Take note, Sheeran.

Remember Pia Mia? Well, this year she's taken a page out of Ariana Grande​'s horny Christmas & Chill book with Unwrap Me, a song about getting down and dirty on Christmas Eve. A sultry R&B number with strings that swell as she urges her lover to ​"unwrap me, babe", it all sounds surprisingly wholesome until you pay attention to the lyrics, with a festive choir even joining in the seductive fun towards the end. Is it blasphemous to sing about sex at Christmas? We'd argue that conceiving new life – by miracles or banging – is what the season's all about. But maybe don't play this one around the grandparents, alright?
2. Something Magical by Daði Freyr
This electro-pop offering from the Icelandic artist that should have won 2020's cancelled Eurovision pretty much sounds like viral hit Think About Things but with festive lyrics, which is precisely why we love it. Always bringing a bit of humour to his music, Daði eschews the go-to lyrics about mistletoe and wine, instead focusing on the comfort of familiarity and spending time with his loved ones over the festive period. Sure, it's not the most explicitly Christmassy song that's been released this year, but it is the track that's most likely to make you dance. One to reinvigorate the ​'rents during the post-Christmas dinner slump.
1. Nothing Like The Holidays by Shaggy & Bunji Garlin
Now, Shaggy was teetering close to exclusion from this list, thanks to his cheeky reissue of his 2020 Christmas album, Christmas on the Islands. However, this new, original bonus track featuring Bunji Garlin is simply too good to ignore. ​"Get in the mood and whine and wiggle, it's a Christmas tun up" is surely the best festive lyric we've heard all year – and, paired with a dancehall beat, it's impossible to suppress a smile while listening to this song. White Christmasses are so 1940s. We're off to Jamaica this year.

More like this