Bree Runway is disrupting pop's status quo
With a masterful mixtape and a Missy Elliott collab under her belt, Bree Runway is ticking tasks off her pop star to-do list at speed. The best part? She's only just getting started.
Taken from the new print issue of THE FACE. Order your copy here.
Bree Runway wakes up and wins – every month, every week, every day. Sometimes, that means receiving messages from fans about how she's inspired them as an unapologetic, dark-skinned Black woman. On other occasions, the goals are scored by collaborating with Missy Elliot on her bodacious, baddie anthem ATM, or seeing her face blown up on a billboard for YouTube Music.
"There's always something for me to thank God for," she says, looking back at her achievements over the past year. ​"I just want to go out and clink some glasses."
Born Brenda Mensah in Hackney, East London, Bree Runway's 28 years on this planet have been coloured by events that make her rise to stardom seem like an inevitability. Since the age of eight she's been wowing audiences with her vocal ability, performing with her cousin in primary school and graduating to bigger, more presidential fish as a teenager, when Michelle Obama visited her secondary school. ​"I was the only person she stood up to applaud for," she says, her sentences speeding up with excitement. ​"She gave me a high five and was like…" Runway slips into an American accent. "'You are fabulous, girl!'"
Yet Runway almost took a different path. It wasn't that she thought she couldn't make it – since college, Runway has been certain of her talent. Rather, she didn't want to be famous. Years of colourist bullying throughout school had chipped away at her confidence and the limelight seemed like a place that would only invite more scrutiny. ​"I was so shy that I never really wanted to pursue music in the way I have." For a while, she considered becoming a cruise-ship singer. ​"That felt lowkey. I wouldn't be seen too much. That was my issue with becoming what I am now, being seen, because I saw what that did to me when I was younger."
Speaking with Runway over Zoom, or indeed watching her do the splits, drenched in oil and barely clothed, in her music video for Hot Hot, it's hard to imagine that she was an introvert during her younger years. By her own admission, she is ​"a stand out", ​"a trendsetter", ​"edgy", ​"on her own shit" and ​"everything a pop star is". None of this sounds cocky when Runway says it. In fact, it's refreshing to hear a Black woman unashamedly champion herself without a hint of self-deprecation.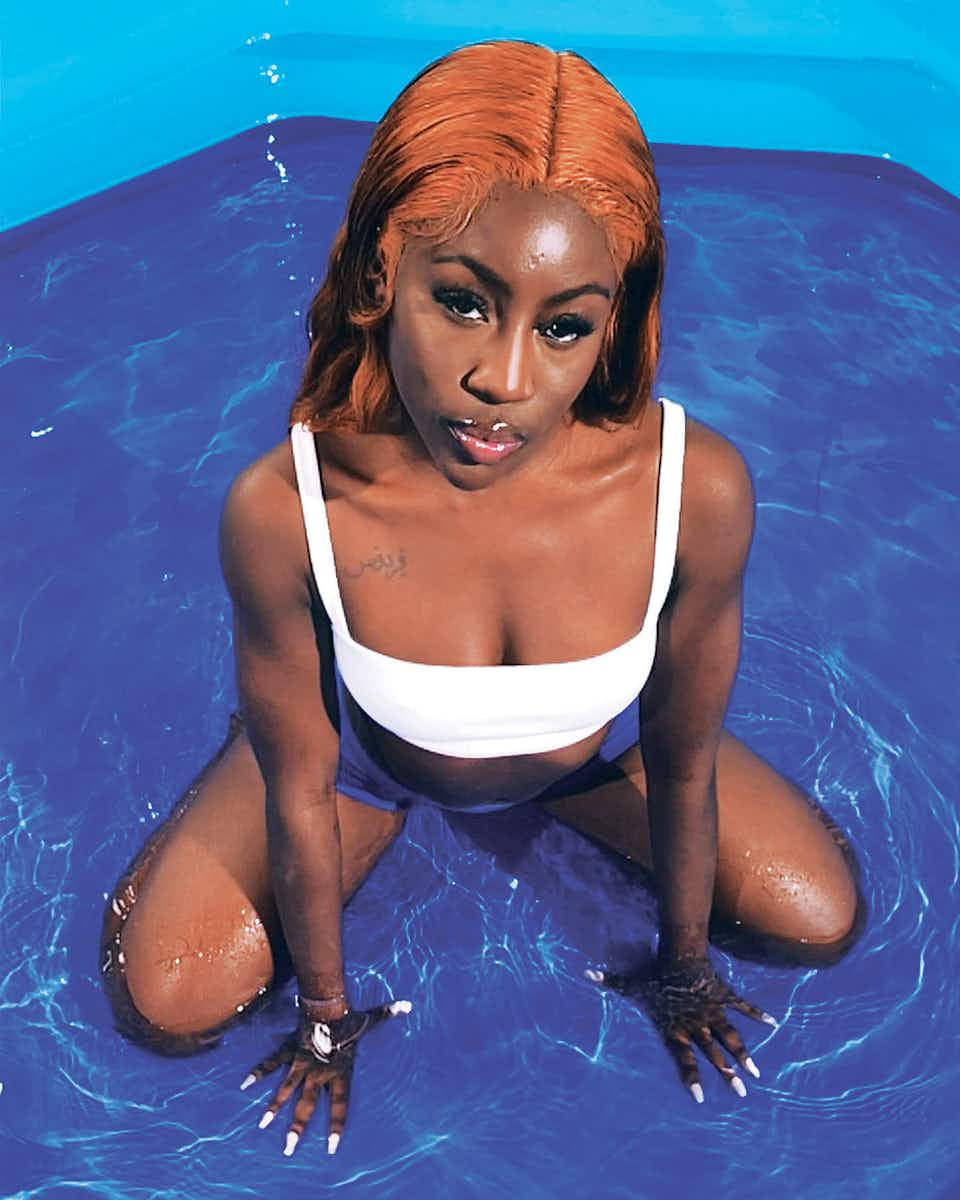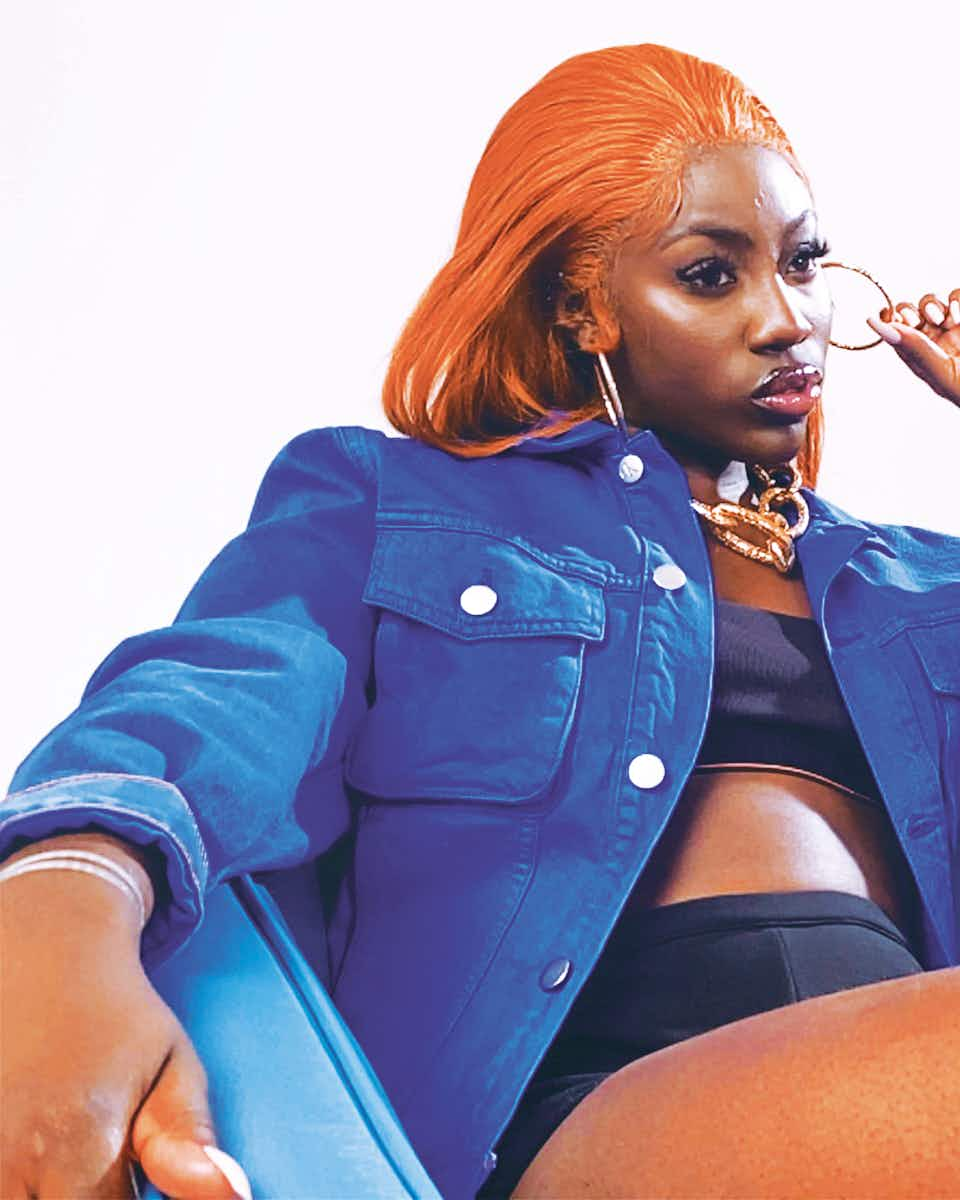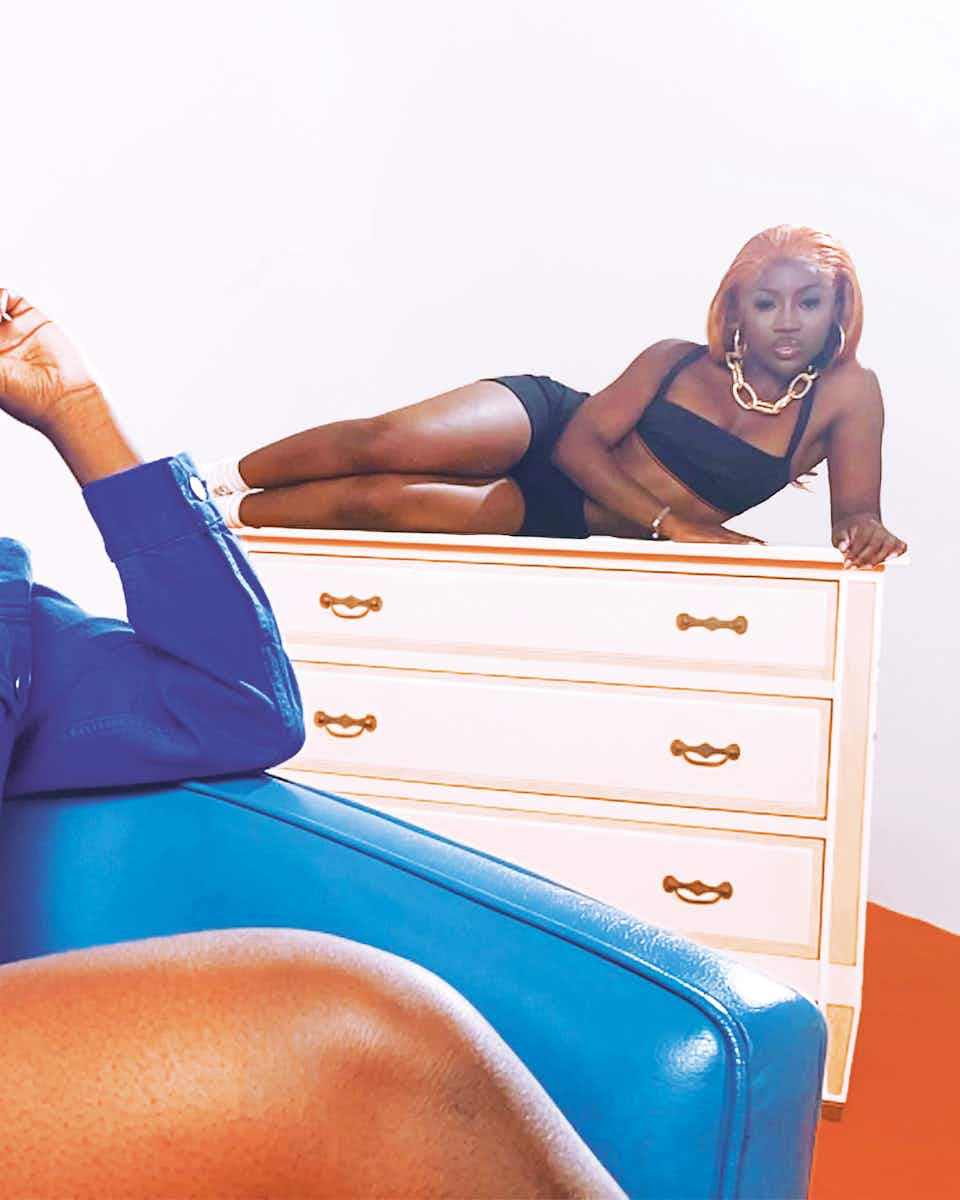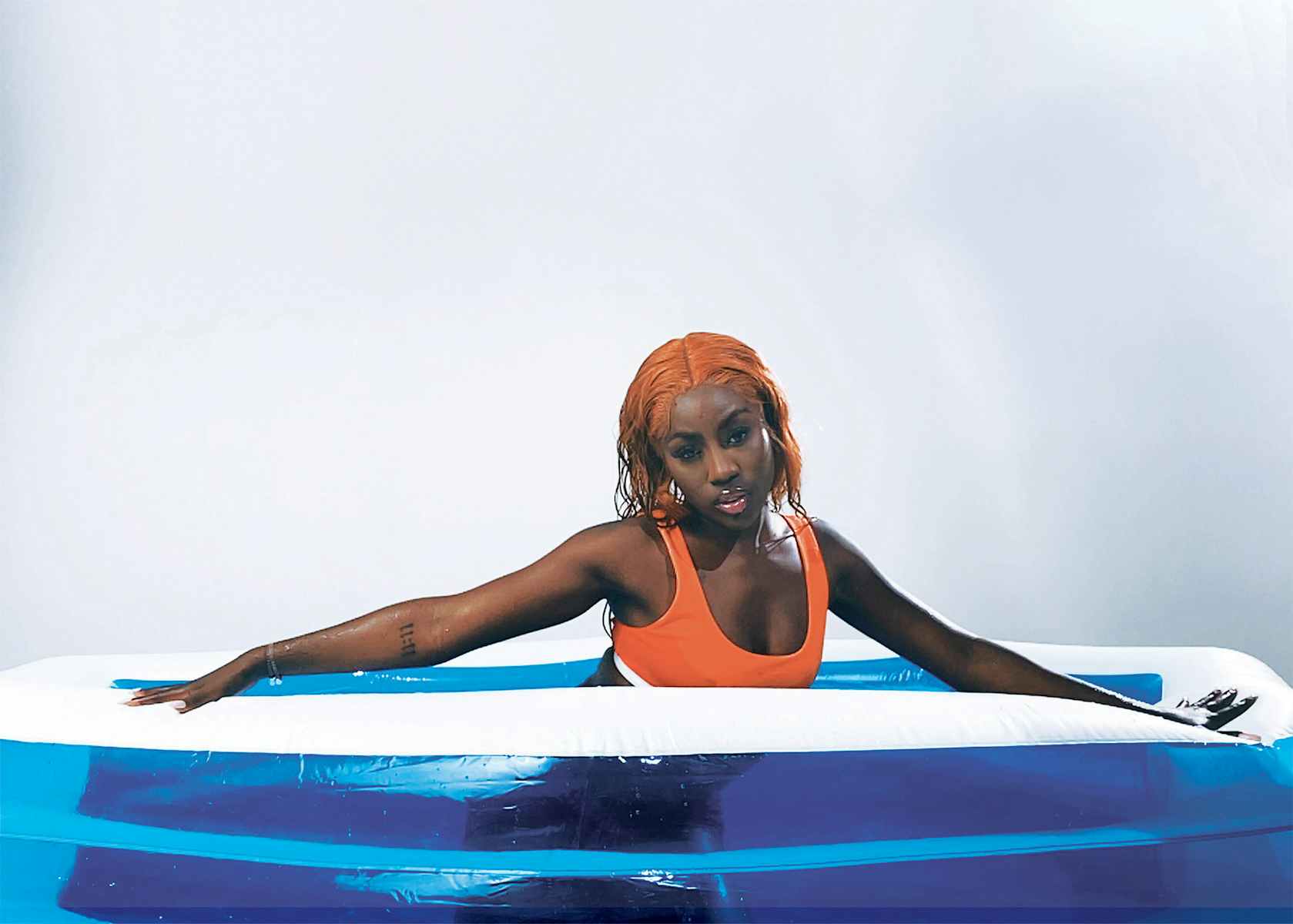 "You've got to fake it ​'till you make it," she says of her evolution from a performance-shy child to a fearless pop innovator. ​"I'm a very outlandish person in how I dress." (Think Lil' Kim meets Lizzie McGuire, styled in Jean Paul Gaultier.) ​"I just had to own the fact that I was going to get stared at. Then I realised that a lot of the same people who were staring started looking like me or doing what I do. It's only weird because you're the only one doing it. When they see how much it works for you, they all want a piece of it."
Disrupting pop's status quo with an ever-evolving, shape-shifting sound, Runway's lane is as wide as it is long, switching gears between genres on each and every track. Released last November, debut mixtape 2000and4Eva is a case in point. Throwback hip-hop and electro? Check. Futuristic reggae? Check. Hard-hitting punk rap? Check. Club-ready bangers? Duh.
When you look back at the biggest pop stars of the past few decades – Madonna, Britney Spears, Beyoncé – the one quality they all share is the ability to reinvent themselves. Typically, this sound and image revamp is ushered in with a new album cycle, presenting fans with a fresh ​"era" to mark the occasion. But Bree Runway is yet to release her debut album and we've already seen her take on more genres than most artists will cover throughout their entire careers, packaged with jaw-dropping aesthetics each time.
She's straddled a giant, Y2K mobile phone in the music video for Little Nokia, channelled Shania Twain's That Don't Impress Me Much leopard print ensemble for Damn Daniel, and in What Do I Tell My Friends? twerked over her murder victim's bloodied body. For Runway, it's less of a reinvention and more a showcase of her versatility. We're not witnessing her first era; we're being invited into her universe, one that's only set to expand as her star continues to rise.
"Going to the studio and making a fresh sound every single day? That's as easy as breathing to me," says Runway, matter-of-factly. ​"It would be more pressure to look at Spotify statistics, see what the most popular songs are and try to replicate them."
A lot of her influences are a far cry from the sounds currently in the charts. She listens to Ghanaian highlife artists such as Daddy Lumba to soak up the genre's unique percussion. She delves into the catalogues of late-Seventies/early-Eighties American funk pioneers Zapp to analyse their use of vocoders. She plays soca, calypso music that originated in Trinidad, because, well, she just likes it.
But it all started with Britney – the video for her 2001 classic I'm A Slave 4 U, to be specific. She first saw it at a sleepover with her cousin. MTV was on in the background, as young Brenda lay on the floor pretending to be asleep. ​"I turned around and saw Britney Spears' belly out on the TV and she was doing her sweaty choreo. I had to wake my cousin up!" She spent the next day gripped to the screen, waiting to see the music video again. ​"Britney Spears did pop in such a cutting-edge way and her collaborating with Pharrell, that whole era, was just great. She was a pure example of what a pop star is."

It's fitting, then, that Runway's first single of 2021, Hot Hot, upholds I'm A Slave 4 U's raunchy, sweaty legacy. Titillating viewers as she flips her hair and washes a car in the music video, the track is a summer scorcher, reminding us all that ​"You can never ever do it like a Brenda".
Now, Runway is preparing to reach her next career milestone: the debut album. At first, this felt like a daunting task, the pressure to ​"strike while the iron is hot" being at odds with her instinct to wait until she was in the ​"perfect place to write an album". But the week after we speak, she's clearly found her groove, teasing her Instagram followers with a photo in the studio.

"It's going to be an extension of my work, but on the highest level," she promises confidently. ​"You're going to be getting variety. I'm going to try some things that I haven't tried before. I'm going to be singing way more. It's going to be sick."
Runway's journey isn't only about her own success, though. There are personal goals she'd like to achieve (there's a big one she's about to tick off – a feature on a Lady Gaga record). But above all, she wants to inspire others.
"I would love to continue to impact the lives of Black women around the world," she says, acknowledging the positive effect seeing someone like her on TV might have had when she was younger. ​"And I would love to birth a generation of stand-out kids, who were the underdogs growing up but have something unique in them and, because of me, they don't feel like they have to play it down." Bree Runway pauses briefly, searching for the right words to prophesise her own impact. ​"I want to see artists that are just on some other shit."
HAIR Seraiah Artistry MAKE-UP Bernicia Boateng SET DESIGNER Stefania Lucchesi PHOTOGRAPHER'S ASSISTANT Sam Court STYLIST'S ASSISTANT Borys Korban SET DESIGNER'S ASSISTANT Natasha Rukavishnikova PRODUCER Rosanna Gouldman JUNIOR PRODUCER Chloe Slattery BIKE HANDLER Mike Coventry

More like this