Cautious Clay's music is too damn catchy
Clay is a self-taught, flute-playing multi-instrumentalist making pop-adjacent power tunes for the world, despite being a bit of a loner.
Seated near the window at Cafe Cotton Bean on a Crown Heights side street, Cautious Clay sips from a green smoothie. Mere steps from the main thoroughfare of Nostrand Avenue, the Cleveland-bred, Brooklyn-based singer-songwriter born Josh Karpeh takes in the sunny afternoon scene as a diverse set of people, representative of the countervailing forces of immigration and gentrification, go about their daily business. And like so many young creatives who flock to this city to make their art or develop their craft, he finds the bustle quite to his liking.
"I like to interface with people even if it's not comfortable for me," says Clay. ​"Living in places where you're not forced to be close together, on the subway or walking down the streets, I think you lose touch with reality a little bit." Considering the intimacy his oft wondrous music exudes, his desire to stay tethered to the world makes sense.
Having moved to New York only a few years ago, following an undergraduate international relations degree program in Washington D.C., his familiarity with the city precedes his current tenure thanks to frequent visits as a kid to see aunts, uncles, and cousins in Hoboken and on Manhattan's Upper East Side. Growing up he studied jazz flute and pursued it as a minor in college, yet now, at 26 years old, has largely opted out of that subculture entirely.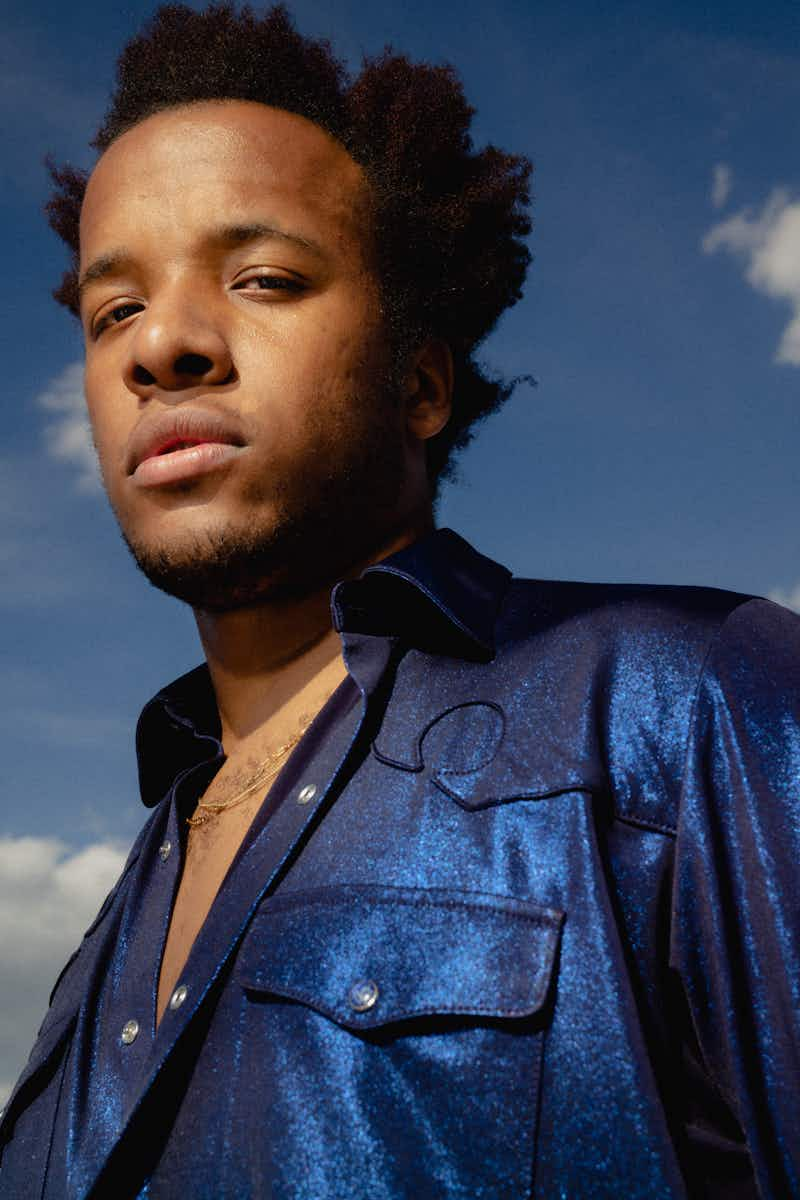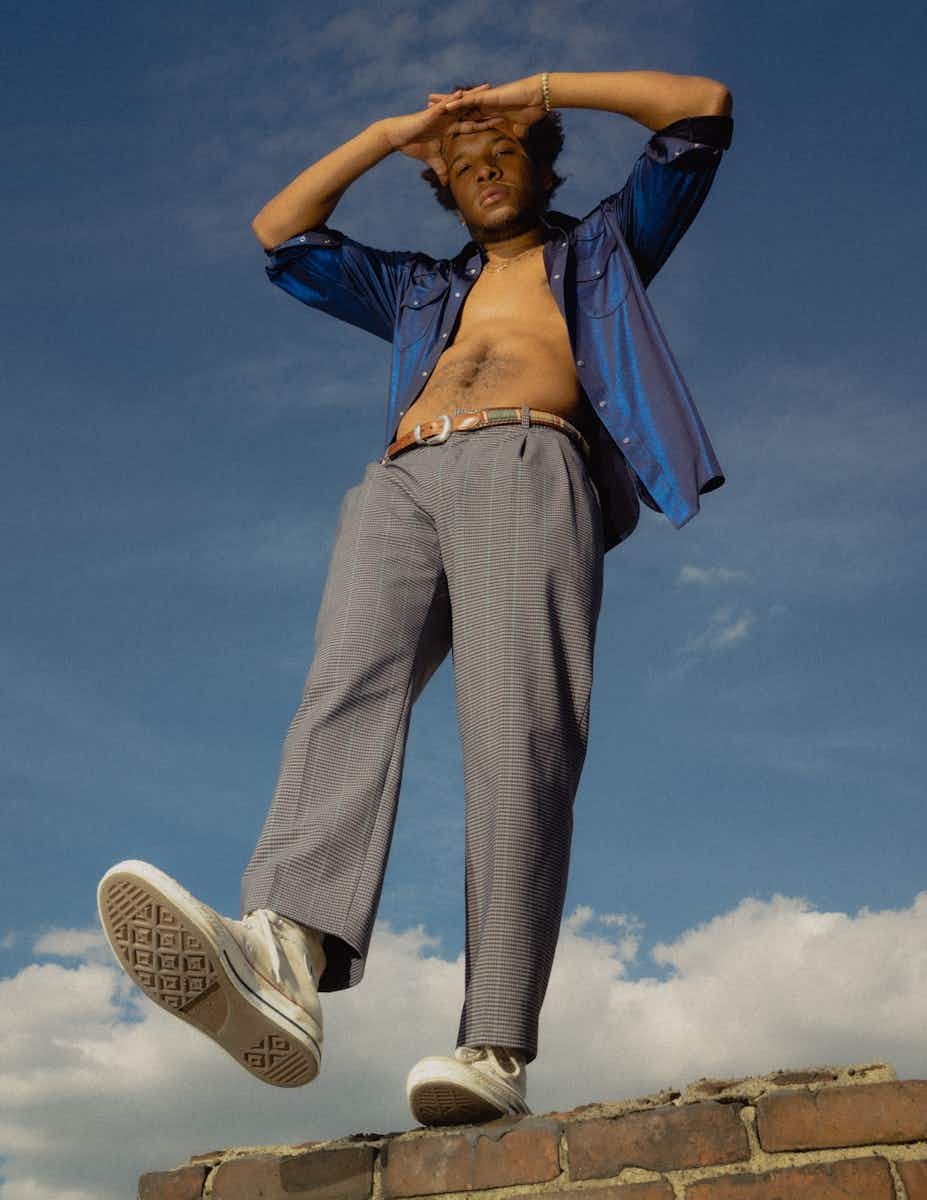 Cautious wears shirt by Kozaburo, pants by Alexander Wang, shoes by Converse, necklace by Lisa Maita, and belt model's own

"There is a lot of good jazz, but there's just a lot of it that gets sort of vapid," Clay muses. ​"Any music is capable of being vapid if it's done in a way that feels very interesting." He cites young vibraphonist Joel Ross' recent Blue Note debut as a noteworthy exception, and on occasion he'll attend shows at clubs like Smalls or The Village Vanguard. Still, you won't find him taking the stage at any of the open jam sessions any time soon. ​"I get a little bit intimidated because I haven't been in that space in such a long time. But I know I can hang."
For someone like Clay – who writes music like his genre-adverse latest EP, Table Of Context, primarily at home and essentially by himself – the information presented by the outside world inspires in subtle ways, often as a result of all that noise and data. ​"When I'm super fucking busy is when I'm in my best headspace," he says.
Even still, listening to songs like Honest Enough and the somewhat self-deprecating Sidewinder reveals a meticulous focus. Detail and nuance populate his work under this whimsical Cautious Clay pseudonym, a melting pot parallel to the world outside that coffee shop window where R&B, indie pop, jazz, and electronics find homey nooks via refreshing fragmentation. Drawing influence from chillwave pioneer Toro y Moi and the literary likes of E. E. Cummings, the sonic and thematic palette benefits from his lived-in heterogeneity, something evident from the depth and density of his 2018 breakout single Cold War, which now features in a crucial scene in actor-director Olivia Wilde's recent coming-of-age dramedy Booksmart.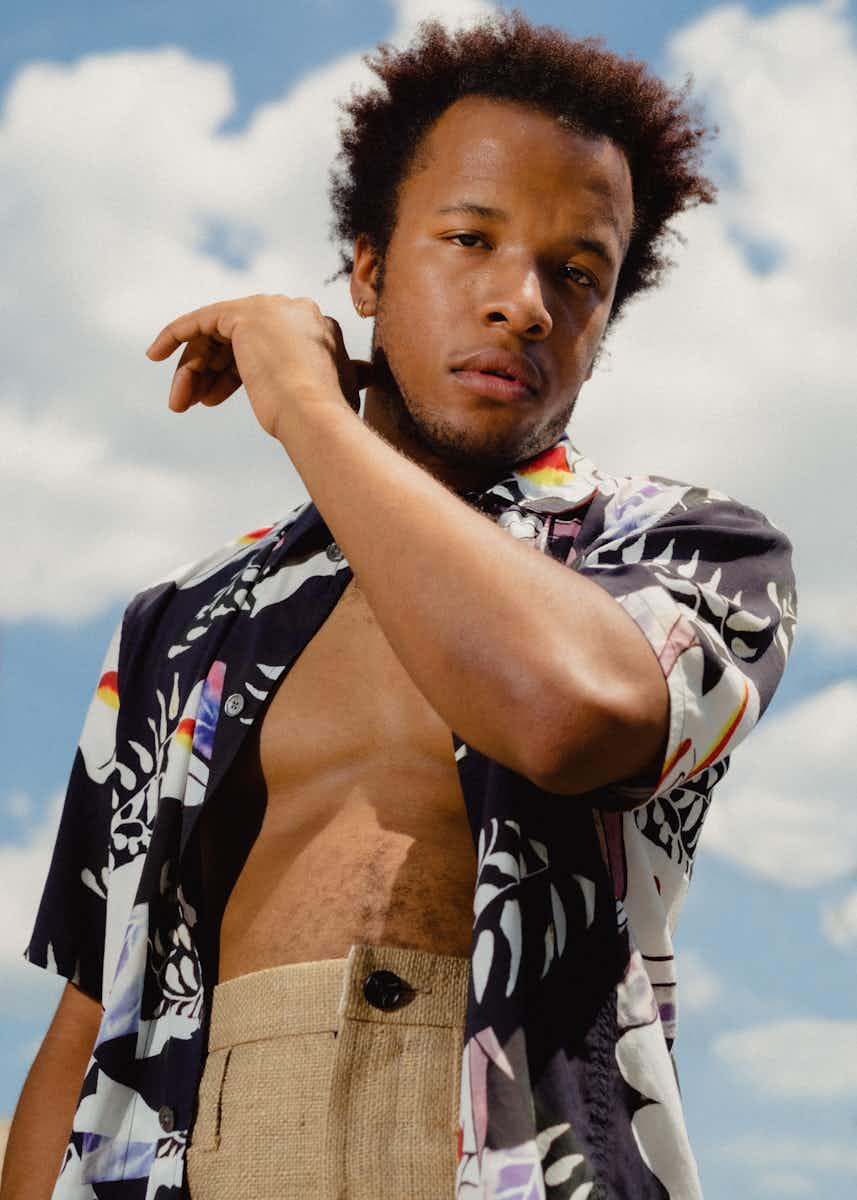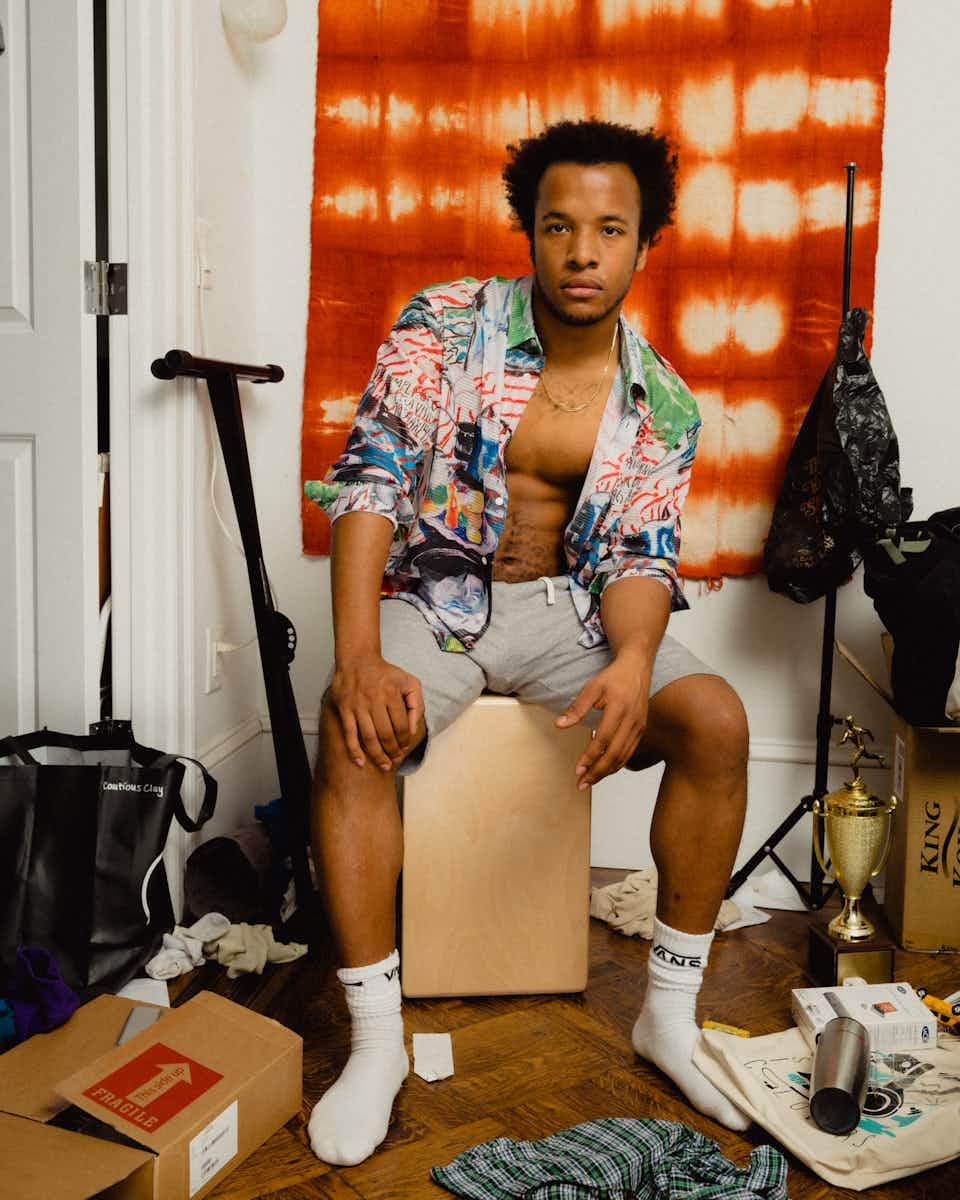 Left: Cautious wears shirt by Our Legacy, pants by Kozaburo, socks by Vans, shoes by Birkenstock and necklace by Lisa Maita. Right: Cautious wears shirt by Dior Men, socks (as before), necklace (as before) and shorts talent's own.

"This song was on my drive-to-work mix throughout the [Booksmart] shoot, which was usually around an hour, and perfect for dreaming up the playlist I would BLAST on set all day," Wilde wrote on her Instagram of her choice to include the track in her film. ​"Once I suspected this @cautiousxclay track would be the perfect accompaniment to our pivotal Amy x Hope scene, I played the song on set and watched everyone immediately start groooooovin. Then I knew we had the perfect song for the scene. Could this song be sexier? No."
Even as his music soundtracks one of the year's most critically acclaimed films, he still comes across as private and shy, a quintessential loner. ​"I really like to produce with negative space in mind," says Clay. Sometimes, it'll start with a drum sound or pattern that strikes him, giving him a skeleton to build upon. In other instances, he reaches for his phone's Notes app, where he's tapped out loose thoughts or phrases that later spark more expansive thinking and songcraft. ​"It's nice to not feel as though you have to write something extremely complicated or hard to understand."

One of Clay's most adventitious wells of creativity, however, happens to be his own unreleased work. Beginning with last year's beguiling Blood Type, his deliberately slow pace of EP-length releases belies a catalog of existing material he draws upon to develop new tunes. ​"Sometimes it's just like old songs I'll take lyrics from that fit perfectly into a new sound," he says. ​"Some of the most brilliant minds and creative artists have done a lot of songs, demos, ideas, that probably sound like a lot of their other things, that never came out."
For Sidewinder, he appropriated a melody he loved from another project he wasn't quite as satisfied with. Airy to start, the rather personal track aptly follows the negative space ethos he describes earlier in our chat, his earnest croon expanding into a one-man chorus with percussive flecks and moody bass. ​"Sometimes it's hard for me to totally understand where I'm coming from," he says of its thematic contents. ​"It's that indecisive nature that I sometimes feel I have."
Though principally a soloist, Clay's work ethic has also endeared him to other artists. He's remixed, produced for, or otherwise featured on works by artists like Alunageorge, Billie Eilish, Bipolar Sunshine, and John Mayer. Incidentally, these types of collaborations and commissions put him in the optimal mindspace to work on his own. ​"When I'm busy, I'm making a lot of stuff even though I probably should be executive producing a record for someone else," he says.

While each of Clay's curated EPs have served his artistic interests, the pressure to drop more projects in this fast-paced digital music era looms large. ​"Nowadays, you have to put so much out to stay relevant," he says of the expectations. ​"I don't want to put out a lot of shit and pollute the sound." That said, he does anticipate dropping a proper full-length debut, albeit when the time is right.
"It's been a really great year for me creating and I've done more shows than I've ever done in my life," he adds. ​"I know exactly what people think of me how they kind of process what I do, but then I also know exactly how I want it to be. And I'm just trying to find both of those things possible."

More like this