Chlobocop is seeing red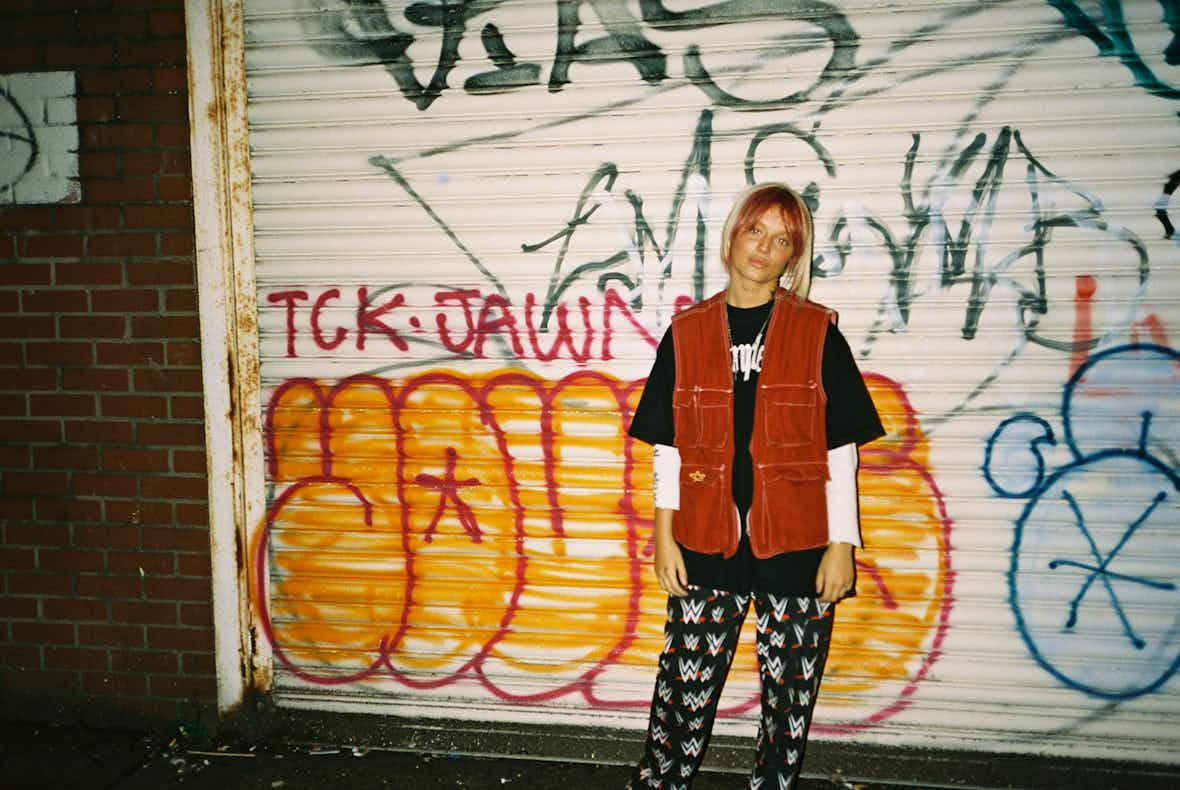 The police and patriarchy haven't stopped the 21-year-old Glasgow rapper.
At the age of 21, Chlobocop's stars seem to be aligning. The impish, albeit forthright and funny Glaswegian has only been rapping for nine months – her first track Tina created a buzz on Soundcloud – but she's fast developing her own distinctive sound. Her woozy, half-sung vocals glide across hypnotic trap-inflected beats, bringing to mind both UK rapper-singer IAMDBB as well as the iciness of experimentalists like Eartheater. Now, Chlobocop has dropped her first promo video for the intensely autobiographical single 999. As the track suggests, life hasn't always been so easy for the young rapper with a penchant for the colour red.
999 – taken from her recent Pay As You Go EP – details the moment at the end of 2015 when she was arrested on drugs charges aged 17 and forced to spend six days in a London Road Police Station cell because the courts were closed for the New Year period. ​"We were driving home, like one minute from my house, and we got pulled over and searched," she tells me in the LVLZ radio station studio, a hub of the Glasgow rap and club scene. ​"It was horrible." A difficult two years followed, Chlobocop unsure of what sentencing she would receive. ​"I was losing the plot because I didn't know what was happening," she continues. ​"When I was sleeping, I had a fear of dying, and then I would have panic attacks. I was just like, I've fucked it."

The 999 video was filmed in Dennistoun, an area of east Glasgow she proudly calls home. Alongside Chlobocop herself, the promo also features a hardy-looking, middle-aged man. ​"He's like an older ghost figure representing my dad," she says, describing how her father left the family early on. ​"I always get told, he coulda, shoulda been something. He was a DJ – old school, hard rave – but then he was an MC as well. I think I've got the same brain as my Dad."

Her mother, a keen rap fan, ensured music was always in the house as she grew up. ​"My mum's seen 50 Cent six times in concert," she laughs. ​"And she's seen Kanye West four times." Chlobocop started finding her own music at the age of 11 and made an immediate bee-line for Nicki Minaj. ​"She was speaking about things I could sing out loud," Chlobocop says. ​"You know, not like ​'suck my dick' or anything like that."
In June 2017, Chlobocop was told she'd avoid a prison sentence. And since August 2018, when she laid down her very first vocals at a friend's high-rise flat in Maryhill, she's made a conscious break with her past, pursuing music with a feverish energy. Her seven track project LiL' RED RIDIN' FROM THE HOOD came in December and was followed by Pay As You Go this April. She tells me her upcoming album will be ​"a big cocktail of beautiful" drawing on rock, punk and jazz, which she hopes will only feature only women because, in her own acerbic words, ​"Fuck men. I've proven myself as a woman in this city and I just want to prove women to the world." Perhaps most tellingly, Chlobocop isn't content with her own tracks being treated as mere background fodder, subsumed into the deluge of streamable rap. ​"I want my music to touch people rather than them just to like the sound of it," she says. ​"I want to create some depth."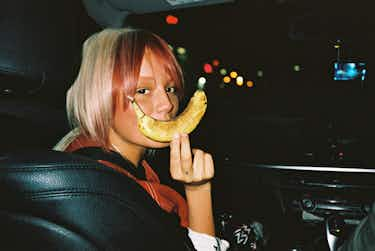 More like this