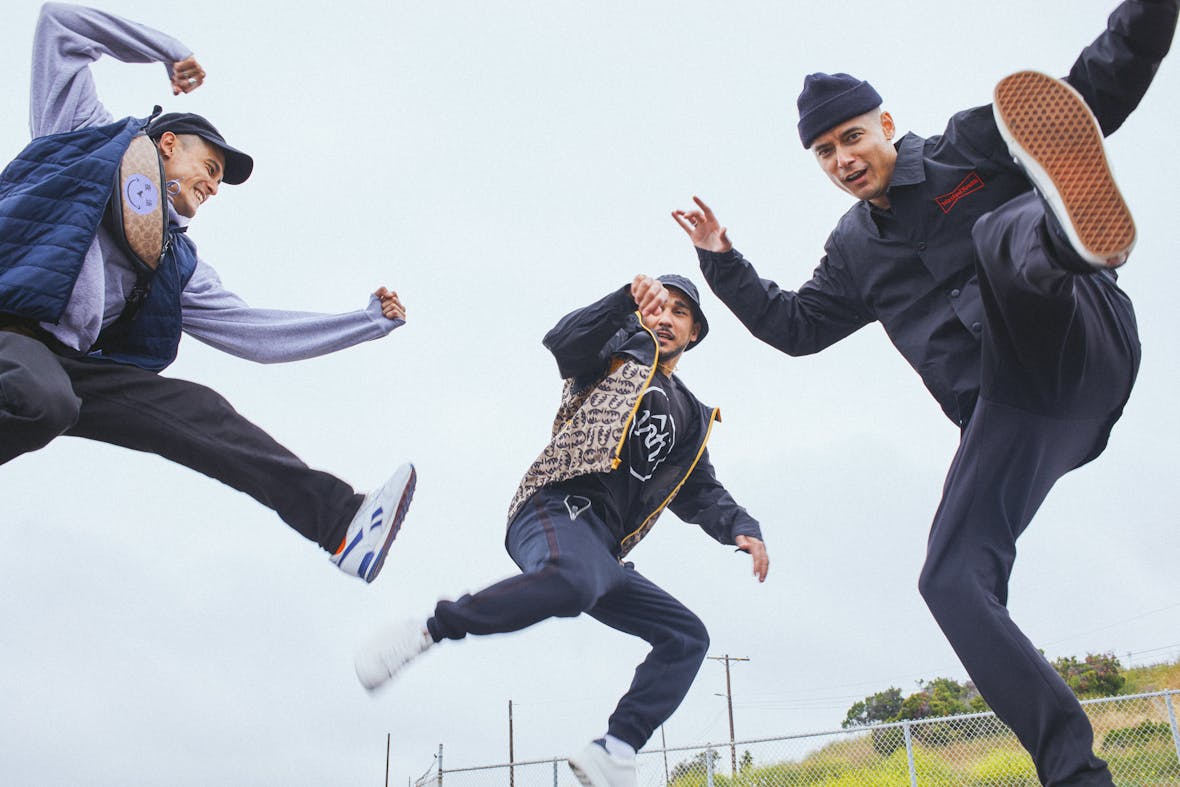 Club Reg­u­lars

006

: Yeti Out
Wel­come to Club Reg­u­lars – The Face's series spot­light­ing the DJs, pro­mot­ers, per­form­ers and activists with love for their local scenes.

Found­ed by Erisen, Arthur and his broth­er Tom, Yeti Out is a col­lec­tive of DJs, pro­duc­ers, pro­mot­ers and graph­ic design­ers mapped out across Hong Kong, Shang­hai and Lon­don. Ini­tial­ly launched as a blog – yeti​inthe​base​ment​.com – in 2010, the col­lec­tive has since estab­lished itself as Pro­fes­sion­al Par­ty Throw­ers, host­ing art shows and live per­for­mances through­out Asia and Europe, while merg­ing par­ty cap­i­tals such as Lon­don and Berlin with cities like Bangkok, Sin­ga­pore and Tokyo in the process. The col­lec­tive also has their own record label, Silk Road Sounds, which was estab­lished in 2018 and works through a broad spec­trum of music, from Tokyo grime to UK funk, Turk­ish psy­che­del­ic beat, and Saigon elec­tron­i­ca. Last year, the label released Silk Roads Vol.1, a com­pi­la­tion album pro­duced exclu­sive­ly by the Yeti Out boys, fea­tur­ing emerg­ing tal­ent from var­i­ous regions.
We speak to Yeti Out about their col­lec­tive, their top par­ty rec­om­men­da­tions (if we're ever in the neigh­bour­hood), and the rea­son they start­ed rav­ing in the first place…
First of all, who are the mem­bers of Yeti Out? How did you meet?
Arthur: Yeti Out is found­ed by myself, Erisen and my broth­er Tom. We have a crew of 5 – 10 across Hong Kong, Shang­hai and Lon­don. I met Erisen on Myspace in 2006 and a month lat­er he knocked on my dorm door on the first day of uni – by coin­ci­dence, we were house­mates. Over the course of uni, we prob­a­bly went to a thou­sand shows (half of which we blagged as ​"edi­tors" via a music blog we found­ed called yeti​inthe​base​ment​.com), for­est raves and house par­ties, before we had the con­fi­dence to start putting on our own nights. In 2011, I had to go back to Hong Kong to apply for a new iden­ti­ty card. Dur­ing the wait­ing process, there was a lack of good par­ties to attend, so I start­ed throw­ing nights I want­ed to go to, bring­ing the Yeti vibe over. It wasn't a plan to move back, but I've stuck around since.
Tom: Around the same time, I moved to Shang­hai and start­ed putting on shows for artists that I want­ed to see in Chi­na, work­ing with Eri in Lon­don to bridge that gap. In the begin­ning, we just put on nights to play the music we liked and tour artists that nev­er came out here, with­out think­ing whether peo­ple were into it. But the book­ings and par­ties quick­ly snowballed.
Where are you based and where do you most­ly spend your time these days?
Eri: I'm based in Lon­don, Arthur's in Hong Kong and Tom's in Shang­hai, but we're on the move with res­i­den­cies in Bangkok, Seoul and Sin­ga­pore soon. We go wher­ev­er the projects take us.
How is club­bing dif­fer­ent in Hong Kong and Shang­hai than it is to London?
Arthur: Hong Kong is very mul­ti­cul­tur­al, but high rent and a lack of sup­port from the gov­ern­ment and venues can make it hard for cre­ative scenes to grow. There's a good net­work of pro­mot­ers push­ing local nights, but there's still room to grow com­pared to London.
Tom: Shang­hai is a larg­er city with 25 mil­lion peo­ple and I feel the new gen­er­a­tion is pret­ty open-mind­ed to dif­fer­ent club cul­tures. With sol­id venues like ALL, Dada and Arkham push­ing var­i­ous nights, the scene is pret­ty healthy right now.
Eri: Lon­don is a very com­pet­i­tive place for under­ground events – it's cer­tain­ly not the eas­i­est place to start a series, but it's also where we cut our teeth. It's a good place to learn the ropes before doing events in oth­er cities.
If someone's vis­it­ing Hong Kong or Shang­hai for a week­end, where do you rec­om­mend they go?
Arthur: For Hong Kong, go to The Bound in Prince Edward, AUX in TST or Eaton Hotel for a drink, Salon 10 in Cen­tral or Pota­to Head in She­ung Wan is also chilled. For more under­ground par­ties, head to the ware­house dis­tricts of Fo Tan and Tsuen Wan. But we most­ly head over the bor­der to Shenzhen's OIL Club. They've got a great sound sys­tem and energy.
Tom: In Shang­hai, kick off your night at Ying Yang, a com­mu­nist style base­ment bar that has exist­ed since before the mil­len­ni­um, then check out the afore­men­tioned venues for club­bing. NTS Radio has a month­ly Sun­day show at Uptown Records and we're also curat­ing pop-ups and exhi­bi­tions at our new space, TEN5 Gallery.
Tell us about Silk Road Sounds – what's the idea behind the label and how does it operate?
Arthur: Every­one in the crew has mixed back­grounds and I think in this day and age, we all have mul­ti­ple iden­ti­ties and places where we call home. It's a beau­ti­ful thing being inspired by dif­fer­ent parts of your her­itage. Silk Road Sounds have both a fig­u­ra­tive and lit­er­al mean­ing. It con­nects the east and west in a jour­ney of sounds. We're sur­round­ed by tal­ent­ed friends and artists who have been able to trans­form expe­ri­ences as third cul­ture kids or those liv­ing in dias­po­ra com­mu­ni­ties into excit­ing music. So we just want to be able to pro­vide a plat­form to cel­e­brate this.
Oth­er than Lon­don, Hong Kong and Shang­hai, which are the oth­er cities you like club­bing in the most?
Tom: Sec­ond tier cities in Chi­na are also on the come up. Cheng­du and Chongqing in Sichuan province have a bub­bling trap scene, there's a build­ing in Cheng­du called the Poly Cen­tre where it all start­ed. It's offices by day and clubs by night, you can lit­er­al­ly bar hop up and down the build­ing all night with­out leaving.
Eri: Tokyo is wild! Paris is always good and Ams­ter­dam, too.
Arthur: Bangkok is def­i­nite­ly sec­ond or third home at the moment – the scene is kick­ing. I also recent­ly fell in love with Lisbon.
Any oth­er DJs or pro­mot­ers in East Asia you'd like to shout out?
Arthur: Heaps! Shout out to the extend­ed Yeti fam­i­ly: South Can­ton Soul Train, Mean Gurls Club, World Wide Wave and Load­ing Crew. Hong Kong Com­mu­ni­ty Radio, Absurd Trax and Wild Style Records are always doing excit­ing stuff. Our friends at Con­tra and Cakeshop, Seoul Com­mu­ni­ty Radio, Tokyo Vit­a­min, Dou­ble Clap­perz, 813, Blaq­lyte Crew, Oil Crew, De La House… the list goes on.
Eri: Big up East­ern Mar­gins, Lumi, Aki­to, Eli­jah & Skil­liam, Ahadadream, Keep Hush, Nico Ado­mako, Mer­ci Jit­ters, Daniel Ness, DJ Yakuza, Dan­ga, Hotel Radio Paris, Tony Goodguy – too many peo­ple to name but shout out to the whole glob­al gang! You know who you are.
Tom: Yes! Every­one that's been putting in sleep­less nights in Shang­hai; Preme, Wooozy, SVBKVLT, Chi­na Social Club, Genome, SHCR, Groove Bun­ny Records, Eat­ing Music – get famil­iar with them!
---