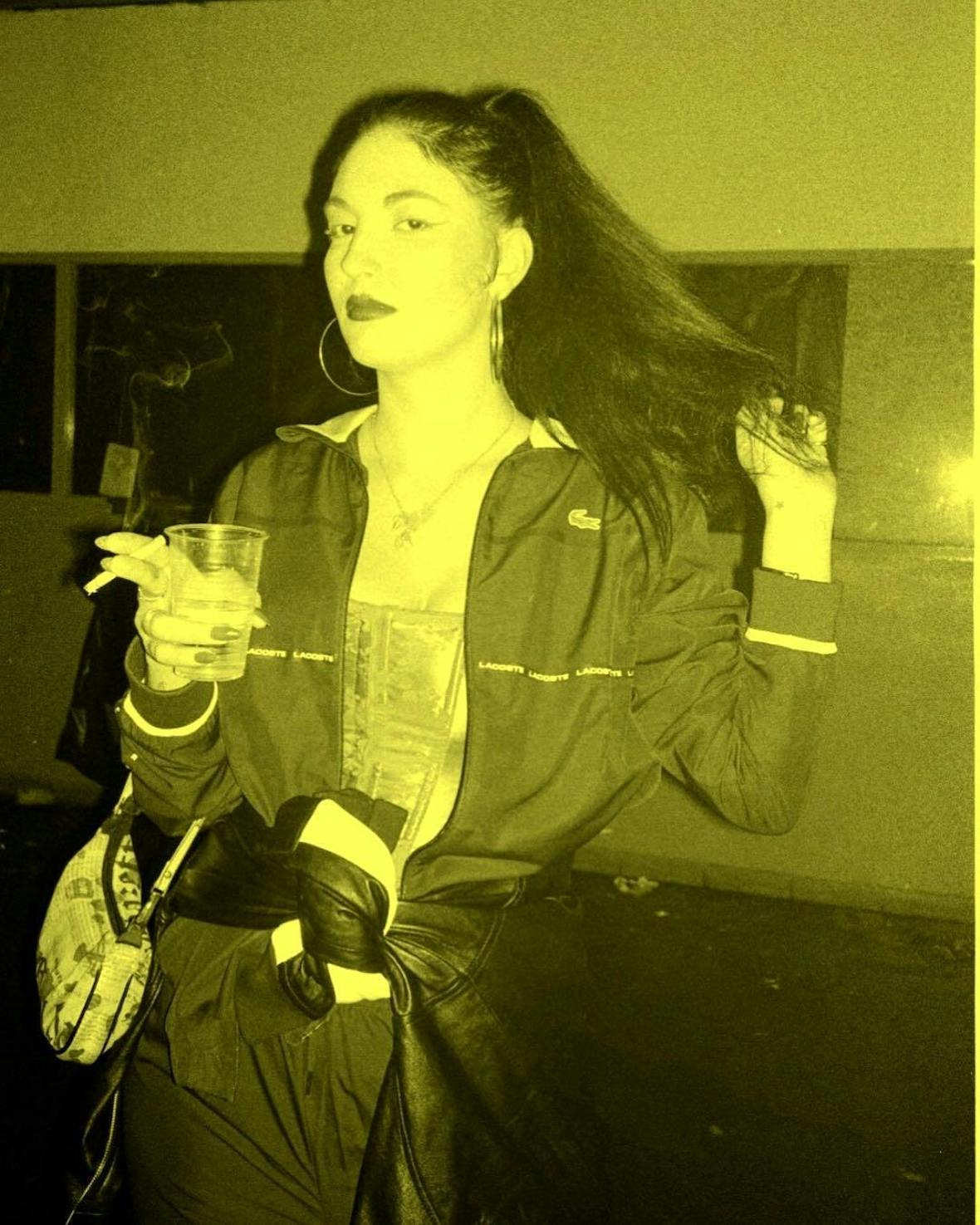 Club Reg­u­lars

008

: Mila van der Linden
A night out with Mila van der Lin­den usu­al­ly goes like this: rave, get into trou­ble, crawl in at 10am. Worst come­down, best night.
It's safe to say the 26-year-old Ams­ter­dam native knows a good par­ty – she's at the fore­front of the city's nightlife evo­lu­tion, where 24-hour clubs are now pop­ping up and more and more female DJs are right­ful­ly tak­ing the spot­light. Hav­ing start­ed rav­ing at the age of 15 when she'd catch a train to Rot­ter­dam and spend her week­ends at gab­ber raves, she devel­oped an intense love for nightlife and helped carve her rep­u­ta­tion for her week­end-long par­ty­ing in Amsterdam.
Recent­ly cre­at­ing visu­als for Van Gogh Museum's month­ly night in col­lab­o­ra­tion with Appel­sap fes­ti­val, van der Linden's char­ac­ter­is­ti­cal­ly idio­syn­crat­ic films were shown along­side a mix of tech­no, house and hip-hop, pay­ing homage to the acid house and Euro­dance music videos she's inspired by. Read on for Ams­ter­dam rav­ing tips from a true par­ty pro.

How did you first devel­op a pas­sion for raving?
I was 15 years old hang­ing out with a group of old­er peo­ple that intro­duced me to new music and rav­ing. Before that, only two places would let us in – this bar in a squat house, and a shit­ty tourist bar that did rock nights. This was about 11 years ago and dub­step was the thing. I remem­ber going to this ille­gal rave that was under a tun­nel in the out­skirts of Ams­ter­dam and then bik­ing home in the sun­shine at 9am think­ing ​'yup, this is it'. Some­thing about the ener­gy and peo­ple let­ting go of inhi­bi­tions felt like home to me.
Can you talk a bit about the Rot­ter­dam gab­ber scene and the raves you went to in your teens?
The ori­gins of it were before my time, but it was still going on when I start­ed going out. I had friends that lived in Rot­ter­dam and small­er cities sur­round­ing it so I'd tell my mum I was sleep­ing at a friend's house in Ams­ter­dam (sor­ry mum), then I'd take the train to Rot­ter­dam. We used to go to this place called Watt which did hard­core nights, they even­tu­al­ly shut it down over noise com­plaints. I have a very vivid mem­o­ry of a guy crawl­ing to the smok­ing area think­ing he was a snail.
What's spe­cial about Amsterdam's club scene?
It's very easy to cycle around on your bike and hop from place to place. It has real­ly changed for the bet­ter over the past years and is work­ing its way up to being one of the best in the world. What's spe­cial are the clubs with 24 hour licens­ing, hope­ful­ly with more to come. There's a strong com­mu­ni­ty feel­ing to it, maybe because of the size of the city – we all know each oth­er. I can go to a place by myself and I will 100% find peo­ple I know to dance with. It's pret­ty crazy how many good DJs from all over the world are play­ing here every week­end but also how much tal­ent we have here in the Netherlands.
If you could change any­thing about the Ams­ter­dam rav­ing scene, what would it be?
At the moment there isn't much I'd change because I just moved back here – I'm enjoy­ing the free­dom to real­ly let go on week­ends and dance for hours which I missed when I lived in Lon­don, where it requires so much organ­is­ing just to go out, then it gets stressful.
If some­one is vis­it­ing Ams­ter­dam for the week­end, where do you rec­om­mend they go?
De School – there's no place you can feel more free in Ams­ter­dam than there. You aren't allowed to take pic­tures or videos which only adds to the mag­ic – Sun­day is par­tic­u­lar­ly fun. Garage Noord is a great grimy rave cave with very refresh­ing pro­gram­ming. Claire has great sounds and stays open ​'til 7am. Sexy­land is a shack on an indus­tri­al area that has a dif­fer­ent own­er every night and does great hip-hop nights. Fur­ther­more, vis­it Bret, Shel­ter and Radion!
Oth­er than Ams­ter­dam, where are your favourite places to go out rav­ing and why?
It's a cliché to the max but I vis­it my friend in Berlin every so often for a week­end and it nev­er dis­ap­points. I don't think I have to tell you where we go…
Last­ly, any DJs you'd like to shout out?
Yes! Mairo Nawaz, Woody'92, Carista Een­dragt, Elias Maz­ian, Miley Seri­ous, Cera Khin, Vic­tor Crezee and Ruby Sav­age.
---