Eartheater: ​

"

Sometimes you have to infuse mundanity with a little dragoncore"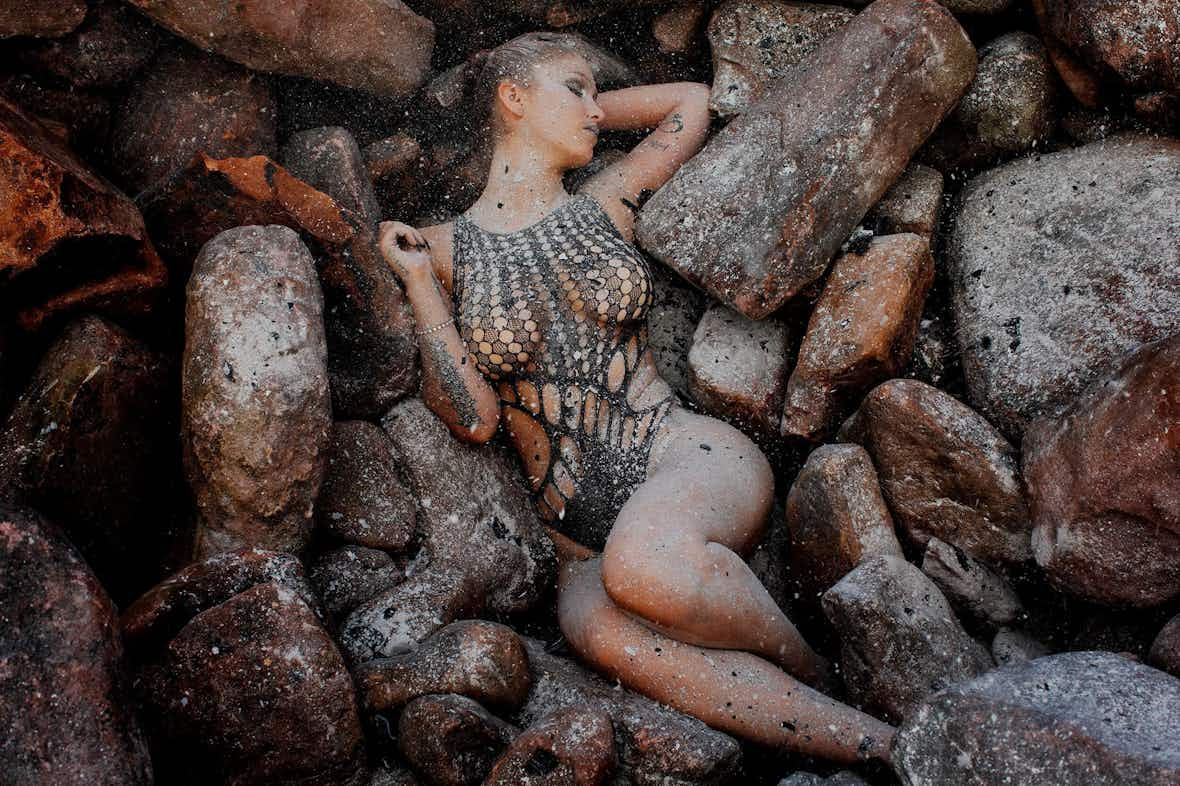 On her new album Phoenix: Flames Are Dew Upon My Skin, the NYC musician creates an alluring fantasy world.


"This record has been brewing inside me for a long time," says Eartheater of Phoenix: Flames Are Dew Upon My Skin, a powerful new album of loss, love, renewal, tectonics and fire-breathing dragons.
The musician born Alexandra Drewchin wrote her fourth LP last autumn during a 10-week artist residency in Zaragoza, northeastern Spain, a city surrounded by ​"cayenne pepper red and fiery yellow" semi-desert.
The dusty, sun-scorched landscape seems to be baked into her new album's fiery aesthetic. The cover art, shot by Daniel Sannwald, shows a winged Drewchin stood over sparks which shoot up and between her legs. It's an eye-popping image, tinged with the kind of humour that's been part of the Eartheater project from the start.
"I think a sense of humour is god; the way that improvisation is god," she offers, speaking to The Face via video call, and clutching a huge mug of herbal tea while reclining on her bed. ​"It's all about timing, it's like a spell. And some people are just better at it than others."


The searing visual for the record's centrepiece, How To Fight, was partly formed from footage taken at the album artwork shoot, and sees Drewchin casually strumming an acoustic guitar. Next, as she contorts and entwines her limbs around dancer and best pal Chucky Rosario, an atmospheric stew of creaking, foley-esque sounds and heavily vibrating wings simmers away. Much like the rest of the album, it's dripping with slow-burning drama. How does Drewchin feel about people listening to Phoenix while walking around the supermarket, as I did so last week?
"Sometimes you just have to infuse mundanity with a little Lord of the Rings–core, dragoncore, firecore," she says, with a wild laugh. ​"I feel like that's very much what these days feel like; daily tasks are very limited and yet it feels so fire and brimstone.
"I'm sort of giving into the mysticism," she continues, ​"and I'm not afraid to admit it. In the past I've been so frustrated with the American spiritual fraud, the colonisation and bastardisation of Eastern philosophies, it really bothered me a lot of the time. I'm kind of New York and gritty in that way, and that's all very LA," she laughs. ​"But on this record I'm kind of just allowing myself to relax. And I think it was really important."
Drewchin grew up on a remote horse farm in Pennsylvania and moved to New York aged 18. This year, as the coronavirus pandemic hit the city particularly hard and she moved out of her shared house in order to make space for a vulnerable housemate, her dad also became ​"very sick", but is thankfully now stable. Then, during summer, she broke her arm while demonstrating a tried-and-tested high-kick manoeuvre on an empty beach. ​"I went flying in the sand and landed on concrete. I didn't know I could actually fly that far. I flew!"

Fortunately, with Phoenix, Drewchin has created a portal into a fantasy world to escape in. Written a few months before the shitshow of 2020 had started to unfurl, musically, it marks a shift from the glacial electronics of last year's collaboratively-produced Trinity mixtape and 2018's experimental, rebelliously-spirited Irisiri to embrace a more classic songwriting style, focused on acoustic guitar, gorgeous orchestral flourishes and the smoother side of her singing voice. Drewchin still retains her gift for innovative sound design, though, most notably on the sci-fi clatter of Burning Feather, which features screeching swings she recorded in a local park, and on Kiss of the Phoenix, where she carves out an alien landscape resplendent with ambrosial strings and robotic noises.
"I had lots of scratches that I needed to itch, lots of impulses," explains Drewchin. ​"My struggle has been trying to satisfy all the different ways in which I'm inspired into something that I think works. I get bored easily and also I like to mix things up for my own mental health just for who I am really, saying that's the way to be."
While Phoenix is another chapter in the conceptual universe of Eartheater, you get the sense throughout that Drewchin is really working through her own feelings and experiences. On Below the Clavicle, a wintery cinematic confessional with strings from Ensemble de Cámara CSMA and the first Phoenix track Drewchin wrote, she sings; ​"I'm a clever girl /​To keep my mouth shut /​The meaning hasn't come up yet /​It's still under the surface." On the aching piano, guitar and electronica-tinged torch song Volcano, she's ​"building mountains underground" and ​"grinding on a skull to get ahead", while ​"full of love" and ​"full of lava". In Drewchin's words, How To Fight is really about having to kill her ego, ​"but then holding onto what I was right about too."
"I know that this record teeters on corny," she admits. ​"But I do also think that corny is adjacent to iconic and it's that adjacence that is really interesting to me now. But at least I have the experience to back it up. When I was 23 I gave too many fucks about what people said. I don't really give a fuck what anyone says at this point."

Phoenix: Flames Are Dew Upon My Skin is released October 2nd via PAN.

More like this