Check out Emma-Jean Thackray's jazz-not-jazz Face Mix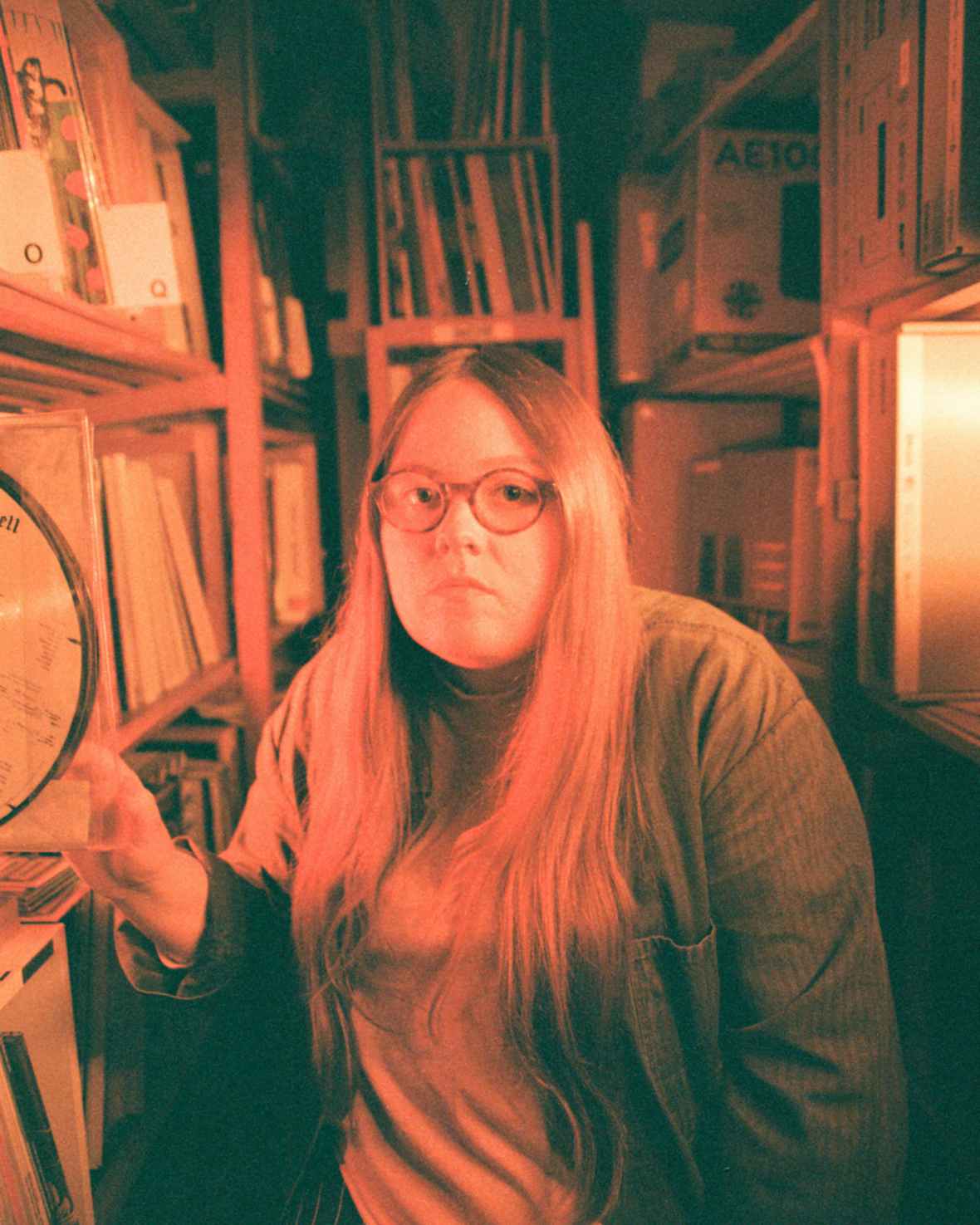 Yorkshire's brass, beats and grooves polymath brings us 11 tracks for a long (sensibly) hot summer, blending Thundercat, Roy Ayers and Madlib.

Emma-Jean Thackray, Leeds-born and London-based, is a songwriter, singer, trumpeter, DJ, producer, bandleader, remixer and leading light of the propulsive UK jazz scene.
Having started playing cornet aged eight, she cut her musical teeth in Yorkshire brass bands, later studying at the Royal Welsh College of Music and Drama, followed by a Masters at London's Trinity Laban Conservatoire of Music and Dance.
This summer the 31-year-old releases her debut album Yellow, its release first delayed by You Know What, then by another three weeks by the nationwide backlog in vinyl manufacturing.
Yellow – released on her own label Movementt (sic), via the mighty Warp – was ​"pretty much" done pre-pandemic, ​"but then I had a couple of little overdubs and the mixing to finish," Thackray says over the phone from her home in Catford, South London. ​"But I spent the rest of the time doing some remixing – and trying to slow down the pace of life! Before, I was touring so much and you're always running on adrenaline, so you don't realise how exhausted you are."
How frustrating was it to be sitting on the record for so long?
"I definitely was really excited to share it with everyone. But it's crazy when what people know of you is what you've released. The record was written in 2019, so what you think isn't me anymore. I'm working on the next stuff now. Guys, you don't know what's coming. You think Yellow​'s the thing, but it's not the thing anymore!"
Well, for now, Yellow is the thing – and a glorious thing at that. And its jazz/dance/brass/electronic/feelgood-but-exploratory credentials are elegantly burnished by the mix Thackray has made exclusively for THE FACE. From Alice Coltrane to Zeitgeist Freedom Energy Exchange, via Funkadelic and Sun Ra, she crams an alphabet of inspiration and perspiration into 11 killer tracks. The summer sunshine party start here.

What's the vibe of your FACE mix?
Jazz-not-jazz weirdos. Which I think is me, really. There are a few things on there that are stuff I was listening to that really influenced the sound of Yellow. So, Alice Coltrane for sure – that sort of happy-clappy, ashram trance.
What other choices, and artists, relate to Yellow?
I was listening to a lot of RAMP – Roy Ayers Music Production – and really trying to think about that vibe: very Seventies jazz-funk sound, with lots of chanting and gospel-esque backing singing. A lot of P‑funk, too, and Madlib is massive for me with the Yesterday's New Quintet stuff. And Stanton Davis was a huge influence on the sound of Yellow as well.
What's the best crate-digging moment?
Zeitgeist Freedom Energy Exchange are someone who is relatively new to me, but I got to know about them through friends. They're in the Melbourne equivalent to the London scene – this very dance-influenced, jazz-not-jazz music. I'm really excited by what I'm hearing from Melbourne at the minute.
Have you lost a lot of hours in record shops?
I have, and a lot of money! But to be honest, if there's something up on a high shelf that's a hundred quid, I'm almost certainly not going to get that because most of my life has been without money even to eat. So the vibe was always basement stuff – can I get something for £1? In the crates underneath the racks, you can always find some gems. Something warped, misshapen or dusty. It could even be that the record shops don't know what they've got.
Any shops you'd like to give a shout out to?
There are a few in London because I like to hang out there, flick through the racks, look at some covers, and enjoy that real community hub feel. One of my favourites is Rye Wax in Peckham. They have really good staff picks, and they're always repping my records on the walls, which is really great of them. Also, Music & Video Exchange in Greenwich – I spent many, many, many hours there. The staff are all really knowledgeable and lovely. And Sounds of the Universe in Soho – they're the ultimate record shop for me. Those shops are like a hangover from the Seventies – the people that come in have the Matrix-style massive leather coats, real oddball characters.

What record was your entry point to jazz?
Sketches of Spain by Miles Davis and Gil Evans. I came across it by accident. I was doing a lot of brass band playing and I was learning this solo. Then I was on Limewire – I was a kid, don't judge! – and I downloaded the wrong version of the piece I was looking for. And it was this Sketches of Spain thing and I was like, what the fuck? It opened up my mind. And from there I was like: I like this Miles Davis guy, I've obviously discovered him, I need to tell all my friends about him. But none of my friends gave a shit. None of them was into jazz but I had the bug. Then it was spending all my pocket money and finding Kind of Blue, then A Love Supreme… It was a solitary and organic journey, but it means I have a more lasting relationship with those artists because I found them myself.
How important was it for you to meld the Yorkshire brass band tradition into your take on jazz?
I've not been doing it consciously, it's just part of me. That was the way I learnt how to make a good sound, playing in the band. Brass band music is a real beast because, if people are being individualistic, it can sound horrific, really piercing and brash. But if you're all playing together and thinking the same way it can be so sweet and gentle. And that diversity of sound you get from a homogenous instrumental group is staggering.
What's the ethos of Movementt?
I have this mantra which everything is fuelled by: move the body, move the mind, move the soul. The music I make has this visceral, very physical groove. It has cerebral craziness on top. Forward-thinking harmonies. But it should also be really nourishing for the soul – it should be about something interesting, it's not music for music's sake. All the music I make encompassed those three things, and that's what I want the record label to be about. So when we eventually start releasing collaborations and other artists, the music will have this identity. But also: the movement of people around the world has made the music that I make. So the name is also a nod to that, to say thank you.
Your brilliant recent performance of your single Say Something on Later… with Jools Holland gives a flavour of what you're like live. But what can we expect from your shows when they (eventually, hopefully) happen?
A five-piece with trumpets, electronics, conga, percussion, drums, tuba, keys – they're all fantastic and part of the record as well. I'm leading with hand gestures and stuff but there's also this telepathic connection that we have between us. And every time we play, the material is completely different because there's so much improvisation. Nothing is ever going to be the same from one show to the other. So each show is a special one-off performance for the people there.

1. RAMP – The American Promise
2. Evans Pyramid – Never Gonna Leave You
3. Funkadelic – (Not Just) Knee Deep
4. Yesterdays New Quintet – Julani
5. Zeitgeist Freedom Energy Exchange – Marcus Garvey
6. Stanton Davis' Ghetto Mysticism – High Jazz
7. Alice Coltrane – Om Rama
8. Theo Parrish – Heal Yourself and Move
9. Sun Ra (Mike Huckaby Edit) – UFO
10. Stanton Davis' Ghetto Mysticism – High Jazz Reprise
11. Thundercat – Interstellar Love

Share
Yellow (Movementt/​Warp) is out now. Find out which of Emma-Jean's upcoming shows are still happening on her website. We're keeping our fingers crossed for Colour Factory in London on 28th July and Gilles Peterson's We Out Here festival 19th-22nd August

More like this