Iggy Fucking Pop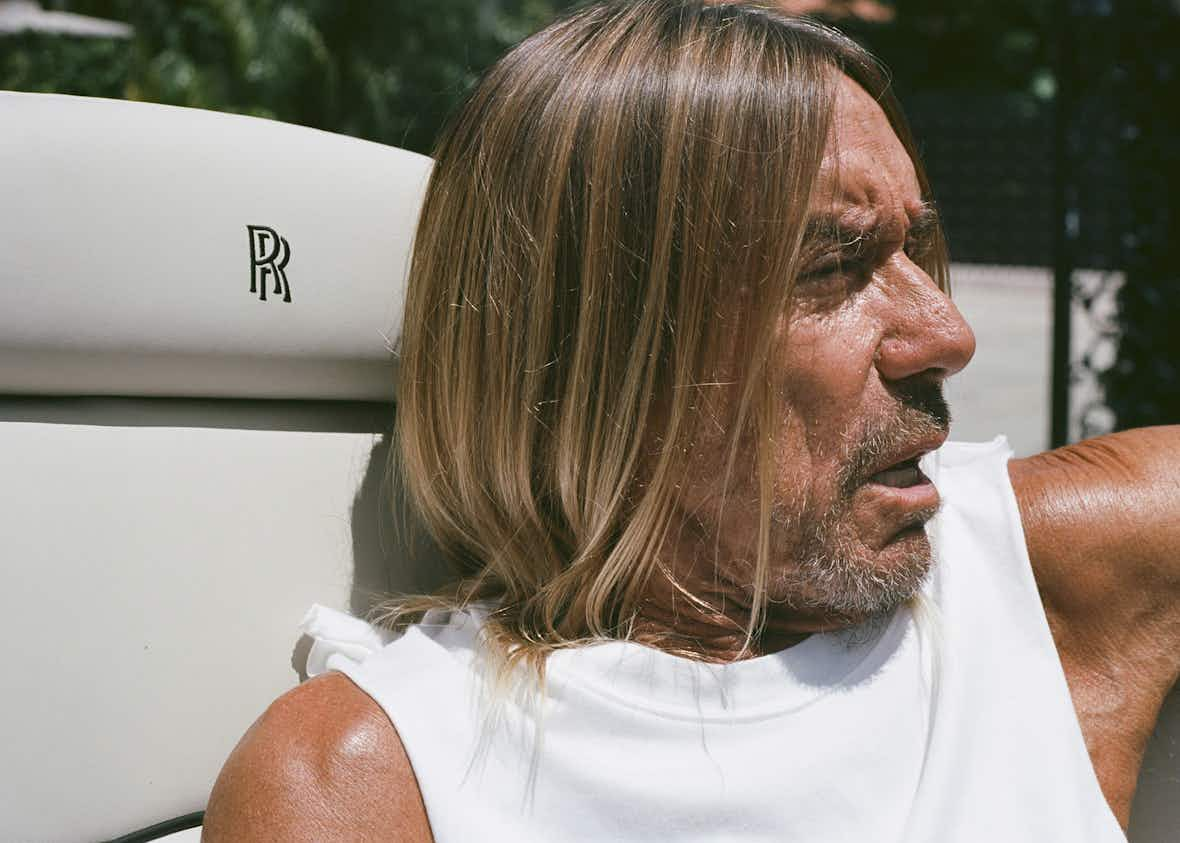 The ​Godfather of Punk, American Caesar and so much more. All hail Ig.
Iggy Pop is not only the Godfather of Punk. He's a singer, songwriter, actor and BBC 6 Music radio show host who's as much of an icon at 72 as he was at 25. Today, he teases us with his new single Free: the title track of an album that, with its jazz-trumpeter tunes and recitation of a Dylan Thomas poem, bears little resemblance to anything he's done before.
James Osterberg has been there, done that, and deliberately scarred his chest with broken glass – and gleefully repeatedly exposed himself – in the process. He started out in Michigan with the heavy-rock-meets-psychedelic sounds of Iggy and the Stooges, whose classic self-titled debut album was released 50 years ago next month.
After accidentally inventing punk with deathless, defiant tracks like Search and Destroy and I Wanna Be Your Dog, he moved into another phase when he moved to Berlin in the mid-Seventies and partnered with David Bowie. He produced Iggy's first two solo albums, The Idiot and Lust For Life, the latter featuring the still-vital title track and The Passenger. He was still hard at it in the Nineties, with 1993 bringing another rebirth in the mighty American Caesar album (1993).
Four decades on, neither age nor rehab have withered Ig. Nor have they slowed his restless, punkish creativity. His last album was 2016's Post Pop Depression, produced by Josh Homme of Queens Of The Stone Age and featuring Arctic Monkeys' Matt Helders on drums.
And now comes Free. As Iggy says: ​"This is an album in which other artists speak for me, but I lend my voice." Those artists are Texan jazz trumpeter Leron Thomas and guitar instrumentalist Noveller. Even in a back catalogue as rich and diverse as his, Free stands tall as the sombre, contemplative sound of an artist at the peak of his powers. Frankly, Iggy has never sounded more free.
"By the end of the tours following Post Pop Depression, I felt sure that I had rid myself of the problem of chronic insecurity that had dogged my life and career for too long," he tells us. ​"But I also felt drained. And I felt like I wanted to put on shades, turn my back, and walk away. I wanted to be free. I know that's an illusion, and that freedom is only something you feel, but I have lived my life thus far in the belief that that feeling is all that is worth pursuing; all that you need – not happiness or love necessarily, but the feeling of being free. So this album just kind of happened to me, and I let it happen."
Iggy credits Ben Ratliff, the former jazz critic at The New York Times, with introducing him to the work of Leron Thomas. He now counts the Houston native – who also records under the name Pan Amsterdam – as a close friend. As he says: ​"We have a laugh together and we can talk about anything."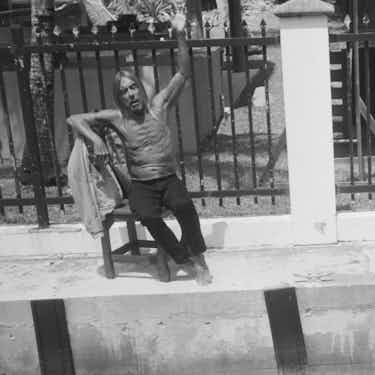 Listen now:

"The last time I made a best friend? Leron Thomas." Iggy on his collaborators Leron (Pan Amsterdam) and Noveller.

We meet Iggy with a rail full of Martine Rose clothes on a scorching hot afternoon in north east Miami. Unsurprisingly, the wild man is most comfortable wearing a pair of jeans sans shirt, with his leathery torso proudly on show. He requests to go barefoot, too. ​"This is a south eastern breeze, the nicest you can get here," he says.
Iggy has lived in Florida since 1991 – after 20 years in New York he was tired of the city's ​"monumental shitty buildings and shitty people".
"I love to be by the ocean. I walked about 50 blocks up the beach the first day I got to Miami. Back then it was really downmarket. In 1997, I bought a condominium for $40,000 from a shady character on the beach. In 1998, I moved and bought a house.
"At that time, there was never a problem parking. I bought an old Cadillac. A cherry red Cadillac de Ville convertible from some old geezer. It was a 1968 car and he handed me the keys and said: ​'She's ready to drive to California right now.'
"It was real. There were lots of shady characters here. Left over old people in South Beach. You know, people taking advantage of cheap rent for these large spaces you could throw a club. There was a lot of that. 2 Live Crew had their own store front in Miami Beach. It was real loose. Oh my God, there were still thrift stores here. Real, real loose."
These days Iggy lives in Coconut Grove, an upscale, leafy green neighbourhood. He has a place on the river nearby where he focuses on his art, and he takes regular trips to ​"the islands": the Bahamas, the Cayman Islands and Cuba, each just an hour away. He started driving a Rolls Royce a couple of years ago, because the classic British marque makes him ​"feel like everything is okay" – he describes the process of obtaining a new Rolls as both ​"comforting" and ​"like being married".
Not to be confused with the idea of marriage, itself, being comforting for Iggy. ​"Well no, I didn't say that," he laughs when asked to elaborate. ​"All I said was that signing the papers and getting a warrant, was like being married! I don't do interviews about marriage!"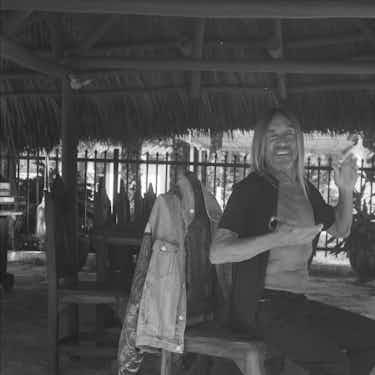 Listen now:

"You want to get in my car? You can get in my car baby!" Iggy on his Rolls Royce.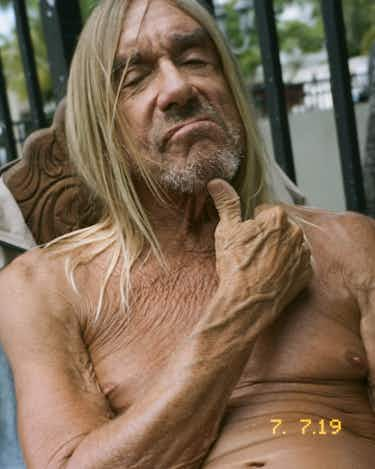 When he's not hanging out in Miami listening to Eric B. & Rakim with his bird – of the feathered variety – Biggie Pop, or on a trip to the islands, you can catch Iggy on 6 Music. With Iggy Confidential, his free-roaming weekly radio show, he has a clear mission in mind, one that's permeated his career: to introduce a ravenous pool of listeners to new music on which to feast. That, and avoiding repetition.
"I try to do everything that I can [to avoid it]. Maybe over a whole three years I might repeat one per cent of the tracks. And it's a two-hour show. I have to have 30 tracks, 40 weeks a year. That's 1200 tracks! I find shit, and then I have sources: two or three people in France, a producer, a jazz boy in New York who sometimes sends me stuff, and a girl from a record store here. Mostly I just jig it up and then about 15 per cent of it is stuff I've known about, and loved, all my life.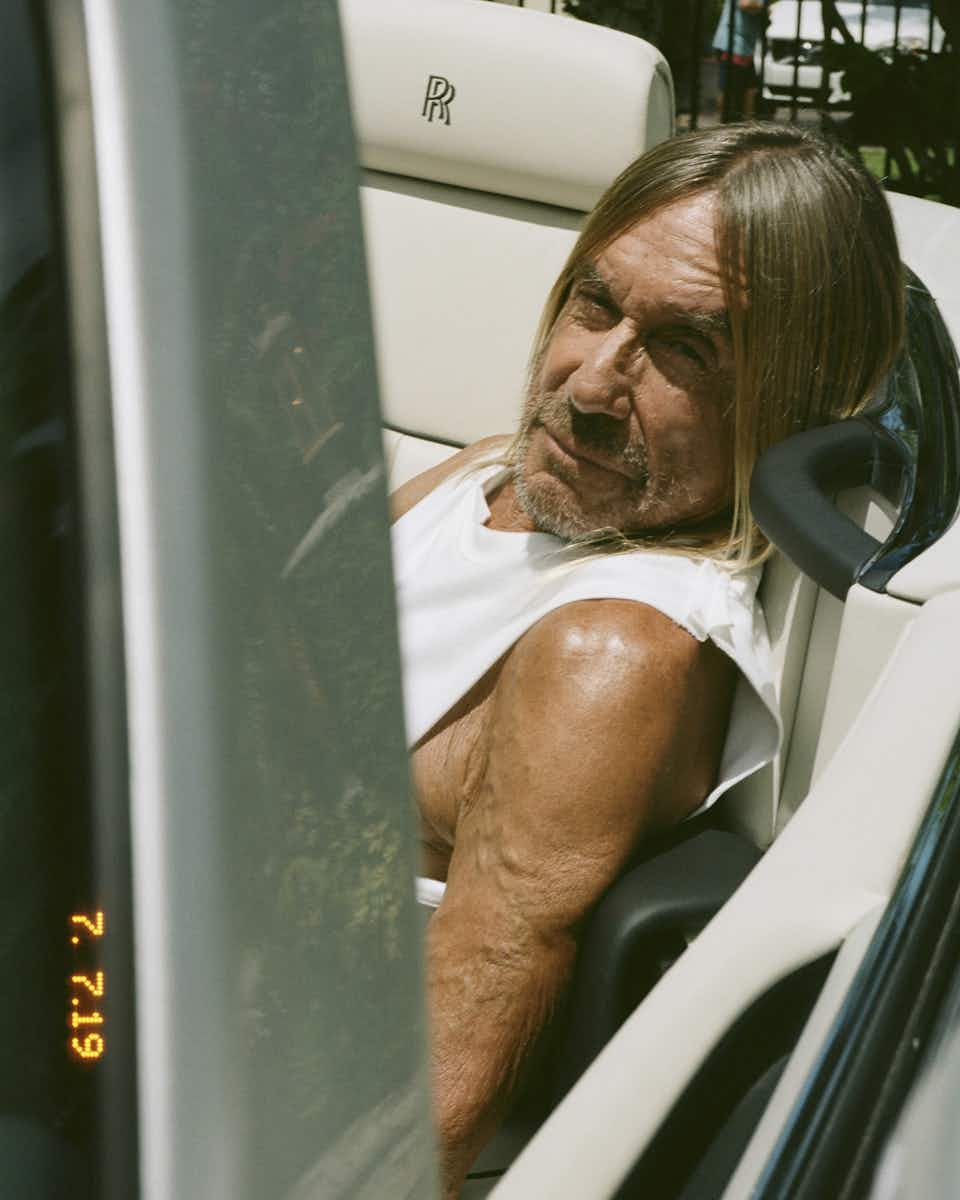 "But when you do that many, and you're going fast, and you're also touring, and doing recording, and trying to live… I do listen to the shows, two thirds, or all of it… But you know, the first couple tracks I'll go: ​'Oh, that's great, I really like that one', and sometimes the third one [is], ​'aaargh!' you know? Sometimes, even if it's not my favourite thing, I'll play something if the artist is really good because I know that somebody else might appreciate that style. I do a little compromise."
You might have seen Iggy pop up on a screen near you this summer, too, in Jim Jarmusch's self-aware zombie comedy The Dead Don't Die. Iggy and Jarmusch have been pals since the early Nineties, with Iggy first popping up in 1995's dark comedy Dead Man (as a cross-dressing fur trader) and later in 2003's Coffee and Cigarettes as himself. They got together again in 2016 to work on Gimmie Danger, Jarmusch's documentary that's an unapologetic love letter to the The Stooges. Now, in his best role yet, Iggy plays a shirtless zombie alongside an all-star cast that includes Bill Murray, Adam Driver, Chloë Sevigny and Tilda Swinton.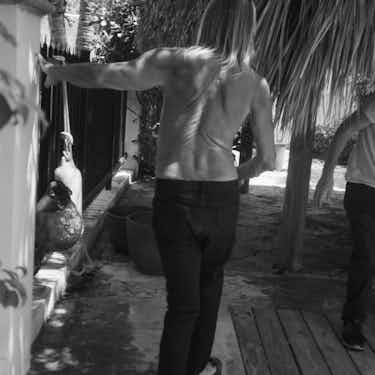 Listen now:

"He said: 'I want you to play a zombie in my next movie'." Iggy on Jim Jarmusch.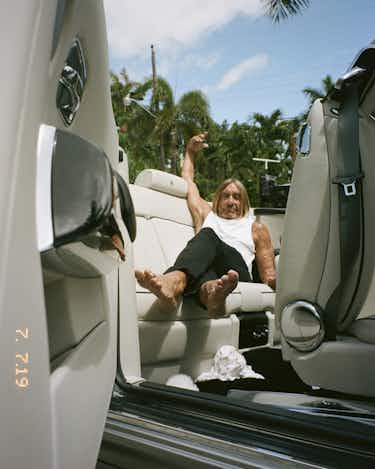 There are, then, countless sides to Iggy the chameleon. He may have mellowed since his days of daredevilish diving, crowd surfing and onstage self-laceration (pouring wax on his chest or gouging at his skin with a broken drumstick). But he's still as daring, and still as fearless, albeit less self-destructive and more reflective, the poles of his personality embodied in a speaking voice that pivots between girlish giggle and Midwestern drawl.
He's got a book on the way, too. ​'Til Wrong Feels Right, published this September, brings together lyrics, old photos and reflections on his career, from those proto-punk beginnings to his induction into the Rock and Roll Hall of Fame in 2010, right through to this summer and run of select shows he's been playing in Europe.
Iggy's motto for living? ​"Get out of bed and confront life." That, and: ​"Always cover your ass."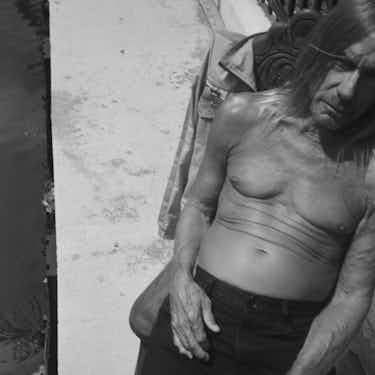 Listen now:

The one thing you should remember, as told by Iggy.

More like this