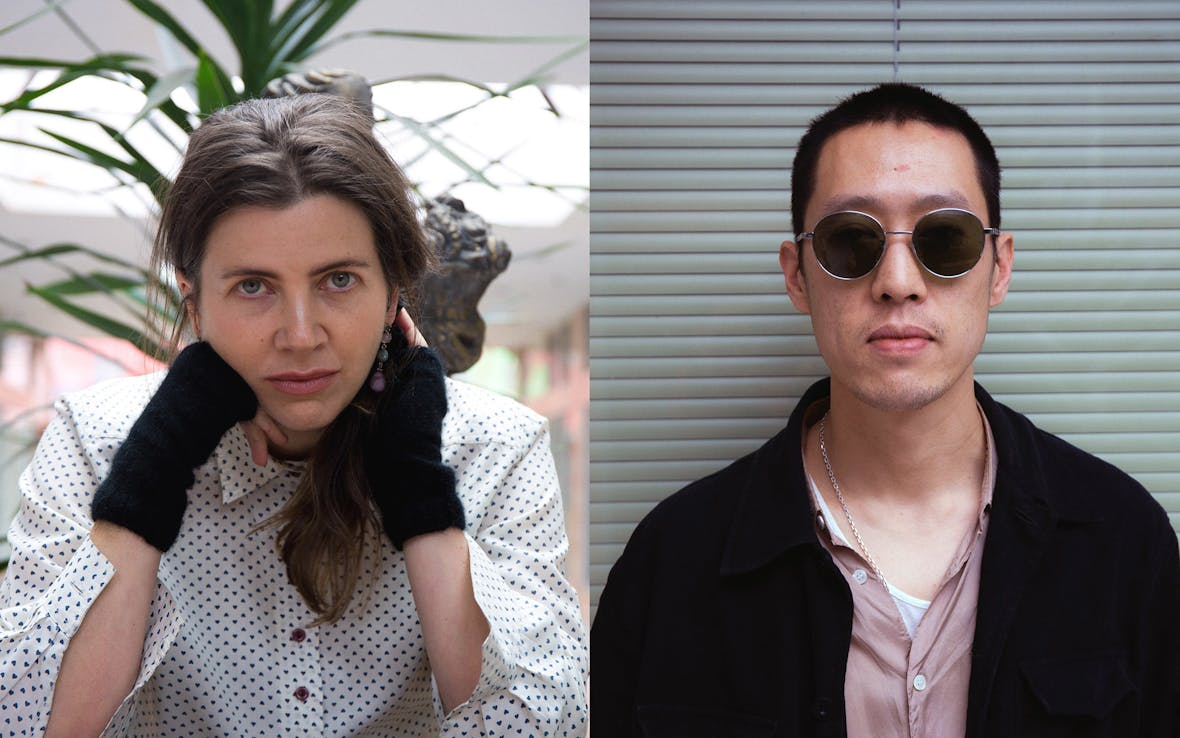 HTRK

are hap­py to be back
"It's as if you're mak­ing a body oil." Jon­nine Stan­dish sits to my right, perched on a small couch in her band­mate Nigel Yang's apart­ment, try­ing to explain the process behind the music they make as HTRK. Yang's apart­ment is cozy and dim­ly lit; strewn with children's toys and books. Min­i­mal, mid-tem­po house music is play­ing on the stereo. Stan­dish, Yang and I have been talk­ing for the bet­ter part of an hour, and after dis­cus­sion of every­thing else key to under­stand­ing HTRK in 2019, Stan­dish gets down to the brass tacks.

"It's got these drops of humour, drops of sad­ness, drops of sex," she explains. ​"It's dif­fer­ent amounts of drops to make a HTRK song. It's not that we're mak­ing the music that we want to hear — it's that we know when we're mak­ing a HTRK song."
The pair have been in a band for so long it feels like there's a kind of intu­ition between them. Yang will have to speak for Stan­dish and Stan­dish for Yang. Dressed in sim­ple colours and fab­rics, they have a mature, peace­ful air about them; often cod­ed as ​'mys­te­ri­ous' fig­ures in the Mel­bourne scene. In per­son, they strike more as a pair unin­ter­est­ed in cul­ti­vat­ing any air of grandeur about them.
"In Mel­bourne the pres­sure isn't there to be son­i­cal­ly inno­v­a­tive, and you can be more emo­tion­al­ly authen­tic with­out that pres­sure to be cool." – Nigel Yang
First emerg­ing in Mel­bourne in the ear­ly ​'00s, HTRK (pro­nounced ​'Hate Rock') estab­lished them­selves as strange, scowl­ing rene­gades swim­ming against Melbourne's tide of uncar­ing, lar­rikin pub rock bands. Ini­tial­ly a col­lab­o­ra­tion between Yang and Sean Stew­art, the pair invit­ed Stan­dish to join the band ear­ly on.
With a dis­tinc­tive sound that stood out in the Mel­bourne scene, the trio achieved under­ground suc­cess quick­ly. In 2009 they released their debut full-length Mar­ry Me Tonight, which was pro­duced by for­mer Birth­day Par­ty mem­ber col­lab­o­ra­tor Row­land S. Howard – a high­ly respect­ed fig­ure­head in Australia's alter­na­tive music scene. After relo­cat­ing to Berlin to record their sopho­more record, the band was shak­en by Howard's death that same year.
The fol­low­ing year, Sean Stew­art com­mit­ted sui­cide halfway through record­ing the album. Yang and Stan­dish fin­ished and released the lo-fi and grief-strick­en Work, (Work, Work) in 2011, and the tor­ment­ed-but-opti­mistic album Psy­chic 9-to-5 Club in 2014. ​"Psy­chic 9-to-5 Club, tim­ing wise, was before we actu­al­ly came to peace with our­selves," Yang explains, refer­ring to the three years after Stewart's pass­ing. ​"It was kind of a stress­ful time."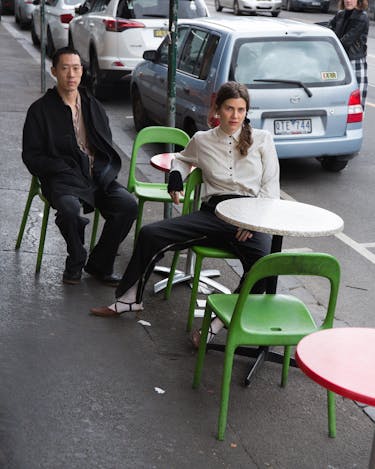 Venus In Leo, the band's fourth full-length – released 30 August via Ghost­ly – rep­re­sents an exhale, after an album record­ed with bat­ed breath. For per­haps the first time since their debut, HTRK feel free.
Venus In Leo was record­ed live, in only a few takes. ​"We real­ly tried not to fuss too much over every­thing like the last album," Stan­dish explains, "[This time] if the authen­tic sto­ry came across, we were good." Standish's lyrics tend to be front-and-cen­tre of the songs, craft­ing nar­ra­tives about romance, fam­i­ly and self­hood that stand in con­trast to the hyper-inter­nal mantras of their last album. ​"Psy­chic 9-to-5 Club was a real per­son­al quest to rewire my brain," she says. ​"This is more inspired by nar­ra­tive, by the dif­fer­ent peo­ple that you run into in your life ran­dom­ly, and the incred­i­ble effect they can have."
The uni­vers­es Stan­dish cre­ates on Venus are beau­ti­ful­ly ren­dered. Men­tions brings a prick­le to the skin as she describes the strange phys­i­cal rush of hav­ing your make­up done at a mall cos­met­ics counter, while Dream Sym­bol draws a sur­re­al scene inspired by the recur­ring dreams Stan­dish has of her child­hood home, the same build­ing pic­tured on Venus​'s cov­er. The album ends with New Year's Day and New Year's Eve, songs about Standish's fraught rela­tion­ship with the Christ­mas and New Years' peri­od, which, in Aus­tralia, can be strange and sur­re­al due to the extreme heat. These songs are fun­ny and inti­mate, and dev­as­tat­ing­ly roman­tic, but they don't feel like love songs. Instead, they indulge in the thrill and romance of find­ing excite­ment amongst mundanity.
Yang's arrange­ments are airy and led by unadorned gui­tar — a result of him mov­ing back to Mel­bourne after a peri­od of liv­ing in Syd­ney. ​"I was get­ting into Mel­bourne-sound­ing indie music again [like] The Ocean Par­ty," Yang explains. After peri­ods in Lon­don and Berlin for the band, where being cut­ting-edge is king, Yang found that Mel­bourne allowed a cer­tain aes­thet­ic flex­i­bil­i­ty. ​"Here, the pres­sure isn't there to be son­i­cal­ly inno­v­a­tive, and you can be more emo­tion­al­ly authen­tic with­out that pres­sure to be cool."
That lack of pres­sure led to songs that HTRK might nev­er have made before now. New Year's Eve, on the oth­er hand, is an ele­giac bal­lad that's almost, shock­ing­ly, tra­di­tion­al. ​"Could I kiss you at mid­night, and we could hang out some­time?" The pair see it as a dag­gy pop song, almost ​"a Justin Bieber song," as Stan­dish jokes. But it feels, unequiv­o­cal­ly, like a HTRK song — del­i­cate in its com­po­si­tion, pum­melling in its emo­tion­al­i­ty and can­dour. Yang and Stan­dish still know instinc­tive­ly what a HTRK song is; it's just that this time around, the for­mu­la­tion — how many drops of sex, sad­ness, and humour you need — has changed.
---