What hyperpop did next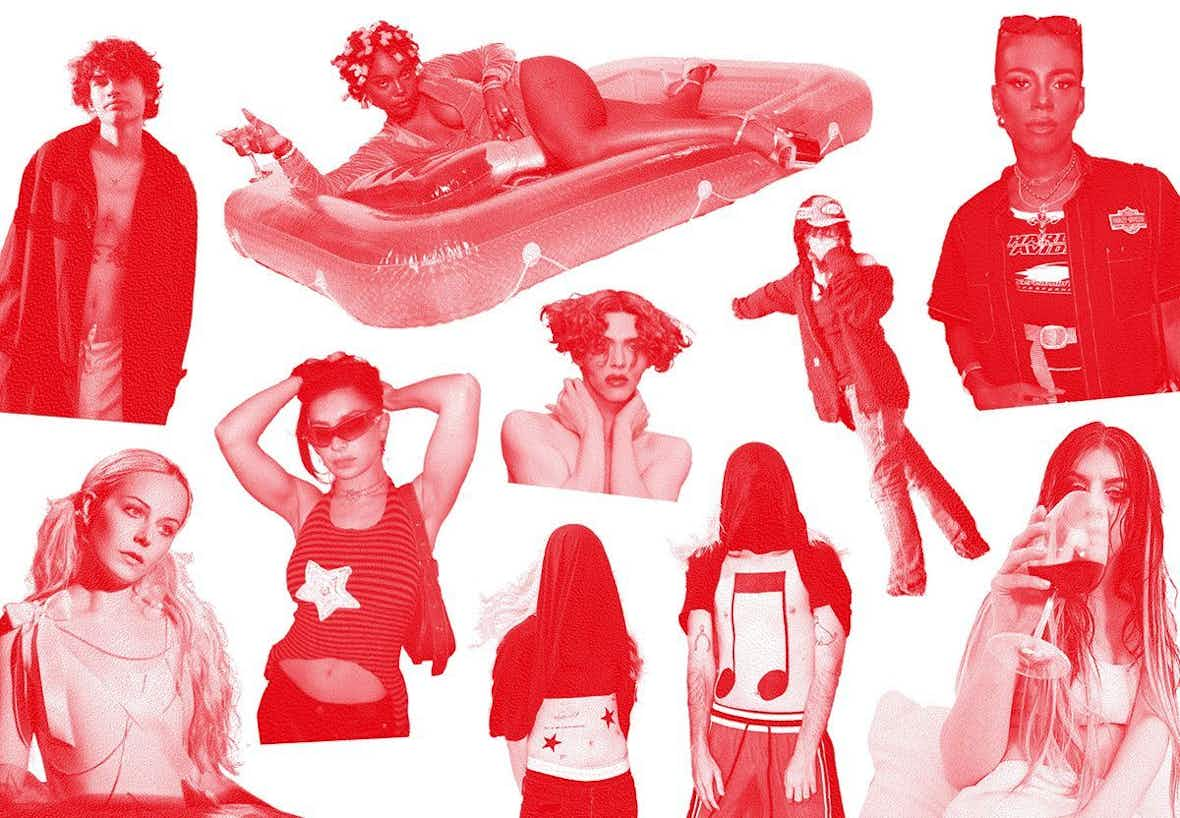 After 2023, PC Music will stop releasing new music, while cutting-edge artists at the forefront of the sound are switching up their style. Does hyperpop have a life beyond the label that birthed it?
RIP hyperpop? The genre's most commercially successful star Charli XCX already posed that question two years ago. In June this year, PC Music, the label which arguably kickstarted hyperpop ten years ago, announced that 2023 will be their final year of new releases. Even its youngest torchbearers have been rejecting the term and switching up their sound. Are we in the post-hyperpop era, then?
A lot of the artists at the vanguard of hyperpop – which, to crudely summarise, is music that pushes the most sugary, euphoric aspects of pop music to the extreme – are moving on.
On his debut album I Care So Much That I Don't Care At All, one of the genre's poster boys Glaive, 18, traded in a brash electronic sound for guitar-driven emo pop. Meanwhile, 100 gecs' long-awaited second album 10,000 gecs pivoted slightly from garish genres in favour of guitar-based ones like nu-metal and third wave ska punk.
PC Music dropped its first single, Bobby by GFOTY (Girlfriend of the Year), in summer 2013, swiftly unveiling a roster with 11 more releases later that year – laying the foundations for what would later be referred to as hyperpop.
Due to PC Music's enduring influence, it's easy to forget how divisive the label was in its earlier years. Founder and producer A.G. Cook had worked at ​"disruptive" advertising agency Logo before launching PC Music, while Hannah Diamond, one of the label's original stars, had been working in fashion branding before she got involved with the collective. Her earliest tracks and press shots were so eerily glossy that people questioned if she was even real. Then there were projects like QT, a collective featuring Cook, SOPHIE and performance artist Hyd, whose only purpose seemed to be to advertise an energy drink that promised to ​"contribute to upward shine, vertical connectivity and personal growth."

It was hard to tell if these seemingly proudly manufactured artists were celebrating pop and consumer culture, or taking the piss out of it. Vice simultaneously defended the label and suggested it might be the ​"Worst Thing Ever to Happen to Dance Music"; The Guardian tried to work out if the music was ​"the future of pop" or ​"contemptuous parody". Despite the backlash, or perhaps fuelled by it, the label quickly established a cult following and signed a partnership deal with major label Columbia in 2015.
In 2016, Charli XCX teamed up with the late, great producer SOPHIE, who, although she never released solo material with PC Music, was a close ally. The resulting EP Vroom Vroom saw Charli embrace the strange plasticity of the hyperpop sound, a boldly left field move after her radio-friendly 2014 single Boom Clap became a global megahit and threatened to define her career. Although Vroom Vroom received mixed reviews upon its release, it's now looked back on as hugely significant.

​"It was the first example of how those crazy, wacky PC Music sounds could be commercialised in such a potent pop format," says Noah Simon, a music journalist who also manages hyperpop artists That Kid and Ryl0, and created a four-part documentary on the history of the genre in 2021. Since Vroom Vroom, the sound has continued to brush shoulders with the mainstream.
A.G. Cook co-produced Beyoncé's purring, percussive Renaissance track All Up In Your Mind, while PC Music artist Danny L. Harle has written with adventurously-minded pop stars Rina Sawayama and Caroline Polachek. He's also been spotted in the studio with Dua Lipa. Sam Smith and Kim Petras' subversive megahit Unholy sounds like it was created using a sample pack from scene genius SOPHIE, who had also worked with Madonna and Vince Staples.
While hyperpop wormed its way into the mainstream, a new generation of artists emerged. Spurred by Covid lockdowns, they pushed the sonics to even further extremes, building communities on Discord servers and hosting live-streamed digital concerts. That shift was led by 100 gecs.
Inspired by PC Music, the Missouri duo made up of Dylan Brady and Laura Les began releasing pulverising genre mutations in 2015. But it was their debut album 1000 Gecs, self-released in 2019, that really lit the fuse. A choppy, bratty record that threatened to blow out the speakers, the album established the band as figureheads of the buzzy second wave of hyperpop, merging infectious pop melody with elements of emo, dubstep and metal. They signed with Atlantic Records in 2020.
In response to 100 gecs' breakout success, Spotify pulled together a playlist of similarly abrasive-sounding, chronically online artists which quickly blew up, exposing artists to a significantly large audience. The playlist was titled Hyperpop, a fringe term found by Spotify's ​"data alchemist" to define the whole thing. Hyperpop as a genre category was christened, and retrospectively applied to the PC Music scene that had come before it.
Although there are sonic differences between PC Music and the more recent hyperpop generation, Simon argues the ethos behind the two scenes has always been the same. ​"It's about taking all your favourite genres and mashing them together to make catchy pop music," he says. ​"PC Music was more interested in deconstructed club, Europop, Eurodance and J‑pop, but 100 gecs really brought a Blink-182 vibe to the scene and took influence from hip-hop as well."

Some of these newer hyperpop musicians have pushed back against the hyperpop tag, uneasy with a giant corporation defining their sound. Many artists felt they aligned more with a separate genre called digicore, or that they simply made electronic pop music that didn't need genre classification. But the label has stuck. You hear metallic snares, brash samples and garishly AutoTuned vocals, and you think hyperpop.
"Most hyperpop artists are not trying to make hyperpop music," says underscores, a 23-year old musician from San Francisco who's produced tracks for Glaive, Renforshort, That Kid and Whethan, and has supported 100 gecs on tour.
underscores started releasing Skrillex-inspired dubstep in 2015, and like many of her peers who also thrived on Soundcloud and Discord, she has restlessly experimented with the genre in recent years. ​"I knew I wanted to have a career in music, but I was more interested in posting something that sounded fire and having all your friends gas you up," she says. ​"Even when we were steeped in it, none of us were making music to get on the [Spotify] playlist."

A key aspect of hyperpop is that many of its audience, and a large portion of its fans, are queer. ​"PC Music had such a tie to the queer community that it naturally carried over to hyperpop," says underscores. The use of vocal effects has allowed LGBTQ+ artists to experiment with how they presented. As one fan on the PCMusic subreddit puts it, ​"the G in LGBTQ+ stands for Good Taste". A 48-page thesis has also been written on ​"how queerness relates to /​r/​pcmusic in an online context".

​"Dance, electronic music has always been a huge thing in queer spaces, and hyperpop pulls heavily from those worlds," says That Kid, who's spent the majority of his career making empowering, sex-positive anthems with a sense of humour. His new single My House, however, pulls away from brash hyperpop and leans towards slick disco. That Kid says the hyperpop label never really resonated with him anyway. ​"It's never what I intended to make," he says. ​"I just wanted to make really big pop songs."
That Kid has a forthcoming collaborative project with Chase Icon and Ayesha Erotica, who are also known for their work in hyperpop. But the group is making ​"something new entirely," says That Kid. ​"The audience is waiting on something new that can spark their interest, because it's been a minute since that happened.

​"Honestly, it doesn't matter if hyperpop is dead," That Kid adds with a defiant grin. ​"I'm still going to make music, and people are still going to listen to it."

underscores' forthcoming album Wallsocket also deviates from hyperpop, taking inspiration from the rock, country and folk music her parents brought her up on and twisting it into something new. ​"We're in a hyperpop diaspora right now," she says. ​"It's branching off into all different things, but that was inevitable because hyperpop was built on such a wide variety of influences.
"A lot of artists from that scene are really special. They will continue to evolve and make new music beyond hyperpop," underscores continues. ​"I'm just really excited about where everybody's trajectory goes over the next five, ten years."
The most immediate place for it seems to be in the physical world. PC Music club nights and showcases helped the label establish itself as an important, influential force after its authenticity was questioned. After establishing themselves during lockdown, the second generation of artists associated with hyperpop are leaving their bedroom studios to take to the stage, proving that they're much bigger than one Spotify playlist.
Los Angeles clubnight Heav3n regularly puts on live extravaganzas, their most recent one featuring Chase Icon, That Kid and Miss Coco. There are also club nights like Subculture, San Francisco's Fake and Gay and New York's SKSKSKS, creating IRL experiences for fans of this restlessly experimental, extremely online music. ​"It's now more about that live experience," says Simon.

To him, hyperpop as we've known it is now over. ​"The general public has a very short attention span and that fad of every song sounding like 100 gecs' [breakthrough single] Money Machine is over," he says. Its demise, he argues, was inevitable the moment the major labels got involved. ​"We've seen aesthetics and sounds from hyperpop absorbed into the mainstream," he says. ​"It will impact pop music forever… But as soon as something becomes normal, interest dies."

More like this