Bedroom pop dynamo Jay Som: ​

"

I love relinquishing control"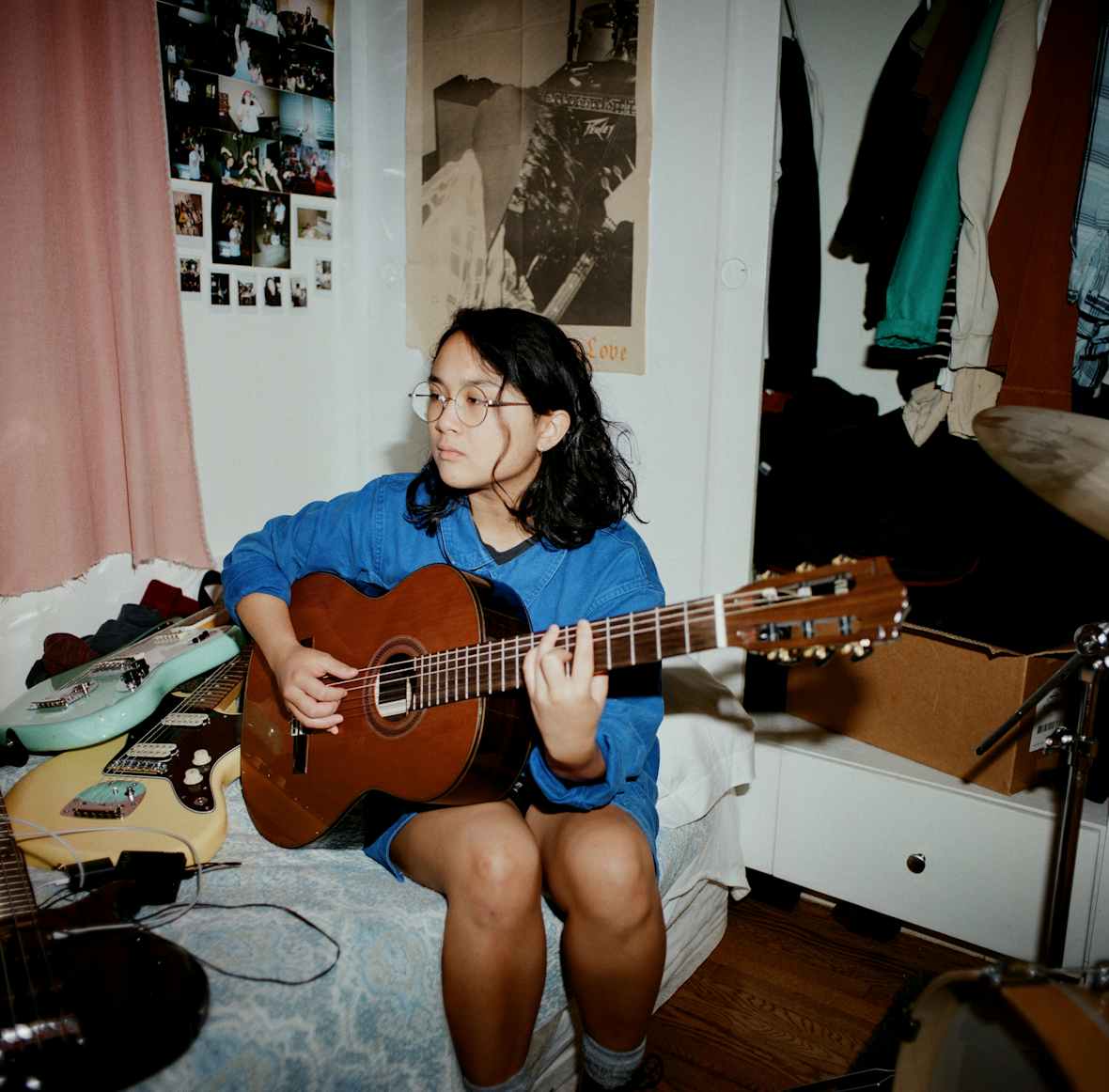 Melina Duterte, aka Jay Som, embraces collaboration on her album, Anak Ko.
Historically, band leaders who function as one-person recording projects, playing every instrument on their albums, struggle with sharing. Smashing Pumpkins' Billy Corgan infamously overdubbed his bandmates' bass and guitar parts on Siamese Dream, possibly without their consent. Todd Rundgren, known for his frequent in-studio clashes with bandmates and clients, learned to play drums and bass ahead of his masterwork Something/​Anything?, eliminating the need for session musicians, who Rundgren said he'd often ​"hector". A Prince biography cites a ​"desire to control everything" as the reason that he played all 27 instruments found on his debut album.
Melina Duterte lacks her predecessors domineering impulses. ​"I love relinquishing control," says the woman who wrote, arranged, composed, produced, and played every instrumental part on her first two albums. Her dreamy, guitar-driven third album, Anak Ko, is the first to feature other musicians, including Justus Proffit, Chastity Belt's Annie Truscott, Vagabon's Laetitia Tamko, and Boy Scouts' Taylor Vick. On her own, she could continue cranking out some of the most gorgeously produced shoegaze albums of her generation; with some talented pals in tow, the Jay Som palette is noticeably expanded.
Duterte's still credited as the sole arranger, composer, and producer on Anak Ko, but having recorded as a solo artist since the age of 12 (she's now 25), her decision to bring on collaborators was an easy one. ​"Immediately after I finished my second record, Everybody Works, I remember thinking, ​'I really want to have other people play on [my third]'," Duterte says. ​"I was tired of hearing myself drum. It's a really, really hard instrument to be good at consistently. When you tour a lot, you can't practice; when you live with people you can't drum all the time."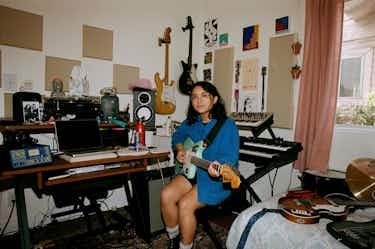 "It just made sense, too," she continues. ​"I know so many good musicians that it made sense to be like, ​'Hey can you come over and play this?' I'd show them demos, and as we were recording it was really fun, because you could just experiment and see where the songs could go. It opens up a different perspective of styles and what your music could be."
Those different perspectives and imaginations of the previously existing Jay Som sound – dreamy shoegaze written with an unmistakable pop sensibility – are readily apparent on Anak Ko. Its nine songs are all still recognisably Duterte, with pristine guitar tones rooted in ​'90s indie rock, but subtle tweaks and flourishes, like the ​'70s soft rock of Tenderness, the glitchy trip-hop outro of the title track, and the crystalline pedal steel guitar on Get Well are welcome departures.
Paralleling Anak Ko​'s more refined sound is Duterte's growth as a lyricist, at least some of which is due to the drastic changes she's experienced since blowing up. ​"Everybody Works was such a time capsule of being a young adult," she says. ​"I was just signed to a label, I didn't know if I was still going to do music as a career, but I was like, ​'This is fun.' So I wrote songs about how frustrating it is to have negative $10 in your bank account, and working nine-to-five, and having dreams about escapism."
As for Anak Ko: ​"This one's mostly about like, ​'What am I going to do now?' Now that I've found this sort of success, I'm starting to analyse more about my relationships with other people, and my relationship with myself, and mental and physical health. It's a little deeper, but it's not chaotic sad or anything."
Born in Walnut Creek and raised in other nearby East Bay suburbs, Duterte started playing trumpet and guitar at a young age, originally planning on attending a jazz conservatory. Somewhere along the way though, she decided that writing and recording her own songs was more interesting. ​"I started recording when I was 12, and I just kept rolling with it," Duterte says. ​"I thought it was really cool, because not only did it save money, but I remember thinking, ​'I'm the only person doing this right now, in my local community in middle school and high school.'"
One fateful night, namely Thanksgiving 2015, Duterte drunkenly uploaded nine recently-recorded tracks to Bandcamp as an untitled compilation. Indie label Topshelf Records took notice, and within a few months, the project was physically released as Turn Into. One additional re-release later, Jay Som was signed to the considerably larger Polyvinyl label and toured the country with Mitski and Japanese Breakfast.
With that increased stature and a steady touring band in tow, it's safe to say that Duterte could've made the ensuing Everybody Works a full-band affair had she wanted to. But she clearly didn't need extra bodies in the studio, coming away with one of the most acclaimed indie rock albums of 2017. Citing the Pixies, My Bloody Valentine, and Yo La Tengo as touchstones, Duterte showed off an indelible ear for the loud guitars/​soft vocals dynamics approach of her ​'80s and ​'90s heroes. But for her follow-up, it was time to let some new sounds seep into the mix.
"Those [instrumentation choices] were spur-of-the-moment type of decisions," says Duterte of her compositional process for this album. ​"I wasn't super like, Oh, I have to have this pedal steel. A lot of those ideas, where there's a new instrument introduced, or a crazy part, that came from me walking in the grocery store or CVS and being like, Oh! What if I have this in a song?"
Another noticeable shift from Everybody Works is increased sonic clarity. The second Jay Som record was awash in guitar effects that showcased Duterte's talent as a tonesmith and producer, but according to her, may have masked some shortcomings in composition and performance. ​"Everybody Works was very much a snapshot of how chaotic and careless I was with music sometimes," she says. ​"I'd just record and be like, ​'Ah, that's fine. It sounds like shit but it's fine.' And then I spent a lot of time mixing it and making up for my mistakes."
"On [Anak Ko], I made sure each part was a little more refined than before," she continues. ​"Having it right at the beginning was the most important part for me, because it ended up being way more enjoyable later on, down the road."
There were still growing pains though. ​"The most frustrating part was putting so much pressure on myself to be this artist and make this album that I hadn't done before," Duterte says. ​"I was like, ​'I have to do this, and I have to experiment, because most people do this when they do records.'"
Perhaps some of those people in question are Wilco, a band that made significant stylistic and compositional leaps between their early albums. Duterte says she's liked Jeff Tweedy and co. for a while, but listened to them far more frequently in the run-up to Anak Ko (and also recently cited their epic track Impossible Germany as the one song she wishes she'd written herself). At the same time, she cites Cocteau Twins as a grounding influence, saying: ​"I got really back into shoegaze. That's probably my ultimate genre, I cannot escape it, so I was like, ​'Alright, I'm still gonna write some shoegaze songs.' That was important."
Anyone who's heard Everybody Works or seen a Jay Som show could guess that there was little danger of Duterte fading into the background on a full-band album. She's not only the clear leader, she's one of the most singular voices in indie rock. Instead, bringing others under the umbrella of her considerable studio chops brought forth more polish and expanded Jay Som's sonic universe.
"Prior to recording demos and tracking the record, I was already working working with friends on their EPs, albums, or singles. I'll help record and mix them," says Duterte. ​"So having that experience beforehand gave me more ideas and tools to learn from all of these other people, and you just apply it to your own work."

More like this