"

Beyoncé told me to weed out the snakes"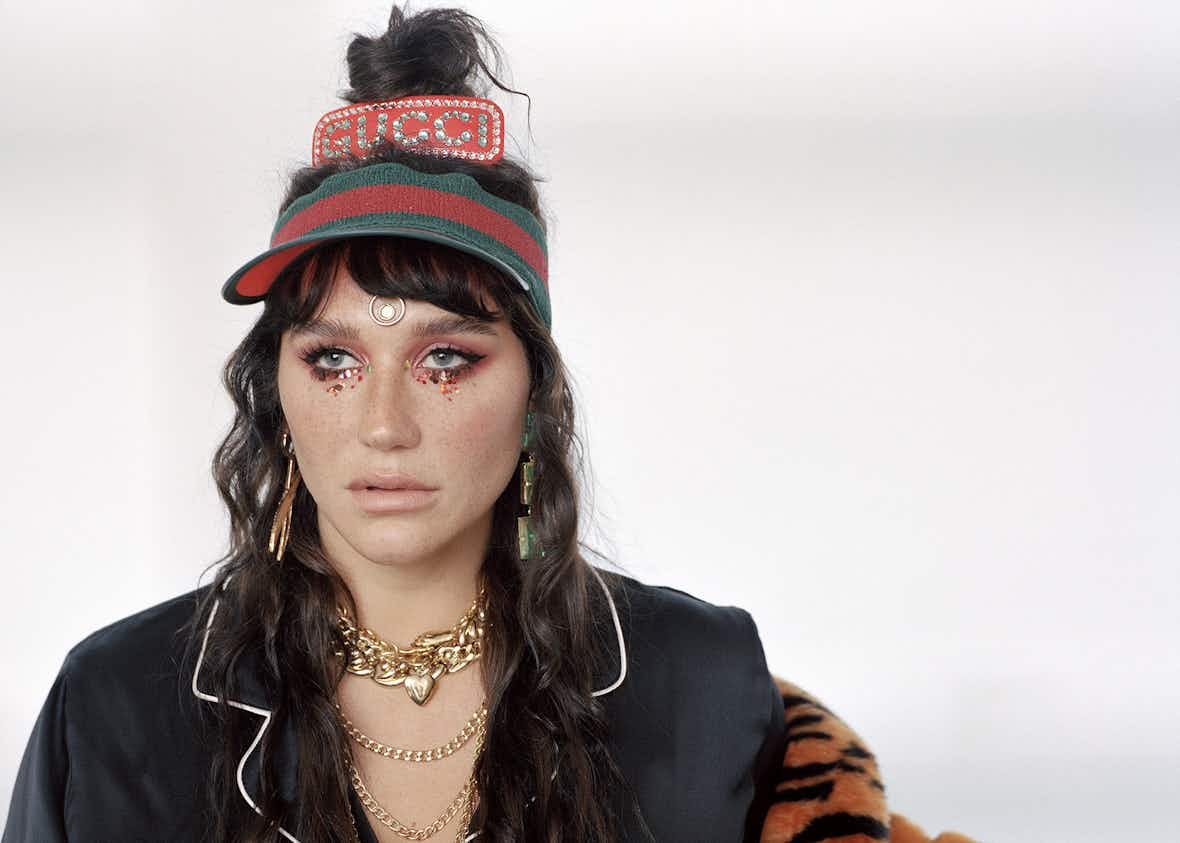 Despite years of painful – and ongoing – legal battles, Kesha is back with a joyful new album. Say hello to Kesha 4.0.
"I wasn't going to namedrop…" Kesha is saying with a wry smile. The American singer is lying on her front on a hotel bed with her legs kicked up behind her, like we're at a slumber party. ​"But it's such a cool name to drop."
It's just the two of us – her team are hovering next door. She's just thrown off a tiger-striped faux-fur coat. But even in black silky pyjamas, the room looks blank and sterile in comparison to her. She's flown into London from Los Angeles for two days to promote her fourth album, High Road, and is jet lagged. ​"I've had, like, two hours sleep," she sighs.
We are discussing how she now goes about picking the people she works with. Which is when she replies with the advice given to her by the most iconic woman in music.
The 32-year-old raises her eyebrows comically and describes how she met ​"Queen Bey" on a UK festival tour. ​"I've always been a fan, since day one – Destiny's Child all the way," she smiles. ​"It was backstage and she was like an angel. She said: ​'As soon as you know they're snakes, weed ​'em out.' So, I've just tried to listen to that advice.
"Sometimes it took a little longer for me to realise who around me was there for the right reasons or not," she continues. ​"But I think I can safely say, as of right now, I am surrounded by really good people. So it may have taken a couple of years, but her advice was well received. And that would be my advice to anybody in the music business."
This is a good example of Kesha's current mindset: spending very little time dwelling on the past, preferring instead to keep her focus on her present. Happiness, she says at one point, means ​"just enjoying being alive and loving whoever's in my company, as much as I possibly can".
Some of this, of course comes down to necessity – there are certain things from her past that she simply can't discuss.
"It's very weirdly ironic that I cannot talk about my own life," she observes wryly. ​"But I just can't."
A messy legal battle has overshadowed – and almost overwhelmed – the singer's life since 2014, when she sued her then-producer Dr. Luke. She wanted to be released from the contract she'd signed with the hitmaker at the age of 18, alleging that he'd emotionally abused, drugged and raped her. The ensuing court cases – Dr. Luke denied all allegations and counter-sued for defamation – financially crippled the singer and led to an at-times cacophonous public dispute.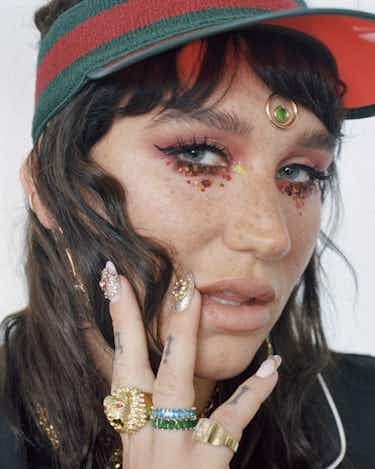 When, in 2016, a judge in New York denied her request to be freed from the contract, her fans threw glitter on the steps of the courthouse while chanting ​"Free Kesha now". The hashtag #FreeKesha lit-up social media. Taylor Swift donated $250,000 to help cover legal fees. Adele sent a public message of support while collecting her 2016 BRIT Award for best British Female artist, saying: ​"I'd like to take a quick second just to thank my manager and my record label for embracing the fact that I'm a woman and being encouraged by it. And I would also like to take this moment to publicly support Kesha."
"I just burst into tears," Kesha recalls of hearing Adele's public declaration of support. ​"Because she's one of the greatest talents on the earth and it was her moment. To even consider what someone else is going through, it made me feel like humanity is not fucked. I will love Adele forever." (The two singers have since emailed but have yet to meet.)
The flames of goodwill and support were fanned by the #MeToo and TimesUp movements which, soon after, began toppling powerful men in other parts of the entertainment industry. As a New York Times profile from late 2016 noted, ​"now Kesha is a cause".
It was ​"Kesha as a cause" that released her third album, 2017's Rainbow, to rave reviews (Rolling Stone called it a ​"raw, emotionally complex, a total surprise"). And it was ​"Kesha as a cause" which brought the 2018 Grammys to an awestruck standstill as the Californian gave a moving performance of her single Praying alongside (among others) Camilla Cabello and Cindi Lauper.
High Road, though, is emphatically a different type of record.
"She's super-happy at the moment and the album is pretty damn joyful," her publicist had emailed before our interview. I listened over and over again to the seven songs available to hear in advance and agreed – they are joyful: big, catchy, synthy pop, with Kesha's rich, powerful voice layered on top. In fact, more than just joyful, they feel hopeful – an infectious, ​"fuck yeah!" optimism. If you're looking for something to sum-up the mood of the record, look no further than the refrain from first single Raising Hell: ​"bitch I'm blessed".
Or, as she announced in a subsequent album trailer, released on social media a couple of weeks after our encounter: ​"Kesha got her balls back… and they're bigger than ever."

Kesha Rose Sebert was 17 when she moved the 2000 miles from Nashville, where she'd been raised by her single mother, back to LA, the city of her birth and which she'd left aged four. The teenager was determined to pursue her dream of becoming a musician. Her mother is a songwriter who's written for, amongst others, Dolly Parton, and young Kesha grew up around the industry. Nonetheless, moving to LA alone at that age was, she recognises, ​"ballsy, thinking back".
She stayed with family friends before settling in an apartment ("such a shithole") in Silver Lake ("which is now a really nice part of Los Angeles"). But it didn't feel scary at the time, especially after her older brother moved in. ​"I had one of those blow-up mattresses and a couch. We would make music together. Making music in our family is very natural and normal; it's as normal as having a conversation."
Watching interviews of her from the late ​'00s and early ​'10s – when she stylised her name as Ke$ha – she seemed to have a kind of breathless Adderall-energy; always frothing over, about to pop. She was a glitter-smeared party girl with big hair and ripped tights, who did zany stuff like asking fans to send her their teeth in the post so she could make them into a headdress. To paraphrase a line from her first single, 2010's TiK ToK, Kesha was the girl who brushed her teeth with a bottle of Jack.
In the era of American Idol-style sanitised pop, the auto-tuned mayhem of the then-22-year-old proved infectious. TiK ToK and her debut album Animal became international, multi-platinum bestsellers – the single set a new record for digital downloads in a single week by a female artist – and catapulted the newcomer to global superstardom. Timber, her 2013 collaboration with Pitbull, topped charts across the world, including the US and UK, and became one of the defining songs of the year.

"I would say for the first, probably, six years [of my career], I felt like I was swimming in a river that was going very fast and I was just trying to keep my head above the water," she explains. I'd asked whether she thinks young artists entering the industry now are better protected than she was when she first started. ​"That's not to say I didn't have some very, very fun times but it was just… not a day off in, like, two years. So is it different now?" she muses. ​"I would hope, as society grows, that we realise there are areas that could be improved. But I don't really know."
Since TiK ToK, Kesha has sold 134 million records, amassing along the way a legion of fans – the self-styled Animals who carpeted those courthouse steps in glitter and chanted to free their queen. But just six years after she exploded into the public consciousness, that 2016 New York Times profile painted a picture of a worn-down, trauma-struck young woman, ​"suspended in a Jell‑O mould of paralysis".
Three years later, Kesha remains at least partially paralysed. Her contract with Kemosabe Records (which Dr. Luke founded, but is no longer in charge of) remains binding and earlier this month her appeal against Dr. Luke's defamation case was rejected for the second time. Still, despite the emotional toll it must be taking, she says that she has entered one of the most creative periods of her life – although she acknowledges that at first the songs she was writing with a view to inclusion on her fourth album were a little off-pace.
"I realised I just have to let the lawyers deal with lawyer things. I'm an artist, I focus on the art," she explains. ​"And that's what has brought me happiness. I had a conversation with my brother – he kind of shoved me in the direction of happiness and getting my mojo back a little bit. I was just writing… beautiful songs," Kesha decides, ​"and I'm still very proud of them and hopefully they'll see the light of day at some point. But they were slower, really sad. He was like: ​'You love pop songs, you love pop music. Go write a pop song and just see how it feels.' [At first] I was so mad and just, like, ​'fuck you, fine.'
"And then I wrote a song that was so much fun – I had so much fun that day," she exclaims thoughtfully. ​"It made me realise that I do unapologetically love pop music. It is not a guilty pleasure for me – it is one of life's greatest pleasures."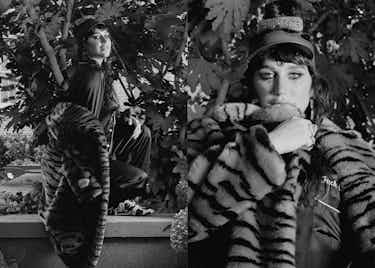 Fittingly, many of the tracks on High Road feel like the kind you might put on to get hyped for a night out. In fact, Tonight, one of the album's bounciest tracks, details a recent evening of happy indulgence.
"I took my two friends to see Elton John and the night just got more and more insane as it went on. I won't name any names but we ended up meeting up with some supermodels and going to a house party where everybody understood ​'no phones'. I got a tattoo – a really shit tattoo on the back of my neck which you can't even read. We saw the sunrise, and I was like: ​'OK. I'm gonna write about this!'"
But of course, they're not all upbeat. Father Daughter asks, in a plaintive country twang, how her life might have been different if she'd had a father figure. It's the ultimate ​"daddy issues" anthem (I can relate, I assure her, I don't know mine either) and is disarmingly personal.
"So that is a subject I never intended on writing about," she admits. ​"I don't know who my father is for sure. I have a pretty good idea of who it may be, but also maybe it's another person. And that's how my mother intended. She very specifically wanted to raise her child without the influence of somebody else – and she wanted to have a Pisces. So she had this short window of time to make that happen and enlisted the help of a couple of friends… And here I am," she sweeps her arm up with a playfully arch smile.
And for all the legal upheaval of the past few years, ​"here" doesn't seem so bad. Kesha still lives in LA. Each day she rides her bike to the beach before going to the studio.
"Recently I've been jumping in the ocean because it's nice and warm. Whenever there's a dolphin, I can't help myself, I have to jump in," she grins. While in the studio she knows that she will be with ​"people that I love and that are now all my best friends. So it's like this judgement-free zone. It's like a therapy session, but you get to make a song out of it."
And they keep coming – she ​"probably" writes a song a day, ​"but unintentionally. Like, when I'm riding my bike, or wherever the fuck I am, I'll sing it into my phone and just look absolutely crazy in some corner."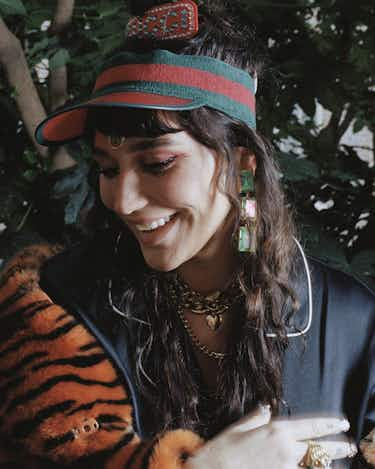 The next day, I attend a music industry playback of High Road, Kesha unveiling some of the songs in the basement of a private members' club in Mayfair, central London. This album, she tells the packed room, is about reclaiming her joy. Before the final song, she calls on the crowd to join her in a shot of tequila.
Holding her glass aloft, she announces: ​"As the great poet Pitbull once said, we're not here for a long time, just a good time…" The room erupts into boozy, TeamKesha laughter.
I bump into her in the bathroom afterwards, Kesha standing suspended, half-in and half-out of a cubicle. The women around her laugh and gesture, commenting on her clothes ("so cool!") and her hair ("love!"), which is now a flat, raven brown rather than the fizzy blonde we've come to know.
She chats to everyone in turn, then spots me standing a little distance away. ​"So nice to see you again!" she says, smiling and hugging. I think again how warm and present she is – and then also about how hard she's had to work for that to be the case. As she'd told me the day before: ​"You can go through something really difficult, [so] that when you're in it, it feel[s] like it's never going to end, and you're so consumed with sadness or grief.
"But I'm here to tell you that with the help of therapists, and meditating, and animals, and just immersing your life in the things that you love and the people that love you, you can get to a place where you're as happy as you've ever been – if not happier.
"I think," Kesha had concluded, ​"that's the heart of this record."
Raising Hell is out today. High Road (Sony) is released on 10th January


More like this